Ice cream is a hallmark of summertime, but it is not always the healthiest snack. You can, however, make it nutritious by following these tips and recipe ideas.
Ice cream in all its forms like sundaes, frozen yogurt, or ice cream sandwiches make up the coolest part of summer. I get excited to this day when I hear the sound of an ice cream truck going by. It is as if I am trained like a Pavlov dog to anticipate a delicious reward but frozen treats are not always good for one's health.
July marks the arrival of National Ice Cream Month. We do not want you to miss out on any future brain freezes, so follow these five tips. They will help you find the healthiest ice cream treats.
1. Look at the ingredients
Source: NyTimes.com
The simpler they are the healthier the ice cream is. Look for milk, eggs vanilla and natural sugar. When they are flavoured with coconut or chocolate there will be other ingredients but make sure those extra ingredients are not preservatives.
2. Forget about carrageenan
Carrageenan is used as an ice cream emulsifier on a regular basis. It is derived from seaweed, so it may seem like its safe. Yet, research has raised concerns that it can cause inflammation or bloating.
3. Think about other options
If you are lactose intolerant or vegan, there are options for you. You will find soy, coconut and almond milk-based frozen treats in most any food store. Stick to following the rules for healthy ice cream, though. Read the labels for the ingredients, and make sure you do not eat anything completely in one setting -unless you are in post-breakup mode.
If I crave an icy treat, I go for frozen kefir. It has the tangy taste of Greek yogurt. It helps boost digestion but only if you are eating the kind that does not have any nonfat milk powder, stabilizers, artificial sweeteners or artificial colours.
4. Go for organic
We love buying organic fruits and vegetables. Should we buy organic ice cream? Certainly! Choosing organic deserts keeps us from being exposed to atrazine which is a pesticide used on livestock feed. In non-organic desserts small amounts of atrazine end up in eggs, meats and sometimes dairy foods like ice cream.
5. Make ice cream yourself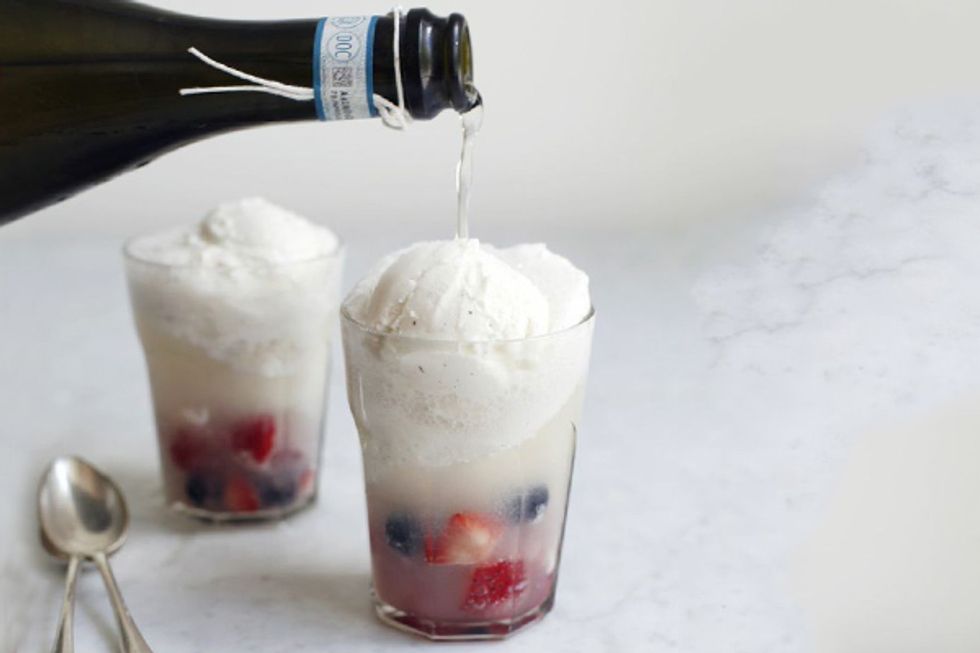 I scream you scream… you know we all scream for DIY ice cream! An easy trick for a one-ingredient ice cream is to freeze one or two bananas. Blend them in a food processor until they are smooth or use a top notch ice cream maker. Voila! You have homemade ice cream that is as delicious and satisfying as anything you could buy in a store.
Besides this, you will want to try the following recipes for easy, dreamy, creamy ice cream:
Frozen Chocolate Bananas - These are elegant four-ingredient dessert treats
Cherry Frozen Yogurt - Mixes tangy with sweet for a better-than-store-bought froyo!
Fresh Strawberries with Yogurt and Maple Mint - In-season strawberries mix with fresh peppermint to make the perfect dessert for an outdoor dinner party.
Lemon Gelato - Light and simple with a blend of coconut and zippy lemon juice.
Jamaican Ginger Beer - This sherbet gets is incredible creaminess with the surprise addition of tofu.