I moved to Colorado from Maryland when I was a little 7, almost 8, year old girl. To be completely honest, I didn't know Colorado even existed until we were told we were moving there. I wasn't happy—it meant I had to leave my friends, swim team, school, and home behind. I didn't know what to expect.
Denver, CO (80238)
2nd grade to 12th grade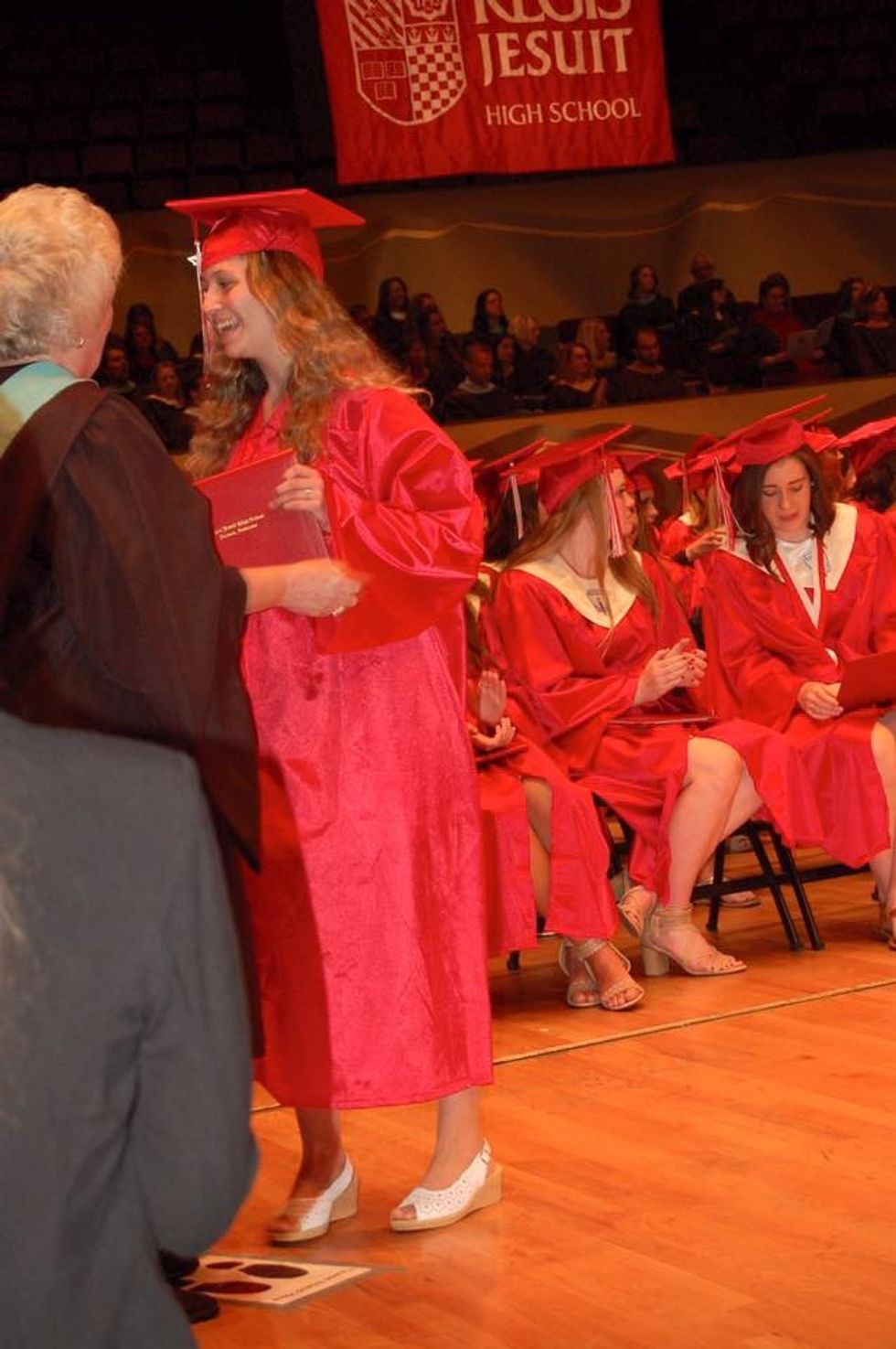 RJHS Graduation
I have spent most of my life living in the city of Denver. Saint James, Saint Pius X, Denver School of Science and Technology, and Regis Jesuit High School are the 4 schools I attended during my time in Denver.

St. James was awesome, for a while. I joined my first basketball team and volleyball team. My time at St. Pius X was short-lived, but I have so many memories from that place. DSST was good, bad, and everything in between. Regis Jesuit is what really shaped me into the person I am today though, even if I hated it for the first 3 years.
I didn't know basketball existed until some of my friends said they were trying out after school, and I decided I would join them. That decision sparked my love for the sport and I even have a bronze medal from the team at St. James. The same exact thing happened in the spring with volleyball, and I have a gold medal from that.
St. Pius X happened randomly when things went downhill at St. James in 4th grade, and I was only at Pius until the end of 5th grade. I had so many awesome friends and was even the class president in 5th grade.
DSST was rough, like middle school is for most people. I went through my first dark time in 7th grade, but what kept me going was being apart of the volleyball team, my best friend (who is still my friend), and growing my music career.
Regis Jesuit High School...I hated it for the first 3 years, with the last year being the only year I really realized how great the school was. K41, you will always hold a special place in my heart.
School of Rock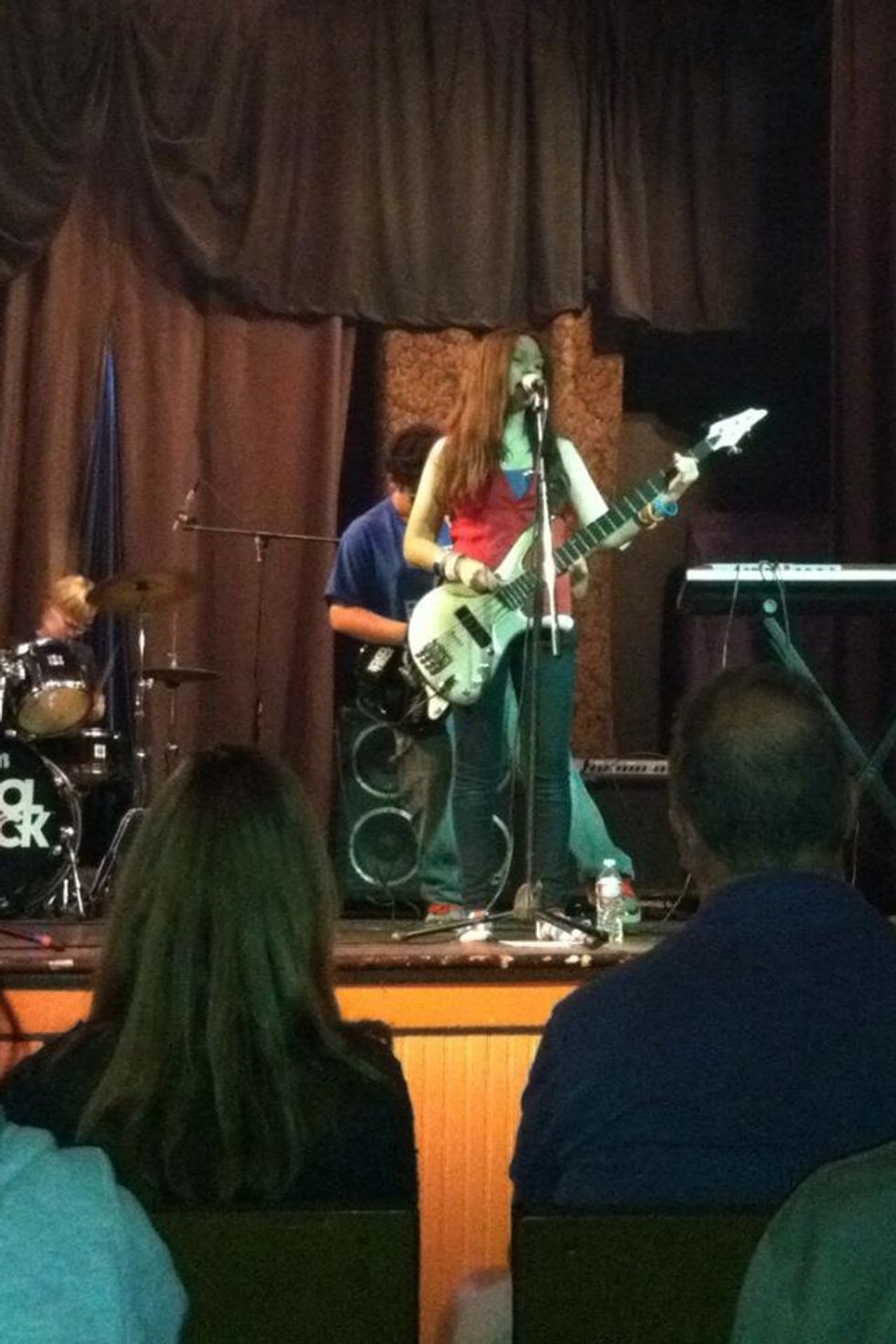 School of Rock was never something I thought I'd join. I became interested in learning how to play guitar when I was in 5th grade, and through some other people, my mom found out about the program. It was a place where you have lessons and perform a concert every few months after months of rehearsal. I grew as a musician because of this program. I entered it to learn guitar and once I left I was a guitarist, bassist, keyboardist/pianist, and singer. Some of my favorite themed shows I did include, but are not limited to: One Hit Wonders, A Tribute To Tom Petty, A Tribute to The Smiths and The Cure, A Tribute To Weezer, and Arena Rock.


The Wolf Theatre Academy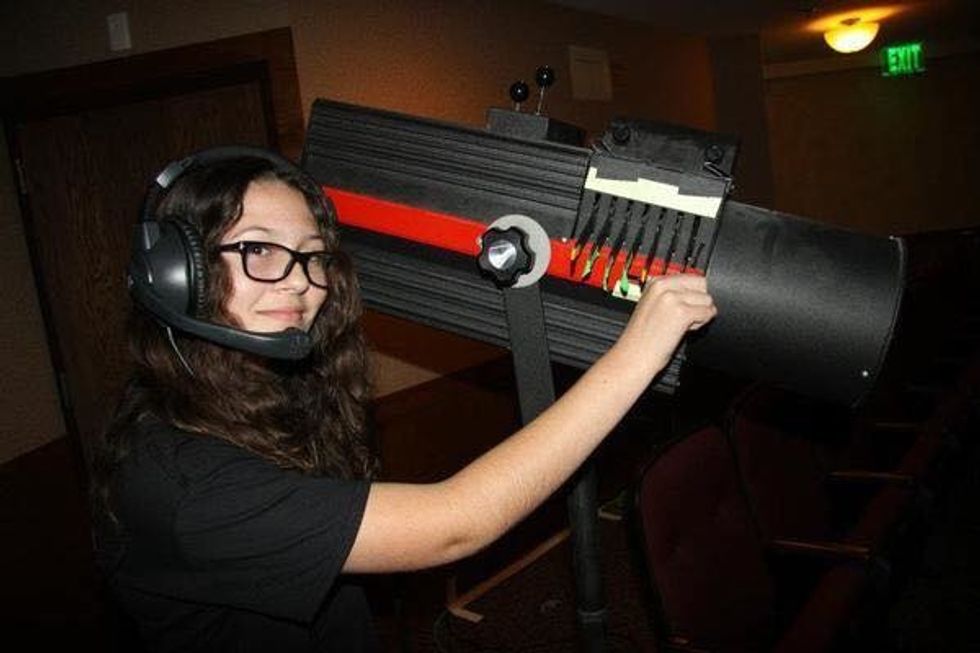 Hairspray (show #2)
I joined the Wolf Theatre Academy the summer prior to 8th grade because I wanted to put my acting skills to the test. Let's just say my place was not on the stage, but behind the stage. This place really helped me become the person I am today. I met so many amazing people that I will always be thankful for and I have so many good memories that I will NEVER forget. What started as trying out acting for one show turned into something way more than that. My love for theatre grew tremendously, specifically technical theatre. The cool part about the WTA is I got to do more than just work backstage crew! I have experienced running a spotlight (multiple times, it was my favorite tech job), building a set, being an assistant stage manager, running the light board, and more. Some of my favorite shows I have worked on include, but are not limited to: "Hairspray," "The Drowsy Chaperone," "RENT," "Pippin," "Little Shop of Horrors," and "Chicago."

Jamba Juice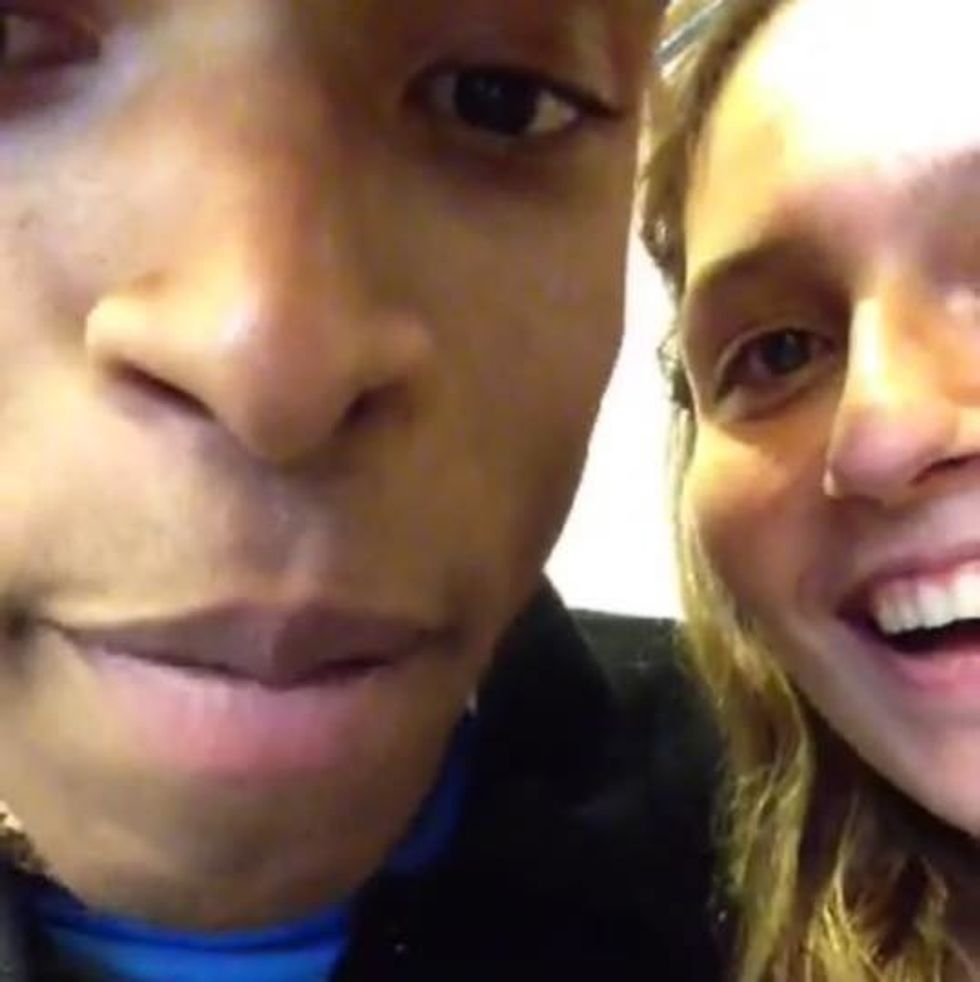 Matty & I, Jamba Juice 2015
My first job ever was at Jamba Juice. When I started work there, I didn't know I'd leave it with so many good friends that I could count on...and I didn't know I'd experience my first funeral.

I started working at Jamba Juice in May of 2015, and the very first shift manager I had was a guy named Matty. He was the one that got me to open up and come out of my shell...I was very quiet and shy back then. I then became closer to all of my other co-workers as well. In October of that year, we lost Matty. He passed away. It was devastating, to say the least. We were all heartbroken. He was the life of the store, always making us smile and our customers smile. But in a way, it brought us closer together. It even brought me and a guy that worked there closer, and we dated for two years.
After a while, all of the staff that was there left, and I swore I'd stick around to keep the memory of Matty alive and known amongst staff. Throughout my 3 years of employment there, I was fired twice (long stories, dumb reasons), I made lifelong friends, and I got to see the changes the store went through. It was so, so hard leaving. I went in to grab a drink for the last time just the other day, and it made me kind of sad to say goodbye to a place that had good, and very bad, memories for me. I could go on and on about Jamba, but I won't. Jamba fam forever.
Greeley, CO (80631)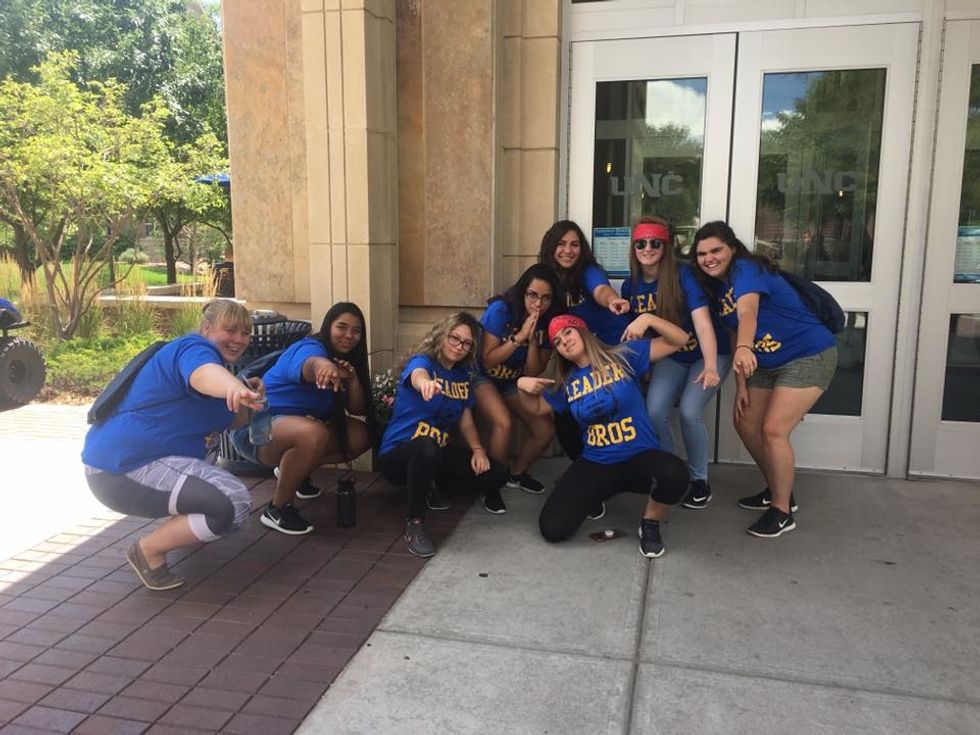 Lead On Camp: Day 1 On Campus
I moved to the small city of Greeley in August of 2017 for college. I was so, so excited to start at the University of Northern Colorado. I had true bear pride, anyone in my high school can vouch for that. I had originally planned to go into technical theatre, but ended up changing it last minute to business management. The first semester started out awesome, but definitely had its obstacles. Freshman year was not what I expected. I joined a sorority, which I ended up having problems with, so I left. Which was heartbreaking for me. Although, I did end the semester with a high GPA and made it onto the business school's dean's list! Spring semester was totally different. I went through a hard breakup at the start of it, and my mental health got so bad, which resulted in me getting my first F in a class. It was also the semester I decided to transfer elsewhere.

I met so many amazing people, though. One of my best friends is still my best friend to this day (and I met her my first day on campus, so that's cool). It was bittersweet leaving Greeley. I am thankful for everything that happened there...good and bad.
Boulder, CO (80302)
I decided to transfer to the University of Colorado at Boulder after my year at UNCo. I was excited, especially because I was joining Air Force ROTC. My major at CU Boulder was psychology, which I was really passionate about. What I thought would be a good experience, really ended up not being a good one.
Sorority
I was excited to rush again and join a new sorority, but I got dropped by almost all of the houses after the first day. I didn't even make it to preference night during that rush week because I eventually got dropped by all of the houses. There was a new sorority forming on campus, so I attended those rush events and became a founding pledge member. That sorority didn't work out for me though and I didn't make it to initiation because I couldn't afford it. I also felt like I was just another face and no one really cared for me or knew me, which is okay. I still have a lot of respect for them, though.



AFROTC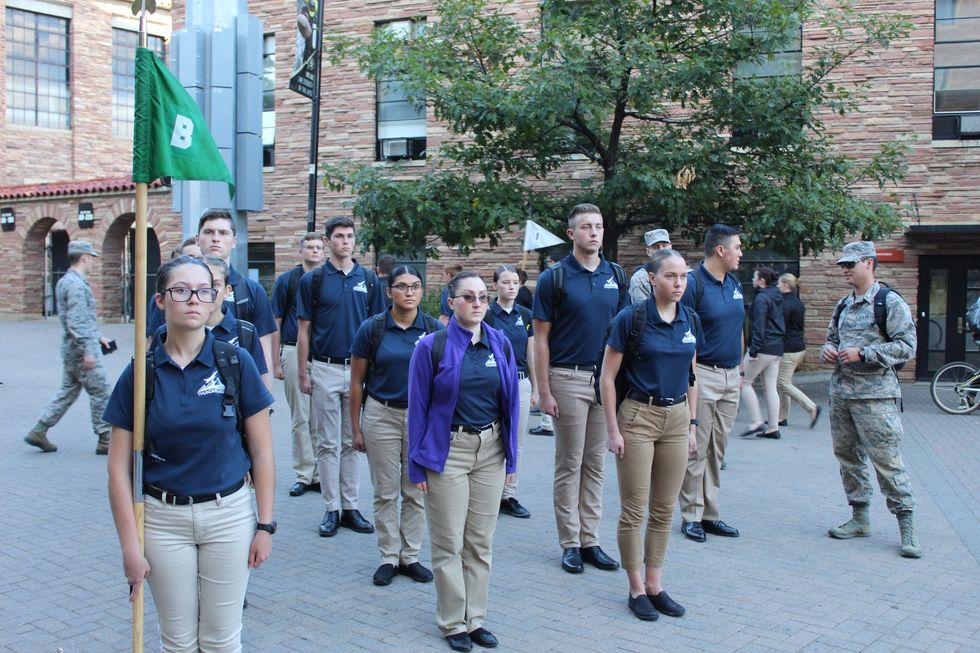 LLAB Flight trainingAFROTC Det 105
I knew when joining AFROTC that there was a chance I'd get medically disqualified because I'm blind in one eye, but that didn't stop me from trying. What really sucked was the first day of PT I hurt my back and wasn't able to participate in PT for the rest of the semester. When I went to my eye appointment as a medical requirement, they did a depth perception test, and I nearly started crying because I didn't see what I needed to see, and that was the moment I knew my dream was never going to come true. I learned a lot of good leadership skills through AFROTC though, and met some awesome officers and future officers. I'm forever a proud, former Thunderchief.

There was other stuff that happened that one semester at Boulder that just broke down my mental health, and my grades got so bad that I had to withdraw from all of my classes right before finals came around. I had never been more disappointed in myself than I was after my time at CU Boulder.
Colorado Springs, CO (80916)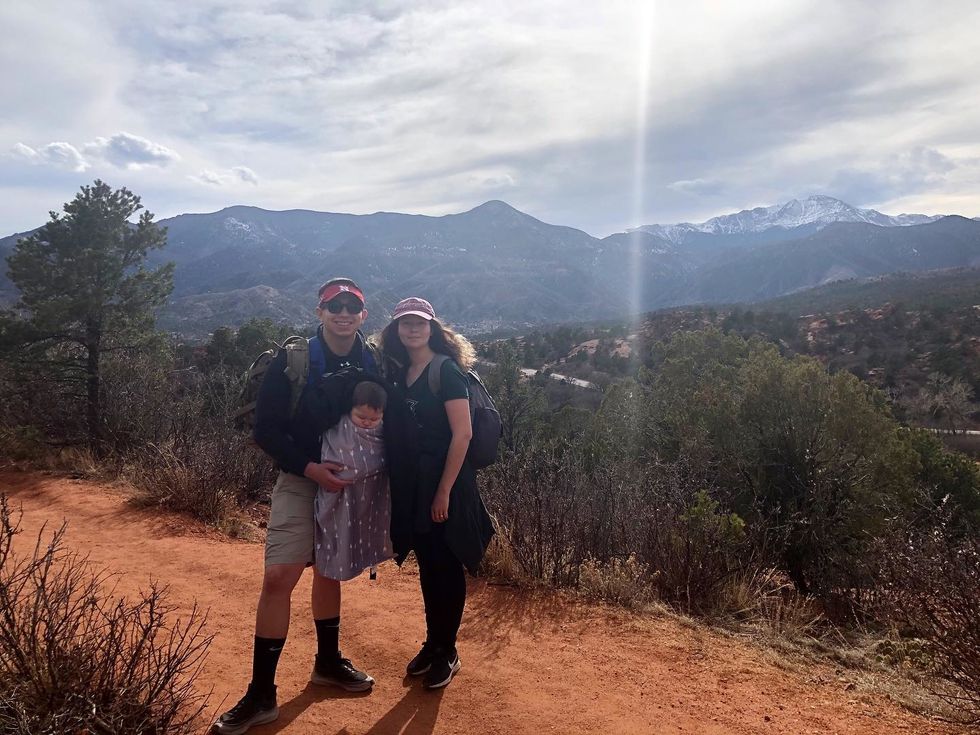 Garden of the Gods
I took time off of school, met my now husband, and moved to CO Springs to live with him. He's in the army and was stationed down at Fort Carson. During my year and a half (almost) living down there, I gathered myself mentally and even had a kid! Having a kid at 20 (almost 21...he was born 24 days before my birthday) was scary because I felt like I'd be judge and everyone would assume he was a surprise (he wasn't, FYI). BUT he is the best thing that has ever happened to me. He has helped me see the little joys in life in the one year he's been alive and he has helped my mental health tremendously. I am so thankful for him and my husband. They helped me get back up on my feet and find my motivation to get my college degree.

It's bittersweet to leave this state I have called home for so long, but I know that I need to "spread my wings" and adventure off into the world, and the first stop is Hawaii. I have made memories while living in Colorado that I will never forget.
Thank you Colorado, and goodbye for now. I'll see you again soon.