On Wednesday this past week, we saw Hurricane Irma swipe through Puerto Rico. As a category 5 hurricane, the highest in the Saffir–Simpson hurricane wind scale, and almost as big as the state of Texas, Hurricane Irma possed a real and powerful threat to the 3.7 million people who live in Puerto Rico.
According to reports, over 1 million people on the island were left without electricity, over 55,000 had no running water, and only about 40 percent of hospitals were able to continue operations, in addition to local damages and flooding. Much is still left to do in disaster relief efforts, but we are grateful for all the help we have received and proud of the help we are giving.
Immediate Help
Free meals for those helping with disaster relief. The Governor of Puerto Rico, Ricardo Roselló, and the Association of Restaurants of the island agreed to provide meals free of charge to those people who decided to aid in disaster relief efforts.
Temporary suspension of IVU tax, the main federal tax in the island (11.5%), on prepared goods. Governor Ricardo Roselló stated the measure was made, "to make sure families have greater access to food".
AT&T sent out this message to help Puerto Ricans communicate during such an important time.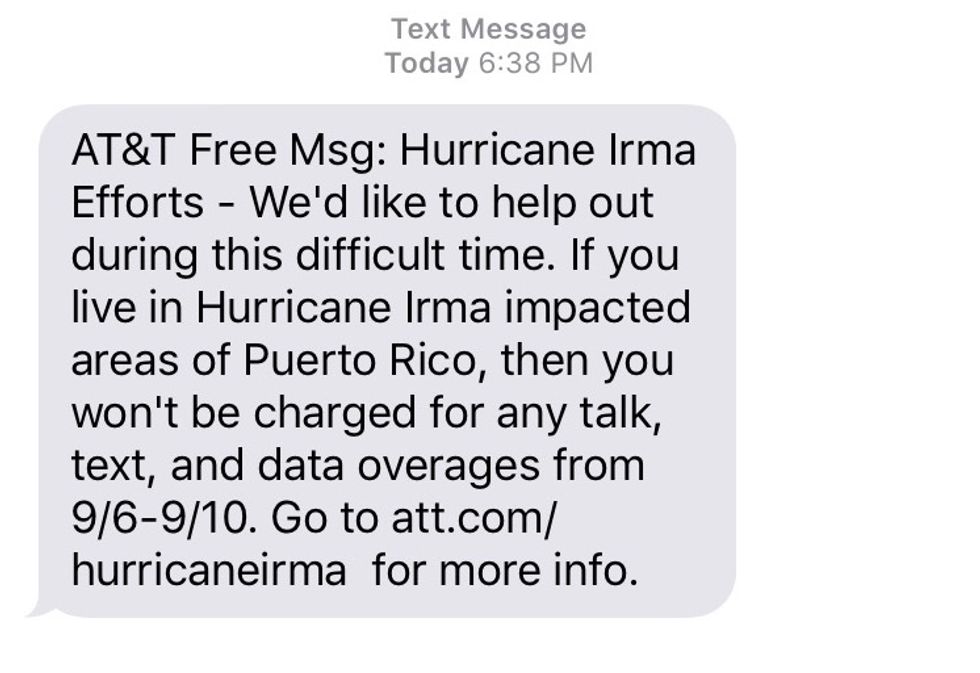 Krispy Kreme donated hundreds of donuts to the Governor Ricardo Roselló, to pass on to those helping with disaster relief.


U.S. Government Help
President Trump has authorized funds for FEMA to coordinate in relief efforts on the island:
"Today, President Donald J. Trump declared that an emergency exists in the Commonwealth of Puerto Rico and ordered Federal assistance to supplement Commonwealth and local response efforts due to the emergency conditions resulting from Hurricane Irma beginning on September 5, 2017, and continuing."
Temporary suspension of the Jones Act. Elaine Duke, Security Acting Secretary of the Department of Homeland Security, approved a seven-day waiver of the Jones Act. This waiver was issued to ensure that , "all options are available to distribute fuel to states and territories impacted by Hurricanes Harvey and Irma, both historic storms."
Aid to Neighboring Islands
In the midst of the damage left by Hurricane Irma, Puerto Ricans decided to send supplies and personnel to the islands of the Antilles and U.S. Virgin Islands to aid in their disaster relief efforts.
Even though 40 percent of hospitals on the island were operating due to generators after Irma, "The British Virgin Islands, just east of Puerto Rico, saw extensive damage and was sending some of its injured to two Puerto Rico hospitals".
Also, thousands in Puerto Rico have gathered supplies during the days following Irma to send to the islands most affected. Groups are preparing to go and some are already in these places assisting with disaster relief.
---
Here are videos of people in Puerto Rico rallying to help each other and to help those in the nearing islands:
https://www.facebook.com/groups/1922822811318744/p...