Salsa with chips is debatably the best snack ever. I could eat it all day, any day. But sometimes you need a little sweetness. This dessert version of salsa and chips is one of my favorite recipes to make. I have made it so many times, but I still get requests for it every time my friends have a get-together. And it's super easy to make! I hope you enjoy it as much as I do!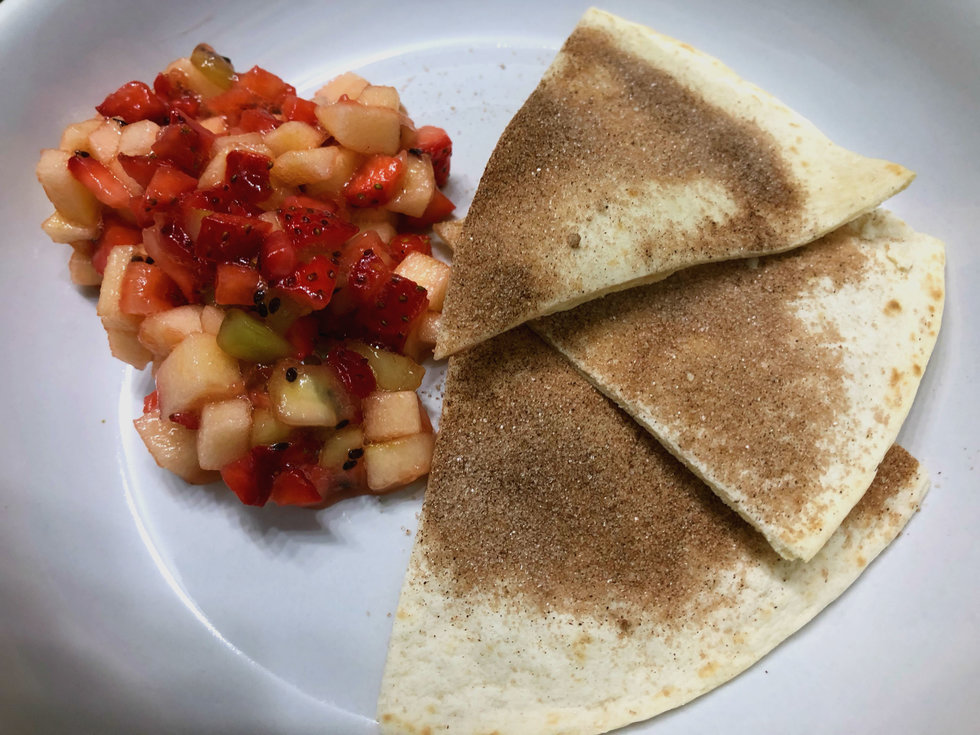 Here are the ingredients you'll need:
For salsa: 2 kiwis (peeled and diced), 2 golden delicious apples (peeled, cored and diced), 1 carton of strawberries (diced), 2 tbsp white sugar, 1 tbsp brown sugar, 3 tbsp strawberry jam
For chips: 10 (10-inch) flour tortillas, coconut oil cooking spray (melted butter works too!), 1 cup white sugar, 2 tbsp cinnamon
Directions:

Mix together the kiwis, apples, strawberries, white sugar, brown sugar and jam in a large bowl. Cover the bowl and chill it in the fridge while the oven preheats to 350 degrees.
Coat one side of each flour tortilla with the cooking spray or melted butter. Mix together the cinnamon and sugar and sprinkle the desired amount of the mix on top of the tortillas. Cut them into wedges, and arrange them in a single layer on a large baking sheet. Spray them again with cooking spray (not necessary if using melted butter).
Bake the tortillas in the preheated oven 8-10 mins. Let them cool approximately 15 minutes. Serve the chips with chilled fruit mixture.
And there you have it! A treat that can satisfy your craving for sweets as well as tortilla chips. Enjoy!
Cover Image Credit: Tia Ashley