Approximately one year after their debut album, come out. you're hiding, was released, flor brought their eclectic sounds to The Orange Peel in Asheville, NC while supporting Misterwives. They combine their synth-pop instrumentals with personal, nuanced lyrics to create the signature "flor sound." But with the upbeat, synth-driven melodies come vulnerable and thought-provoking lyrics about "heartache, anxiety, and self-doubt," creating a captivating juxtaposition.
The West Coast-based band had never traveled to Asheville before, so we welcomed singer/guitarist Zach Grace, guitarist McKinley Kitts, bassist Dylan Bauld, and drummer Kyle Hill with open arms on May 8 when they shared their thoughts on touring, songwriting, and their fanbase.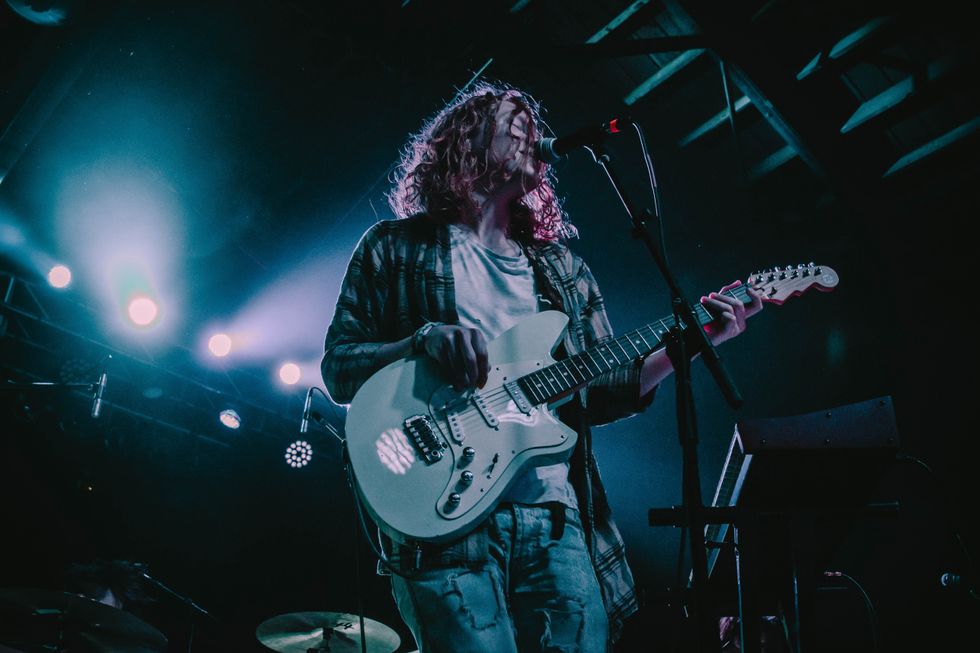 Singer/guitarist Zach Grace
Sophie Harris: Is this your first time in Asheville? What do you think of it?
Zach Grace: It is, and it's so freaking beautiful! I always forget about these mountains and I really need to stop doing it because they're so beautiful.
McKinley Kitts: Yeah, it's like a jungle here. The drive from Nashville was beautiful. Very lush.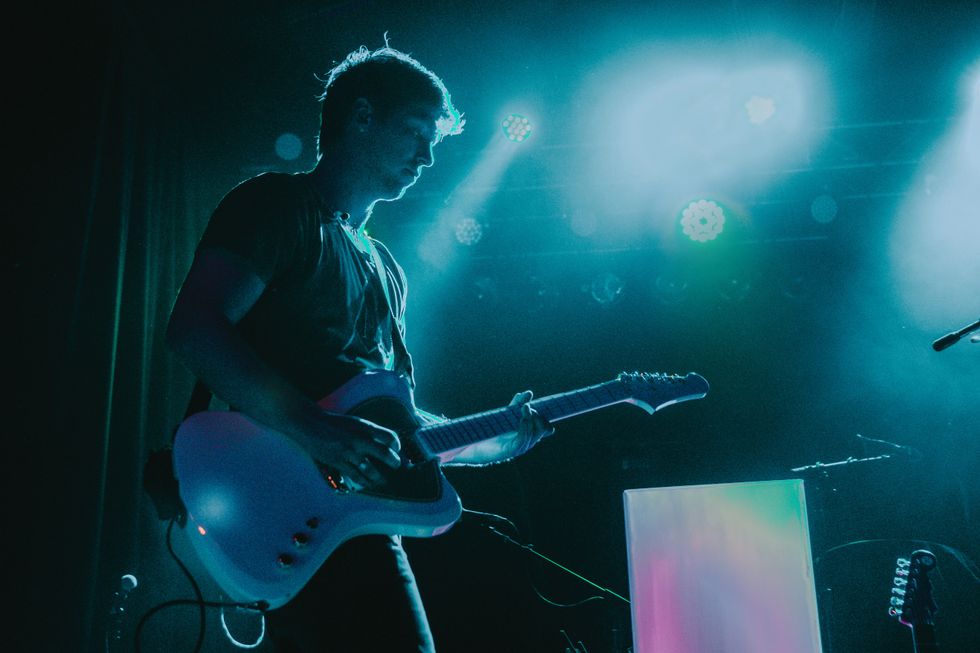 Guitarist McKinley Kitts
SH: So you guys have had a really big year. Your album just came out almost exactly a year ago.
ZG: It's coming up on our first anniversary - May 19. It's been a really fun year, all because of the album. It's done some great things for us.
MK: We supported [artists] and built up off the album for a while, and then we finally went out in February for our first full headlining tour.
ZG: And we're gonna be braving the next one in Europe. We just went over there for the first time a month ago.
MK: Yeah, we supported Walk the Moon in Europe and the UK. And then the day after we finished that tour, we announced our Europe and UK headline tour in September.
SH: I love how you've toured with a bunch of different people, like Paramore, Bleachers, Lostboycrow…they span across all these different genres.
MK: I think it's good to bring people in from all walks of life. And it showed on the headline tour. There was no consistency amongst [the ages of] our fans. There were kids at some show, and then people in their sixties kissing each other in the back.
ZG: And loving flor. flor is what unites all the ages.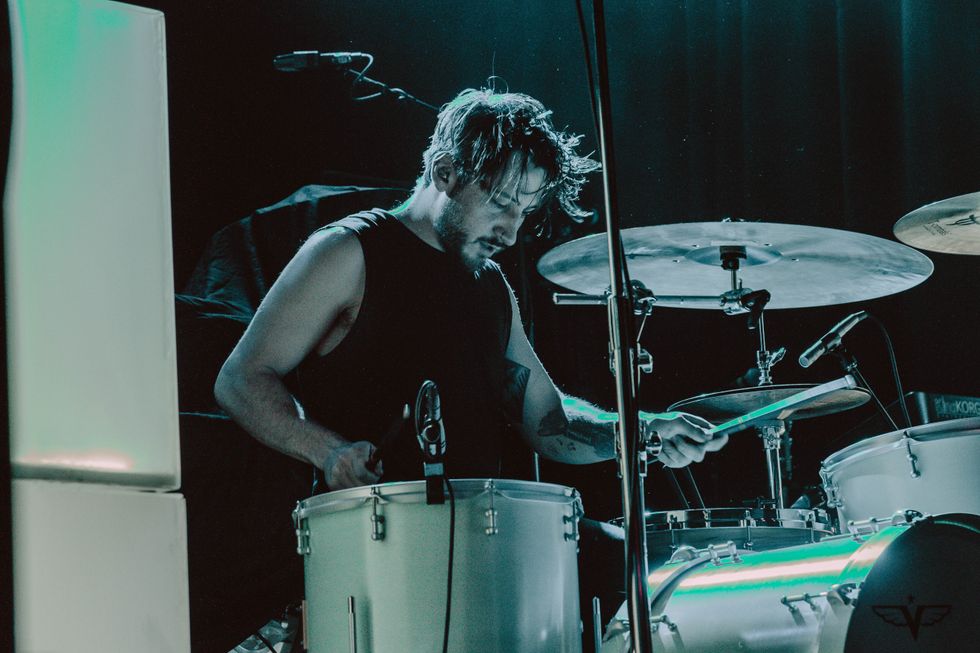 Drummer Kyle Hill
SH: So how have all those genres meshed together to influence your style?
ZG: All of us have such eclectic tastes. You'll have McKinley pumping the country jams one day while we're driving down the road, [meanwhile] Dylan's listening to his sweet urban and alt-pop stuff. We just like to appreciate good melodies and good lyrics, whether it's a song that makes you feel good or a song that makes you feel awful.
MK: We try to have variety from the album to the live show. The album is really sleek - it's not rough around the edges. But the live show has a little more of the elements. We try to bring a little bit of a different flavor to the live show.
ZG: Yeah, I think that more so than anything, playing with all these different artists has really just given us an understanding of what we want to do with our live show.

MK: We learn something every day from every tour.
ZG: Maybe we can't really dive into the style of Lostboycrow. And Bleachers is so…Bleachers. When you see Jack Antonoff control a room like he does, you can't help but be like "I want that when we play music. I want that feeling."
MK: We're absorbing little pieces of wisdom and energy from whoever we tour with. Hodgepodge-ing it together on top of what we already have.
ZG: Oh yeah. We keep the "flor style" too.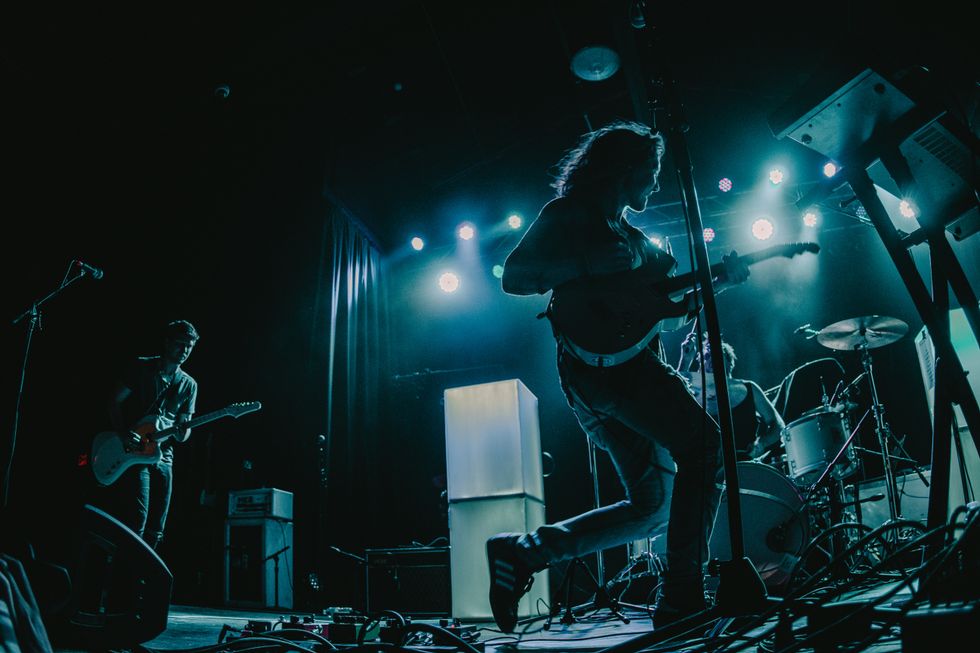 Singer/guitarist Zach Grace, guitarist McKinley Kitts, and drummer Kyle Hill
SH: Zach, you're the main songwriter...I noticed it's very vulnerable. I have trouble expressing my emotions, much less writing them down. So, how was the whole songwriting process a challenge?
ZG: It took me about six years before I even thought to start bringing my songs to these guys. Like, that's about how long it took before the "flor sound" was even an idea. And even then, it was Dylan saying, "Zach, what you're doing is good enough, and you can work with us." And me being like, "I don't know, I'm not sure!"
Dylan Bauld: What I secretly think is that he was holding back because we weren't good enough yet, so it would be a way for us to actually get to his level. And he's like, "Okay, you guys can have these songs."
ZG: We'll roll with that one because it makes me look awesome...But, no, it's obviously a really, really hard thing to do. Maybe it's not a hard thing for most people, but for me, it's a hard thing to believe that what I'm saying has value and, more importantly, will mean something to people. It's really easy to think, "This means something to me, this impacts me, but how can it impact the rest of the world?" You don't really know if that's the case until you put it out.
SH: Is there a certain song that you guys feel the closest to?
MK: I think we've all kind of come to the conclusion that "warm blood" is most indicative of the "flor sound" melodically. And the way it comes together live, especially. If someone says, "Play me a song," it's not like, "Oh, here's our banger." It's like, "Here's the one that sounds like flor."
ZG: It accomplishes everything I want a song to accomplish. And that's a really nice feeling.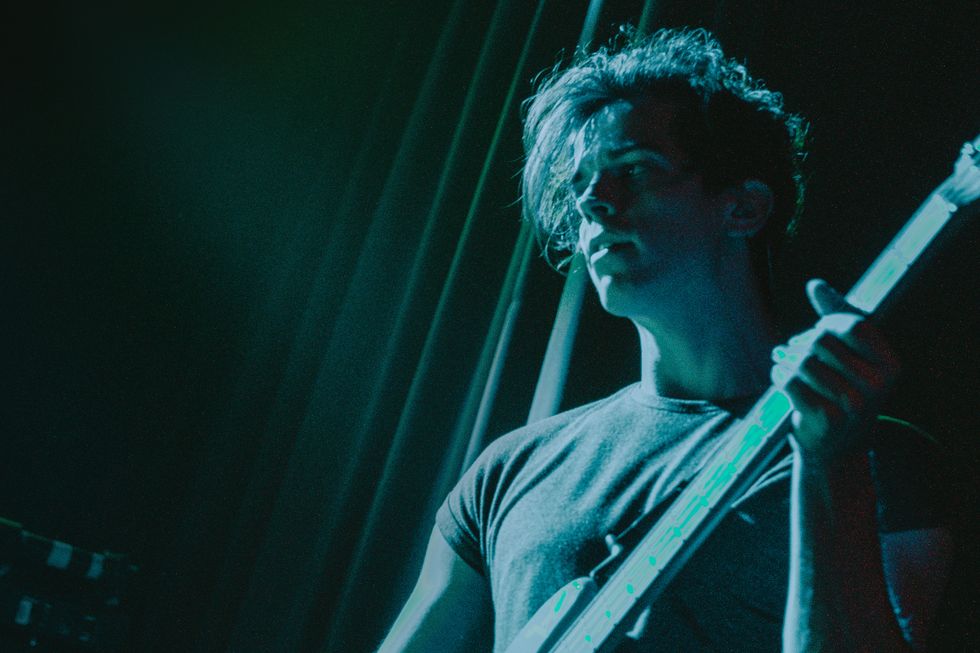 Bassist Dylan Bauld
SH: So, "rely" was just released as a single...What's next for flor? Are you gonna release any other singles from the album, or are you gonna start releasing new stuff?
MK: We're not totally sure yet - we're still workshopping things. We're constantly writing and recording, so throughout this summer after our festival runs we'll be in a studio.
DB: There are a lot of new songs that we're really stoked on that we can't wait to release in the near future.
ZG: Yeah, we're really pumped to take a break after this tour and just sit down and be creative with each other and see what happens.
MK: We've been writing on the road, which has been great, but it also inhibits us from being in the studio. So it will be good to kind of sit down and let loose a bit.
ZG: Being on the road is wild because it makes me the most creative. I'll be in a van, and I'll have song idea after song idea. But I can't do anything but just sit there and [make a] voice memo.
MK: There's always stuff materializing. Whether it's notepad notes from Zach, or Kyle playing like a simple drum beat during soundcheck. There are lots of tidbits floating around, and [we're] putting it all together and creating something special.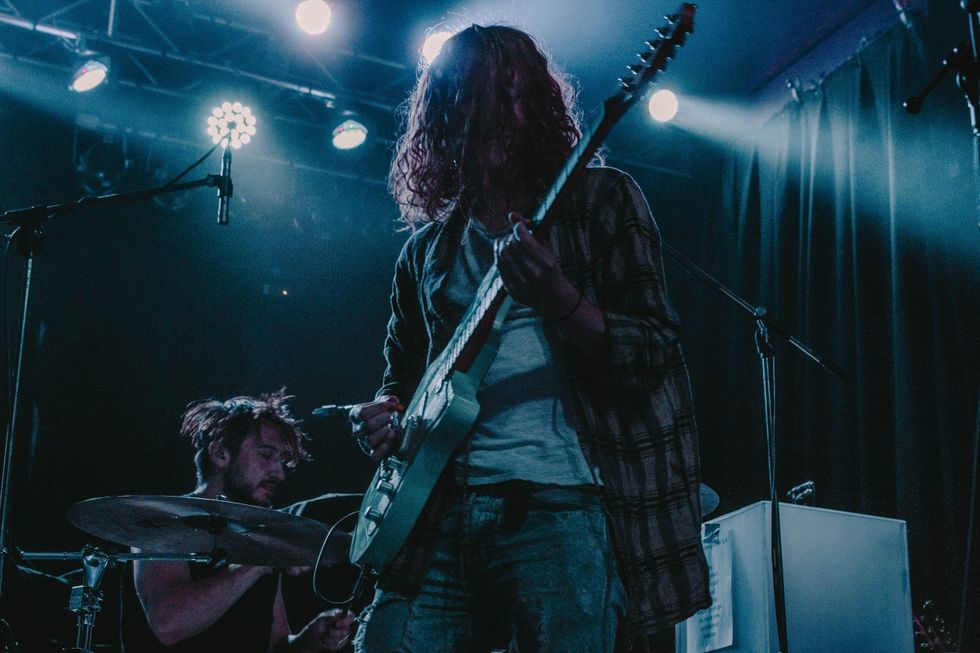 Singer/guitarist Zach Grace and drummer Kyle Hill
SH: Do you have any kind of message that you want to give your fans?
MK: We have a family here. It's a safe space, as far as belonging. We have a really special group of fans that get along really well together, and it's a positive environment. We're lifting each other up.
ZG: Every fan already knows that we're incredibly thankful for them. Because every band should be incredibly thankful to their fans. They're the only reason we exist.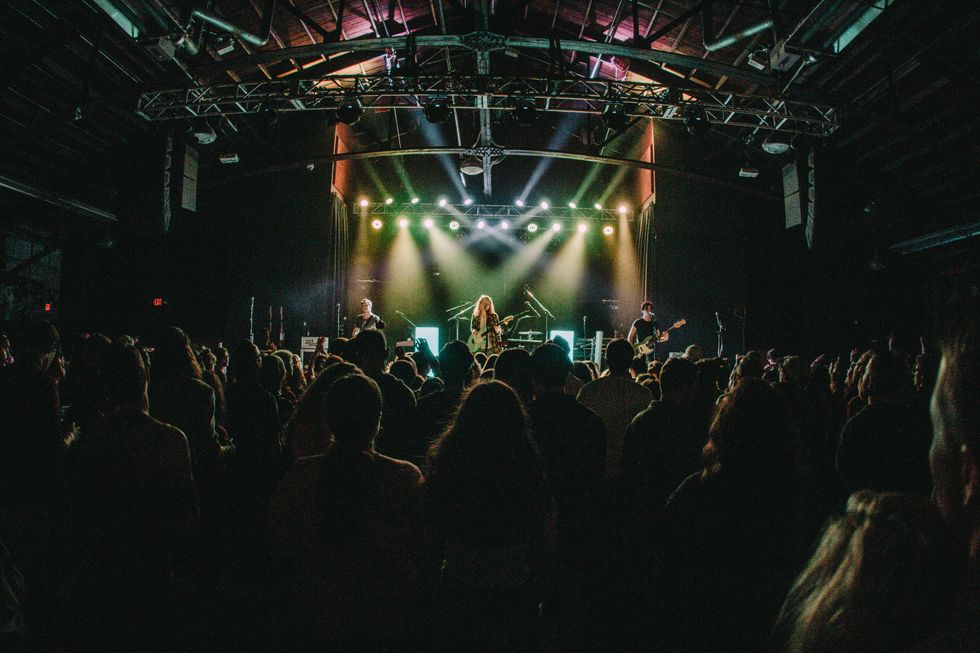 flor on stage at The Orange Peel, surrounded by loving fans
Full gallery of flor in Asheville available here.
Keep up with flor on: