This semester I took a course called Women and Gender Studies, it was in this class that I realized just how much of our history has been formed by women. For my final creative project, I chose to create a tribute to a few of those women. I studied women from different periods, different social justice movements and different professions. I chose to highlight these women because I feel as though the history books don't give credit where credit is due. This week, I've gone back and selected five of the women I studied and included them in this feature.
1. Susan B. Anthony - Activist, Suffragette and Abolitionist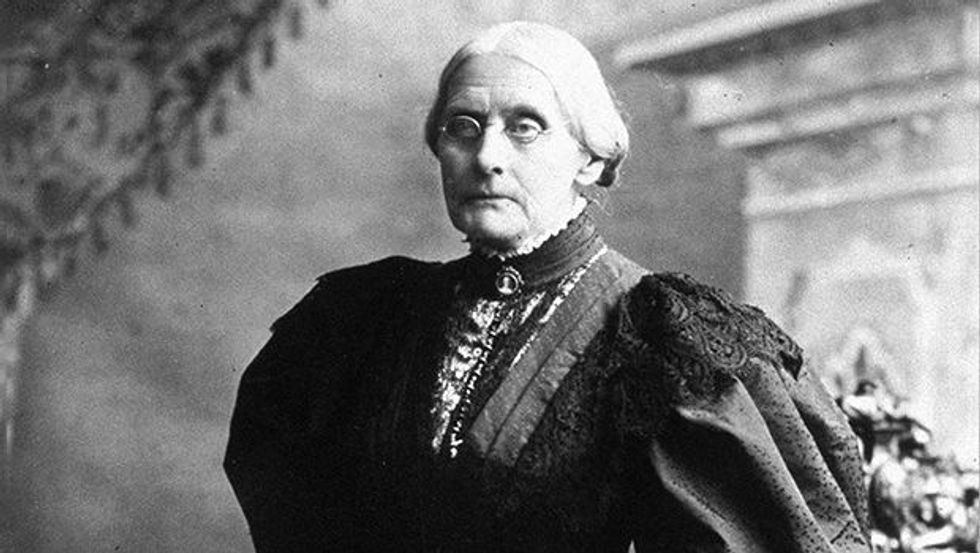 "Men, their rights, and nothing more; women, their rights, and nothing less."

Susan B. Anthony was born February 15, 1820, in Adams, Massachusetts. She was one of the first women to join the fight for the right to vote. Anthony dedicated the majority of her life to this cause. She traveled, gave speeches, attended conferences both nationally and internationally and founded numerous organizations such as The National Women's Suffrage Association with fellow suffragette Elizabeth Cady Stanton as well as the Women's New York State Temperence Society. She was also a member of the International Council of Women. In addition to her contributions to the fight for gender equality, Anthony was also a passionate abolitionist. She was committed to helping end slavery in the united states. She was also a conductor of The Underground Railroad. Anthony lived her life fearlessly and continued her activism fearlessly until she passed away in 1906 at the age of 86. She was one of the fiercest crusaders of her age and an iconic figure in American History.
2. Angela Davis - Activist, Author, and Educator
"We know the road to freedom has always been stalked by death."
Angel Davis was born January 26, 1944, in Birmingham, AL. Despite the fact that she was raised in a safe, stable and loving household, Davis was no stranger to the problems of her day and age, problems that lurked right outside her front door. Davis lived in a middle-class suburb dubbed "Dynamite Hill" for the amount of racially motivated bombings that plagued the neighborhood. Davis was an intelligent young woman. After moving to New York during her teen years she relocated to Massachusettes to seek her B.A at Brandeis University, she spent a year in France and then returned to finish her degree. While still in school she joined the Black Panther Party, and later a Cell in the Communist Party. She continued both her educational career as well as her activist work. Her two worlds would eventually collide in 1969 when she was forced to retire her position at the University of California after news of her communist ties hit the campus. Davis is also remembered for her affiliation with the Soledad Brothers, three black inmates incarcerated at Soledad Prison who allegedly murdered a white guard and were wrongly convicted. Davis attended all the hearings along with their supporters and in October 1970 was charged with kidnapping, conspiracy, and murder. These charges were related to an incident at the Marin County Courthouse, where a shoot-out had occurred. The motivation had been to free one of the Soledad Brothers. Davis was sent to prison for 14 months. Upon her release, she continued her activism work, wrote books and even sought office. Today she is an acclaimed and tenured professor at the University of Santa Cruz, California
3. Billie Jean King - Athlete, Activist, and Icon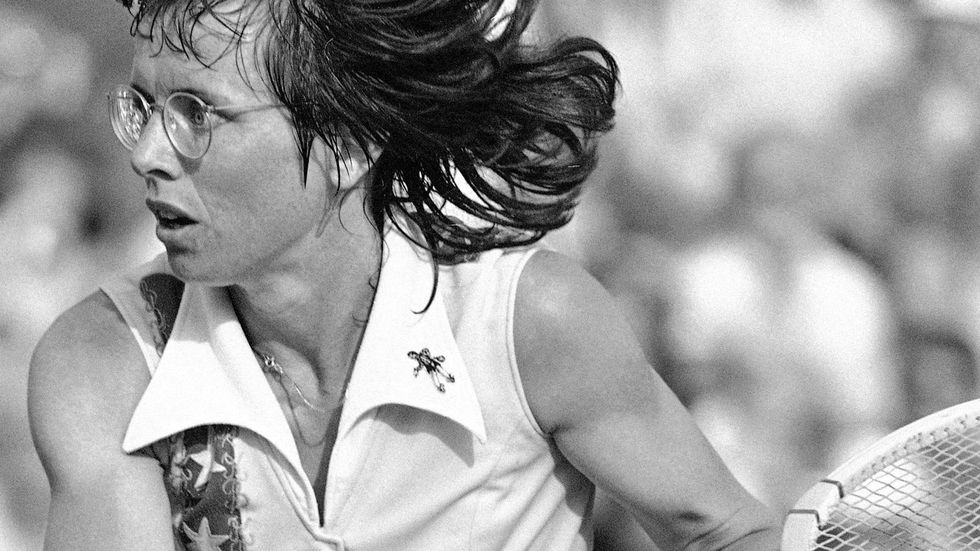 "Be bold. If you're going to make an error, make a doozy, and don't be afraid to hit the ball."
Billie Jean King was born November 22, 1943, in Long Beach California. She is a retired American tennis player who is remembered for her role in the "Battle of the Sexes." A spectacle and series of tennis marches that took place in the early 1970's after retired American tennis player Bobby Riggs made insulting remarks about the players in the women's division. Briggs claimed that despite his being in his mid-50's he was a better player than anyone in the women's game. Riggs initially challenged Billie Jean King but was refused. Margaret Court took her spot and lost. Soon, King grew tired of Rigg's boasting and even worse, misogynistic remarks directed at the female players, and accepted Riggs' offer. On September 20, King took the court. Riggs' clad in a "Sugar Daddy" jacket on the other side. It was a grueling match and had an estimate of 90 million viewers and 30 thousand onlookers. King held her own and took Riggs in three sets, stunning the Riggs as well as the nation. Riggs accepted defeat as humbly as possible and King took home the trophy as well as the prize money. Fifty years later, The Battle of the Sexes remains of the most iconic moments in sports history. King is also one of the first major athletes to come out.
4. Hillary Rodham Clinton - Politician, Public Servant, and Maker of History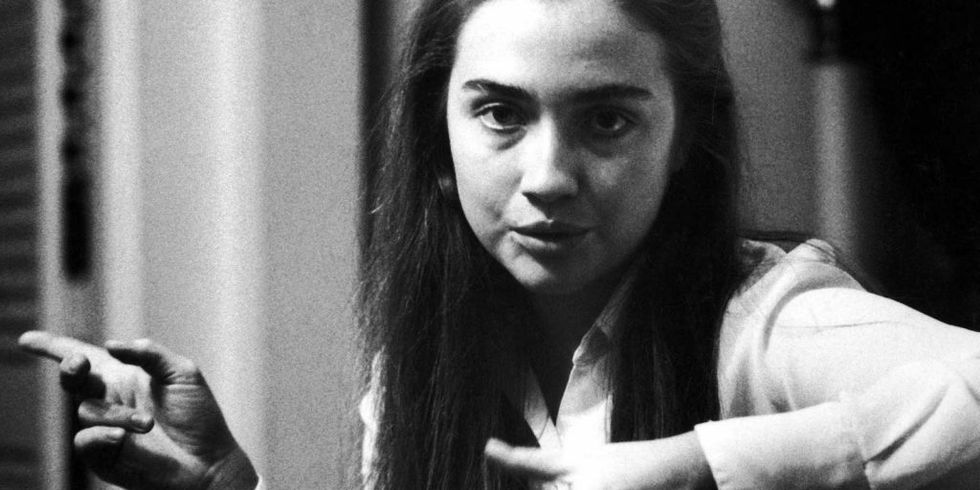 "Human rights are women's rights and women's rights are human rights"
Hillary Rodham Clinton was born October 26, 1947, in Chicago, Illinois. She was the oldest child and only daughter of Hugh and Dorothy Rodham. The Rodhams were a strict, conservative and catholic family. She, however, became much more liberal after receiving her undergraduate degree at Wellesley college. She met the future president and husband Bill Clinton at Yale University and soon after graduating got married and joined him in Arkansas where she became the first woman to make partner at the prestigious Rose Law Firm. The Clintons spent a few years in and out of the Governor's mansion before Bill declared his candidacy for president in 1992. Hillary campaigned just as hard and was criticized for it. This was something that followed her to the White House when her husband won in 93. Hillary was attacked for being given too much power, the first First Lady to have an office in the West Wing, she has given a lot of responsibility, more than some would have liked. Two terms, a couple scandals, and eight years later, Hillary sought the senate while still serving as First Lady She won the race and served another two terms. After leaving the senate Hillary ran for president in 2008 where she was defeated for the democratic nomination by future president Barack Obama. After his victory in 2008, he nominated Hillary for secretary of state, a position she accepted and served with grace. Hillary sought the white house yet again in 2016. This time she became the first woman to secure her party's nomination for president. Hillary would then battle and ultimately concede to republican candidate Donald Trump, despite winning the popular vote. Regardless of your personal feelings this is a woman who has dedicated the majority of her life to public service. What she'll do next? Only time will tell.
5. Malala Yousafzai - Author, Activist, and Survivor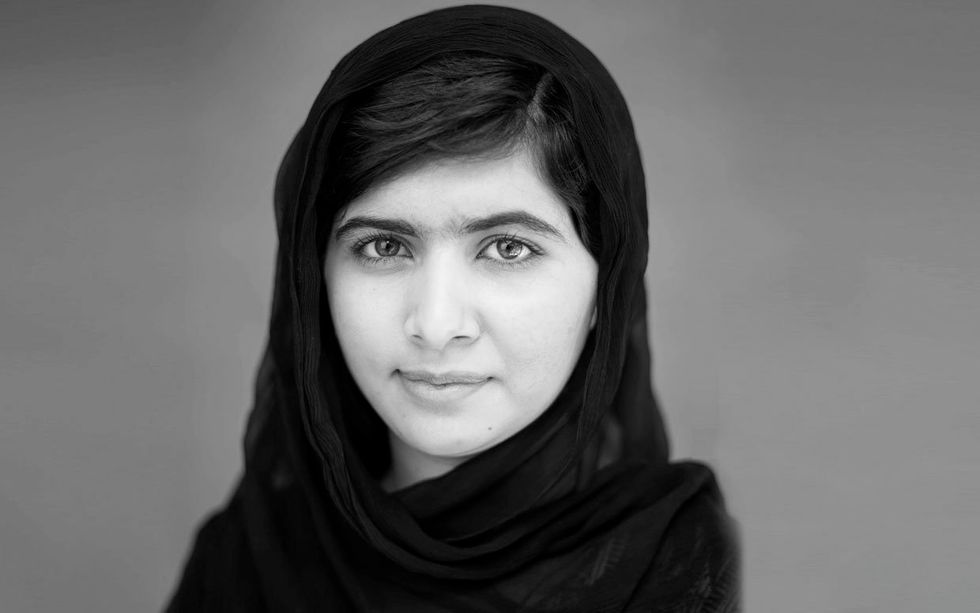 "Let us pick up our books and our pens, they are the most powerful weapons."

Malala Yousafzai was born July 12, 1997, in Mingora Pakistan. When she was in the 7th grade she became a blogger for the BBC, passing notes on to be decoded and published. Yousafzai's neighborhood lived in fear of the Taliban. Girls' schools were regularly destroyed. Though she wrote and blogged under a false name, her identity was eventually revealed. Rather than comply with the death threats the Taliban began so send her, Malala began using her new platform to promote education for everyone as well as human rights, something that would have profound effects on her life after a gunman stormed her school bus and shot her in the head in an effort to silence her. Two of her friends were also hurt in the attack. Amazingly, Malala survived the harrowing attack. Following her recovery, Malala has continued her activism. For the past few years she's traveled everywhere, giving speeches, accepting awards and meeting with the world's leaders. In 2014 she was awarded the Nobel Peace Prize for her work as an activist for educational rights and most recently, celebrated her 18th birthday by opening a school for refugee girls in Lebanon. The most remarkable thing about Yousafzai is not her many awards and recognitions but her grace and understanding. She is quoted saying that rather than seek revenge she hopes that the children of her attackers and of the Taliban be able to get an education, something that she values above all else.