As summer break kicks into full swing, everyone is going their separate ways for the months to come, whether that be to work, to take summer courses, to go abroad, or to just lay on the couch contemplating the meaning of life for hours on end (I tend to be leaning towards that last one). We miss our friends from school and feel at a distance when we've all moved back home for three months, but there is one thing we can always share despite growing mileage between us: great TV. So here's five television shows you and your buddies can binge to bond during the time you're away from one another.
1) Girls
Aired on: HBO/HBO GO
Genre: comedy/drama
Rating: TV-MA
"Rotten Tomatoes" gives it: ~90% (averaging seasons)
Girls tells a story that I think many of us can relate to, albeit in maybe a more ostentatious way. This show tells the story of four young women trying to find their way in life, in love, and in themselves on the exciting backdrop of modern New York City. It focuses around greatly-differing characters--Hannah (Lena Dunham), the privileged writer who ignorantly tries to convey a struggle she doesn't face; Marnie (Allison Williams) , the uptight art gallery assistant who tries to make a singing career; Shoshanna (Zosia Mamet), the spunky but naïve NYU grad trying to make her way in the job market; and Jessa (Jemima Kirke), the English nomad with substance abuse problems who refuses to follow societal standards. Girls provides slicing comedy to alleviate constant drama with a great indie-film feel as it tells the story of young females facing the bitter truths of real adult life in a way that makes it seem...maybe not so bad, after all.
2) Bob's Burgers
Aired on: FOX, Netflix
Genre: animation, comedy
Rating: TV-PG
"Rotten Tomatoes" gives it: 89%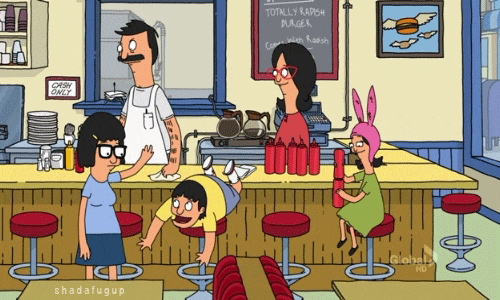 You've never met a family like this. Follow the story of the Belcher family: Bob, the father and restaurateur of run-down burger shop; Linda, the quirky mom who is always ready to help her family and sing a song; Tina, the oldest daughter with a strange obsession with ponies and backsides; Gene, the middle son with a big appetite and a bigger imagination; and Louise, the youngest child and the evil mastermind of the family. This show is a refreshing take on cartoons geared towards an older audience with a plethora of unique, hilarious characters, and wacky, unpredictable situations. With its fifth season opened for streaming on Netflix, it's a lighthearted, easy to watch show that will be a blast to binge.
3) Skins (UK)
Aired on: E4, Netflix
Genre: Drama
Rating: TV-MA
"Rotten Tomatoes" gives it: 75%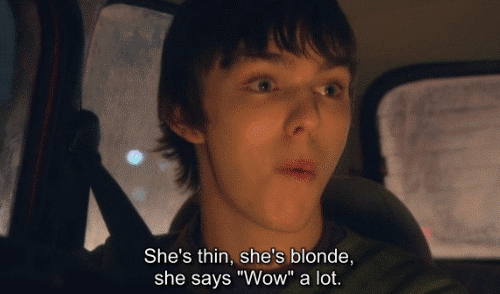 If you want Degrassi with a better storyline and English accents, Skins is perfect for you. While it has its bits of ridiculous drama, it isn't as idealistic as some American programs. It covers the experiences of a group of English teenagers transitioning from high school to university and adulthood, and every character has flaws, faces real issues and actually experiences great struggle, rather than problems being magically fixed through coincidence and elitist parental control. They live quite liberally, but their reckless actions don't come without consequence, reinforcing the non-idealistic themes that the show stresses. They aren't perfect kids, they don't all have great home lives to support them, and they don't always make great decisions. But these flaws are what make them enthralling, and what makes the show as a whole an addictive emotional rollercoaster.
4) F is for Family
Aired on: Netflix
Genre: Animation, Comedy
Rating: TV-MA
"Rotten Tomatoes" gives it: 82%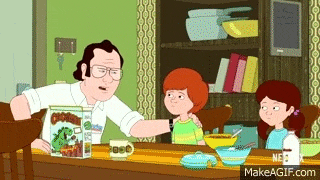 Mix the crude humor of Family Guy with the overall feel of King of the Hill and you've got F is for Family. Well, it's funnier than Family Guy, and definitely breaks a few more boundaries and takes itself more seriously. Showcasing the events of the Murphy family in 1970s American suburbia, they face struggles like any other family. However, take this show with caution. It is incredibly vulgar and non-PC, as was common during the 1970s. With overarching themes of emotional abuse, patriarchal expectations, and overall depression and discontent with life, it can be a heavy brick to swallow. However, these themes are weaved into humorous commentary and make an overall entertaining show. With only one season of six episodes, it would be very easy to binge, but be warned at its themes. But if you're into darker, more crude humor, then this may be your match.
5) Continuum
Aired on: Showcase, Netflix
Genre: Sci-Fi, Thriller, Action/Adventure
Rating: TV-PG
"Rotten Tomatoes" gives it: 83%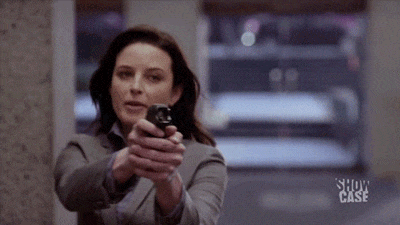 Be warned: you will get addicted to this show. Continuum tells the story of Kiera Cameron, a law enforcement officer from 2077 Vancouver fighting a terrorist group, Liber8, and while in pursuit of them finding herself trapped in the year 2012 along with the criminals, who used time travel to escape execution. She is forced to cooperate with 2012 Vancouver police officers to try to catch the terrorists from altering the past in an attempt to end the regime that reigns in the future, while at the same time maintaining a cover of an everyday 2012 Canadian woman. Throughout this show you meet some fantastic characters, all intriguing and none unimportant. The show has twist after twist and you'll be on the edge of your seat for every episode. Trust me, this isn't a show where you can easily predict the ending. Not to mention the special effects are pretty impressive. Continuum has a great mix of crime action, sci-fi technology, and drama to entertain any audience. So strap in, kids. It's gonna be a long ride.