So last night was the premiere of a new show on Freeform called "The Bold Type," and this show was on my list for the most anticipated releases for summer. Naturally, when it positively surprised me with how much I fell in love with it, I figured I should write out my reasons why I plan on continuing to watch the first season of the show.
For those of you that don't know, the premise of the show takes place in New York City at a magazine company called Scarlet. The show centers around three 20-something-year-olds- best friends Katie Stevens, Meghann Fahy, and Aisha Dee-who all start out as assistants to higher ups at the magazine- the writers, editors, directors, and so on. In the first episode, we see that Katie just got hired as a content creator for the magazine. Throughout the show, I imagine we will follow the three young ladies as they deal with struggles within the magazine company, as well as in their personal lives.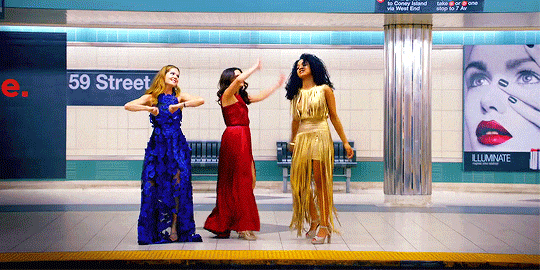 So without much further ado, here are six of my top reasons for both watching the premiere if you haven't already, and continuing on with this show:
1. The characters are funny, likable, and relatable.
We can all relate to wanting to stalk our ex-boyfriends, not wanting to write for the sex column at work, and having an awkward phone call in the elevator with an attractive guy, right??
2. Katie's boss is actually NICE, and a boss that we don't automatically hate in the first episode.
She helps Katie with ideas for her first article, tells her personal stories, and doesn't yell at the girls when she sees them drinking in the fashion closet at the company.
3. Katie, Meghann, and Aisha demonstrate what a GREAT friendship should look like.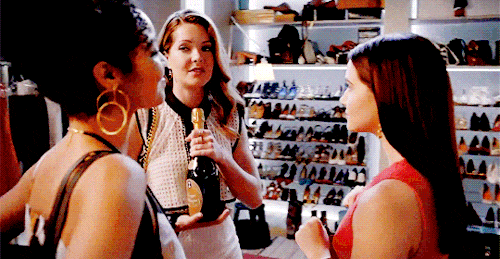 4. The show is not afraid to explore topics of sexuality.
Whether that's a group of women at the company in the first episode testing out vibrators, or watching Aisha struggle with the realization that she might have feelings for another woman, within the first two hours of the show, many topics usually ruled out as "taboo" were addressed. Oh, also, how could we miss the 50 Shades of Grey reference in the second episode??
5. The show promotes body positivity and a space to provide content to connect with the readers of the magazine in the show.
It's a relatable aspect of the show, especially since it is loosely based on the writers of Cosmo Magazine.