When Tiffany Rawlin joined Odyssey, she set out to share her perspective—like everyone else on the platform. But when she wrote a post earlier this year about an unpleasant experience she had at the Stones River Mall in Murfreesboro, Tenn., she never expected she would be the one to prompt a serious change.
Tiffany, who is a part of the Murfeesboro, Tenn. Odyssey community, has been sharing her perspective as a young wife and mom since she joined in May. She's covered every aspect of parenthood and family life from "11 Unexpected Parent Phrases" to "A Bad Mom's Take On 'Bad Moms,'" but when she and a group of mothers were disrespected at their local mall, she took to Odyssey to report on the wrongdoing.
She recounted the day she and a group of other moms took their children to the mall's indoor playground area. When their kids started playing, security staff approached the group and asked them to leave the area.
Rawlin was baffled. Her plan of action was to leave a negative review on the mall's Facebook page, and she would have stopped there had it not been for others who, over the course of several weeks, also spoke out against the mall security staff. They, too, had been asked to leave the playground after displaying completely normal and reasonable behavior.
Rawlin relayed one mother's story in her post:
She had brought her oldest son, who has high functioning autism, prepared with books and school work to occupy him. While she was turned around trying to help her toddlers take their shoes off, a security guard asked her older son to leave the area immediately. Following orders, he did so. When the mom turned around, her son was nowhere to be found. Luckily he was not too far off, but things could have been much worse.
"I realized it wasn't a fluke lapse of judgment," said Rawlin. It was then that she decided something else needed to be done, and what better way to spread the word than on Odyssey? She wrote a post retelling her story and the other parents' experiences. Soon, her network of parents and their networks began sharing the story on social media.
"I was seeing my article being shared over and over again by moms all around middle Tennessee, some I've never met," said Rawlin, who certainly wanted to invoke a change, but didn't expect the story to gain as much traction as it did.
"When my article kind of took off, I remember wondering how big it could get... it was nice being able to see that we weren't the only ones having issues and that other people wanted change too."
But it wasn't just angry parents who took notice of her story. The post had circulated so quickly that within just a few days, the mall had also seen the post and issued this response on Facebook addressing the concerns of its frustrated customers.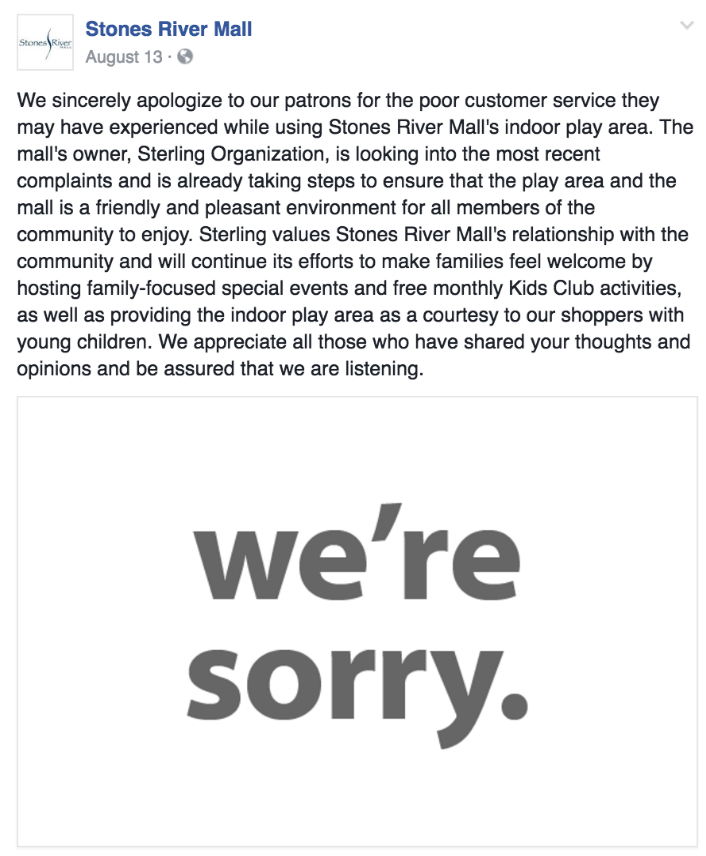 Rawlin was ecstatic to find the mall had apologized, but it didn't end there. The day after she posted on Odyssey, the Daily News Journal, a local affiliate of USA Today in Murfreesboro, picked up her story and even asked more parents for their perspective on the issue.
Despite her intention to spread word about the injustice she and her group experienced, "I never thought it would actually make change," Rawlin said.
After making a formal apology, the Stones River Mall has made changes in security staff and even started up special children's events in August, adding a puppet show and a magic show to their calendar of events. And so far, no one's been kicked off the premises since Rawlin's post.
Rawlin realized after her post that one voice can be the beginning of an entire movement, and that perhaps if she hadn't written about it, the mall wouldn't have made the change. "While I know I'm not entirely to thank for that, knowing my words help make change means a lot."