Invisible illnesses are difficult to understand. They are difficult when a doctor tells you that you have one and you spend hours staring at yourself in the mirror trying to see it. They are difficult when you feel like you are living with a giant secret no one knows about. They are difficult when you try to explain to people that you have one.
Invisible illnesses are any medical conditions, both mental and physical, which cannot be seen. Examples of invisible illness include anxiety, depression, migraines, heart conditions, and chronic pain conditions such as fibromyalgia. Often, those with invisible illnesses look "normal" and "healthy;" hence, the "invisible" aspect. Those with invisible illnesses try to blend in; you will never see one of us taking advantage of boarding first on an airplane, even if we need it – we do not dare draw attention to ourselves.
In our attempts to be understood and accepted for who we are, illness and all, telling the people close to us can be scary. There are many different ways to tell your friends that you have an invisible illness, but it is important to do one that benefits you. When I told my friends, I explained my illnesses and explained how they manifest in me so that they could start to pick up on them. Once your friends know that certain behaviors or movements are associated with an illness, it is no longer invisible to all of society – those who care about you can see some of the symptoms, which is comforting.
With my first friends in college, I tried to blurt out my illnesses in a random conversation. It was not really effective for our friendship, but I at least got the "secret" out. We were walking to the caf and really awkwardly I said, "Just so you know, in case it ever comes up or anything, I have full body chronic pain, anxiety, and depression." That was it. They did not really know what to say to that and we ate dinner as usual.
The problem with that was I did not explain my illnesses, I did not even list all of them, and there was no real benefit to me in telling them. They were not able to be more aware of my symptoms, thus I needed to revise how I told my friends so that they understood the illnesses, symptoms, and how they could help.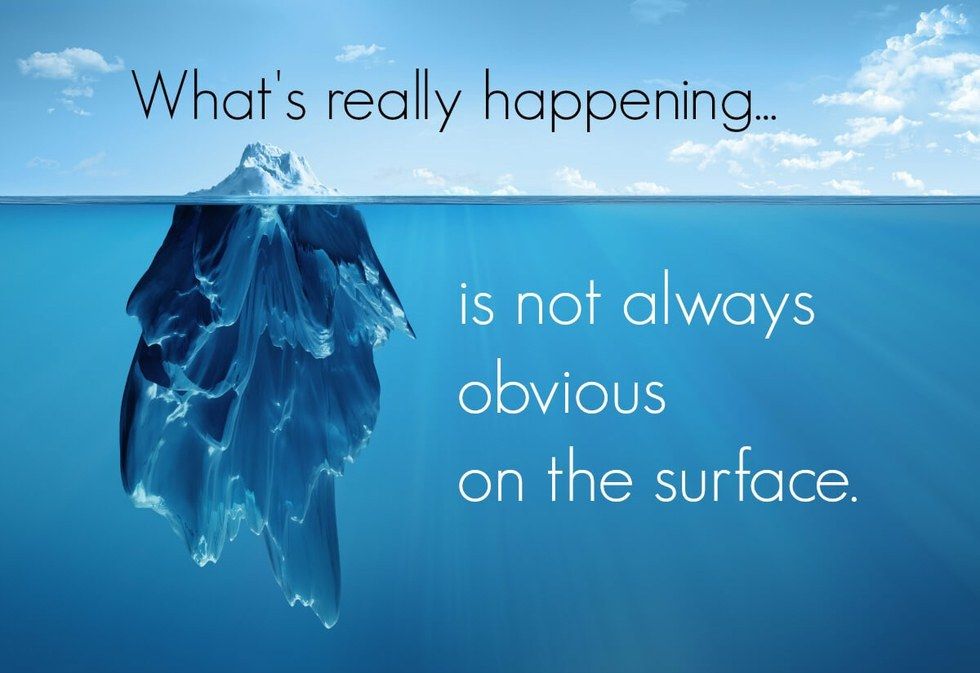 With my most recent friends in college, I explained more and eased my invisible illnesses into the conversation. If I was having a rough health day, I introduced my illnesses into the conversation that way. When a friend asked how my day is and I responded with a less than satisfactory response, it provided the opportunity to say my pain, anxiety, depression, migraines, were acting up. If my friends were curious, they inquired more and it gave me the opportunity to explain one of my illnesses without having to plan it out in conversation because it happened naturally.
For my friends in nursing, I could mention the name of my illnesses and most of the time, they understood. For my best friends and those I spent a great deal of time with, I talked to them about my illnesses, but then followed up by texted or messaged them about my illnesses. I did not tell them everything in person because I wanted them to digest it on their own terms.
I gave them:
The name of the illness
A four to 10 word definition of each illness (I looked up the medical definition to keep it simple and changed it if need be)
Common symptoms I experience (if not already explained above)
How it impacts me
Example: "Chronic Fatigue Syndrome – always exhausted, unrefreshing sleep, headaches, I can sleep as long or as little as I want but I still feel exhausted all the time."
With Chronic Fatigue Syndrome, the quick fact sheet helps for my friends to understand that if, for example, I yawn, it is not because they are boring me, but because I am chronically fatigued. With Generalized Anxiety Disorder, friends can pick up on anxiety cues such as shaking and understand that there does not need to be an event to trigger it.
It sucks feeling mental or physical pain and going through health hardships that no one can see, but when your friends begin to pick up on your health cues, it makes your life easier and your friendship stronger.