The beginning of the school year brings an extreme predicament for most of the college students, even more than which roommate to choose: regardless of whether to put money in the dining plan, grab food from restaurants, or just cook for yourself. You can take advantage of this Spring Break to learn how to cook, at least survival food.
With rising school costs, the choice can have an extensive monetary effect. You will wonder that cooking meals for yourself instead could cost half to such an extent, or even less. Thus, I would like to share some easy meal recipes with you. I am not a pro-MasterChef, but I can make survival food.
1. Cheesy pizza pasta bake
This inconceivably quick and straightforward pizza pasta dish can definitely be a lifesaver on busy days, especially exam week! One of the cool thing about this dish is it will be in the oven in a matter of moments. In fact, you can have your choice of ingredients and have fun with it. If you love pizza and pasta then, this is an incredible solution for you.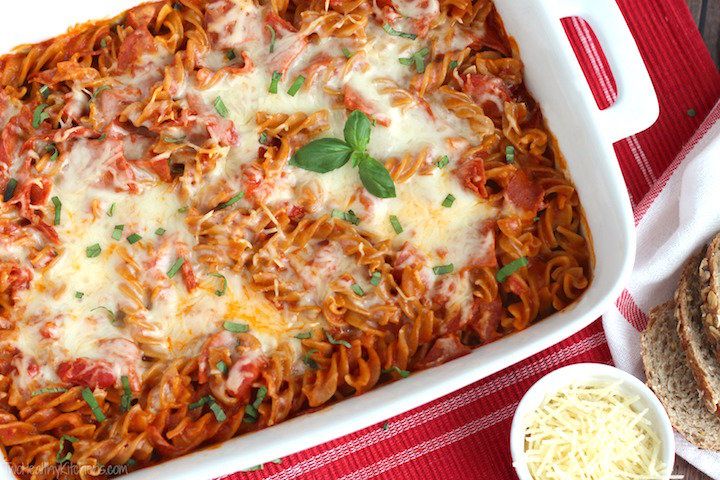 Prep Time: 5 min. | Cook Time: 30-40 min. | Serves: About 2-3 people
Ingredients:
12-14 ounces your choice of pasta (uncooked)
24-ounce jar of your favorite pasta sauce with 2 cups of water
2 cups (8 ounces) shredded your flavor of cheese (reduced-fat recommended)
4-5 ounces quartered turkey pepperoni (OR your choice of meat/ veggies)
Fresh basil with Parmesan cheese for garnish (if desired)
Directions:
First, you have to preheat oven to 425°F. You would also need an ungreased 9x13 baking pan. Then, combine pasta sauce, water, uncooked rotini, cheese, and pepperoni in the baking pan and keep stirring entirely till it mixed it up. You would top with remaining cheese. Now, it's time to cover tightly with aluminum foil and bake for 30-40 minutes, until pasta is tender. Here you go! Garnish with parmesan cheese and fresh basil.
2. Pina colada crunch cake
Everyone loves Pina Colada. So, this is a tropical beach vacation version of traditional crunch cake. Pina Colada Crunch Cake tastes so delicious and is easy to make. I'm a huge fan of Pina Colada fan, so I want to have a taste of Pina Colada in whatever I eat during summer time. I know the spring is about to come but you I don't care because I Love to eat desserts. I'm you will love this dish, too.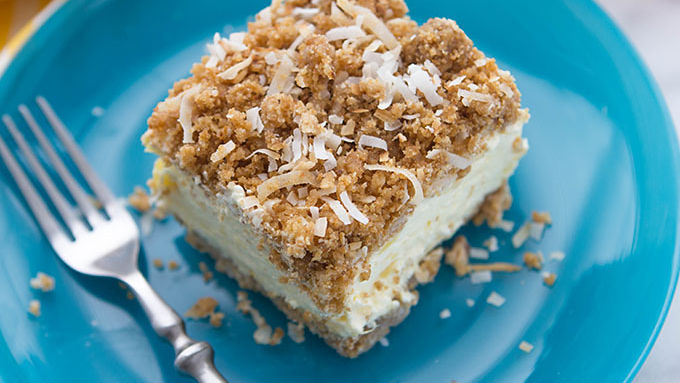 Prep Time: 15 min. | Total Time: 3-4 hours | Serves: About 9 people
Ingredients:
16 Nature Valley granola bars: Oats and Honey (crushed) (could be your choice of, too)
1/3 cup toasted coconut, 1/2 cup butter (melted), 2/3 cup sugar, 2 blocks of cream cheese
1 can (14 oz) sweetened condensed milk, 1 package coconut cream pudding mix
1 container (8 oz) extra creamy whipped for topping, 1 can crushed pineapple
Directions:
First, mix crushed granola bars, melted butter, toasted coconut, and sugar until well blended in a bowl. Pour half of the mixture into a 9x9-inch baking pan that has been freely sprinkled with nonstick spray (or butter). Now, add cream cheese, pudding mix, sweetened condensed milk, and whipped topping in the mixer and keep blending until smooth. Then, add pineapple to the mix and combine for some. Now, it's time to spread whipped mixture on top of the crust. You should top the pan with remaining granola bar mixture. It's recommended to cover with plastic wrap and freeze until firm, about 4 hours. You might want to remove the cake from the freezer about 10-15 minutes before serving for better taste.
3. Veg sloppy joes
So fast, So easy, and So healthy, Sloppy Joes! You may have tried Sloppy Joes before, but this is something new, something yummier! This dish suggests to use peanuts in it for crunch, but if you're allergic to peanuts, you can replace it with peas, or whatever you like to eat. If you don't eat meat or want to try something new, Veg Sloppy Joes would be the best choice. In case you're crunched for time at night, you can make this the night before and then just reheat in microwave before serving.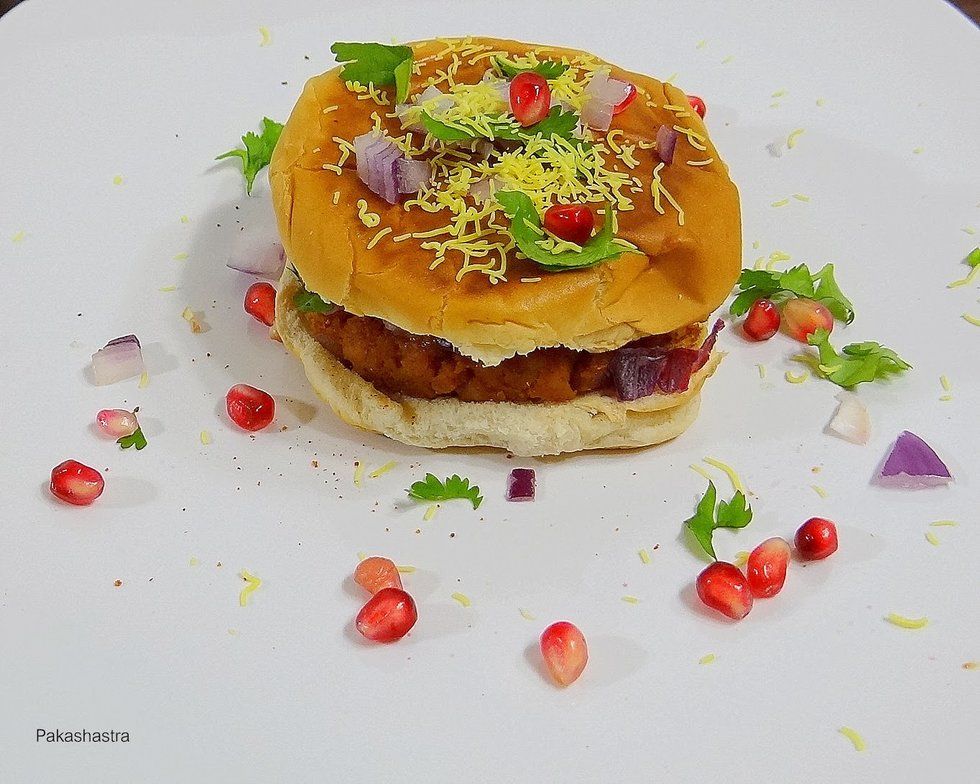 Prep Time: 5 min. | Cook Time: 18-25 min. | Serves: About 2-4 people
Ingredients:
1 pound boiled potatoes with a hand full of peanuts and pomegranate
2 garlic cloves (minced), ½ cup diced onions, 1 teaspoon salt, ⅛ teaspoon black paper
6-ounce can tomato paste with Italian herbs OR (Heinz Ketchup)
2 tablespoons sugar, yellow mustard (if you like)
2-3 tablespoons water and hot sauce (if you like spicy food)
A packet of whole wheat buns
Directions:
First, preheat a nonstick skillet over medium heat and add potatoes, peanuts, onion, garlic, salt, and black paper. Cook and stir about 5-7 minutes. Now, add tomato paste, mustard, sugar, and hot sauce. Cook for about 5-8 minutes. You can keep stirring until peppers are hot and crisp-tender. Then, add water as needed. Hurray! Serve straight away on whole wheat buns with pomegranate. You may add some butter or any desired sauce on buns before adding mixture.
4. BBQ chicken french bread pizza
You may have seen various type of pizza with a variety of toppings, but this is something interesting to try. You may have experienced this embarrassing situation that wanted to cook something different but end up cooking something entirely different. No worries, I have done it, too. You might realize that BBQ Chicken French Bread Pizza is quite similar to what you might have experienced. So, let's explore what someone has just invented in his/her own kitchen.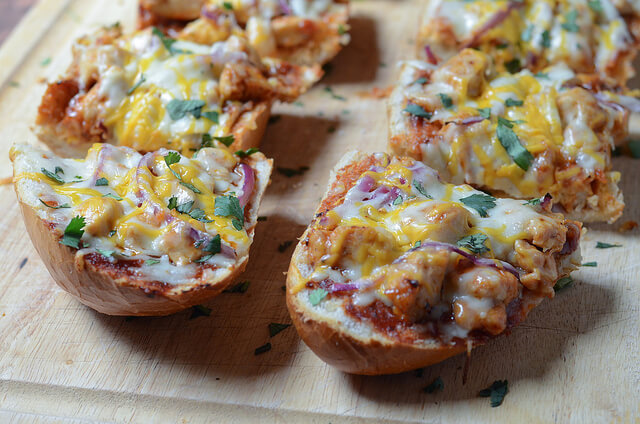 Prep Time: 15 min. | Cook Time: 10 min. | Serves: About 1-3 people
Ingredients:
1 loaf french bread (could be your choice), 2 tablespoons vegetable oil, 1 tablespoon of salt
2 Bite-sized chicken breasts (your choice of meat), French ground pepper
3 tablespoons BBQ sauce, 1/4 cup marinara sauce, 1/2 cup sliced red onion
8 ounces of shredded your choice of cheese, 2 tablespoons chopped cilantro
Directions:
First, coat a skillet with vegetable/olive oil and place over medium heat. Fry chopped chicken until nearly cooked through and barely any pink remains. Add some salt and fresh ground pepper as it cooks and continues to simmer for about 4-5 minutes until sauce has thickened. Now, Remove skillet aside. Take a small bowl and combine BBQ sauce and marinara. Cut french bread in half and coat with the sauce mixture. Top with cheese followed by onions. Bake at 425 F for about 10-12 minutes. Remove from oven and serve with cilantro on top of it.
5. Grilled cheese roll-ups with tomato dipping sauce
This delicious recipe is for breakfast and will make your day. Not any more tiresome typical Grilled cheese! Most of us eat bread in some form daily, so why not make it more delicious. Grilled Cheese Roll Ups suggest tomato sauce for dipping as an example, but you can eat with whatever you want. For instance, chocolate butter, sour cream, or queso for dipping.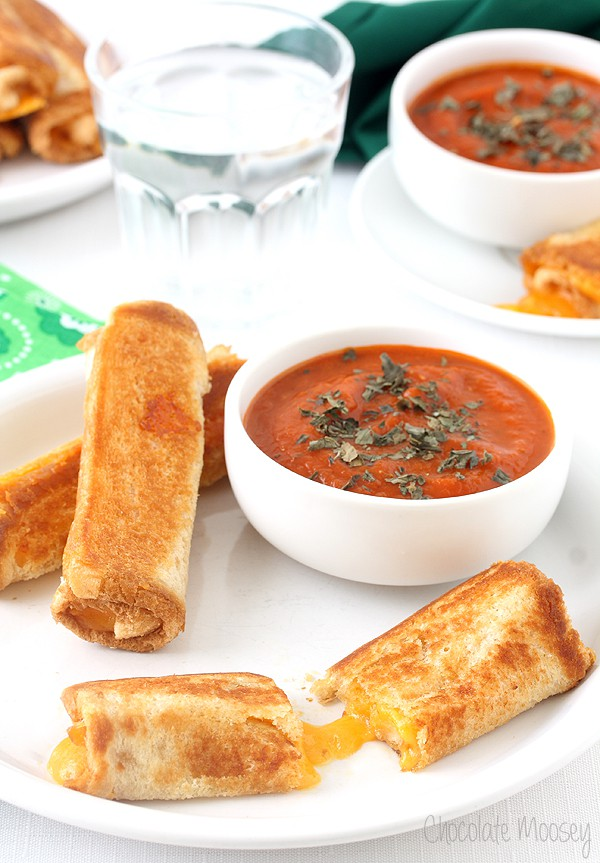 Prep Time: 5 min. | Cook Time: 30-40 min. | Yields: About 12 rolls
Ingredients:
1 tablespoon olive oil, clove minced garlic, teaspoon sugar, cup vegetable or chicken broth, teaspoon balsamic vinegar
1/4 cup chopped onion, teaspoon salt, teaspoon black pepper, teaspoon dried basil, teaspoon dried oregano, teaspoon thyme
14 ounces diced tomatoes with juices
12 slices white/brown bread
12 slices your choice of cheese
4 tablespoons regular melted butter
Directions:
For the sauce: First, heat up the oil in your Dutch Oven until hot. Add the onion and cook softly for 5-8 minutes. Now, add the garlic and cook for about 1 minute. Then, add salt, basil, sugar, pepper, thyme (if you like), oregano and stir all together for about 5 minutes. Now, add vinegar, tomatoes, and broth/vegetables. You have to simmer and cook for 30 minutes. Last, add the mixture to a blender and puree until smooth.
For the roll-ups: Flatten one slice of bread to half of its size and add one slice of cheese. Now, roll up bread and seam side down. Do it repeatedly. You can heat a skillet over medium heat with butter in it. Dip each roll up into the butter till you see the bottom is golden brown then flip. Hurray! Your delicious breakfast is ready to eat.
These are just some quick recipes that you want to try yourself. There are tons of other recipes that you can learn online and save some money on your meal plan to cover other expenses. Personally speaking, when you would eat the food that you have cook/bake for the first time, you would taste something so different. You may feel proud of yourself that you made it. All in all, I hope that you enjoy cooking and eating this food. Happy cooking! See you next week!