Donald Trump's presidency has undeniably caused social upheaval in American society. Everything from the increased separation of families at the border, multiple travel bans and nominating Brett Kavanaugh to the Supreme Court have caused tensions among Americans. However, Trump has introduced a phenomenon for this generation that was much needed. He has made us more critical of the establishment than ever before.
Distrust of the government is nothing new in U.S. society. During the Watergate Scandal and war in Vietnam, public trust in the government began to decline. Than trust sparked again during the mid-1980's and immediately following 9/11. Trump has only been president for approximately two year's so it isn't yet possible to gauge long-term public trust of the government under Trump. However, looking at data from the Pew Research Center, there seems to be a downward trend in trust. Trump has yet to gain the same amount of trust in government from Republican voters as President Barack Obama did at the same time in his presidency with Democrats.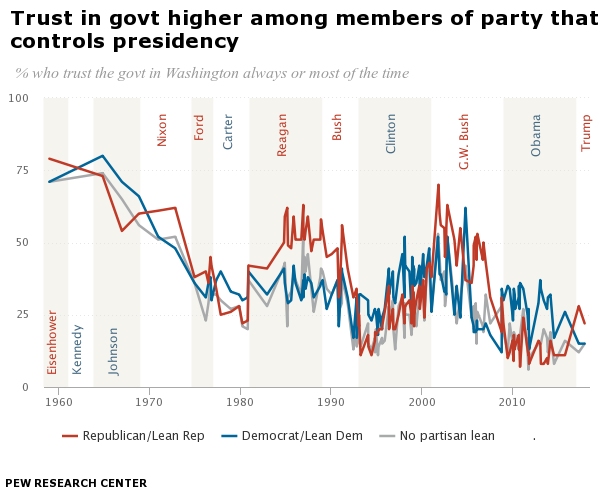 Pew Research Center
Trump has made people critical of every move the government makes and has drawn people's attention to political events Americans normally don't care about. This is new for my generation. As we grew up mainly under President Obama, there were no scandals or 3 am tweets for journalists to debate over and decipher on the nightly news. The Trump phenomenon has completely changed that. Every move – political or not is scrutinized by every media outlet and voters at home.

To prove how U.S. media and voters are more critical of the government recall the confirmation of Trump's cabinet. I like most Americans can't name a single member nominated to Obama's cabinet but yet I found myself with the rest of the country watching the Senate confirmation process on the edge of my seat. The most notable of these cabinet members being Betsy Devos. No Secretary of Education has received so much news coverage or scrutiny in my life as she has. This illustrates how Americans are paying more attention to politics and government than ever before.
You may wonder how I can appreciate this change Trump has brought to American politics when he seemingly puts several human rights people enjoy on the line. I am able to look past this risk because many rights and protections of people were being exploited before Trump. Immigrant families trying to cross the border were being separated under President Obama and probably will be after Trump's presidency. Discrimination against minorities is nothing new as well. While we may have never had a president so vocally discriminatory towards minorities in the 21st century till Trump, discrimination has existed nonetheless.
Additionally, Trump has yet to pass any major legislation in two years when he has a Republican majority in the House and Senate. Plus, the Democrats are more than likely to take over at least one house of Congress in the 2018 midterm elections. This will make it even harder for him to pass any legislation. He may be able to pass executive orders but these have no legislative backing. Thus, poor executive orders by Trump will likely be undone by future presidents or legislation. Many rights Americans have are also protected under Supreme Court rulings such as Roe v. Wade (abortion) and Obergefell v. Hodges (gay marriage). These are very hard to overturn, even with a conservative majority on the court.
As a journalist, it's my job to be critical of the establishment so to act as a check on the government. However, this check only works as far as the voters hold their elected officials accountable. If voters keep allowing corrupt politicians to be elected over and over then we have no one to blame but ourselves. Hopefully, Trump was the wake-up call America needed in order to stop electing corrupt individuals who don't care about the average American.