Spoiler: They don't.
First, let's look at the infamous MMR vaccine controversy that began with Andrew Wakefield's 1998 publication in the medical journal The Lancet.

Before I explain how wrong this study was on multiple levels, I'm going to begin by pointing out that there were only twelve participants. Why is a low sample a sign of poor statistical design? Mathematically, it all boils down to the margin of error. To put it in layman's terms, when a sample size is too low, the results will be less likely to represent reality. Think of this way: you have a 50% chance of getting a tails on a coin flip. But if you only toss the coin a few times, there is the possibility that it will never land on tails. The more times you flip the coin—the more samples you include in your study—the coin will land on tails close to 50% of the time.
To put in perspective Wakefield's ridiculously small sample size, the British Doctor's Study (which provided concrete statistical proof that smoking increased the risk of lung cancer) had over thirty-four thousand participants.
But the poor quality of the study doesn't end there.
Wakefield's publication, titled "Ileal-lymphoid-nodular hyperplasia, non-specific colitis, and pervasive developmental disorder in children", has not only been disproved multiple times [Example 1] [Example 2] [Example 3] but was from the beginning rooted in greed and dishonesty. After no other scientist was able to reproduce his findings, a series of investigations were launched, culminating in a statutory tribunal of the British General Medical Council (GMC) that found that Wakefield had "failed in his duties as a responsible consultant". The GMC also revoked Wakefield's medical license. It has been called "utterly false" and an "elaborate fraud", and Wakefield himself was deemed dishonest and irresponsible. Dr. Surendra Kumar, chairman of the panel that charged him on three dozen counts of misconduct, noted that Wakefield acted with "callous disregard for the distress and pain the children might suffer".
And to top it all off, the study was tainted by an extreme conflict of interest. Wakefield held a patent for a related medical test and stood to gain up to $43 million a year from a MRA scare [Source 2][Source 3]. According to the medical journal The BMJ, the venture "was to be launched off the back of the vaccine scare" and "the company's business plan appear[ed] to depend on premature, scientifically unjustified publication of results." That's right. The entire study was created to boost a man's financial status.
More information about the MRA-Autism fraud can be found here.

---
Now, let's debunk more evidence, shall we?
There seems to be a lot of focus on how rising Autism rates correspond to rising immunization rates. In the modern day and age, more children than ever are being immunized and more children than ever are being diagnosed with Autism Spectrum Disorder (ASD).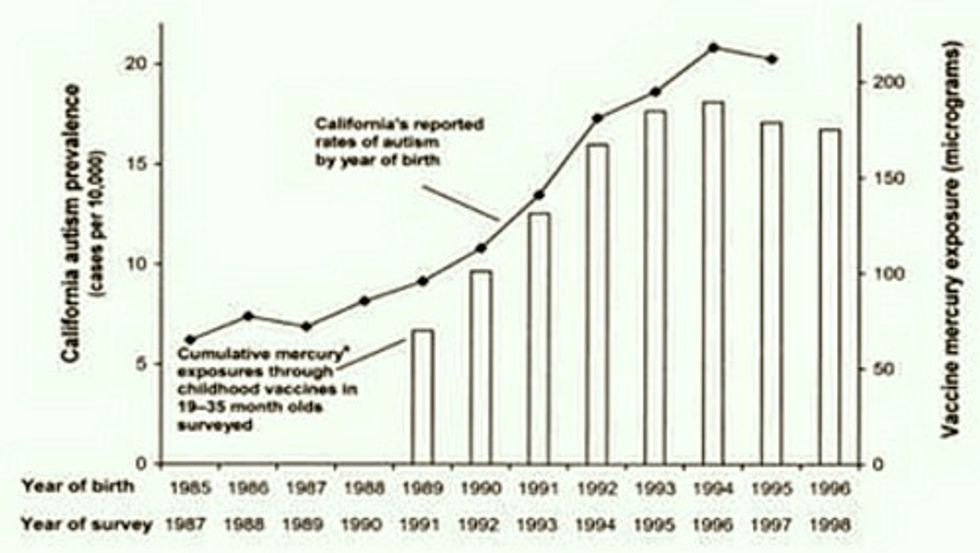 The above graph, taken from an Anti-Vaxxer website, is based in fact.
But the resulting argument that vaccinations cause Autism is fundamentally flawed.
It all boils down to the notions of correlation and causation. Correlation refers to the a mutual relationship or connection between two or more things. Causation refers to one event resulting in the occurrence of the other event. To assume that correlation equals causation is a logical fallacy so common it even has its own (lengthy) Wikipedia page. By this logic,
Organic food also causes Autism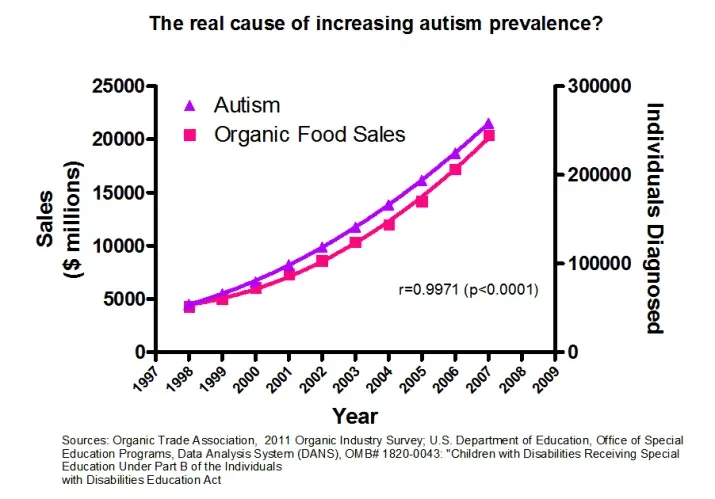 So does Jenny MacCarthy
And babies named "Ava" caused the housing bubble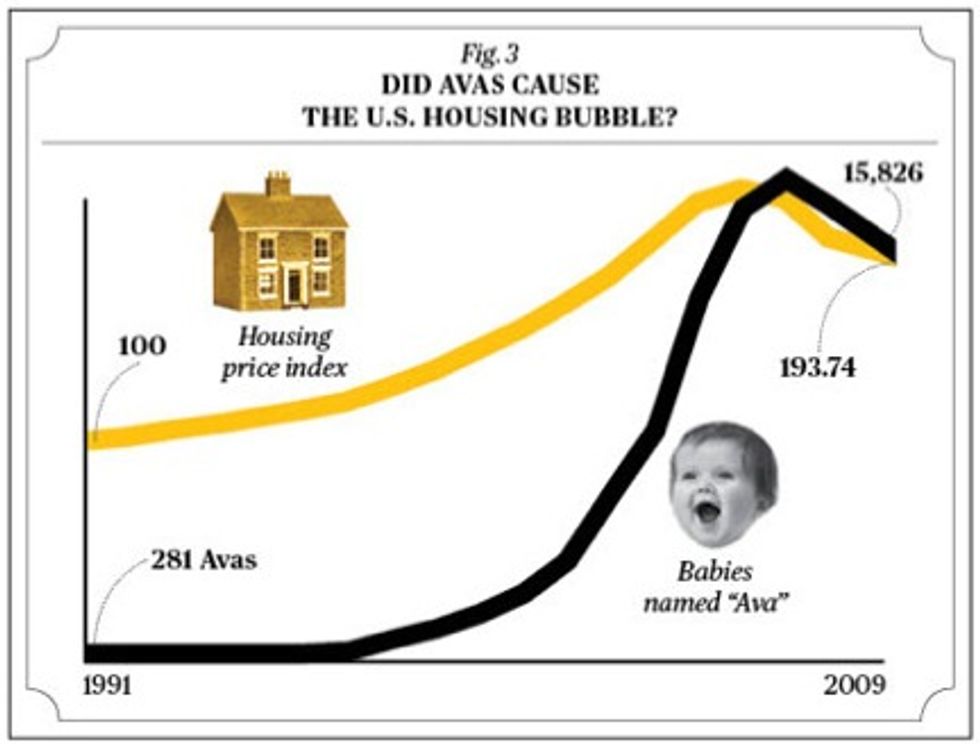 However, correlation can be an indicator of causation, but only when supported by sufficient evidence. We can say that smoking causes lung cancer, because there are numerous studies that have found verifiable evidence.
---
So why don't we examine the evidence that does point to vaccines as a cause of Autism?
Because I have neither the time nor the mental capacity to examine every single case study, let us investigate a few of the sources* listed by the Anti-Vaccine Scientific Support Arsenal.
Here we have a documentary-style video that mainly serves to explain the background of Brian S. Hooker's study on MRA vaccines and Autism. Singer's study, published in 2014, found that African-American males who received vaccinations were more likely to be diagnosed with Autism later in life. At least, it did, until the journal retracted the article on the basis of "undeclared competing interests" and "concerns about the validity of the methods and statistical analysis".
This 2008 study was conducted by Mark R. Geier, a man whose medical license has been revoked several times [Source] and whose work has been described as "uninterpretable" and marred by the incorrect usage of scientific terminology [Source]. Furthermore, his testimony in cases concerning allegation of illnesses caused by vaccines has been described as "intellectually dishonest," "not reliable" and "wholly unqualified" [Source].
The link provided does not provide a complete text.
I'm pretty sure the author of the AVSSA didn't read this, because none of the studies listed examined vaccines' relationship Autism.
Not actually a study.
At this point, I realized that the author of the AVSSA didn't even look through his sources. This article references the same Brian S. Hooker study referenced in the CDC whistleblower video.
This article is clearly biased, beginning with "The propaganda dispensed by Public health care and vaccine apologists is, at best, a weak attempt to rationalize the healthcare establishment's positions using all the tools of doublespeak", and references itself to disprove the "myth" that vaccines do not cause autism.
Debunked in its entirety here.
Concerned with prenatal exposure to all mercury, including that in fish. Does not concern ASD.
Another Geier publication.
To see more "sources" debunked, blogger Liz Ditz examines 131 papers that support Vaccine/Autism causation. [Link 1] [Link 2] [Link 3]

*Of the remaining 16 sources listed on the site, eleven originated from disreputable sites, such as youtube.com and whale.to. Two sources originated from unqualified authors. The remaining three sources, including one co-authored by Andrew Wakefield, suffered from preexisting bias due to the authors' heavy involvement in the Autism-Vaccine debate.
---
TL;DR: The entire Vaccine-Autism debate was started by a man motivated by greed to produce fraudulent evidence. Since then, several reputable studies have proven that vaccines do not cause ASD or other illnesses. Most arguments establishing otherwise stem from doubtful or biased sources, and many have been established to be false. Overall, there is little to no evidence suggesting that vaccines cause Autism.