According to a 2013 survey, 42 percent of Americans believe in ghosts, while 18 percent claim to have experienced one. That's down from the 48 percent who claimed to be believers of other-worldly apparitions in 2005. Are more Americans trusting science over folklore? Or are we now too buried in our phones to notice the hauntings that may be occurring right before our eyes?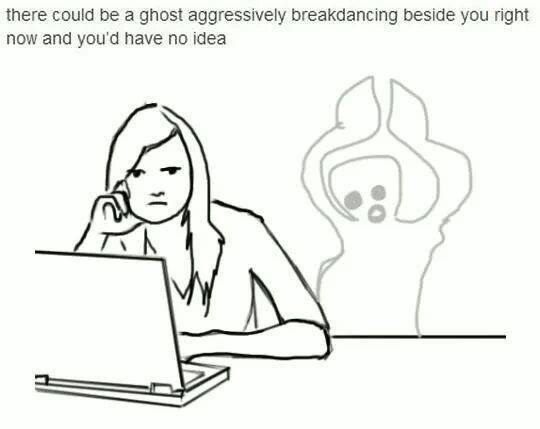 I, for one, am a firm believer in all things paranormal-- ghosts, aliens, vampires-- you name it. I have even gone on ghost tours on Cape Cod, in New Orleans, in Florence, Italy and right on the UMass campus. Call me crazy, but to me, it's just more fun to believe than not to believe. I decided to ask five UMass Amherst students about their beliefs and experiences with the supernatural. While three out of the five said they believe, none of them have had any ghostly experiences...yet. Here is their conversation:
Alana: "My cousin had a ghostly encounter that she told me about. She once found a photo of a little girl in her attic and went to the library to research who had previously lived in her home. One night in her house, she mentioned that she didn't believe in ghosts and her face turned purple and she couldn't breathe. So I believe."
Erin: "Both my parents have had encounters. My mom woke up one morning and saw an old man with a hat and cane walking by the foot of her bed. My dad saw the same man in one of the windows of their old apartment, but on a different day. My mom thought it was an intruder at first, but knew it was a ghost when my dad described the same man. "
Emma: "There are too many accounts of paranormal activity for it to not be real."
Hannah: "I know a lot of people who have had encounters. I think it depends, if you believe in ghosts you are more likely to see them. I don't believe in them, so I don't think I ever will. And scientifically it makes zero sense."
Rachael: "I don't see how it would physically happen. It scientifically can't be proven. I think that your mind can project just about anything."
Hannah: "If I saw something weird, like that old man or something, I would just think I was hallucinating. I would never think 'ghosts'."
Emma: "If I saw a ghost I would shit myself and run away."