Let's start out by explaining what I mean by 'Disabled and Deprived'. My brother has a disability. A few, to be exact. He is autistic, diabetic, and has epilepsy. And before anyone says 'How dare you! That is not a disability.' Ok, yes it is. I love my brother, but these prevent him from living a normal life. It is incredibly disheartening... but whatever you call these illnesses, they still lower his quality of life.
So my brother will never have a normal life. He is 18 and will never drive, go to college, get married, or have kids. Incredibly heartbreaking, right? You'd think everyone would do everything they could to help and improve challenged children's' lives...right?
If any of you have read my previous article "How The Stark MRDD Prom Made Things Worse For Disabled Students", I address the fact that the Stark County Board of Education was trying to move my brother, his senior year, from his previous school to a new one. Any kid would be destroyed; especially my brother whom has gotten to know the staff and his peers very well. Long story short, he did transfer...the school board has more power and money than a 4-person family.
Skip ahead. My brother is at this new school, and it is only about one month into this school year. The principal has a twitter because he's the 'cool principal' (disclaimer, I do think he is a great principal, excluding what I am about to say). I receive a text saying "Does your brother go to *blank*? I think I saw him on Twitter!!" Me, being excited, thinking that my brother was possibly enjoying his new school, was appalled.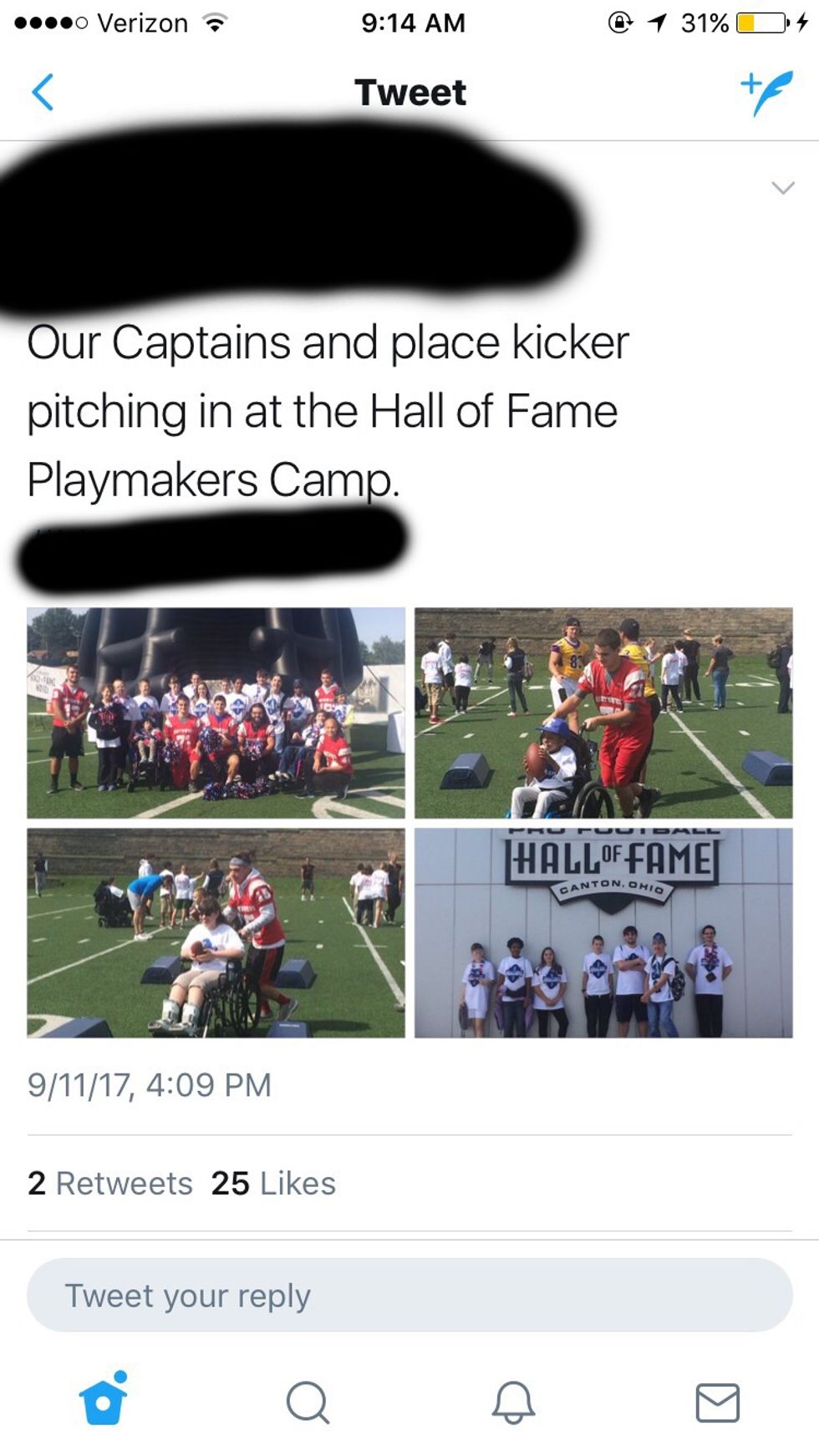 Above, is the tweet that my brother was in. He was one of the 'Playmakers' for the day. He and a group of other special needs people go to this camp yearly. This year, kids from his school helped out.
Nice, right? Except. These kids all go to the same school.
The principal tweeted about the wonderful football team volunteering their time...but nothing about the children who actually attended this camp? AND who attend the same school?? Don't get me wrong. I was on the cheerleading squad, and know some of the kids in this tweet. It is nice of them to volunteer their time. But, nothing mentioned about the students in the special needs class. But, hey. As long as the football team has a good publicity shot, we're good...right?
The point of this article was not to berate the principal. The point was to show how my brother, and others like him, aren't seen as people; they are seen as their disability. And that needs to change.