One of my favorite novels is "The Great Gatsby" by F. Scott Fitzgerald, and surely many of us have read, or heard, or at least Sparknoted that ever famous line:"'Can't repeat the past... why of course you can." While I'm fairly certain that at some point in my academic career I wrote an essay explaining why Gatsby and his unflagging positivity were essentially flawed, I realize that I have quite nearly adopted Gatsby's wishes to repeat the past.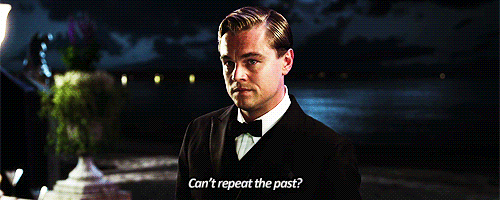 Fall semester I studied abroad at the University of Kent in Canterbury, England, and as I lugged my two giant suitcases onto the train that would take me to the London Heathrow Airport, I already knew that I was going to try to come back.
And I succeeded! As I write, I'm currently at the University of Kent, making my attempt to repeat the past (kinda). And while no, not everything is the same (as no one except Gatsby could expect it to be), I am enjoying my time being back, and it feels like I was only gone for a few days, not several months.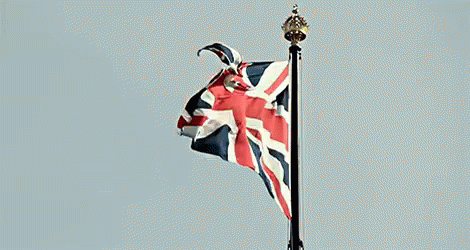 The only thing that really seems different is that my hallmates have taken up playing squash (for those of you like me who had no idea what this sport is, it is basically tennis in a small room, and is very difficult, though I have been improving (and by improving I mean that I can now serve the ball correctly, have learned the rules to the game and have managed to give myself a black eye with the squash racket WHY KATELYN WHY).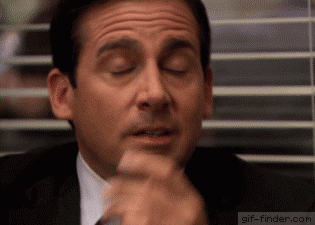 However, among the many things that have not changed... I still have a horrible sense of direction.
Let's start small, shall we?
Upon one of my friend's birthdays, we went to the movie theater to see "Guardians of the Galaxy 2" again (10/10 highly recommend). The theater is called The Odeon, and The Odeon only has two screens. Both are clearly marked. One was preparing to play "Guardians of the Galaxy." The other was in the middle of the new "Alien: Covenant" movie. (Do you see where this is going?)

Feeling fully confident in my ability to get us to the right screen, I took us straight to the wrong one. Honestly it was a 50/50 shot, and I missed hard. Because right when I opened the door to the theater, walking in confidently and unprepared, whatever the Alien is basically popped out of the screen and tried to eat me. *Cue me jumping, letting out a little squeal, and pushing my friend away from that theater.* I liked watching baby Groot much better, and I don't think I'll be watching "Alien" anytime soon.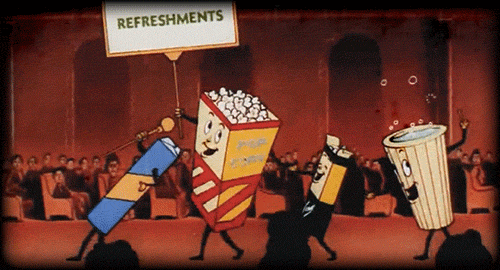 But on to bigger and better things, yes? And by bigger and better, I mean multiple small mistakes that took up extra time, just in a bigger city. *Pats self on back.*
A friend and I took a day trip into London (so I could be my touristy self). I wanted to go to the Vaults, which is a big graffiti bridge. After getting off at the Underground stop that was farther away than we planned, we got to the bridge. I loved getting to see how much the bridge had changed since I was there last.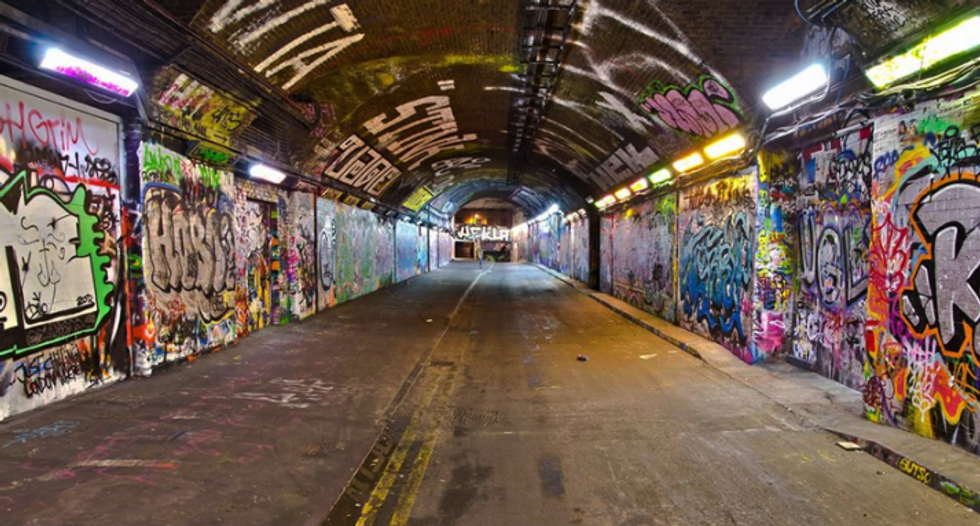 We also made a quest to find the Shakespeare mural near the Globe Theater, which involves a lot of turning around whenever you pass a wall, hoping it's the one you're looking for, and looking like a complete tourist (as if the book bag and constant picture-taking weren't enough). We got a bit lost along the way, and ended up finding the Borough Market (which is lined-up booths full of amazing food, and thus we stumbled upon lunch). However, when we found said Shakespeare mural, there was a large truck parked in front of it.
Why.
I could see the driver, he seemed to be working on some sort of wiring for the building nearby, but being my non-confrontational self, I sort of awkwardly stood, asking my friend if she would be willing to come back later (even though it would mean a fair amount more walking). Until a happy coincidence occurred, in the form of about forty third graders, and more importantly the teacher attempting to talk to her students about Shakespeare. She wanted a picture in front of the Shakespeare mural with said students, and asked the man to move his truck.
Victory!
As soon as the kids moved out of the way I ran in front of the mural and took a quick picture. Woo!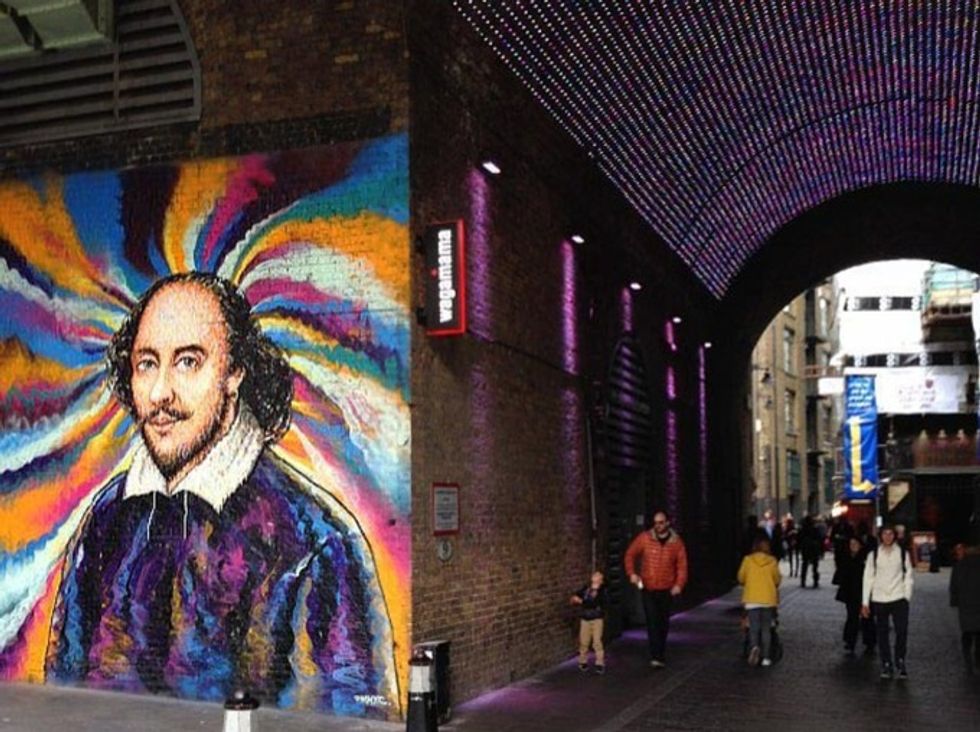 We visited a few landmarks, including Tower Bridge and London Bridge (which are not the same thing. When you sing "London Bridge is Falling Down," and you catch someone between your arms... you're actually singing about Tower Bridge. London Bridge is just a very normal looking bridge that has the words "London Bridge" almost imperceptibly etched into the concrete on the side. Not misleading at all.

We made it to Fortnum and Mason Tea shop (which is a five-story tea shop where everything is beautiful and smells amazing). However, during my time in the adorable tea shop, I managed to lose my phone: the single most important thing I had on me.
Anytime I'm in Europe and not on campus, my phone is basically a camera. It has no service, no internet and no way to contact it. On a scale of one to hitting-myself-in-the-eye-with-a-squash-racket, I felt pretty ashamed of myself.
After ten minutes of frantically searching, I asked one of the employees if anyone had seen it.
They had.
We walked down three flights of tea shop to what I assume is their lost and found. Crisis averted.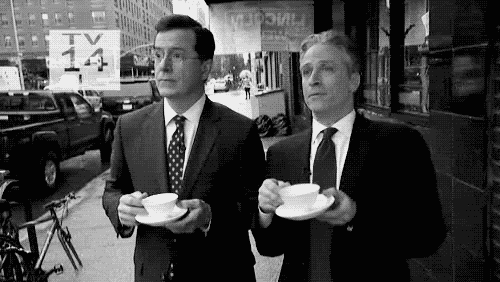 Our last stop was the mall in Stratford, where my only directional mishap was literally looking at a map of the mall, seeing the store we wanted to go to and proceeding to walk in the opposite direction. My friend just laughed and asked how I've made it through 20 years with my horrible directional sense.
Honestly I'm not sure.
My trip to Canterbury ends in a few days, but I'm so happy I was able to come back, make my attempt to "repeat the past" and simultaneously make new memories, even if that means getting a little lost (but not too lost) along the way.