Most artists from other countries idolize the music coming from the United States.In this case, there is a different interpretation.This is about a controversial experiment about an all-American boy band performing Korean-Pop calling themselves "EXP."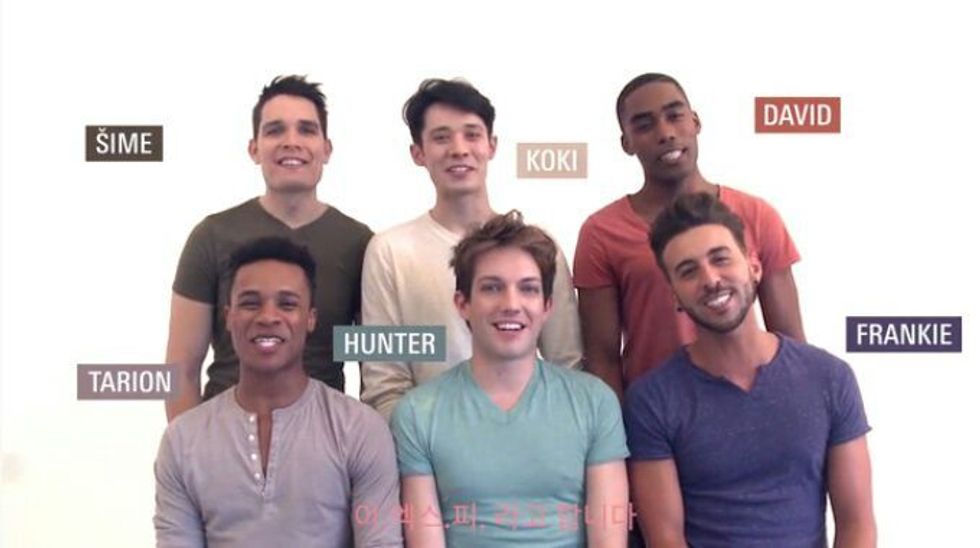 It's not unusual that Korean pop music, also referred as K-pop, has reached the United States.For instance, the major music artist PSY from Seoul, South Korea came out with a song in 2012 called "Gangnam Style," regarding to the lifestyle a particular district called Gangnam.K-pop has reached across the pacific and has drawn a fan base in the U.S.
Started as a social experiment project by three female graduate students from Columbia University.Kim Bora, Karin Kuroda and Samantha Shao, each studied various courses like sociology, art administration and pop-culture; architecting this collective task.


After the phenomenon of the Korean Wave in 2012, K-pop became a commercial success from South Korea, which led the ladies to pursue this analysis.
The ladies did a Kickstarter campaign for seed money in order to recruit band memebers.They initiated I'm Making a Boy Band project and were able to gather five male members.The five members come from various music genres like opera, R&B and musical theater.
Recruiting these five boys, Bora taught them Korean and how to sing in Korean and interpret Korean boy culture.
According to an interview with Bora from Koreaboo:
"Asian masculinity as a concept has been equated to being feminine, weak, nerdy, and asexual. K-pop boy bands still have those qualities, but because of the capital and the glamorization that is inherent to the commercial pop industry, all these characteristics become attractive and desirable. We wanted to experiment and play with this idea by teaching our boys how to act and embody what it means to act like K-pop boy bands."
The first interpretation of witnessing K-pop boy band, Americans have troublesome of interpreting the gender role and sexuality.Lots of the K-pop male groups appear to have great skin and wear make-up, even though these preferences attract the female audience; suggestively.This social experiment of getting westernize faces attempting the Korean music scene is quite strange and an unusual approach, especially towards South Korea's social norm.
Recent news about EXP, on April 13th, EXP posted a music trailer for their very first single, posting it on Youtube.It has sparked controversy, according from an article from Popcrush.com, the feedback from the comments sections have led negative responses and confusion.
The outcome of this social experiment has open eyes to K-pop fans and Korean citizens. Since K-pop is establishing as part of Korean culture, having outsiders attempting to South Korea's music entertainment has so far been operating from the mixture of cringe and supportive.For the three grad students, well-done and see how far this group can go.