Since I was a little girl, I've been a diehard Demi Lovato fan-- or should I say a Lovatic.
I was first a Jonas Brothers fan, just like pretty much every other female alive at the time (Team Joe!). My JoBros obsession led me to love Camp Rock, and you really can't love Camp Rock without admiring Demi Lovato and her damn voice!
From there, my Demi Lovato obsession took off.
T-shirts, posters, screensavers.
I went to all of her concerts in my area, downloaded (and actually bought) her albums off iTunes the second they dropped and watched every interview or appearance she had in a television show or movie. I even met her a few years ago at a meet-and-greet in the city before Jingle Ball.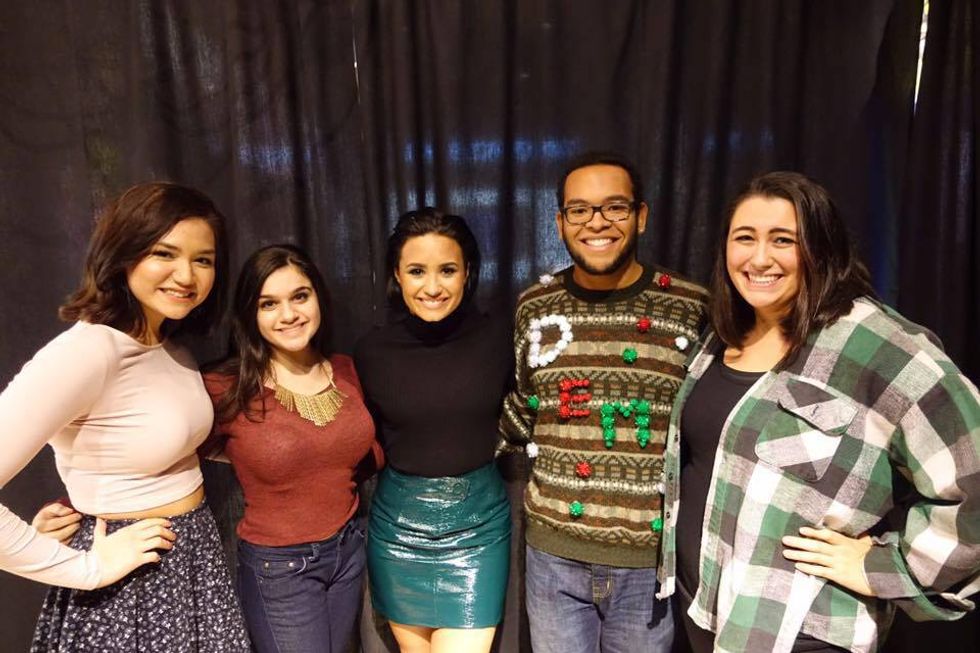 More recently, Demi has been gaining increasing popularity, and as a fan, it's exciting! Her first single, 'Sorry Not Sorry' from her newest album, Tell Me You Love Me, became an instant hit on every radio station and streaming service there is. I can't go into a car without hearing Demi, and that's not at all a complaint.
Demi even just announced that she will be going on tour with DJ Khaled in 2018 to promote her new album (get your tix here). Obviously, things are happening for Demi!
With all the success that the TMYLM album has brought Demi, it has also brought her a new wave of fans that haven't been fans from the beginning but instead hopped on the Demi train now that she's gaining some momentum in the spotlight.
And there's nothing wrong with this at all. As a fan, I think Demi's the best she's ever been. Her music is of a higher quality, she looks good as hell, and she glows during every interview she goes on.
Where I see a problem is with her newly released Youtube documentary, "Simply Complicated," which you can find here.
In the documentary, Demi is the rawest she's ever been in my opinion. She is so open and honest and shares stories and feelings in a way she's never done before.
Demi, though only 25 years old, has battled many demons in her life. Her journey hasn't been an easy one. In the documentary, she reveals personal information about her drug abuse, eating disorder, and mental illness.
A quick message to the media and to her new fans: this documentary is not your chance to exploit her story.
I remember the day after I first watched her documentary I saw one of those viral Facebook videos pop up on my timeline. It was headlined "5 Powerful Confessions From Demi's Tell-All Documentary."
It highlighted the juiciest of the juicy secrets that Demi shares in her documentary, and not to spread awareness, but rather to make a profit off of someone else's pain.
The video sensationalized the crap out of Demi's inner secrets and it was insensitive as anything.
Where were all the Facebook shares and "this is so important" tweets when Demi talked about mental health at the DNC, or when she was named the Global Citizen Mental Health Ambassador? Why did it take a documentary where she goes into depth about drugs, eating disorders, and attempted suicide for the world to acknowledge what she's been promoting for so many years?
And who else remembers when the entire Twitter world made a meme out of Demi frequently mentioning rehab on all her interviews at the time? Why is going to rehab funny?
I'm not one of those weird, possessive, "Demi IS ALL MINE" type of fans. Download her album, watch her documentary, decide today that you actually do like her music and message.
Use her story to spread awareness. Open your eyes to the realness of problems that exist for many, even if they don't exist for you.
Just don't be so shallow as to use her secrets as juicy gossip. Her story is as delicate as anyone else's. Demi was brave as anything to let the whole world see this side of her. Respect it.
And it's also her story, not yours. Don't abuse it.