Shockingly, after triple A publisher CD Projekt Red announced on their twitter in early October that Cyberpunk 2077 had gone gold, they announced just a few days ago they were pushing the November 19th release date to December 10th.
Now, going gold in the gaming industry generally indicates the game is finished. The team may be working their last few weeks for patches, future DLC, or what have you, but this isn't time constrained and gold signifies the end of the deadline. The gold CD copy is copied and printed millions of times onto other discs.
The reason, explained by CDPR's CEOs Adam Kicinski and Marcin Iwiński, was that the Cyberpunk 2077 project became a cross-generational technical feat halfway through its development.
Once the team realized that by the time it was ready PS5 and the next X Box console would be released, they shifted gears to making the game for 9 different consoles: PS4, PS4 Pro, Xbox One, Xbox One S, Xbox Series X, Xbox Series S, PS5 (digital/standard), PC, and Google Stadia. That is a ridiculous amount of testing, fixing bugs, making patches for each console, and fine tuning for 9 separate consoles.
So, the game has been delayed until December 10th. As someone who has been waiting for this game for 8 years, I had loudly defended the previous 2 delays, one which was announced pushing the April 16th release date to September 17th. In June another delay was announced pushing the September launch to November 19th.
Once the game was announced to have gone gold on October 8th, I and everyone else had thought this meant the game was finished. Done. No more delays. Millions of copies printed.
Unfortunately, that wasn't the case. Even after a plethora of confirmations from CDPR's official twitter and marketing team that the game's November 19th was 100%, it seems this was a messy, late, half-thought about decision that was incommunicative with the rest of CD Projekt Red. In a Forbes article by Paul Tassi, it's reported that members of the CDPR team found out about the delay from the Tweet, instead of any internal email/messaging about the delay. It's clear upper management did not handle the situation correctly at all, especially with marketing not being in the loop/informed at all during this process it seems.
Many twitter users report having taking off work for Cyberpunk's release week, in particular @PoshPenguino 's tweet which gained notable attention following the delay announcement: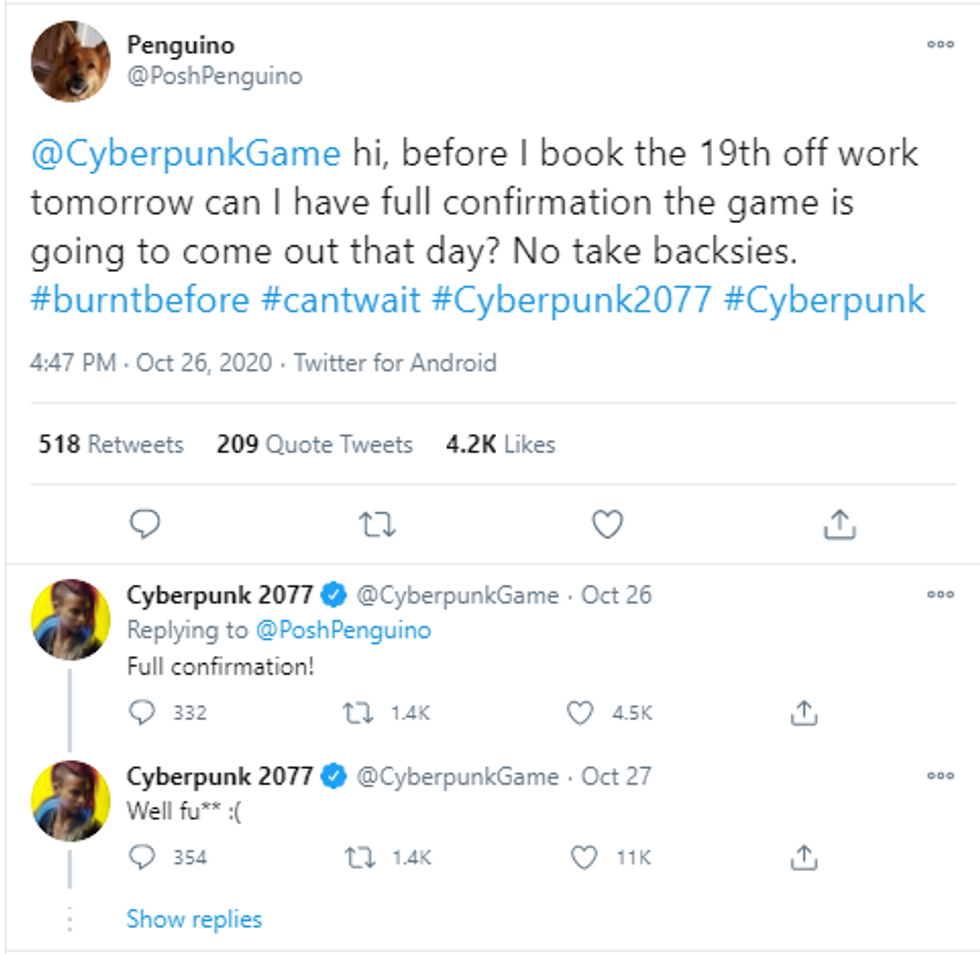 In under 24 hours of this tweet, the delay announcement was made, raising concerns on the conduct of management at the company@PoshPenguino on Twitter
CD Projekt Red was caught in some flack earlier for crunch, as the company announced they were switching to mandatory 6-day work weeks (with overtime pay) for developers working on the Cyberpunk project.
Co-CEO Adam Kiciński was also caught in some flack for dismissing and belittling the harm of crunch and crunch culture in the games industry, and sent an apology out via email to all CDPR employees following the gross comment. However, CDPR developers have been opening up about the horror of crunch even in the CDPR company.
However, disclamer: this image is anonymous, but many in the games industry have confirmed this including Jason Schreier, a Bloomberg reporter with massive connections in the industry. Apparently Bloomberg actually called this individual.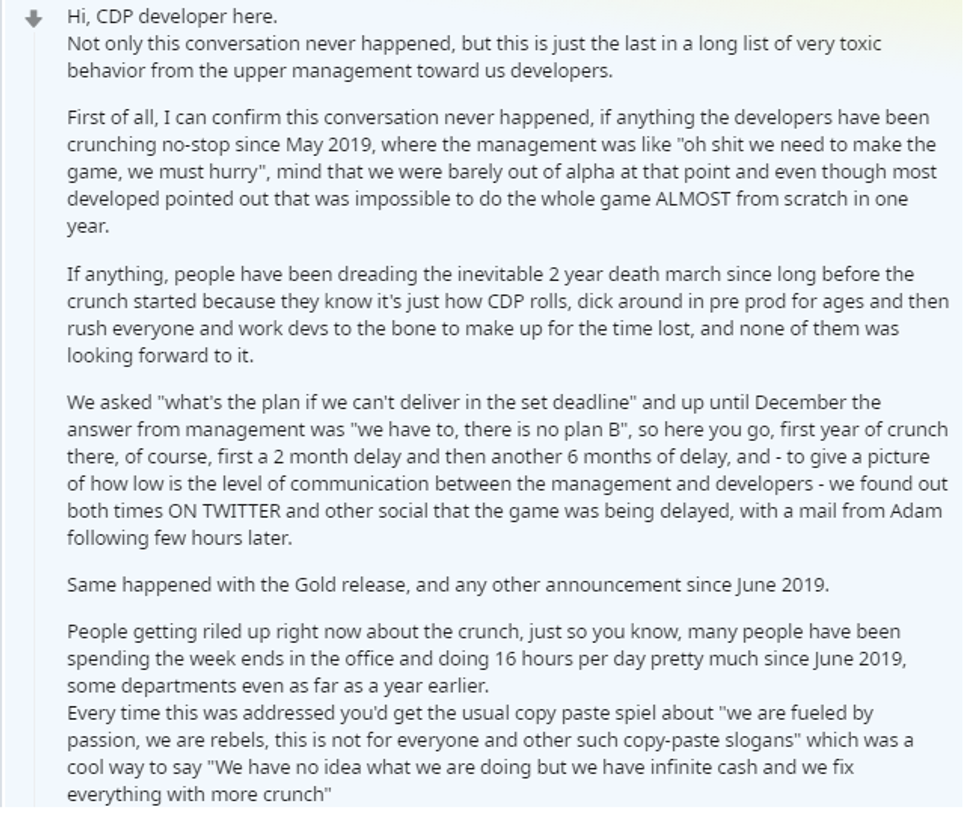 Testimony From Former CDPR Developer@JasonSchreier on Twitter
Former CDPR developer Martyna Zych also spoke about the Witcher 3, saying she was paid only $430 per month for her animation and facial animation work on the game. She speaks about how oftentimes, while mandatory crunch isn't there, the culture of the industry facilitates mistreatment if everyone "isn't putting their all in", oftentimes implying via intimidation that employees work longer hours for shorter pay.
It's important to recognize these failures of the industry on their employees. While Cyberpunk is a much different scenario from the Witcher 3 since the company has grown from that, there are definitely mismanagement issues and abuse still happening. However, CDPR CEOs and developers have noted that 10% of the annual profits made from the game will be split between the team.
Trailing back to the Witcher 3, 6 million copies were sold within the first month alone with profits of $63 million dollars. Ten percent of that is still six million dollars, and judging from the sheer amount of hype and desire for this technically phenomenal game, its expected that at the very least a few million dollars will be split between the team.
However, it is important to note this delay from November 19th to December 10th hurts developers not just in extended crunch, but rather shortens the period of time the game has to make profits in 2020 thus shortening the amount of money available to split between the team. This is something that I have not seen highlighted at all in the games industry yet, and I will be planning on reaching out to their press regarding a response to this statement. So stay tuned for that!
With 40 days away, I had just written a "20 days away" article and an hour later that announcement was made. It's unfortunate, but we must be patient and support the developers for the sacrifices they've put towards this project to give us the best game they can possibly make.