Tenants have a tendency to be late on reporting maintenance issues to landlords or not report at all. Rental inspections provide peace of mind for both landlords and tenants alike. It creates a dialogue that can address worries before they escalate into significant maintenance or health and safety issues. While conflict is sometimes an unavoidable part of the industry, a routine rental inspection can minimise the concerns of both parties.
Before starting an inspection, it's best to consider basic rental property insurance quotes as it can help prepare residential landlords for the worst-case scenario. While most routine inspections can run smoothly by following the regulations put in place by each state, it's always better to be protected, especially if you're new to the business or dealing with new tenants.
Setting timeframes
While it's recommended to perform a routine inspection at least twice a year to ensure that the property is well maintained, it's best to agree on a date that all parties can attend. Having both parties present can provide the sometimes necessary clarification when it comes to any outstanding tasks, while also allowing a discussion of any issues the tenants or property is facing. It also builds rapport, making residents feel more comfortable and likely to report the problems as they happen, instead of sitting on them till the days before a general inspection.
When deciding dates for any rental inspections, legal requirements will dictate the timeframes as the period of notice and time between inspections differs from state to state. Understanding the following timeframes helps both landlord and tenant keep a consistent schedule that both meets regulations and leaves both parties satisfied.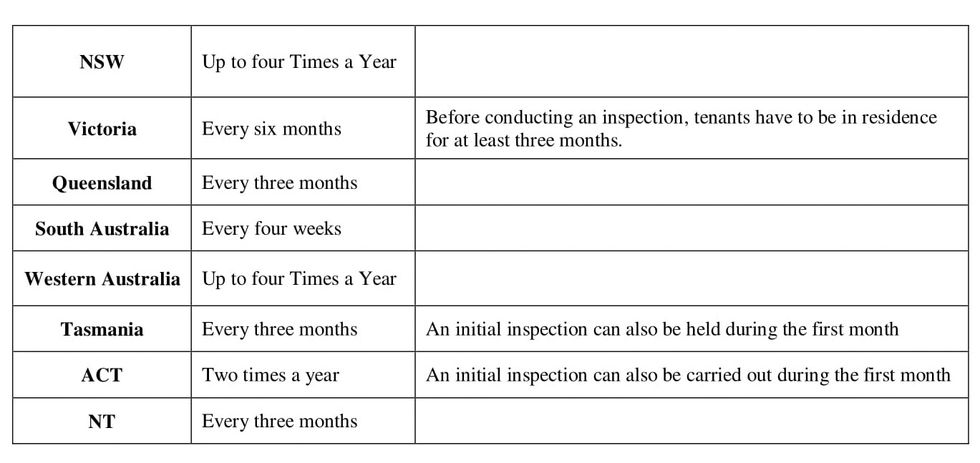 The only way to inspect a property outside these regulations is to receive a written agreement from the tenant. The tenant must also be given a minimum of 7 days' notice of the inspection, with exception to Tasmania whose laws require that only 24-hours is needed to notify the tenants. A landlord cannot enter the property between 8 am-8 pm unless the tenant agrees in writing and can provide a two-hour window for inspections. For inspection scheduled when the tenant is not at home, make sure you still knock and press the bell before entering the house.
Rental Inspection Checklist
During a routine inspection, it's important to note and record any signs of damage or uncleanliness to the property as a result of negligence. Negligence can include any significant marks or holes in the walls, heavily stained or ruined floors and misuse of appliances and fittings. In most cases, tenants ignore a simple leak underneath the faucet. But later it can cost residential landlords thousands to fix the damage. Landlords should also use this time to monitor any damage or concerns outside the tenant's control, such as age and weather-related issues. Under most contracts, tenants are responsible for the level of tidiness of their home. A little bit untidy can be considered okay, but if the property is getting damaged from it, then it's not okay.
Keep in mind that normal wear and tear isn't something that should be addressed during these investigations, as this time is used to identify any significant repairs and to judge the quality of the upkeep the tenant provides.
Documentation of every detail is essential. That is why don't forget to take pictures and videos. You need to place proof that your property looked much different from before the tenant moved in. The photograph taken must be dated and time-stamped, so there is no question about the authenticity. While taking pictures, it is better not to take a photo of the tenant's identifiable personal items (people, images, pets, valuable items, etc.) to protect the tenant's privacy.
A routine inspection checklist should cover all areas that a tenant should attend to before the inspection is conducted. This checklist should include:
- List of all rooms, appliances (air conditioner, furnace, water heater), amenities and other features of the home
- Any appliances to be cleaned and check if in useable condition
- Windows to be cleaned and dusted
- Wet areas to be mopped and monitoring of any mould, leaks or damage to any plumbing in kitchens, laundries, bathrooms, and toilets.
- Stains and scuff marks to be removed from the walls and floors.
- Safety risks- All smoke alarms and light switches working
- The garden is kept tidy
- Repairs made to any accidental damage.
As a landlord or property owner, the areas covered should include:
- Locks on all doors and windows are working
- Dripping taps: Unchecked, your water bills will be excess
- No blockages or leaks- Wobbly railings
- No deterioration or cracks in the properties exterior
- No rot, mould or termite damage
- Hot water and cold water supply are running at the correct temperature and pressure.
After Inspection
During the inspection, it's beneficial to record any maintenance that needs to be upheld and if possible, take pictures of the area. Afterwards, any issues recorded needs to be sent to tenants with a Notice to Remedy. Tenants will receive a 14-day notice period to make these changes before any further action is taken.
If everything on the property was satisfactory, send off a short thank you to the tenants and oversee any professional repairs that are the property owners or landlord responsibility.
Routine rental property inspections provide an excellent opportunity to meet problems in the bud. It offers the perfect chance to engage with tenants and build a happy business relationship. Never forget that happy tenants stay longer!