As I get ready to leave for college, I'm starting to realize more and more just how much I'm going to be leaving behind. I'm going to leave behind my room, my comfy bed and blankets, the soft blue glow of my night light. I'm going to leave behind my kitchen, with the unlimited supply of healthy, (and unhealthy) snacks. I'm going to leave behind my friends, people who've shared with me nearly every memory I have of past year. I'm going to leave behind my family, who've known me forever and know me better than I know myself. It's all got me down, got me wishing for just a few more months of summer with the people and the house I love.
But what's got me down the worst right now is that I'm going to be leaving behind my dog, Lucky.
We got Lucky seven years ago from a rescue shelter. We have no clue what kind of breed he is. He has short fur and he's black on his back and white on his belly, with little spots of brown on his cheeks and two brown eyebrows over his eyes. His ears are floppy and uneven. His eyes are a deep brown. He's a tad chubby, and he can't run very far or very fast, but he doesn't let that stop him when he sees a squirrel or a bunny or the mail lady. He gets the sweetest, goofiest, most infectious grin on his face when he's excited.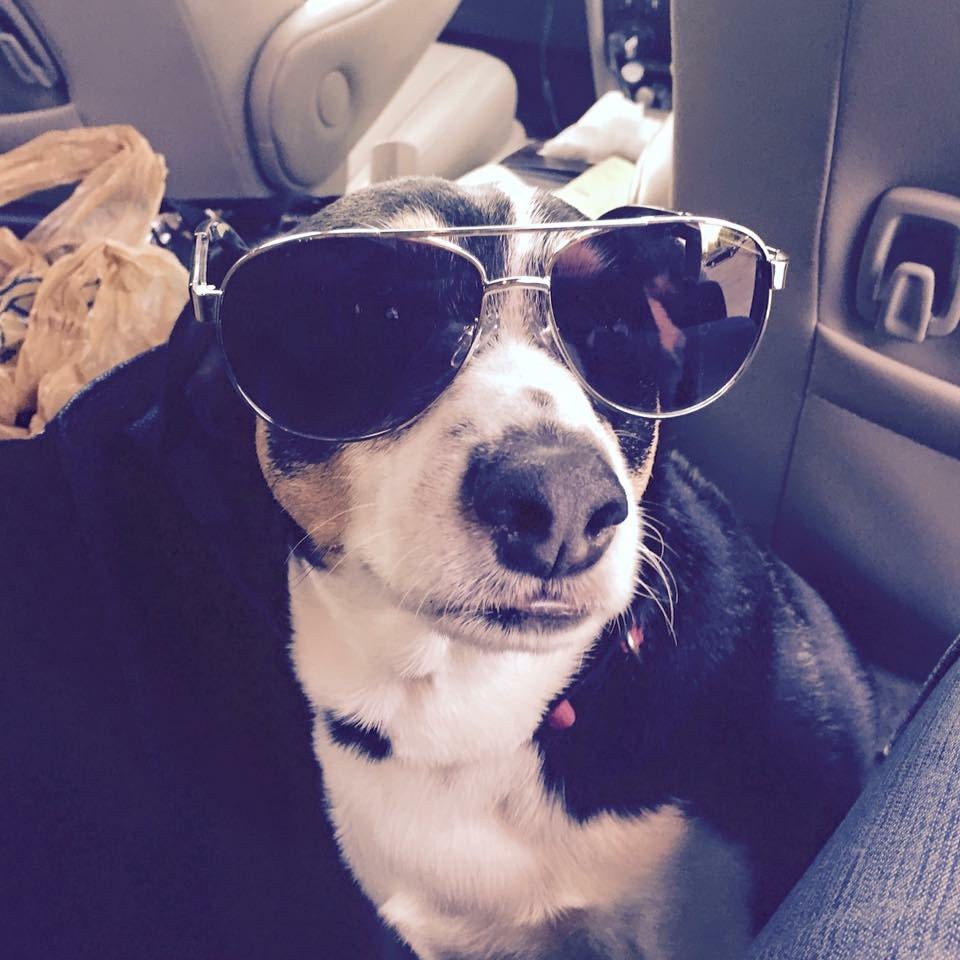 In this family, Lucky is without a doubt, the apple of our eyes. He's always the center of attraction, no matter what's happening or who's visiting, and if he isn't, he whines until he is. So many hours have passed as we've told stories about Lucky to all and any who'd listen, while he sat proudly in his favorite spot under the coffee table tearing apart his latest toy, happy that all eyes were on him. We've always treated him with respect and love and a whole lot of pampering. Where he started out his life in his doggy crate during nights, he eventually upgraded to sleeping outside his crate, and then to sleeping in a dog bed in the upstairs hall. I wouldn't be surprised if after I left, my parents upgraded him to the master bedroom.
When he got bored of his regular dog food, we began to mix in different foods, like a chicken strip or some rice for that added, extra flavor. He wouldn't even sniff his food bowl unless he saw those extra goodies in there. Every day, when my dad returns home from work, he picks up the mail, and our mail lady always leaves a treat for Lucky. As soon as my dad walks in the door, Lucky demands his treat and doesn't rest until he gets something. At dinner time, Lucky takes it as his birth right, as his constitutionally guaranteed right, that he will receive a piece of dinner from the table. If we ever forget to feed him (highly unlikely as he will continue to remind us that he's there the entire time we're eating), he sulks the rest of the night. But none of us mind. We all love Lucky.
Lucky is special. He has gotten me through my toughest moments in life. For the past seven years, Lucky has just known whenever I needed him. If I've been crying, he shoves his nose into my face to sniff my tears, always making me laugh. He curls up into my lap whenever I need cuddles. He stays away when he sees me angry, and he barks at me when I'm out of control. His face reminds me of where I am, what I'm doing. He brings me back to reality when I've been dreaming. He's my faithful companion, always ready at my every call. True, most of the time it takes a treat to get him to do what I want him to do, but who doesn't need a little motivation sometimes? Lucky understands what I need when I need it, and he's always there for me. And I'm there for him— to feed him, take him out, play with him. Always.
But now, I'm not going to be there for him anymore. He's not going to be there for me.
He's not going to be there at my every call. He won't be there to hungrily lap up the egg or bread I drop on the floor when I'm not hungry anymore. He won't be there to lick my tears away, to cheer me up. He won't be there to share movie cuddles with, to take pictures with. I won't be there to play his favorite games of hide-and-seek or steal-the-toy. I won't be there to keep him sharp on his arsenal of tricks. I won't be there to take him out on walks, to brush him, to tell him he's a beautiful boy. It's not like I can text him every day and ask him how he is. And he doesn't understand video chats. The bond between a girl and her dog is incomparable, and if there's anything at all that'll stop me from going, it's my puppy. I'll really, really miss him.
To him, even I though I know he won't actually read this, but to him, I promise that I will always love you. You will always hold a very special corner of my heart for yourself. Seven years was not long enough, but who says this is goodbye? I can't wait to see you again. When I do, I promise I'll have a treat for you.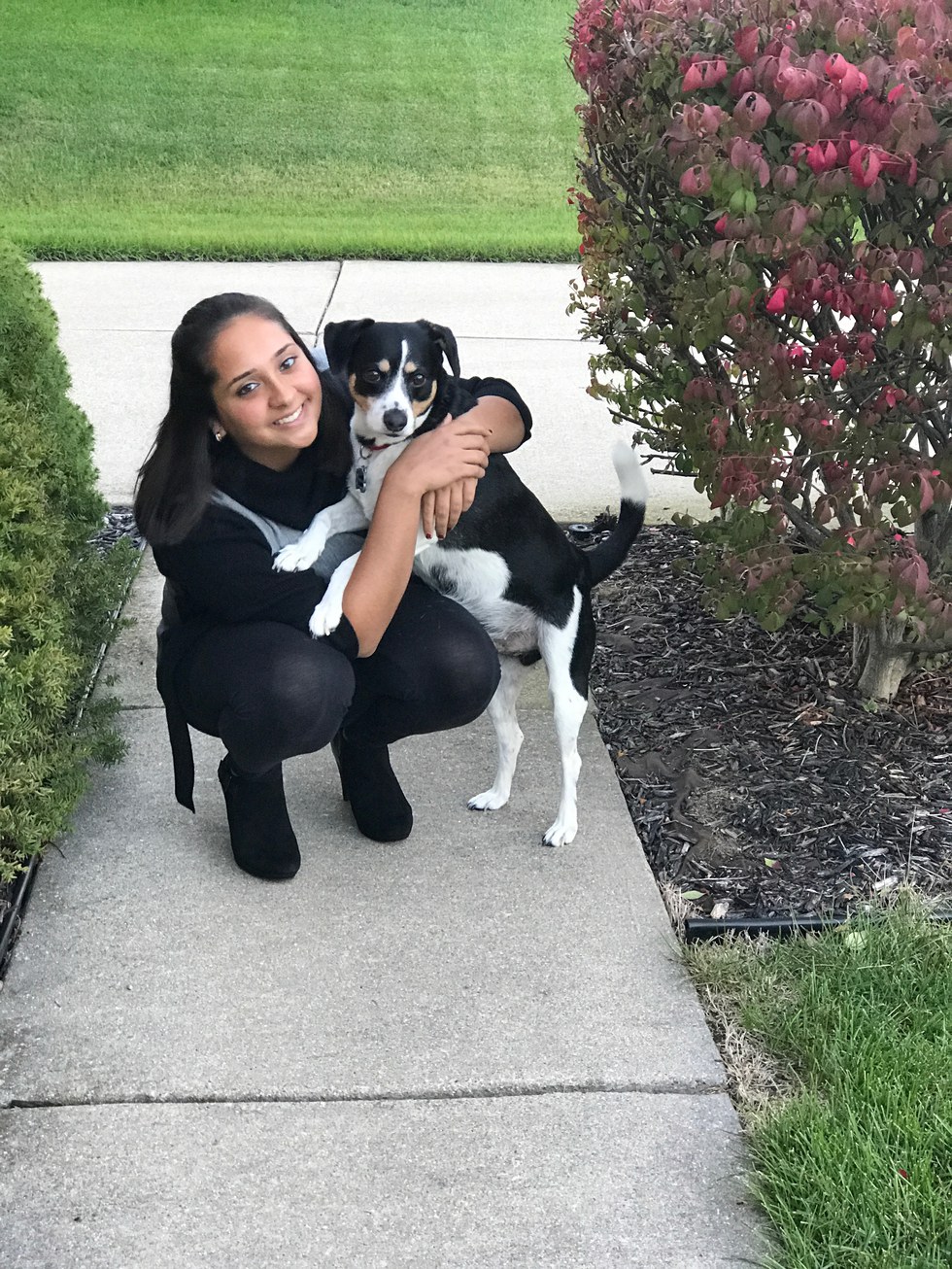 Cover Image Credit: Smrita Gupta