One of the perks of living in Chicago is that we get to enjoy every season of the year. Colorful flowers illuminate our spring days, sunny beaches are occupied with tourists during the summer, orange and yellow leaves fill our streets when the fall comes, and now, the cold and breeze that characterize the proclaimed windy city during the winter has arrived.

The holidays are a perfect time for family and friends to gather and celebrate. Chicago offers plenty of activities and events during the winter. If you live Chicago or will be visiting during this season, here are five things you must do during December.
1. Go Ice Skating.

A must for your winter wonderland experience is to go ice skating downtown. One of the most popular options is at the McCormick Tribune Ice Rink at Millennium Park. This ice rink is in front of the Chicago's famous bean (Cloud Gate) and with an amazing view of the buildings on Michigan Avenue. Another option is at the Maggie Daley Park Ice Skating Ribbon. This one is located right at Maggie Daley Park and is longer than most ice rinks. It offers an incredible experience of skating with a view of the tall Chicago buildings. You may rent skates at both locations!
2. Enjoy the Lights at the Zoo!

The Lincoln Park Zoo annually hosts their ZooLights event. This free celebration presents luminous trees and displays across the zoo. You may also see the animals and do some holiday activities. To see the lights you may visit the zoo on November 24 to 26; December 1 to 3, 8 to 23, and 26 to 31; and, January 1 to 7, 2018, from 4:30 — 9 p.m.
3. Go to the Christkindlemarket.

The Christkindlemarket has been hosted since 1996 and is the largest open-air Christmas festival. It brings German and European traditions since it is based on the German Christkindlemarkt, celebrated since 1545. Purchase beautiful Christmas ornaments, hot chocolate and delicious pretzel snacks while walking around this market. It is hosted at the Daley Plaza until December 24. You must check it out!
4. Attend Winter WonderFest

Every year Winter WonderFest visits Navy Pier. This family-oriented event offers games for children, delicious snacks and pictures with Santa! It is open until December 31. The little ones will definitely enjoy this event!

5. Take the train with Santa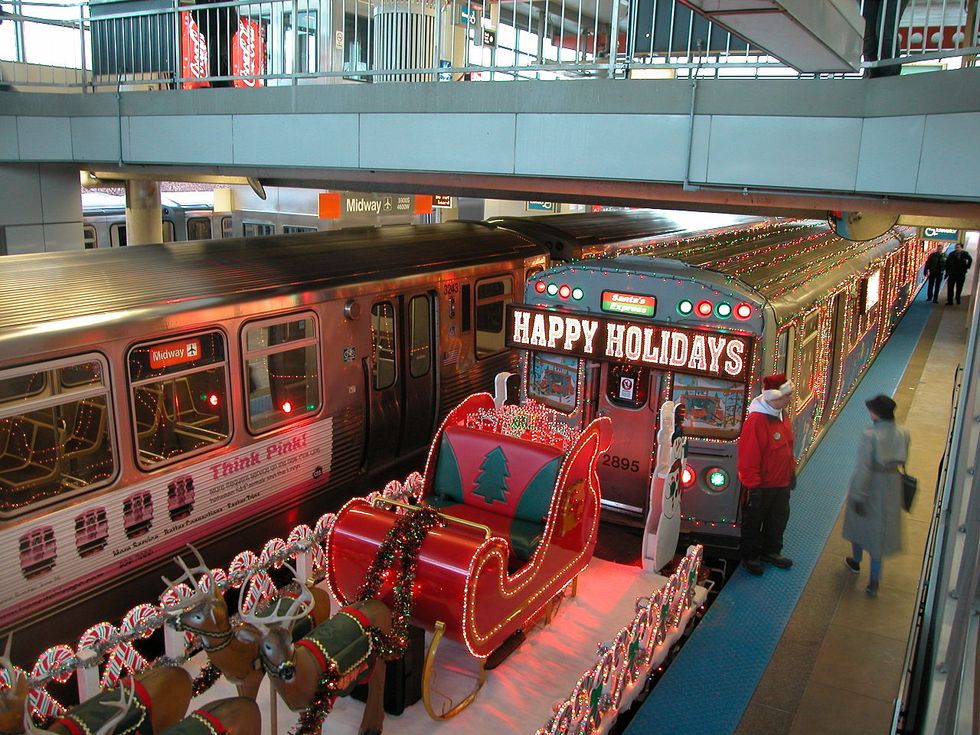 Whether you go downtown, head north or south, take the train! All Chicagoans have taken the public transportation at least once, but during December it's a perfect time to do so because you may encounter Santa! The CTA offers its Holiday train which is decorated with lights, a sleigh and Santa on the wagon! Also, hop onto the Amtrak as well, and you will have a Polar Express experience! Milk and cookies are offered on this train, and Santa appears as well!
These are only a few things to do in December in the Windy City! There are plenty more events, theatre plays and activities to do. Whatever you decide to do remember to always have fun with family and friends during this special time of the year!