It's the beginning of the spring semester. It never fails that you have to go through the dreaded icebreaker stage. It usually consists of your name, major, year in school, sometimes your hometown, and a fun fact about yourself. My response is usually, "Hi. I'm Megan Pellock. I'm a sophomore, Public Relations major and my fun fact is that I am in an a cappella group on campus". I immediately get a slew of questions. The main one being, "so like 'Pitch Perfect'?". In short, sort of.
The group I auditioned for and became a member of is called Secondary Dominance. It is the only all-girls group on Illinois State University's campus (kinda like the Barden Bellas). I auditioned with Adele's song, "Send My Love (To Your New Lover)". I went through the audition process with not a lot of thought of getting into it. To my surprise, I made the callback list. Before I knew it, I got a screaming voicemail from the members of Secondary Dominance (SD) to tell me that I had made the group. The next week, I was in rehearsals learning the music.
The first song I learned was "Sk8ter Boi" by Avril Lavigne. Seeing that piece come together as a whole, the cohesive song was amazing. All of the girls worked so hard to make sure everyone was blending, harmonizing, and making sure dynamics were there together as a group. I had been apart of singing groups before, but nothing like this.
The first performance came along, which was a collaborative concert that showcased the other three a cappella groups: Acafellaz, the all-guys group (kind of like the all guys group in "Pitch Perfect"), The Clef Hangers, one of the mixed groups on campus, and On The Brink Of Normal, the other mixed group that sings jazz a cappella. If you look at "Pitch Perfect", you can see the rivalry between the Barden Bellas and the Treblemakers. Take the riff-offs for example (we do not have riff-offs). That is not the case between any of the a cappella groups on campus, especially the guy's group. We are all a big, happy, singing family. So much so that during the collaborative concert (the name being "Acapalooza"), we all come together to sing a song. It shows how close-knit we are as a community. We also know that we always have each other's back. They are always willing to give constructive criticism, record our concerts, and support us no matter what.
Now the one thing about our a cappella group that is similar to "Pitch Perfect" is that we compete in an a cappella competition called the ICCA. This stands for International Championship of Collegiate A Cappella (kind of a mouthful). As a group, we prepare a 12 minute set of songs that have soloists, a beatboxer, and the others singing. Along with just singing, we dance. At the end of the competition, we get scored and awards are given and also to see who moves to the next round. Last year, my a cappella group placed fourth out of ten groups. It was a huge accomplishment for the group. We worked really hard and it paid off.
Through ICCA's and the community that surrounds a cappella, I could not be more grateful for the girls that I get to make music with. These have become my closest friends in college. I know that they will always have my back and will want to see me succeed in making music as well as in life. We have had bonding events and sleepovers together. With that, we have had moments of pure laughter, sadness, and joy. Overall, we just enjoy each other's company.
Now, this article may or may not convince you that people in an a cappella group do not live the life of "Pitch Perfect", but the movie does portray the hardships that a group can face, the great times a group can face, and the friendship that is there to last a lifetime. College is said to be the best years of your life. For me, it's because of SD.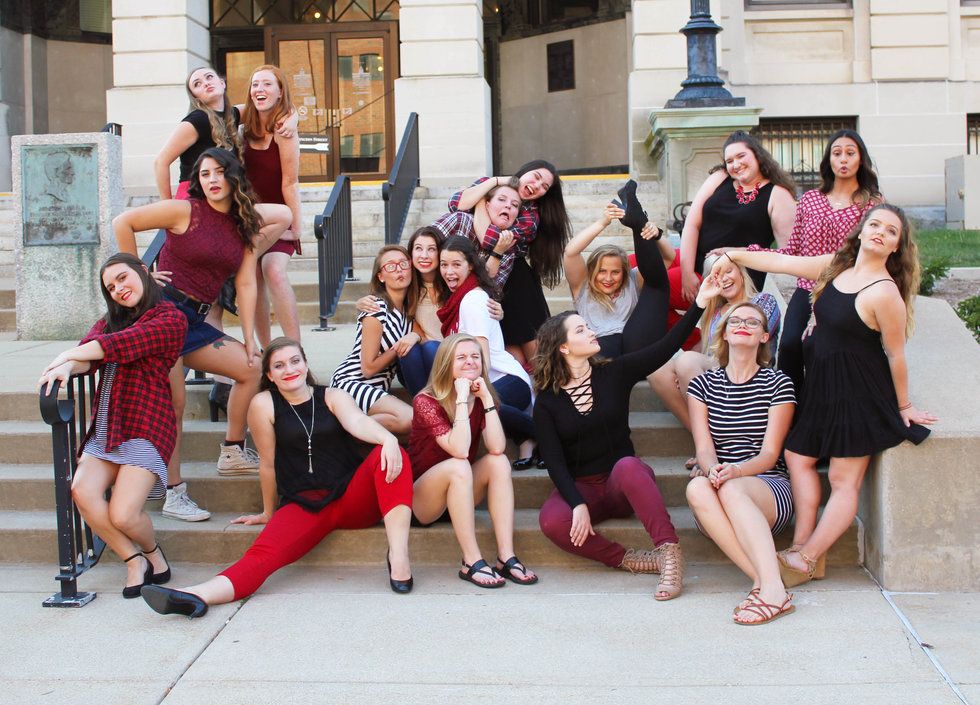 Cover Image Credit: Emily May Photography