In class the other day, my professor was telling us to not be afraid to ask questions. He said he won't pretend to know the answer when he really doesn't, and that there was only one question he didn't have the answer to. He said that a student once asked him if condom sales had gone up since the installation of self-check-out machines.
Then we briefly talked about how it's embarrassing to buy condoms and that got me thinking, why is it so embarrassing to have safe sex? We shouldn't be embarrassed when we buy condoms, in fact you should receive a gold star when you buy them, because you are promoting safe sex. Is it possible that we find buying condoms so embarrassing because our school systems failed us in sexual education? I think yes.
Chances are, you received your first dose of sex education in middle school, and it probably consisted of your teacher telling you not to have sex until marriage or you could get a disease or end up pregnant.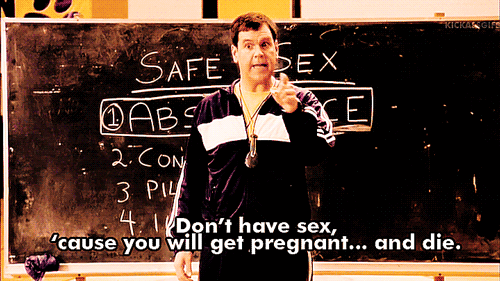 I remember we watched a horrifying video on sexually transmitted diseases, and to this day I'm still haunted by that picture of genital warts. Unfortunately, I don't recall being taught how to properly put on a condom, even though North Carolina mandates that contraception and condoms be covered in sexual education programs. A study done by the CDC shows that condoms are the least likely topic to be covered in sex ed. That's a problem because as most of you know, a condom is no good if you don't put it on properly. It's a lot easier than you think to compromise that condom.
The scary thing about sex education in America is that it isn't mandated by the federal government, and each state is responsible for their own sexual education programs. Guttmacher shows that, as of September, only 24 states and the District of Columbia mandate sexual education. Of those 24 states and D.C., only 13 require the information to be medically accurate, 18 and D.C. mandate that information on contraception be included, and only two states prohibit the program from promoting religion.
While I am a religious person and think it is important to honor your morals, I also think that there are instances where religion should not be a factor in determining educational content. In the '60s the Supreme Court ruled that schools could not make children pray or read the Bible as a class. They felt this was the right way to go to avoid government influence on religion -- separation of church and state. So why are we allowing the government to promote religious values when it comes to sex education?
In most cases this leads to the program being centered around abstinence, which leaves a gap in sexual education. 37 states mandate that information on abstinence be included and of those 37, 26 require abstinence to be stressed. The problem with abstinence only programs is that you don't get a comprehensive education.
After reading an article in Cosmopolitan, I learned that some of the sex ed programs funded by taxpayers are abstinence only. Since 1981 we, the tax-payers, have contributed to abstinence-only-until-marriage programs-- the Adolescent Family Life Planning Act (AFLA). After nearly 30 years, Obama did away with the bill in 2010. There is now only one abstinence-only-until marriage program, Title V abstinence-only program passed in 1996. This program has set restrictions for anyone or organization that receives its funds. They must teach that sex outside of marriage will damage you mental and physical health, abstinence is the only way to avoid pregnancy, and that it's important to be self-sufficient when having sex. These types of programs teach youth that having sex outside of marriage is shameful and shouldn't happen. They give no information about how to make wise decisions if you choose not to wait until marriage. Why would the government allow bills to be passed, that put restrictions on sexual education? Especially when the government ends up supporting a majority of unintended pregnancies.
In 2010, the federal and state government shelled out $853.3 million dollars on unintended pregnancies; and that's just in North Carolina. With the help of publicly funded family planning agencies, taxpayers were saved about $13.6 billion dollars or seven dollars for every dollar spent by the government. $13.6 Billion is a lot of money; not to mention the money spent on STI screening and treatment. Imagine how much more we could save if schools provided a comprehensive sexual education.
Speaking of STIs/STDs, the statistics I found on certain ones are scary. People think "Oh, I'm not the type of person who catches an STD." Well, guess what these diseases and infections don't discriminate. I know several people who have had one and these are people you would never imagine would get one.
According to the American Sexual Health Association, one in four teens contracts an STD/STI each year and the majority of these people are not aware they have it. It is also estimated that one in five Americans have genital herpes. So statistically speaking 64,552,403 people in America have genital herpes. That is a lot of people and just one STI. There are more than 20 types of STDs. Just imagine how many people have one or have contracted one.
They also forgot to mention, in sex ed, that using condoms helps you in the future when you decide you want kids. I don't recall being told that STIs/STDs could cause damage to your ovaries. I didn't learn that until someone close to me contracted chlamydia multiple times. I know that bit of information changes things for me.
So next time you feel too embarrassed to buy condoms, just think about those statistics. Think about your future, do you want to be able to have kids? Do you want to tell your spouse that you have herpes? Do you want your teenager to come home pregnant?
Don't worry America, the path to change is being paved right now. The Real Education For Healthy Youth Act, introduced in early 2013 and still pending legislation, will mandate that all federal funding goes to a comprehensive sexual education. You can help by encouraging members of congress to support the act. You can also contact your local school board and request a comprehensive sexual education, because it is times for a change.