Recently the Boy Scouts of America decided to change their official name to "Scouts BSA" come 2019, following their decision to open up their program to girls. Like many others, I do not understand why a program that has catered to the needs of boys, and boys only for one 100 years would choose to change their policies now after being so successful for so long. The whole reason the Girl Scouts came to be is Juliette Gordon Low was inspired by Lord Baden Powell's program and wanted to create a similar (note: not identical) experience for girls.
Many parents of young girls claim that the Girl Scout program fails to provide what they had enrolled their daughter into Girl Scouts for. I have seen almost every complaint possible appear in the comments section on Facebook, from drama between moms to lack of outdoor activities or badges. As a former member of the Girl Scouts for 13 years (kindergarten through 12th grade), the only piece of advice I can offer is to try another troop. One of the best (and occasionally worst) parts of the Girl Scout program is how it can be customized to fit the needs of an individual troop.
If your child loves the outdoors, find a troop that visits camp several times a year, or send her over the summer to Girl Scout Camp (I recommend a Mother-Daughter/Father-Daughter Weekend to start off, then maybe progressing to a weekend alone or with a Scout friend before jumping right into a week-long experience).
If you feel like your daughter is not earning enough badges, find a troop that does - just look for troops that have many girls with full uniforms, but bear in mind that the girls must put in a lot of work in order to earn their badges, they are not just handed out. As for troop drama, that is not the fault of the Girl Scouts as a whole, but immaturity in an individual, or occasionally individuals.
As a whole, Girl Scouts teaches girls many skills very well, such as financial literacy, STEM skills, business etiquette, and first aid, on top of the stereotypical activities such as cooking and sewing, which many girls find quite fun.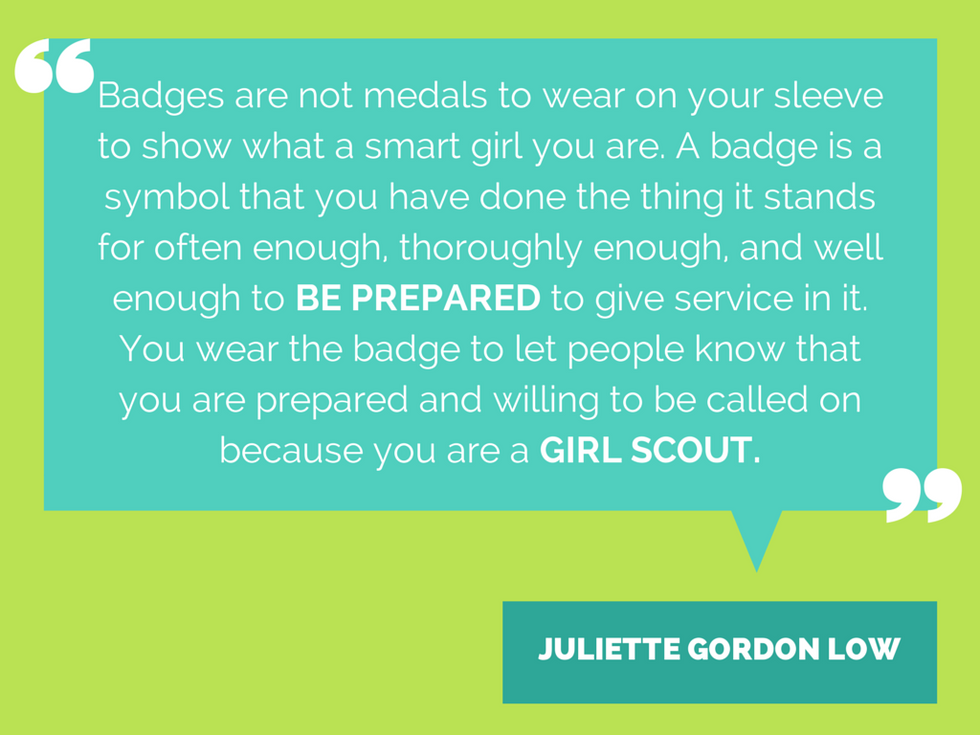 As a program meant for girls, Girl Scouts creates a place for girls to bond with each other in a single gender environment, which many children benefit from.
Personally, I found it nice to have a whole group of girls to hang out with on Friday evenings to contrast my co-ed activities such as school or clubs. I imagine the feeling of boys who have experienced Boy Scouts is the same, and that they don't really want to have girls at their meetings. In fact, Boy Scouts does have a program called Ventures that allow boys and girls to participate in scouting together, separate from the single-gender aspects of the Boy Scouts.
Another logistical issue that we do not discuss is the changing of the program to be acceptable for these new members. At least at the Cub Scout level, a separate den must be created for girls, and each den has a minimum number of members, making a single girl who wants to be involved unable to solely because there are not enough girls willing to join with her.
The entire program will eventually need to make huge adjustments to allow for a truly inclusive environment, which may sacrifice some of the original content that drew people in in the first place!
Both programs should be celebrated as individuals, with each having their own strengths and weaknesses, without trying to bring one down because of the decisions of another. Although I do not agree with the decision of the Boy Scouts to accept girls into their program, I do respect their giving troops/packs/dens an option to participate in the girls' program or not, based on the leaders' preferences.