I am sitting in Henry's Diner, a place that I have been to too many times since they have started accepting meal swipes. Sitting next to me is a friend and housemate of mine: Lauren. From outside of the booth, we look like normal college freshmen girls waiting to order. Yet when you see the walker with a bent flower hanging on it beside our booth, you may take a second look. My friend Lauren has a walking disability and has agreed to have me interview her for this article. She is not only a badass but has a unique take on the college freshmen experience.
* * *
So, tell me about your disability.
I have a physical disability that makes normal things like walking and tying my hair difficult.
Were you born with this disability?
No, I was actually in a car accident when I was five years old. The impact of the crash caused me to have a spinal cord injury which made me paralyzed from under my shoulders for three months.
What do you remember about being paralyzed?
I was constantly having tests done on me to see if any improvement was there. The doctors said I was probably never going to be able walk anymore, so my family and I needed to figure out how to adapt to my new situation. It's important to remember that I was five when this was happening, so I never really realized the severity of the situation, but I loved meeting new people every day and seeing friendly faces that cared for me. Yet, as time went on, I did become frustrated by my inability to do things on my own, like showering and using the bathroom.
What was the most memorable thing that happened after those three months?
I was watching Bring it On with my mom and as I was trying to imitate the cheer routine, my mom saw my right leg move the slightest inch. Right then and there, she called the nurses on duty to start me on physical and occupational therapy. I distinctly remember her saying how together, nothing was ever impossible.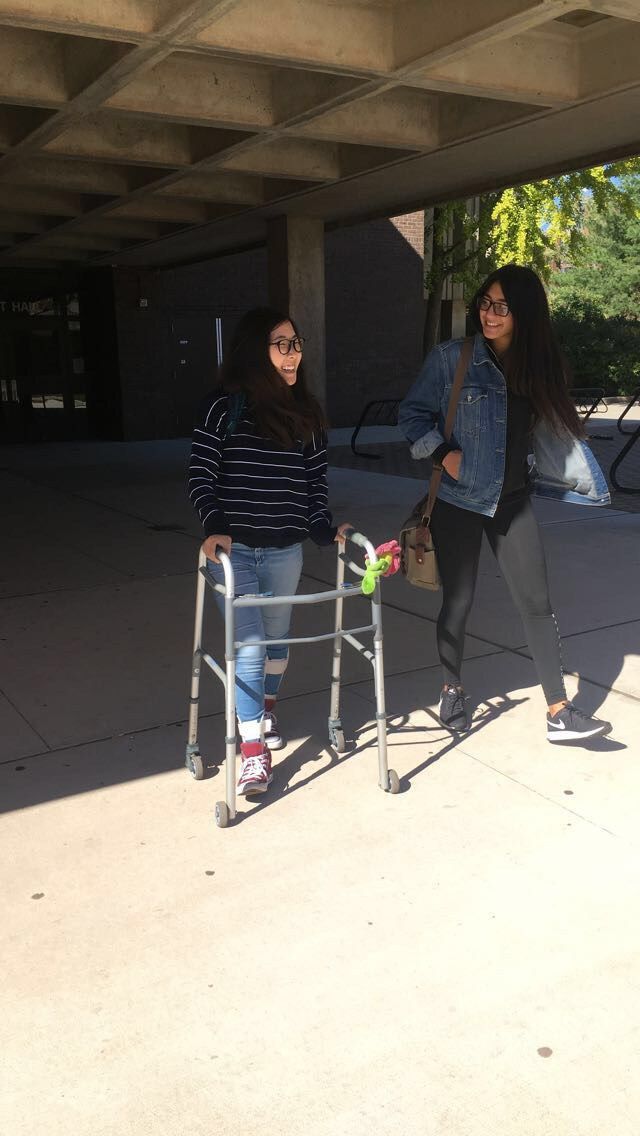 How long were you in physical therapy?

For the next six years. I would wake up at 5 a.m. every day to exercise. I gradually began to walk on my own, learned how to write, type and do simple tasks. It was the best thing when my parents and I were able to prove to the same doctors that said I couldn't walk, that I could stand on my own two legs and live my life.
What was it like going to physical therapy?
Frustrating! But it was a necessary evil. In the end, it was worth it; I got the ability to walk. Now I am a freshman at college and I think I am pretty badass.
So tell me... Did you always know you wanted to live on campus?
Yes, there was no doubt in my mind. I wanted to have the college experience and nothing, especially my disability, was ever going to limit me in that.
What are some obstacles that you've overcome since moving in?
I think attending such a huge university such as Rutgers, with the buses and the distance I have to travel to get to classes, has been a struggle. But besides the technical aspect that everyone goes through, I find that Rutgers hasn't really been inclusive when it comes to the disabled community. They build awareness, but it stops there. When it comes to events, it's really hard to get around.
Is there one event, in particular, you are referring too?

Yeah, it was the first football game of the season and I wanted to go because I am a huge football fan. My disability doesn't define me, but traveling with me no matter where can be a little challenging. But my housemates who I had only met four days ago didn't care. When we decided to leave the game early, there was so much commotion and miscommunication. Someone tried to get me assistance and you stayed with me. But as you know, the person only drove us in the golf cart for a short distance. I still had to walk up a huge hill and it was sad to see how little people cared. The crazy part was that I was with a group of 17 people and they never left me.
How do you think your disability has made your college experience unique, besides the struggles?
Well for one, it has its perks. My friends love taking the bus with me to class because the bus drivers always let us on. Though the thing I really love is how easy it is to tell who your friends really are and their true character. I have fallen on campus and people would just look and move on, but when other do stop and take the time out of their busy schedule, it brings back my faith in humanity, from strangers to friends.
What were you most afraid of, coming into college?
I think like everyone else, I was afraid of making friends. I was scared of people judging me based on what I looked like instead of what I had to say. Of course, I was afraid of going to places, and just a little bit of everything.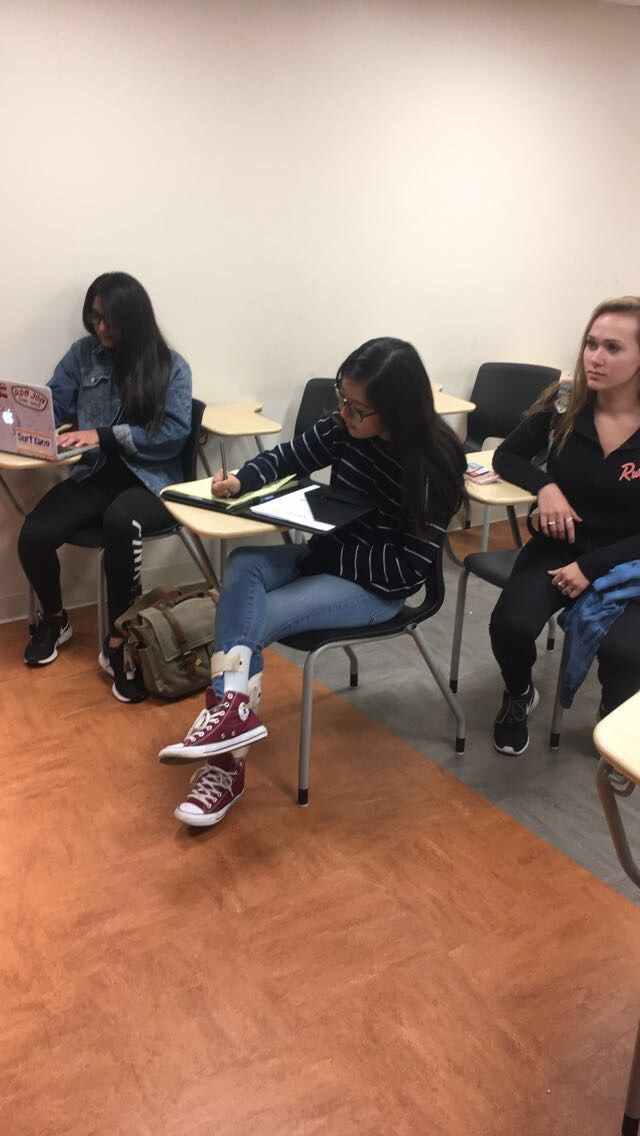 Well, how do you like college so far?
I love it. The independence that comes with it has been amazing. Like most people, this is my first time being on my own. I am still trying to figure out the best way to handle my classes, but I'm getting there. For the social aspect, I love meeting people from all different walks of life and it amazes me that in a school like Rutgers, where most of the students are in state, to see how different we all are.
Lauren, what do you plan to do after college?
I am contemplating law school, but nothing is certain yet. I want to either work for the state department or the United Nations by being an ambassador or diplomat for the U.S. because as a Political Science major, I love politics and international relations. These are both topics very important to me.
Whatever you decide to do, how do you want to impact people?
I see myself advocating for people. Not just disabled people, but being a voice for the voiceless. My experiences, the lessons I've learned, and the way I've dealt with things give me the unique ability to handle difficult obstacles.
What would be your advice be for anyone starting college?
Try everything and don't limit yourself! My life motto is: Everything happens for a reason. I believe my accident happened for a reason—even though it can be a pain in the ass sometimes—because it's allowed me to meet such kind-hearted people from all over the world and granted me experiences that have made me a more grounded and stronger individual. I would definitely encourage people to push their boundaries and never let anyone tell you that you can't do it.
What do you want people to know about you?
I am a huge musical theater geek with an unhealthy obsession for One Direction and Sam Smith. I love singing and just having fun. I am the biggest football fan. And most importantly, that I am never asking for pity and I don't want to be an inspiration because I feel that what happened to me could have happened to anyone, the accident and getting up. Wanting to live my life and not my limit myself, is not something new or brave. My disability is a part of me, but it's not who I am.
Cover Image Credit: Veronica Bido