"Down the shore." That's what New Jersey natives and folks familiar with the area call going to the beach. And if endless entertainment, parties and seasonal sun and fun is what you're after, there's no better place to go "down the shore" than Atlantic City. But we'll just refer to it likethe locals: "AC".
Famous for its modern resort casinos and old-timey boardwalk amusements, AC is kind of like Las Vegas at the beach. For us, the beach beats the desert any day. The early story of AC is widely known thanks to the HBO series "Boardwalk Empire". The city streets were made famous by Monopoly, and your time here will be just as legendary.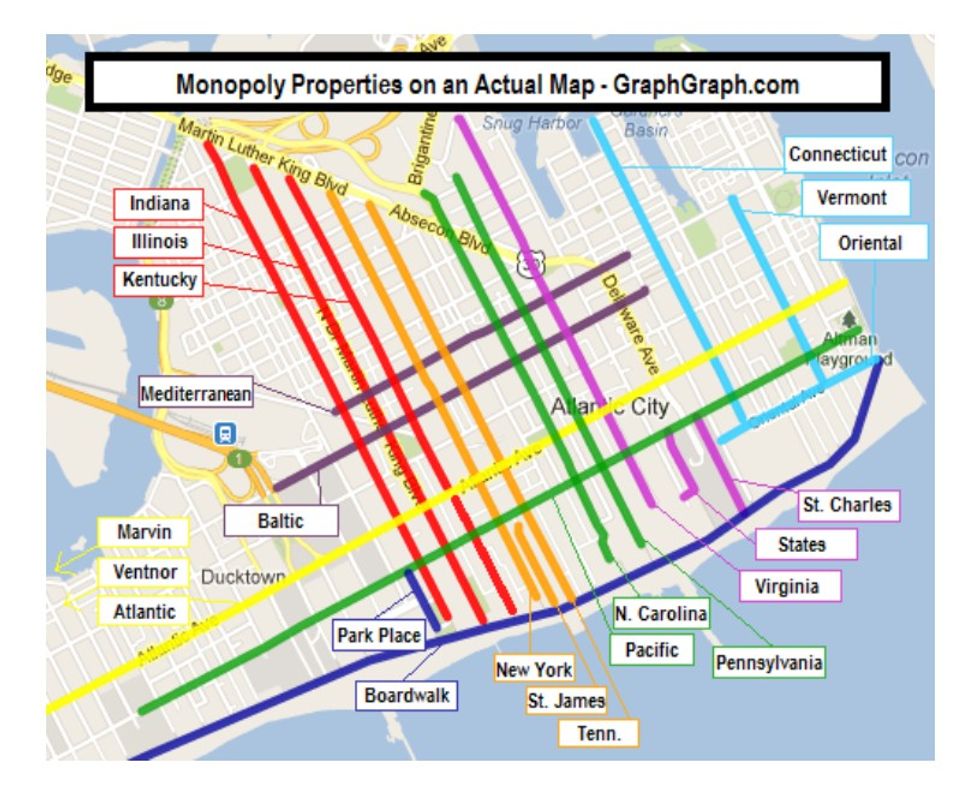 >>>>>Photo by SailMakai
Caption: Many streets in AC are forever immortalized in the board game Monopoly.
Balling on a Budget
Everybody loves to save money, and if you're savvy, you can make the trip to AC without breaking the bank.When it comes to AC hotel stays, there are two golden rules for stretching your hard-earned scratch. Go during the week and/or off-season.
Hotel rooms easily top $200-$300 or more on weekends and the peak summer months of July and August. However, these same rooms can run well under $70 if you visit on, say, a random Tuesday night in March.
Another dirty little secret is to stay just outside of AC in a nearby town. Pleasantville, West Atlantic City, Egg Harbor Township, Absecon, Galloway and Smithville are all about five miles (or a five to ten-minute drive) from anywhere you want to go in AC. The hotels farther out are considerably less expensive and there's a wide range of price options, so you're sure to find something within your budget.
And why not let someone else do the driving so you can relax and focus on having the best time in AC? Grab a cab or rideshare service from your outskirts hotel into town. Splitting the fare with friends may also save on parking fees you would otherwise spend by driving to AC.
However, there is a little trick with parking fees if you do drive to AC: A few places like Resorts Casino and Golden Nugget offer free self-service parking. This is a huge perk in AC where many hotels charge a daily parking fee.While paying to park here is little compared to someplace like NYC, the price tag adds up quickly when you stay for multiple days.
When looking to book a hotel room in AC, use a site like Trivago that compares rates at a variety of other travel sites to find the best deal. You can also play around with the "distance from" feature. Set it to the maximum distance and select different areas of Atlantic City. You may find a steal on a hotel that didn't show up in your initial search.
When the Sun is Shining
The days in AC are best spent on the beach and boardwalk. To get a good bang for your buck and some exercise, rent a bicycle to ride on the boardwalk. The rates are quite reasonable, averaging $8for the first hour and $1 for each additional five minutes.A trip up and down these iconic wooden planks takes about two hours, accounting for time to stop and shop at a few of the beachside boutiques.
And while you're on the boardwalk, check out the Observation Wheel at Steel Pier. This giant Ferris wheel opened in 2001 and is the third largest of its kind in the U.S. The bird's-eye views of AC's skyline and the surrounding coastal area are well worth the $15 price of admission.
Steel Pier is also home to a 1,000-foot-wide amusement park side straddling the boardwalk. Step inside for all the old-school fun you can handle. Here you'll find arcade games, a carousel, bumper cars and the best boardwalk French Fries in town. Pro tip: Go wild with sea salt and malt vinegar. It's a down the shore thing!
What's better than the beach and free? Probably nothing. You can argue that all beaches should be free for public recreation, but many are not. There's no such problem in AC. Using the beach here is completely free of cost. So, grab your buddies, beach chairs and frisbees and head down to the sand for rays and waves.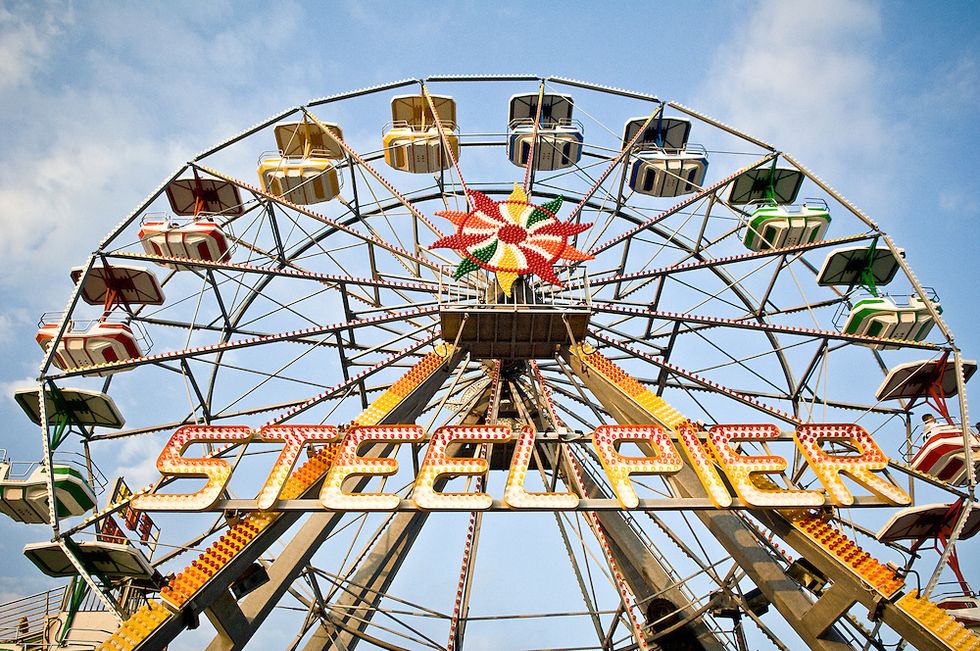 Photo by Jacqueline C Agentis
Caption: The Observation Wheel at Steel Pier circles high above the AC boardwalk.
Ready for more boardwalk fun? The museum of oddities chain Ripley's Believe It or Not! has a location on the Boardwalk, offering visitors a taste of the obscure and bizarre. Where else are you going to see a roulette table made from 14,000 jelly beans or a collection of shrunken heads? Admission to Ripley's is 50 percent off for college students on Tuesdays, Wednesdays and Thursdays.
When the Sun Goes Down
Of course, the nightlife in AC is what sets it apart from other Jersey Shore beach towns. And you don't have to go far to find some excitement!
The Pool After Dark at Harrah's is one of the hottest clubs in AC with frequent appearances by globetrotting DJs and celebrities. Seriously, how many dance clubs feature a large swimming pool in the middle of the venue? This one does, and you're encouraged to bring your bathing suit and splash it up while you get down to pulsating beats. The other highlight here is a transparent, domed roof so you can look up at the moon and stars. You'll feel like you're at an outdoor island rave even in the middle of winter!
The Pool After Dark underwent a multimillion-dollar facelift in 2017, part of which was the addition of blackjack and roulette tables in the club. So, get your lucky roll on and win big to keep the party going all night.
INSERT VIDEO HERE >>>>> >>>>> Video by Harrah's Resort Atlantic City
Caption: Partygoers pump it up to the hottest EDM beats at the Pool After Dark.
When it's time to get your disco on, shimmy on over to Boogie Nights, a dance club boasting a retro 70s and 80s theme inside the Tropicana Casino & Resort. Winner of the Atlantic City Nightlife Awards for Best Dance Floor and Best Bottle Service, Boogie Nights serves up wild theme parties and special events you won't find anywhere else.
If laughing your tail off sounds more appealing than a dance club, Borgata Comedy Club will have you in stitches. As one of the biggest fan-favorite stand-up joints on the East Coast, comedians both famous and notsomuch come here to drop their best stuff. Regular shows at the Borgata Comedy Club are only $20 while major headliners may fetch $50, which is a steal for legends like Jerry Seinfeld, Eddie Murphy or Amy Schumer, who have all made appearances.
Press Your Luck and Win Big
Of course, any AC travel guide is incomplete without casino recommendations. This is a town built on gambling! Currently, there are seven resort casinos operating in AC, so you're sure to find one that best suits your needs.
If your taste run toward the posh and modern, Borgata in the Marina District is the place to be for a luxury gaming experience and first-class service.You'll feel like a VIP as you spin, roll or throw down cards on your way to winning.
Located on the boardwalk, Tropicana offers very competitive room rates and a casino floor with 135 table games and more than 3,000 slots. An old Havana decor theme throughout the facility pleasantly reminds guests of Caribbean paradise. Then take your winnings to The Quarter, an on-site shopping mall, to shop for keepsake souvenirs.
You can even play online casinos while in New Jersey, which is a great way to become familiar with games and practice. Sharpen your skills with slots, blackjack and roulette games at us.888casino.com before heading to AC.
Now that you have the inside scoop on how to make the most of sightseeing, staying, partying and gambling in AC, we're sure your trip will be awesome. And the best part is that all this fun can be had for a nice price when you do a little homework and comparison shopping. We hope to see you down the shore real soon!