Ever since mid-February millions of people around the world tuned in as the tallest mammal was preparing to give birth. Finally, after months of waiting, April, a giraffe at an upstate New York zoo called Animal Adventure Park, gave birth on April 15.
April the giraffe became an internet sensation when the New York zoo decided to try out the live-feed feature on Facebook. The live-feed was titled "Pregnant Giraffe to Give Birth Live Any Minute" and almost instantly thousands of people started watching. Little did everyone know that "any minute" could take almost 2 months.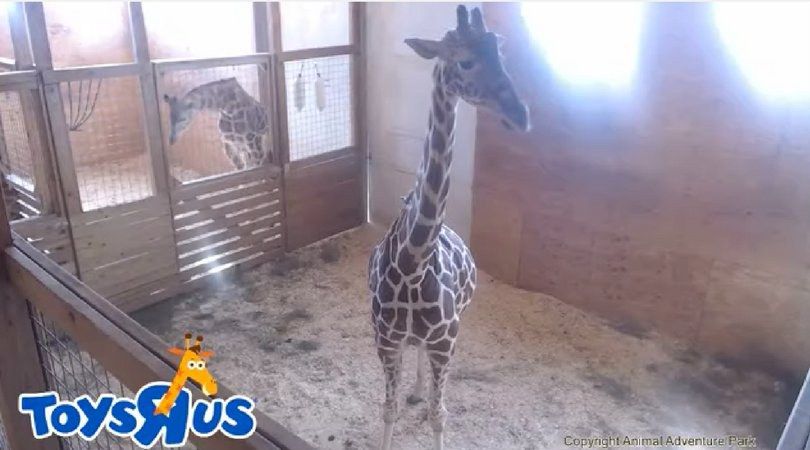 April paced in her enclosure as her belly grew slightly larger each day. We watched April eat, sleep, and we even watched her bond with her caretakers, Alyssa and Cory. Every once in a while people some of April's caretakers would answer some questions about April, Oliver (the father of the soon to be calf), and the delivery date. People couldn't stop watching this gentle giant in fear that they would miss the miraculous birth.
As time went on people never lost interest, even though many were frustrated. YouTube picked up the live stream of April, however for a brief time it was taken down after the video was reported for "nudity and sexual content." News stations like FOX, CBS, and NBC caught on and started their own live streams of April as well.
Because of all her fans, April now has her own website and an apparel line. A GoFundMe page was also set up to raise money to take care of the many animals at the zoo.
After almost 2 months of waiting an alert was sent out to April's fans through the Facebook live-feed at 7:20am on April 15th saying that April went into labor. About 1.2 million viewers on YouTube and more than 700,000 viewers on Facebook Live tuned in and were able to witness the birth of the calf at 9:53am that morning.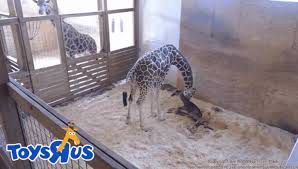 The birth of the calf went perfectly according to one of the park owners, Jordan Patch. The calf weighed in at about 130 pounds and almost 6 feet tall. April is also said to be recovering perfectly.
While the wait for the birth may be over, the cameras have not shut off around April and her calf. People can still watch as the calf takes his first steps and there is even a contest to decide the name of this calf. If you would like to vote on a name you can do so at http://www.nameaprilscalf.com