As the March for Our Lives grows in popularity, it is important to remember that the black youth that have spoken out about Black Lives Matter were not given the same support as the teens from Parkland. I am not trying to take away from the accomplishments of the Stoneman Douglas students because the fact that they were able to get the entire country to come together in support of gun control is phenomenal. They have all been much stronger and braver than any teenager should ever have to be, and my gripes are not directed towards them.
The issue I have is with the people that have supposedly gained such a deep interest in protecting the lives of children while also being silent on Black Lives Matter.

The Everytown for Gun Safety Support Fund reported that gun violence affects black children and teenagers the most, with them being four times as likely than their white counterparts to be killed by guns. Despite knowing this, a significant portion of the United States still chose to turn a blind eye or show their outright hatred for Black Lives Matter and then completely change their tune once a movement starts as a result of the murders of white teens. The deaths of black children as a result of gun violence is seen as negligible because our society only values the lives of white people.

The hypocrisy surrounding the support for the March for Our Lives but the disapproval of Black Lives Matter is frustrating, especially when high profile celebrities like Selena Gomez openly endorse it. In July of 2016, Gomez took to Twitter to complain about how many people do not use their voice to speak out about important issues. This resulted in someone asking her why she had not used her own voice to show her support for Black Lives Matter, and she had the following response: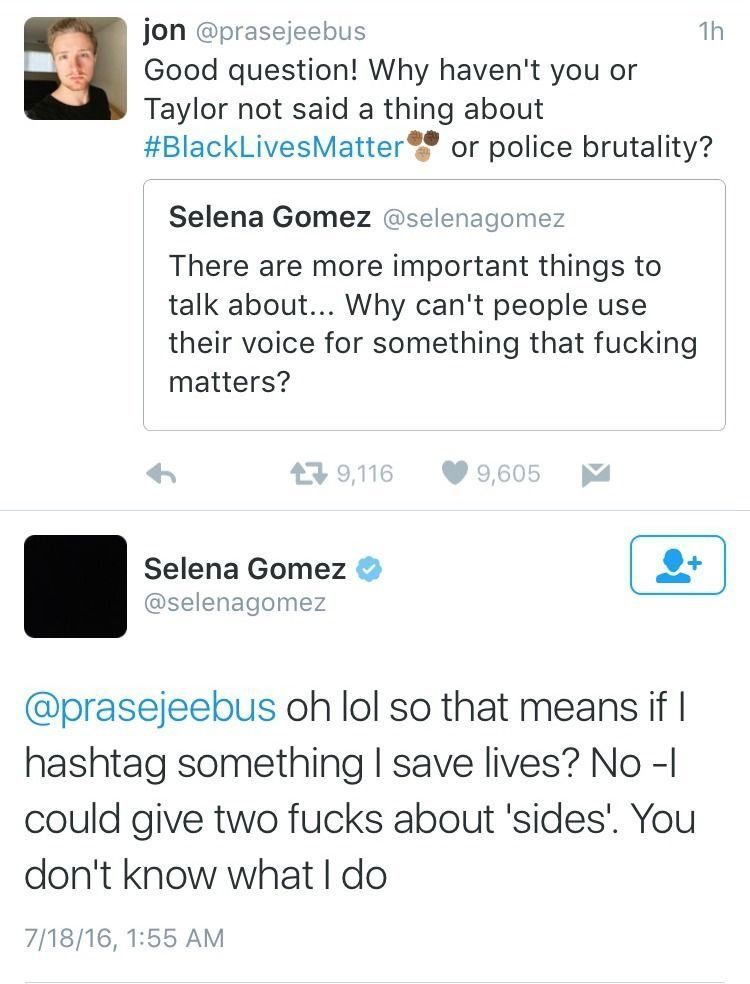 She dismissed the entire movement by reducing it down to a hashtag, but then during the March for Our Lives protest, she posted on her Instagram about how strongly she felt about the march and how it was more than just a hashtag.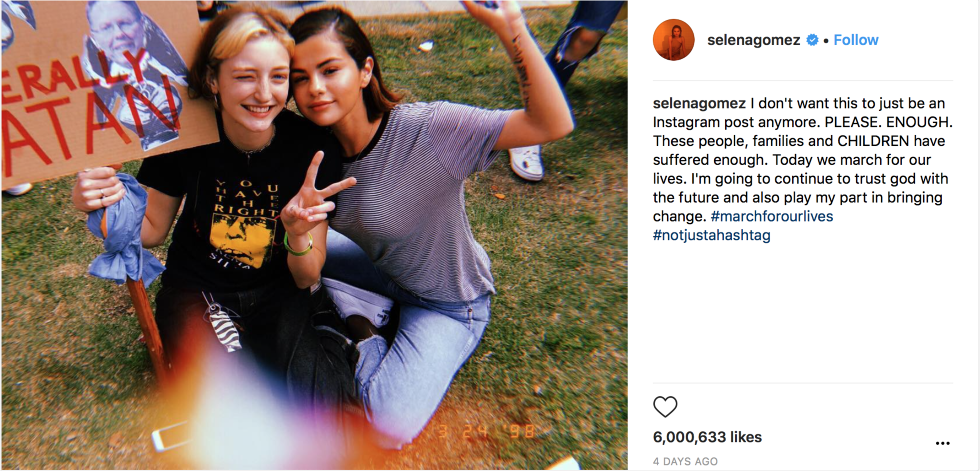 It is interesting how much Gomez emphasized that the march was to protect people from gun violence even though the Black Lives Matter protests were also raising awareness about gun violence in their communities while addressing the issue of police brutality as well. The public has begun to label Gomez as anti-black because of this double standard.
It is worth mentioning that her tweets where she belittled Black Lives Matter are almost two years old, and it is possible that she educated herself about the movement and realized she was wrong. However, I honestly doubt that that is the case because she has never apologized for her previous statements.

Both the March for Our Lives and Black Lives Matter movements have received significant amounts of hate, but the March for Our Lives was accepted with open arms in comparison to Black Lives Matter. Many people see Black Lives Matter as a nuisance and divisive because it does not go by "All Lives Matter" and because it focuses on highlighting the struggles of the black community. The idea of the March for Our Lives makes anti-black Americans more comfortable because the movement originated from a predominantly white community.
The Parkland students have been doing their part in checking their own privilege and giving space for black voices to be heard, so now it is time for the supporters of the March for Our Lives to do the same.