College not only provides us with a community that strives for prosperity, it will give us a key to new flourishing possibilities, and one of that is law school. Graduating high school, I had a fantasy that this journey will be simplistic, obstruction free and with extraordinary compensation in the end. However, that isn't the situation at all, in fact, they are more obstacles and facts that people need to know about the law field before dedicating to this route.
According to the Bureau of Labor Statistics, in the time span of 10 years 2014-2024, there will be an estimated 157,00 total job openings for lawyers. This sounds great alone, it becomes troubling to discover that in 2016, there was a total of 37,124 law graduates. If this trend maintains, there would be approximately 350,000 law graduates in 10 years, but according to BLS, only 157,000 jobs for lawyer positions will be available. This means that there is a good percentage of law graduates that don't become lawyers. The American Bar Association has data for 2016 law graduates and the numbers don't lie.
Around 35 percent of law graduates don't become lawyers and the tuition keeps increasing. 85 law schools in the United States have an 80 percent or lower bar exam passing rate. Pace University with 70% bar passing rate charges $47,210 tuition and Thomas Jefferson School of Law with a 45% bar passing rate charges $49,500 tuition. Additionally, with the case there aren't enough lawyer openings for the graduates, this doesn't seem prosperous some might imagine law school to be.
Speaking of Thomas Jefferson School of Law, if you are nevertheless planning to go to law school, use the employment summaries from the American Bar Association to search up a law school before applying. 64 out of 210 graduates from Thomas Jefferson School of Law are unemployed, that is 30% who have no job, and not even a teacher.
Some graduating from a school like that has to deal with an average of $120,000 in debt. Private law schools charge ridiculous rates without a promise of a job. There are even misleading debt averages reported from colleges on famous websites like U.S. news. For Law Schools to attract more students, they try their best to lower there reported debt averages to gain more collected tuition money, those averages aren't accurate.
"Law School Transparency reports that a Harvard Law grad with no scholarships will have a student loan bill between $297,548 and $322,348, with a total repayment of between $400,000 on a 10-year plan and $550,000 on a 20-year plan" and "In other words, over 50% of HLS students are paying full price to attend"
"In other words, over 50% of HLS students are paying full price to attend."
"So this means that the average debt of $149,754 reported by HLS and US News may be misleading. I suspect that most of their graduates have much higher loan balances."
This is just one case, plenty of law schools can be around this scale, maybe a little less. At least Harvard gets you a job, unlike Thomas Jefferson. This for-profit law school disproves the myth that the more expensive a college, the better it is for to find a job. A lawyer graduating from Cornell Law School might be making $150,000 a year (probably less), compared to a lawyer graduating CUNY Law making $90,000, can you guess who got more than $200,000 debt to pay up. No shame to Cornell. The journey is troublesome and can be a dangerous investment if you're not careful. Lawyers have a 15% unemployment rate. With what we discussed, it's not a good mix with the outrageous debt and the 65% bar passing rate.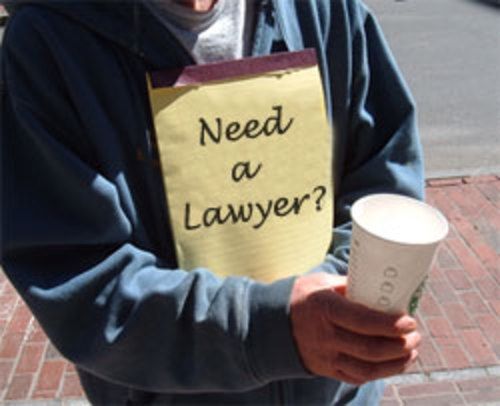 When you hear the rumors that there is high demand for lawyers, they probably mean not the state you live in, but in the entire country. To further illustrate, According to NYTimes Theresa Amato, a lawyer and public advocate at Washington DC, "In Nebraska, 20 out of 93 counties have fewer than four lawyers. Eleven counties have no lawyers at all. The Montana Legal Services Association, a nonprofit group that is partly federally funded, reports having only 13 case-handling lawyers for the entire state". There is unbalance of lawyers for different states, so while there is notably few demand for new lawyers in New York, states like Nebraska and Montana have a scarcity of lawyers. Some states have enough lawyers while others are looking. The author further explains that law school debt makes graduates unwilling to take lower paying legal jobs, they weren't fantasizing that while in school.
You may be willing to go through this because you have a passion to protect, serve the people and bring justice. Families are hurt, political tensions are rising, deportation, and everyone deserves the right to a lawyer. Ask yourself this first.
Am I helping people when in the end, the person I'm helping is paying unaffordable legal fees, just so I can make a great living?
That's for another time to debate.