Amy Schumer isn't new to comedy, but she's certainly new to Hollywood, and she's quickly taking the reins into her own hands.
Schumer started doing stand-up back in 2004, performing at New York City's Gotham Comedy Club. She was quietly making a name for herself while the female matriarchs of comedy (of the Millennial generation), Tina Fey and Amy Poehler, were at the height of their SNL careers. It was around then Amy's relationship with Comedy Central began with an appearance on the network's "Live at Gotham," which she considers her "big break". She then appeared as a contestant on NBC's "Last Comic Standing" in 2007. She placed fouth in the competition, but was nowhere near losing.
After more gigs throughout the years, featuring "Roast" appearances and small roles in both feature films and television shows, Amy Schumer finally got her own special on Comedy Central. "Mostly Sex Stuff" premiered in August 2012 and racked in positive reviews. In April 2013, Schumer's TV series, 'Inside Amy Schumer," debuted on Comedy Central and was renewed for a fourth season just this year.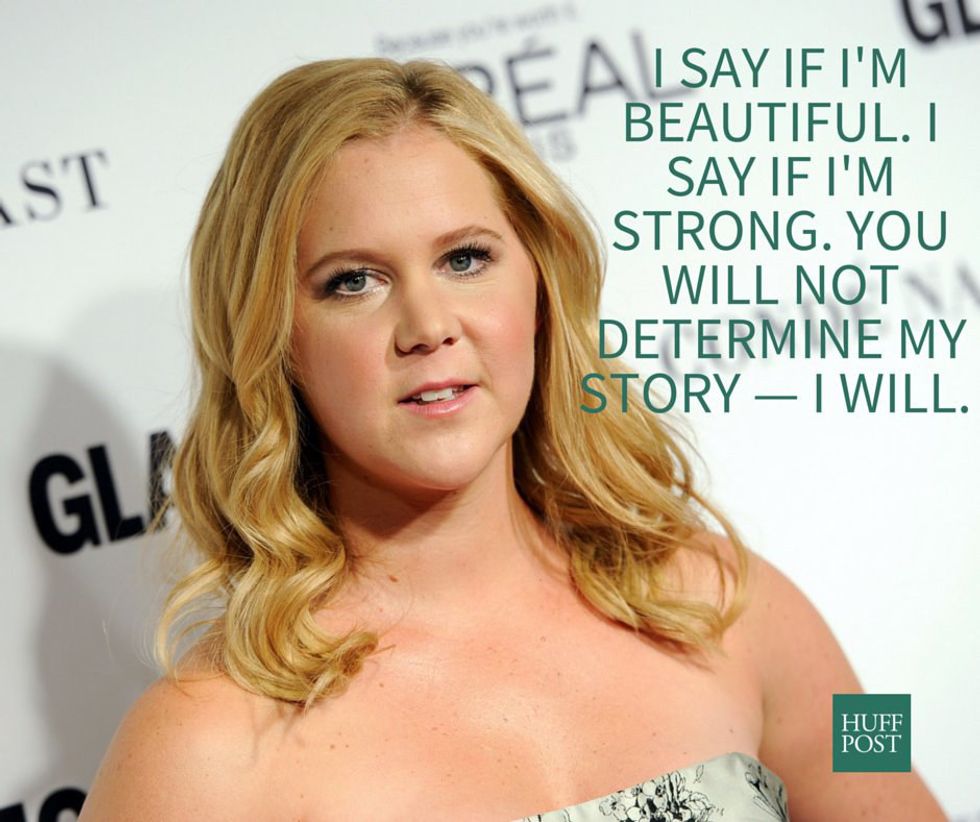 Preach it, Amy.
"Inside" is a sketch-comedy show made up of different skits, interviews and stand-up bits; however, it's not just any routine variety show. Schumer tackles real issues in a way that everyone can relate to -- via comedy. Problem areas in our society, taboos and inequalities that women face are all addressed; not overtly, but comically through satirical skits over-exaggerating the point.
For example, in the skit "Last F**kable Day - Uncensored," Amy and her "heroes," Tina Fey, Julia Louis-Dreyfus and Patricia Arquette, celebrate Julia's "last f**kable day," which is when "the media decides when you finally reach the point where you're not believably f**kable anymore." Later on, Schumer asks the actresses when men have their last f**kable day, followed by laughter at the absurdity of the idea. Arquette informs Schumer that, "Honey, men don't have that day!" and Fey reminds her, "Well, they're f**kable forever!" It's sketches like these that Schumer uses to take a stab at society, pointing out all the differences of the unfair treatment of women, compared to men, in Hollywood.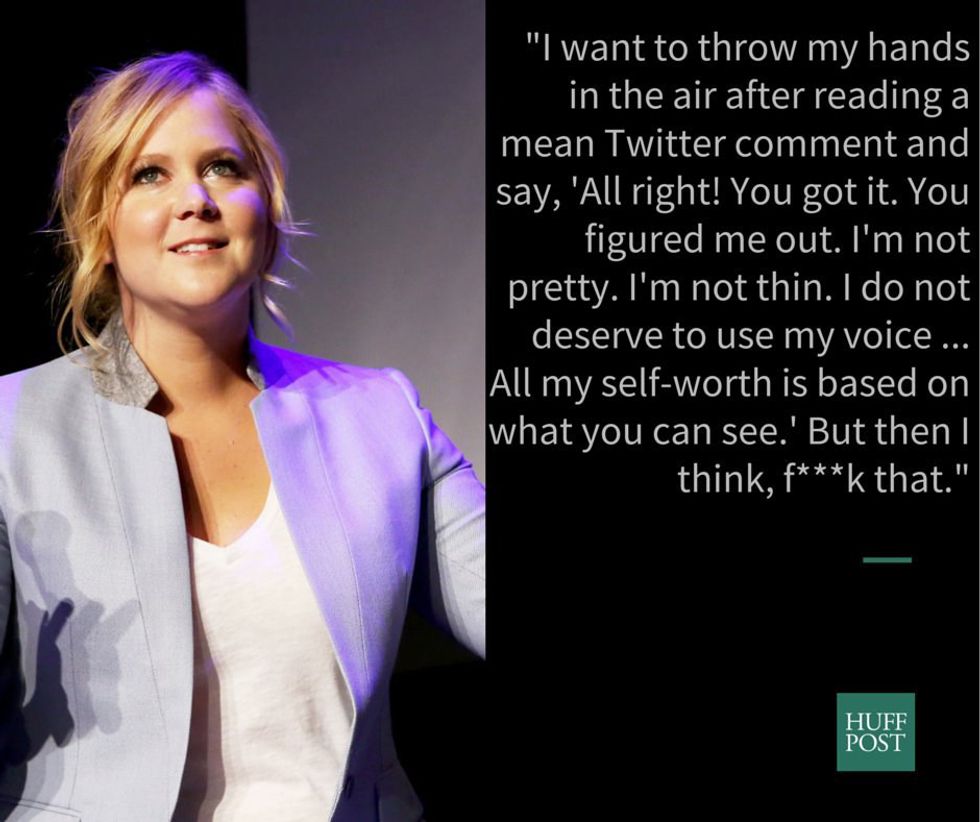 Yes. Just yes.
"Girl, You Don't Need Makeup" is another sketch about the issues women face, this time focusing on the constant need to look perfect. It's a short music video: a boy-band parody of One Direction sings to Amy about how naturally beautiful she is and how her need for makeup is useless. Hilarity ensues as Schumer wipes away her mascara and foundation and the boys quickly change their mind about her need for makeup. The double standard is so prevalent in our society, but also so hush-hush and not often talked about. Amy puts it all out on the line, while also making us fold over from laughter.
Schumer also takes on more important issues, such as the normalcy that is rape in sports, spinning off NBC's "Friday Night Lights." In the sketch "Football Town Nights," Amy's husband is the new football coach in a small town. He is quickly disliked for his new rule: absolutely no raping, whatsoever. "What if she thinks it's rape, but I don't?" "What if my mom is the DA, and WON'T prosecute, can I rape?" "What if she's drunk and has a slight reputation, and no one's gonna believe her?" are all questions the players ask their coach, trying to find an acceptable excuse to rape. Schumer takes a heavy topic and ingeniously makes it approachable through this sketch, as she lightens it up with her endless wine. (If you're a fan of the original show, you'll especially find yourself laughing at Amy's character.)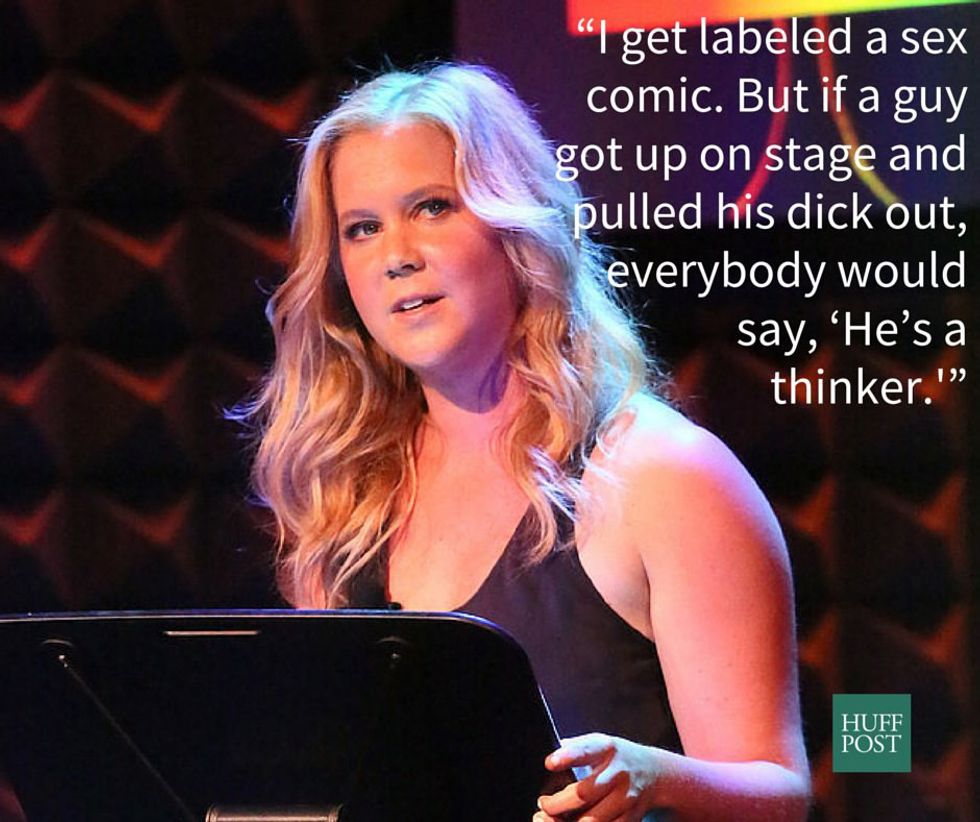 Keeping it real.
Schumer's newest film, "Trainwreck," which she wrote and co-produced with Judd Apatow, opened this past weekend. She plays a magazine writer who doesn't believe in monogamous relationships until Aaron, the sports doctor played by Bill Hader, comes into her life and changes that. Amy's distinct humor and kick-ass attitude shines through this comedy and reminds us exactly why she is an awesome woman to look up to.
Schumer proves that comedy isn't just a man's territory, nor should it be. She's smart, edgy, raunchy, and downright funny. She's a role model for women everywhere, pointing out the insecurities of women, especially in LA, where her "arms register as legs." However, she ignores that and enjoys life the way she wants to. She knows how to laugh at herself, while not belittling or downplaying her intelligence, talent and self-confidence. She's so admired by men and women alike because she takes pride in who she is. She's nowhere near perfect -- no one is -- but she doesn't deny her weaknesses. Instead, she celebrates her strengths. She's a change of pace to our media-obsessed society. She's real, and, because of that, she's the ultimate role model. Thanks, Amy.

Credits:
http://www.huffingtonpost.com/2015/06/10/amy-schum...
https://en.wikipedia.org/wiki/Amy_Schumer#Career
https://en.wikipedia.org/wiki/Inside_Amy_Schumer