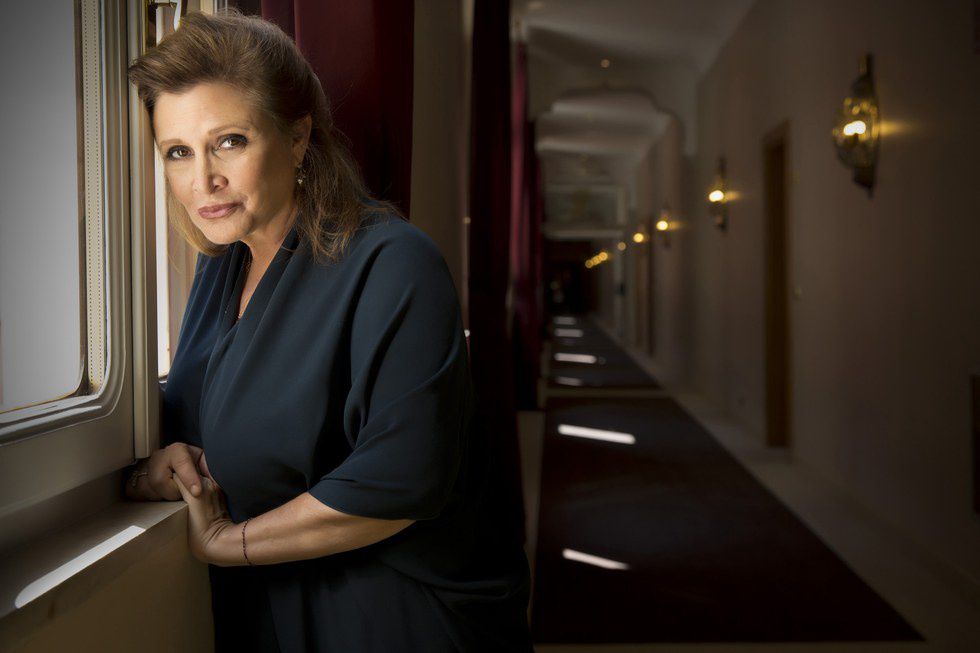 ---
During an interview on the Good Morning America just a couple of weeks before the release of "Star Wars: The Force Awakens," Carrie Fisher was asked what her reaction was when she was asked to return to the franchise as Gen. Leia Organa.
"I looked like that," she said bluntly – pointing next to her at her dog, Gary, who's famous for sticking his tongue out of the side of his mouth.
Later on the interviewer, Amy Robach, brought up that in order to prepare for the role, Carrie had to go through her own physical transformation.
"Yes, I did have to lose weight, and I think it's a stupid conversation," Fisher replied baldly. "But not for you of course!" she added, gesturing to Robach who looks like the spitting image of a Veela straight out of Harry Potter.
"You're so thin, let's talk about it! How do you keep that going on? Do you exercise everyday, is it boring? Oh, you listen to music – tell me what music makes this worth while?"
The interview lasted only six minutes, but those six minutes epitomized the core elements that made Carrie Fisher so special to all of us: sardonic, witty, weird, self-deprecating, honest to a fault, and authentic. Unlike other celebrities who hide their faults in order to present a façade of perfection, Fisher embraced all of her vulnerabilities, whether it was her battle with addiction to prescription drugs and cocaine or her diagnosis with bipolar disorder. While many have applauded her for being such an outspoken advocate of mental health awareness, specifically it was how she talked about it that placed her in a league of her own – with a unique, dark and twisty type of humor that made her illness seem normal and relatable.
In her iconoclastic role as the space princess who could talk diplomacy while wielding a blaster rifle, she set the gold standard as Princess Leia and for why the Sci-Fi genre remains one of the most progressive and inclusive categories of Film/TV entertainment. In other genres you typically witness the "damsel in distress" trope where the lead heroine is desirable primarily on the basis of her looks. It is true that Leia did need some rescuing in "A New Hope" – but that's where the similarities end.
Carrie presented Leia as a politician first and foremost, one with plenty of acumen to trade barbs with the best of them (Han Solo). She understands the art of diplomacy, yet isn't above chasing after Imperial Scouts on a speed bike or sliding into the garbage bin to hide from storm troopers. After being shot and with Han panicking over her, she still manages to calmly and accurately shoot back at the enemy. When a crime lord attempted to use her as a sex slave, Leia took matters into her own hands and demonstrated a new meaning to Aretha Franklin's "Chain of Fools."
But more specifically there is one brief scene in "Empire Strikes Back" that exemplifies why Leia was such a role model. Amongst a bunch of fighter pilots, Leia goes through the plans for the upcoming battle telling all these men their primary objectives. Not one objects, interrupts, or mocks her. They all listen with rapt attention even though she doesn't have any experience as a skilled fighter pilot. She's an effective general, a leader, the badass leader – and is given every once of respect due to that title.
As Leia, Carrie's stalwart and unwavering character opened the door and showed the true power in the genre of sci-fi – a dynamic apparatus that willingly embraces all genders, sexes, races, and ethnicities and sheds a new lights on the social issues of today, as well as how the world could be if we challenged those issues.
But Carrie was more than your typical actress. She was a writer who doctored scripts for films like"Hook," "Sister Act," and "The Wedding Singer." She wrote four books, three movies, and two plays. She was an avid feminist who challenged the double standards for women in the entertainment industry. She was the daughter of two incredibly talented parents (Debbie Reynolds and Eddie Fisher) and the mother of another talented actress, Billie Lourd, who had a cameo in "Force Awakens." In every interview, Carrie Fisher would constantly remind people that her proudest achievement was being apart of the many people's childhoods, "But not their adolescence. Cause that's just gross."
In one of her books, Carrie recalled how George Lucas told her that she couldn't wear a bra underneath her wardrobe by stating that there was no underwear in space - as if he had personally gone up there and seen no boxers and panties flying around. Carrie, finding the humor in the moment, decided that no matter what happened to her, she wanted her obituary to read that she died in the moonlight, strangled by her own bra. So here's to the greatest Space General, Princess, Leader, Writer, and "Space Momma" - who died in the moonlight, strangled by her bra.