Based on the 2001 Neil Gaiman novel, "American Gods" premiered April 30th on Starz and immediately proved that the series is one to watch out for.

The story follows Shadow Moon, an ex-convict whose world is turned on its head after crossing paths with the mysterious Mr. Wednesday. Shadow is introduced to a world beyond his own that's caught in a war between old and new belief systems.
The highly anticipated series produced by Bryan Fuller and Michael Green has already surpassed expectations. With Gaiman's fantastic wielding of language in a novel based in magical realism, I had my doubts that anyone would be able to bring Gaiman's images to life the way he does. But with Fuller and Green's recreation of *that* Bilquis scene (fans of the book...you know the one I'm talking about), they have proven that if anyone is right for taking on this book-to-screen adaptation, it's them.
The premiere exquisitely sets up the stakes of what's to come for Shadow. From the pulsing and cinematic energy of the music to the intricate specificity of camera movements, this season is setting up to read more as an eight-part movie than an episodic television show. Already, "American Gods" is employing masterful creativity that transcends traditional film, and it is incredibly satisfying and exciting to witness.
Along with the stellar direction and production, the cast is nothing short of exceptional. It's such a joy to have Ricky Whittle ("Shadow Moon") back on my screen for the first time since his heartbreaking departure from The CW's "The 100" as the beloved character Lincoln. Fans of both shows will see the similarities between Shadow and Lincoln: their quiet ferocity, their instinctive gentleness matched with equally as much power to pin someone down. Whittle brings back his most notable and admired qualities while giving fresh nuance and depth to his role as Shadow. The emotional layers Whittle brings to his performance are impeccable; he will grab you and place you in the story next to him, making you feel everything Shadow feels as you join him on this journey.
Equally as commanding are Whittle's costars: the legendary Ian McShane ("Mr. Wednesday"), Emily Browning ("Laura Moon"), Pablo Schreiber ("Mad Sweeney"), Yetide Badaki ("Bilquis"), and Bruce Langley ("Technical Boy"). This all-star cast is not messing around. Each actor delves so fully and complexly into their characters and brings them to life with powerful, show-stopping performances.
Perhaps my favorite moment of the premiere, aside from every moment Ricky Whittle was on screen, was the introduction of the character known as Technical Boy. His entrance has to be the most perplexing, innovative, and captivating way a character has ever been introduced on television.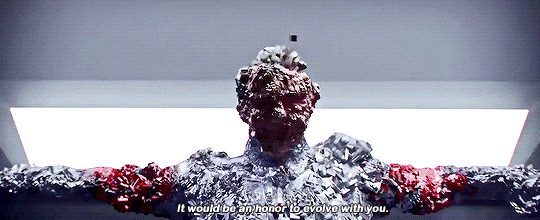 Technical Boy is the first "new" god we're introduced to: god of computers and the Internet. Joining him in future episodes is Media (played by the incomparable Gillian Anderson). Gods exist because of the people who believe in them, and ancient mystical figures like Mr. Wednesday are losing their power to modern gods like Technical Boy and Media as the things that are important to society change.
This series is definitely one to keep your eyes on. If the premiere is any indication, "American Gods" is about to be one of the most important, nuanced, and game-changing series in television history. A story about immigrants coming to America and bringing with them their unique beliefs and culture could not be more relevant, and Fuller and Green seem well-suited for the challenge of bringing this complex tale to life.
"American Gods" is available for streaming on Starz and Amazon Prime.