It's been three years since Adele released her highly popular Grammy-winning album "25" and disappeared off of the grid after touring. Can I just say? Pop music has been boring and problematic ever since.
But rumors are spreading that she is working on her fourth album and it's set to release in 2019 around Christmas. "The Sun" reported she would be working on her album this upcoming summer and already has studio producers on standby for the right moment. Adele 4.0 is happening!
Even though these are just rumors, details we know so far is that her next album will be titled something different than from her age. In her 2016 Carpool Karaoke, she mentioned "This is the last album after my age. I believe in trilogies, yeah. The next one is just gonna be 'Adele.'"
Adele Carpool Karaoke www.youtube.com
That was one of the last public moments she had besides tour until she disappeared. What has she been up to since then? Turning thirty! In an Instagram post on May 5th, she celebrated with a highly detailed Titanic party and praising Childish Gambino at the same time.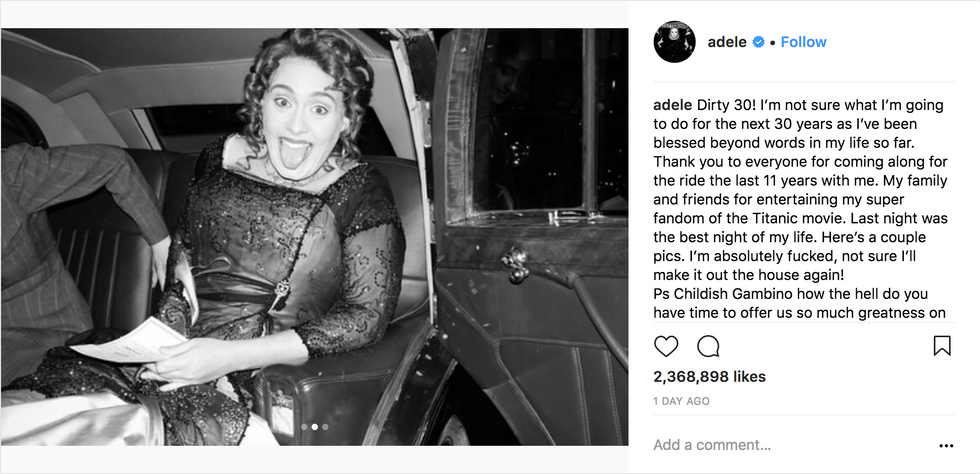 Since '25' a lot has happened in the music world, Taylor Swift ruined her 'reputation', Cardi B is one of the top female rappers in the game, and One Direction went separate ways. Pop music is not the same, with electronic beats and catchy phrases. Some of the biggest icons have been in hiding and we are in desperate need of some good albums. Rihanna has been going on new adventures since 'Anti', Beyonce hasn't released a solo album since 'Lemonade', and Nicki Minaj can't see past the Cardi B feud long enough to focus on music.

We are in a state of crisis with music! Part of me wonders if this era of music will die like disco, we need the 2010's music to return when it was bop after bop. Turning on the radio now is more misses than hits, but having the likes of Adele and Rihanna return to the game will turn that around.
Let's hope and pray we will have a shiny new Adele album in our hands next Christmas! Until then we'll just have to listen to her three albums back to back and be sad.
When will pop music be the same again? Once we have a new Rihanna, Adele, and solo Beyonce album.