***Note to all readers – this piece is vaguer than the exact events of Thursday, April 12, 2018. This was done in order to prevent offending anyone based on characteristics, including but not limited to, gender, race, sexual orientation, and religious beliefs***
~
Until Thursday, April 12, 2018, the most name calling I ever experienced came from petty arguments with my siblings. These words never left a mark on me for the simple fact that they were not aimed at offending uncontrollable characteristics like my gender.
As I walked through Alumni Grove, a popular hang-out spot on the campus of The College of New Jersey, a sign labelled "WARNING" caught my attention. Holding this sign, along with various others, was a man preaching his beliefs that were aimed at offending people's genders, sexual orientations, and religious beliefs.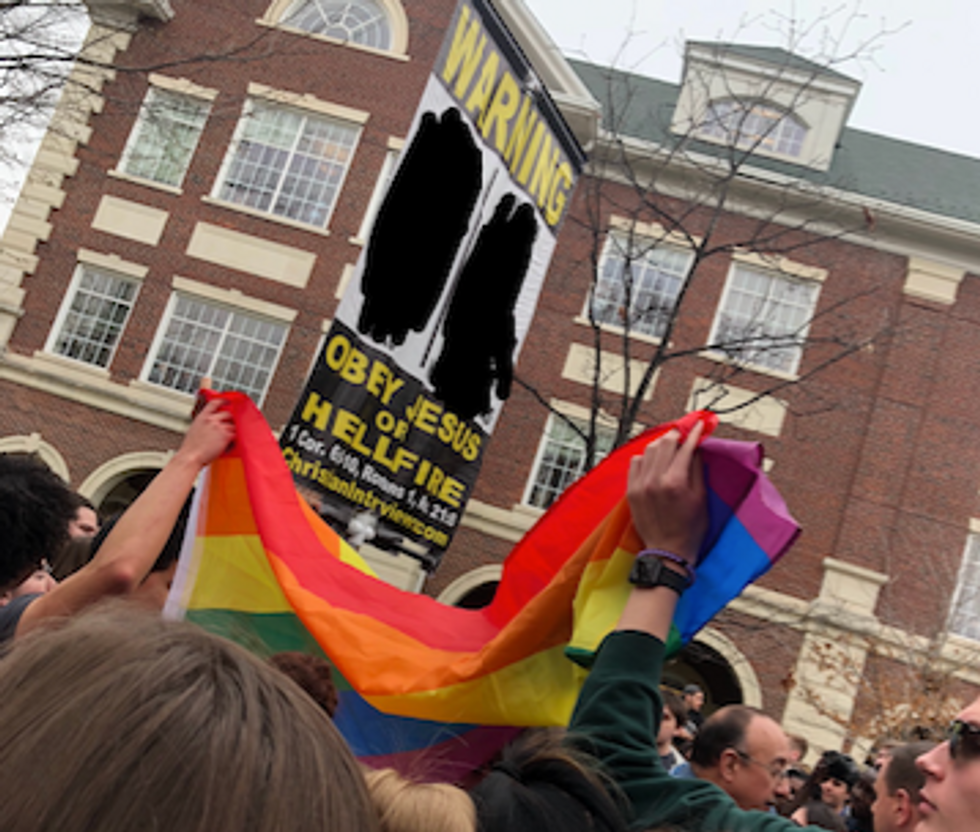 I was hurt. I was shocked. And I was ready to fight back.
A group of people standing before me held up the pride flag to show the demeaning men that their hate is not strong enough to overpower love. Girls removed their shirts, reminding the men that they have no control over what women do with their bodies. And we chanted. We screamed. My eyes flooded with tears because I have never seen so many college students, half of who are strangers to each other, come together to fight against the hate.
As much as we fought back, they were protected.
As a writer, I am well aware of the First Amendment Right, protecting freedom of speech. However, these men were not practicing their freedom of speech – they were hiding behind this Amendment and spreading hate.
Campus police officers placed barriers in the grass, separating us protesters from the so-called "preachers." These physical posts did not stop the crowd from reminding these hateful men whose campus they were on. As they held signs calling the students of The College of New Jersey "intolerable," confusion filled the minds of everyone. In what ways are we, the students of this school, intolerable? The daily agenda for many was to attend classes, grab some food, and interact with our friends, until we were interrupted, and we decided to fight for our beliefs.
I had never realized how naïve I truly was.
I have never doubted the existence of bigots worldwide, but closed-mindedness is something I once saw as a minuscule problem compared to the hundreds of issues faced in the United States.
I had the opportunity of speaking with the "head" of this group numerous times. When questioning what his purpose was on my campus, he lashed back at me with numerous sexist slurs and during a separate interaction, he told me to "Shut up. You're a girl. Women belong in the kitchen."
The hardest part was the fact that these men brought children with them.
Among the group of four were two children. One was an estimated age of eight, and the other claimed to be a freshman in high school. I looked at these boys, only to question how many hours of brainwashing they have endured when living under such circumstances.
As unfortunate as this day may seem to many, it was an eye opener. The world is full of people who will stop at nothing to spread their opinions, as disgusting and belittling as they may be. I am more than a woman who "belongs in the kitchen," and everyone involved in the protest has become slightly more aware of the impact our voices can have on the world.