With no explanation as to why, I have had an interest in abandoned areas for most of my life. There is something about exploring a place that used to hold so much life but is now being taken back by nature that gives me a strange sensation of belonging. Although I plan to explore as many abandoned areas and places as I can, I haven't seen many outside of my home state of New Jersey. Lucky for me, there is no shortage here! If you have an interest in scary and thrilling abandoned places, here are some that you have to add to your bucket list!
1. Sandy Hook Bunker
During World War II, Sandy Hook was utilized as a home to test the military's latest weaponry. This housing unit was supposed to be a safe area for enemy attacks. During the 1970's, the Sandy Hook Bunker was given to the National Park Service. However, there were not enough funds to keep the bunker in proper condition, and it eventually fell into a state of dilapidation. Upon entering the bunker, you will find control panels covered in dust, empty storage bins, walls lined with ivy, and strangely enough, tribal-looking graffiti and abstract artwork.
2. The Union Hotel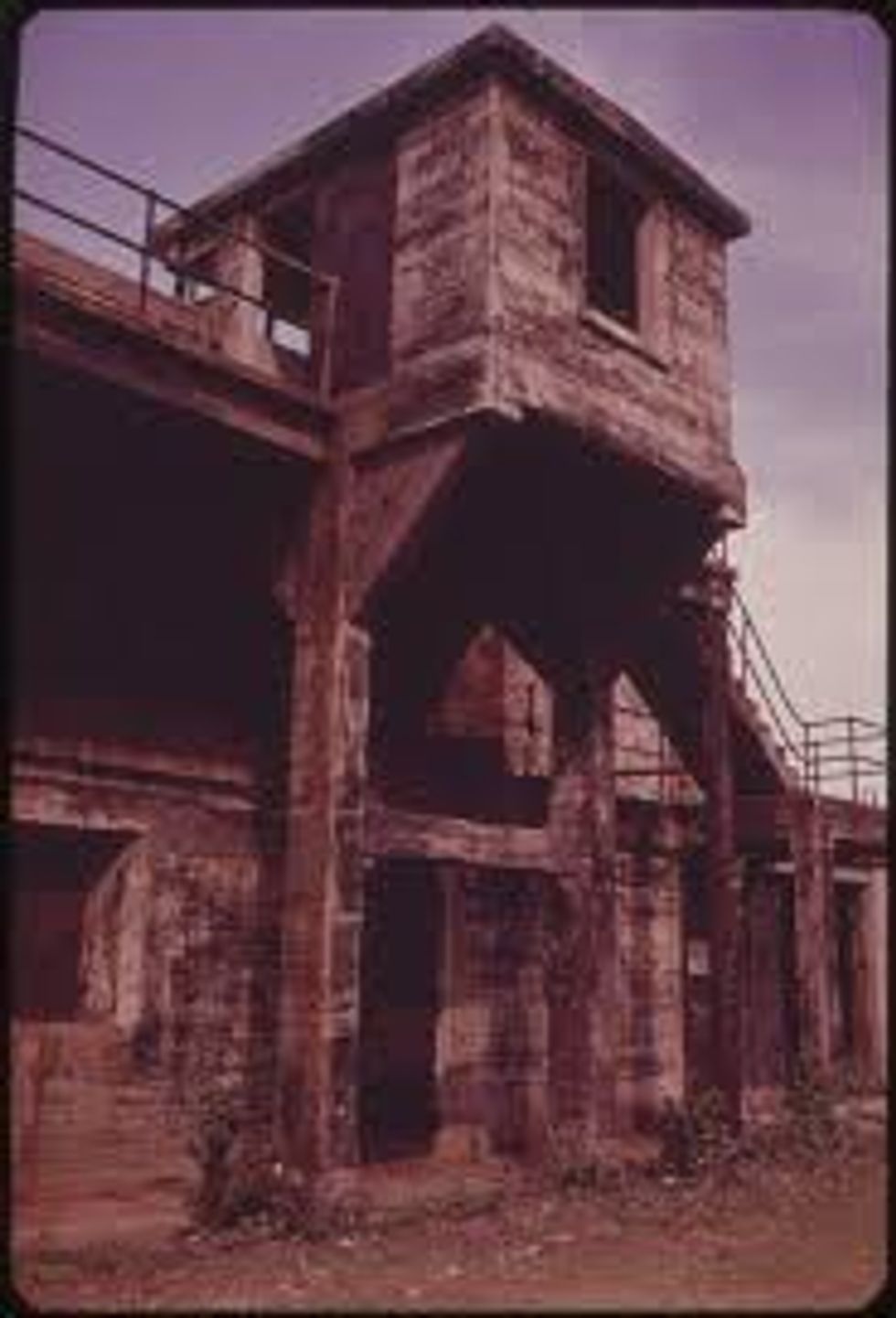 Located in Flemington, New Jersey, and built in 1878, the Union Hotel has been a staple of Flemington's Main Street. Starting as a stagecoach stop, in 1934, the Union Hotel took part in what was known as "The Trial of the Century". Across the street from the Union Hotel was the courthouse that held the trial of Bruno Hauptmann, who was accused of murdering Charles Lindbergh's infant son. The Union Hotel became a temporary home for the journalists and jurors involved in the trial. The Union Hotel closed in the 1950's. Not completely abandoned, it now runs as a bar and restaurant. However, there are several sections of the building that have been completely sealed off and that are no longer in use. What makes this building interesting is that employee's and guests often witness paranormal activity. A former manager reported seeing a pair of black shoes walking by themselves, while several employees say that they have heard a haunting lullaby coming from inside the walls of the sealed off areas.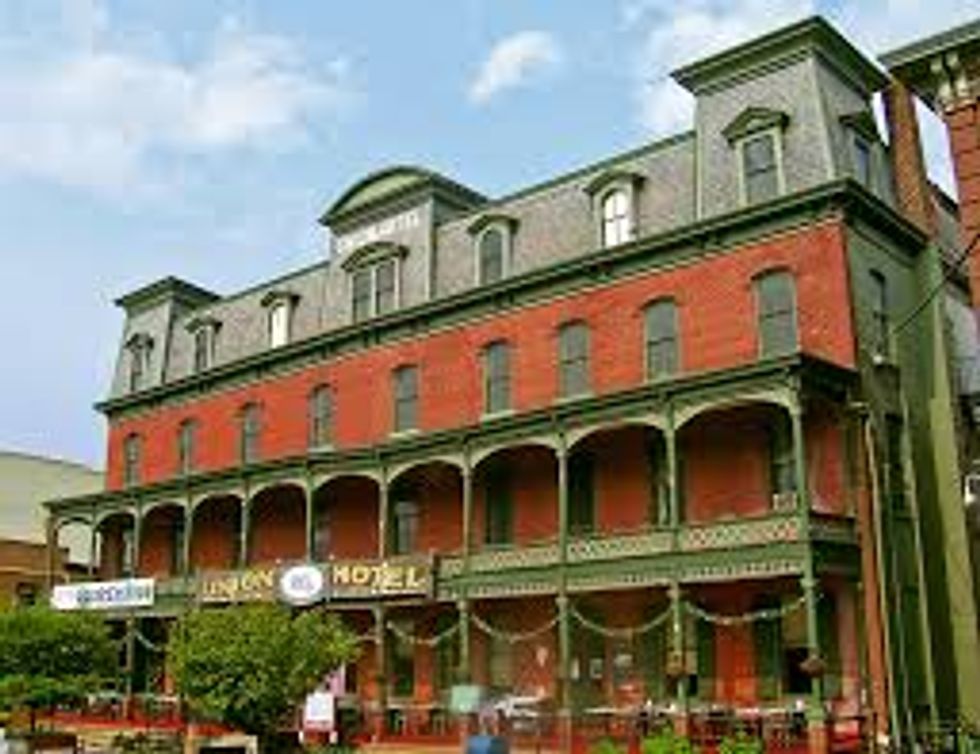 Built-in 1896 in Essex County, New Jersey, the Overbrook Asylum for the Insane was built on an incredible 325 acres of land. From the time of opening until the 1950's, the Overbrook Asylum was at full capacity. However, mental hospitals soon became outdated during the 1960's due to the introduction of new medications. The number of patients at Overbrook Asylum decreased drastically, yet it was able to remain open throughout the 1990's. At this point, there were minimal patients and most of the facility had been abandoned. In 2007, the site was abandoned completely. Now, explorers can find empty tunnels and rooms, unused medical equipment, and moss-covered office furniture. The Overbrook Asylum has become a legend amongst locals, spawning ghost stories and inspiring those who are curious enough to explore the area to swallow their fears and head into the massive building.
In 1971, Playboy Enterprises Inc. spent an estimated $30 million on the construction of an eight-story building with 617 rooms, found only four miles from the New York border. Intending to turn Sussex County into an urban area for businesses to grow, the Playboy Bunny Club employed about 825 people and spending an additional $2.4 million on supplies and labor. However, when gambling failed to become legal in Sussex County, Hugh Hefner cut his losses and left in 1980. Currently, the building is in a state of squalor and is home to squatters. This area is dangerous and I do not recommend trying to get inside. However, nearby in the woods, the home that Hefner's Bunnies lived in can also be found. A small stone two-story home shrouded by trees, the house is quite striking in its rustic beauty. Outside of the house, an old bathtub resides. Although the front door is sealed shut, explorers can enter the house through a window on the first floor. Here, you will find an old kitchen with floral wallpaper and what is assumed to be a living room. Upstairs, you will find several bedrooms and a bathroom with a tiled floor. There is an open window that gives an excellent view of the surrounding wooded area. The basement is now blocked off by a fallen panel, but it is rumored that there are still old Bunny costumes as well as other memorabilia located down there.
Opening in 1930, the Gingerbread Castle located in Hamburg, New Jersey was a fairy tale come to life. F.H. Bennet commissioned the project after being inspired by a performance of "Hansel and Gretel" at the Metropolitan Opera. For 50 years, the castle was beloved by children and their families, as they were able to experience Brothers Grimm fairytales come to life. However, in the 1980's the caste descended into a slow decline. Bennet made plans to turn it into a nightclub, and later a haunted house, though these aspirations were never fulfilled. In 2004, Frank Hinger bought the property and through the efforts and funds of grants from fans of the castle, he began a restoration. Unfortunately, the restoration became too expensive, and the castle has once again fallen into decay. Visitors will now find a dilapidated version of the once magnificent castle, including a giant shoe, a figure of Humpty Dumpty, a throne, and a set of rainbow-painted stairs leading to the second floor. Now covered in graffiti, the Gingerbread Castle is fascinating in a dark and beautiful way.