Everyone's getting into the holiday season. Christmas is almost here, which means so is break. But before we get to break we have to survive the most dreaded week in the semester, finals week. Finals week can be crazy and stressful and we all know how to do the usually binge eat and avoid studying by binge watching Gilmore Girls or Greys Anatomy. Though these may be our preferred ways to deal with the stress, here's a list of other ways to deal with the stress and anxiety that comes with a crazy finals week!
I know this might sound obvious, but take a nap! If that week is just getting too much and you're on your 3rd cup of coffee and only 5th hour of sleep, take a break. You can't retain anything if your mind is being overrun by coffee and exhaustion.
Stay organized! I know you're going to want just be in a crazy whirlwind and throwing stuff wherever you go, but just take time to make sure you're organized. Don't create unnecessary stress.
Go for a walk, go workout, go do yoga. Do something to push all your stress into. Don't just sit around and let it overwhelm you, get active and take your mind off of everything.
Color! It'll be fun to just do a mindless task for a while instead of cramming your brain full of facts!
Make a stress ball. Get you and your roommates together for a hour break in between going to the library and trying to find time to shower. It's a fun activity that'll keep you busy for awhile and then you'll have a stress ball to carry around!
Besides just napping, make sure you are getting enough sleep at night. I know it's hard, but you're not going to learn anything if you can barely keep your eyes open.
2 minute dance party! Put on your favorite song and just dance it out for a little bit, I promise you you'll feel better after.
Take a bath or a nice hot shower! Put on some music and don't think about school. Just enjoy the music and of course sing in the shower!
Write a to do list! It'll feel awesome to be able to cross stuff off, and it's another good way to keep organized!
And finally.. Just stare at this handsome face for awhile, that'll realize some stress! Who doesn't love some Ryan Gosling?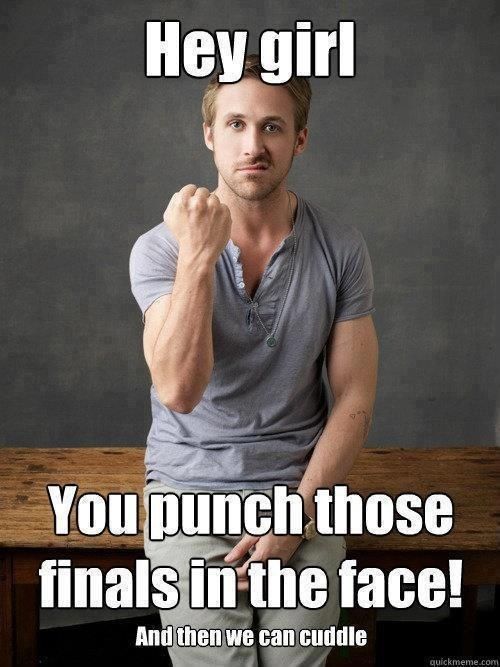 Good luck on your finals everyone! You'll get through it!!