Oh, Valentine's Day. The one day of the year where it becomes socially acceptable to be obnoxiously happy with your significant other if you have one. It also, if like me you're spending the 14th single, means that it's one of the best days of the year. That's right ladies. It's Galentine's Day – the new and improved version of Valentine's Day where you hang out with your girlfriends and eat all the candy and chocolate your heart desires. Nothing's better than a girls night, so here's why Galentine's Day is way better than Valentine's Day.
1. You can eat as many calories as you want.

It's a fact. On Galentine's Day, the calories don't count. So eat some chocolate. Get a milkshake. Order some french fries. The time is now to indulge!
2. You'll forget you're even single. Or rather won't care.

Sure, it sometimes does stink to be single, especially when everywhere you look on Valentine's Day there are couples. But when you're having the best night ever, which you will, those sad feelings instantly melt away because nothing beats hanging a girls night with your best friends.
3. You don't have to impress anyone.

The beauty of being single on Valentine's Day and turning it into Galentine's Day is you don't have to impress anyone. You literally can do whatever you want and it's no big deal. It's the best.
4. You're guaranteed to have endless laughs.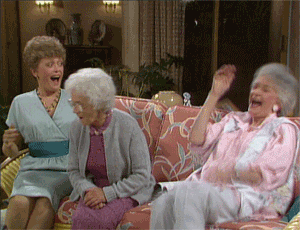 If you don't laugh uncontrollably with your friends are you even friends? The answer is no. That's what they're for. If your friends aren't bringing on the laughs then you're doing Galentine's all wrong ladies.
5. It's the perfect day for a chick-flick.

We've all done it. We've all gathered up our girlfriends to watch either a sappy or raunchy movie (Fifty Shades Freed anyone?), maybe even both as you have snack galore. It's basically a staple of a girls' night.
6. There's nothing better than girlfriends.

Hanging out with your girlfriends is synonymous with a good time. There's no way you want to laugh till you cry, dance it out and make memories that will last a lifetime. That's what friends are for after all.
7. There's no pressure.

The best thing about Galentine's Day is that it's just fun. There is absolutely zero pressure. You don't have to worry about going out if you don't want to. Or putting on makeup or dressing up, unless you want to and then, by all means, you go girl. Its sole purpose is to appreciate your friends and show them how much you love them!
---
Don't let the single life keep you down this Valentine's Day; that's what Galentine's Day is for! From the sweets to the movies, to laughs and the memories, February 14th is about to be your new favorite holiday, and for good reason. So grab your girls, your sweat, or heels if you're feeling a little extra, and have the night you deserve. Let's embrace some girl power this year! We all deserve it!
Happy Galentine's Day!