Clayton Jennings is a well known evangelist from Noblesville, Indiana, he travels the world to tell people about Jesus and to share the Gospel. You may have seen his videos floating around Facebook, if you haven't you can find them on YouTube or on his website http://www.claytonjennings.com. Clayton took some time in March to visit my communications class at IUPUI, his alma mater, and I got the chance to sit down and talk to him. I was expecting to learn about communications and how to apply that to the ministry I'm in (shout out Young Life), Clayton taught me that, but more so about God and communicating with Him within ministry. Here is what I learned from Clayton Jennings about ministry:
1. Push The Limits
Pushing the limit means getting out of your comfort zone. For Clayton, pushing the limit was writing a book, he then made a movie and is now touring the world. Pushing the limit could mean getting coffee with someone new and just sitting down to talk. Pushing the limit could mean starting a blog. Pushing the limit can be different for everyone, just do something so that others can hear about our awesome God.
2. Back & Forth
Don't just tell people about Jesus, get in a conversation with them. Clayton said, "you're not engaging them so you can take off and say 'see ya later,' you're engaging them so that they can then engage back." Growth and discipleship happen when there is this back and forth communication. Progress can't be made when one person speaks and the other just listens, it happens when conversation happens. Be open to hearing what others have to say.
3. Give It To Him
When we give it to God in prayer He will start opening doors. "God, I want that back and forth communication, I want this ministry to grow, I don't know what it will look like, but show me." When we give it to God beautiful things happen because He makes it work.
4. If It's On Your Heart, Do It
"When God puts something on your heart, just do it." Why wouldn't you? Those are some of God's greatest moments, at least they have been in my life. When you start listening to God you'll notice these moments more, never let them pass by.
5. Keep It Centered On The Cross

"Your heart is to reach these people, to help these people. You can't tell me that God's not going to honor that when you step out to do it. You can't tell me He's not going to make a way. It's successful already because it's centered on the cross." Here on earth humans judge your success or popularity by the numbers, the number of likes or followers, the number of wins. God judges us on how much we did for His glory. When we put Him at the center in whatever we do, it will be successful.
6. "Show Me, Lead Me"

Never stop asking God to show you more, to lead you further. He hears you and He is waiting for you to ask Him to show you, to lead you. He wants to be at the center, He wants to be a part of your life. Ask Him to guide you and He will, every time.
7. God Doesn't Want My Ministry

Our God is a jealous God of His own glory so of course He will use our ministry to reach those who don't know Him. But, God doesn't need my ministry, He doesn't need your ministry, He doesn't need Clayton's ministry. He can handle it all. He just wants our hearts. He wants me, He wants you, He wants us all to come to Him and love Him as He loves us.
8. It's His

This is His ministry, God is in control at all times, not us. Our God is not going to let something of His fail, so give it to Him, let God do His thing and for that He will use you in amazing ways. "Trust in Him, ask Him and let Him lead you." He is the one opening doors and leading us in every direction. "At the end of the day, none of us who are called to these ministries are in control."
Clayton Jennings not only taught me about communications and ministry, he also taught me what it looks like to be a genuine human and to have a heart for Jesus. Thank you Clayton for pushing the limit and for sharing God with so many people. Keep it up and #telltheworld.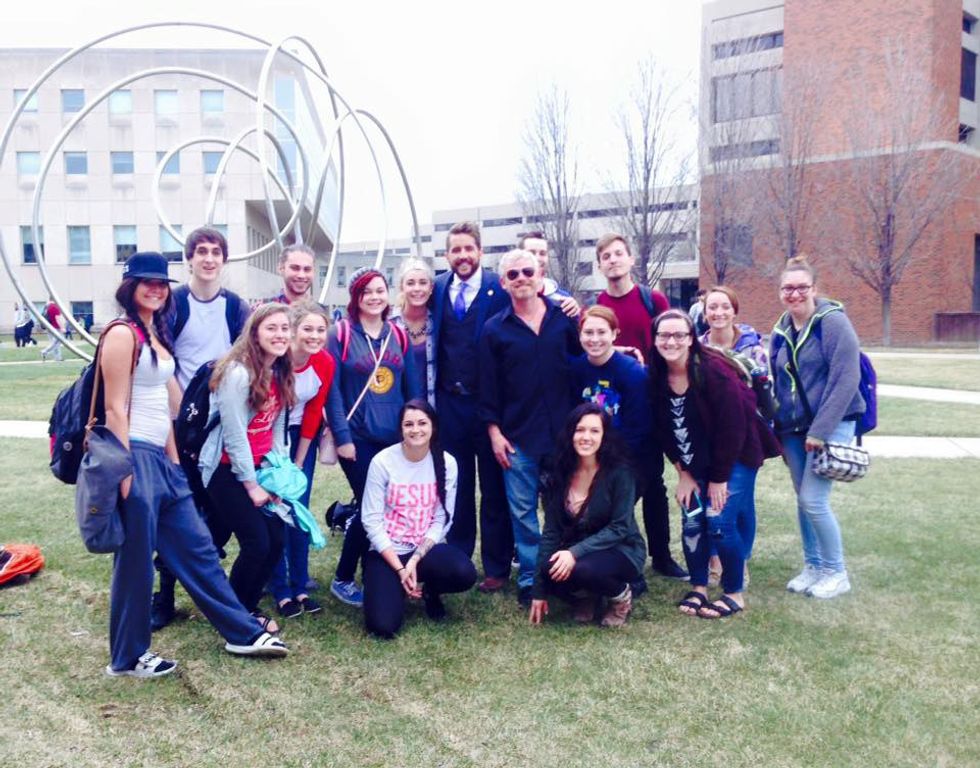 Photo taken by Clayton's wife Jamie