Some people look forward to the weekend for some rest and relaxation time. If you're an Alabama gal, you look forward to it for a little different reason — game day.
1. "Oh boy, oh boy — it's game day."
2. "What should I wear? Dress or jersey?"
3. "It's a day game. Definitely going with the dress."
4. "Ugh the only thing that works with this dress is a sticker bra."
5. "Why am I putting on make-up if I am just going to sweat it off?"
6. "Because I want to look hot, that's why."
7. "Stupid clear purses messing with my outfit mojo."
8. "Oh, I am so sexy. Def need to take a pic at this game."
9. "I don't want to go outside. The sun is out there."

10. "Oh Lord, it's too hot. I am going to die."
11. "What are the symptoms of a heat stroke?"
12. "Why did we park a million miles away?"
13. "Tailgates are all out of free food and there are too many drunk people. Why did I come?"
14. "If we don't go to the stadium now, we are going to get such bad seats."
15. "Oh great, there's Amy from bio. Do I need to say hi?"
16. "Welp, she's waving and coming over. Guess that answers my question."
17. "Finally we can go to the stadium."
18. "Yes, that picture on my student ID is me. Just because I don't have my glasses on doesn't make me a different person."
19. "That girl's romper is so cute. I want."
20. "Seriously, I think this is heat stroke."
21. "We should've watched the game at home."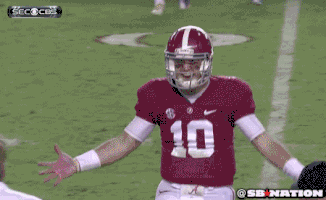 22. "OO THE TEAM IS COMING OUT. ROLL DAMN TIDE, Y'ALL."

23. "I need to pee I need to pee I need to pee I need to pee."
24. "Jeez, is every girl in the stadium in this bathroom line."
25. "Dammit, this stall doesn't lock."
26. "Our band has a pump-up video. We are too cool."
27. "U-S-A, U-S-A."
28. "So. Hot."
29. "TOUCHDOWN. WHO'S YOUR DADDY?"
30. "Hey Alabama, drown 'em tide!"
31. "I wish they'd play Dixieland Delight."
32. "Poor other team, needing to play us. They have no chance."
33. "Nick Saban is my spirit animal."
34. "How are these frat guys wearing full suits?"
34. "I should've worn sandals. Or chucks."
35. "I need Dreamland nachos ASAP."
36. "Why are all these people leaving at halftime? PLAY FOR FOUR, STAY FOR FOUR."
37. "What do I need to do to get on the big screen?"
38. "What the heck is the ref calling? Is he even watching the same game as me?"
39. "RUN. THE. BALLLLLLLLLLL."
40. "Hey, another touchdown!"
41. "The band is playing Beyonce?! Roll Tide."
42. "Oh great, another drunk frat guy stumbling around."
43. "To pay $4 for water or to dehydrate…. That is the real decision."
44. "Why do they say a quarter is 15 minutes when it really takes at least 40?"
45. "LOL 49-0."
46. "RAMMER JAMMER YELLOW HAMMER, GIVE 'EM HELL, ALABAMA!"
47. "Too many people. Never getting out of this stadium."
48. "I can't wait to take my clothes off and shower."
49. "And to drink a whole gallon of water."
50. "Finally made it home."
51. "Need a good Insta caption…"
52. "Maybe something about my babe Saban."
53. "I can't wait until next Saturday."
Cover Image Credit: Amanda Topolski