In a college environment, it's common to deal with incredible stress from midterms, to homesickness, to the sheer identity crisis that comes with the self-discovery that is expected to accompany our degree-earning years.
The only outlet I found suitable for managing my own tension came from investing myself in local volunteering opportunities, most of which were surprisingly satisfying, equivocally un-volunteer-like, and left me ending up:
1. Sitting in a room surrounded by dogs.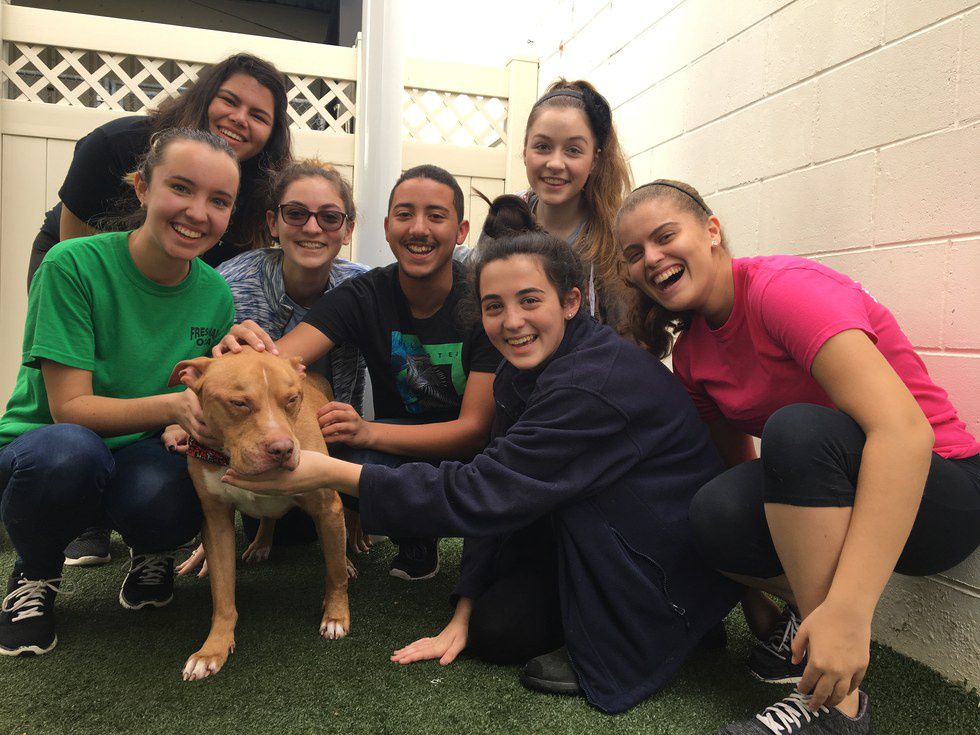 I visited the Pet Alliance of Greater Orlando with my school's chapter of National Honor Society expecting to spend the day cleaning feces and scrubbing kennels, only to find that my responsibilities included playing with the dogs. Orientation began with the instructor releasing a therapy dog into the room, which not only broke the ice in a space full of awkward young adults, but also affected the volunteers in the same way our puppy pal would have done for patients. Pet Alliance invites everyone 16 or older to become invested in their animal rescue efforts by donating time to the shelter.
2. Hugging 50 children at once.
I began an anti-bullying group at a nearby elementary school and host biweekly meetings to discuss character traits and how to help others. I didn't expect over 50 students to show up on the first day, running to hug me in excitement. Even the smallest of people need to be reassured that their voice is not quieter than the rest.
3. Rolling in piles of colored powder.
The Color Vibe 5K in Orlando is promoted as a unique way for runners to enjoy sprinting their way through three miles, with "color stations" marked along the race route where they are doused in colored powder that clings to their clothing. I opted to offer my services as a volunteer instead, which ended with our supervisors encouraging us to make powdery angels in the coated parking lot after the event. Unlike the racers, you're able to enjoy the same perks for free, and instructed to throw things at other people. It's a definite win-win situation for volunteers.
4. Wearing a ballgown and tiara.
For the past two years, I've volunteered for the annual Christmas for the Kids event that takes place in Kissimmee, Fla., where families in need are provided with a holiday celebration as a reminder that they are just as integral to the community. I travel with the company I work for to the event, where I attend as a fairytale princess that greets children on their journey to visit Santa. Anyone with a talent and a potential to make kids smile is urged to register as a volunteer. You'll make the following Christmas the best one yet for those deserving of a little extra love.
5. Meeting the producer of Broadway's "Beauty and the Beast".
The Dr. Phillips Center Teen Ambassador Program in Downtown Orlando challenges teenagers to give their time to monthly meetings concerning arts education and business standards while also promoting upcoming shows and events. At one of our more recent gatherings, guest speaker and theatrical producer of "Beauty and the Beast", Stuart Oken, offered his advice for students looking to the performing arts industry as a future career. The Dr. Phillips Center accepts applications for the program annually prior to the beginning of each school year.
In Central Florida alone, there are a plethora of opportunities for the future generation to invest their time in the prosperity of others. And sometimes, it's easy to forget that benefiting someone else's welfare can result in unearthing sources of your own happiness.