I spent the last 5 days in New York City. I have never been there before. The only knowledge I had on the city at all was from Home Alone 2, Elf, Friends, SVU, Gossip Girl, and Breakfast at Tiffany's. So as you can see, I have a vast amount of knowledge on the topic.
Walking out of LaGuardia and into a taxi was very overwhelming. If you've never been, there are a bunch of sketch taxis right outside the door. The drivers sit in their seat and yell at you to get in the car. Me being a first-timer in this big city, I didn't even see a problem with getting into the car until my friends stopped me saying that you should only ride in the New York yellow cab. Why? I don't really want to know.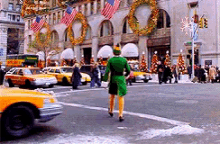 Upon arriving at the hotel, I had already seen so much of the city. My hotel was in Midtown which is only a couple blocks away from Times Square. I had no idea that the following morning, I would learn some of the most valuable lessons I would ever need.
1. Don't make eye contact with guys trying to sell you mix tapes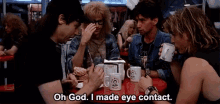 I haven't quite figured out their thought process yet. I figure it goes something like, "Oh she glanced at me for a second not because I'm wearing a tutu and I'm loud but because I'm holding a shiny CD. She must want to buy it! I'm going to pester her until she says 'You've convinced me.'"
2. Pack comfortable walking shoes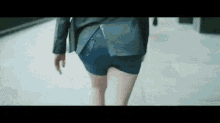 Especially if you never wear heels, I cannot stress this enough. You will be walking EVERYWHERE. I made the mistake of not packing sneakers to wear after a long day of hiking in heels. Some people can wear them all day, and power to them, but I am not one of those people.
3. You're all alone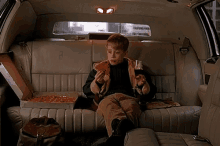 Kevin McCallister seems so cool and nonchalant as a kid lost and alone in New York. He was more composed than I was. I couldn't have possibly guessed how overwhelming the experience could be and how small you feel in a sea full of tourists and New York City dwellers.
4. Everything is SOOOOO expensive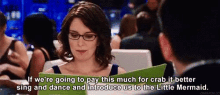 It's not easy staying in the city on a college budget. After paying $44 dollars for a taxi to the hotel from the airport and $32 for a week on the subway, you've only completed the first evening. Oh you want a hot dog? $20. Oh you want a soda? $20. Oh you want a pack of gum? $100.
5. Honking is the most spoken language amongst all New York City drivers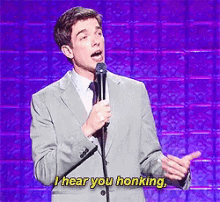 I thought everyone was kidding when they said New York City traffic was bad. I'm dead serious when I say I went for a ride in a death cab a couple days ago. Even when pedestrians have the right-of-way, it seems that cab drivers wouldn't mind plowing through you.
New York City is a great place. It's full of adventure, and there's nothing you can't do. These past five days, though long and my feet are still killing me, gave me some of the best memories I'll ever have. Now I know why the T-shirt says "I love NYC."