Sometimes, cats can be a problem.
This is coming is from a gal who absolutely loves cats. I freaking love cats. I plan to adopt two smush-faced cats upon getting a hair-friendly apartment. In the meantime, I shall stick to mewing at stray cats and feeding them fried chicken.
And yet, I must admit that cats can be a problem. They demand loving care only to deny your affections.
Take, for instance, Susie: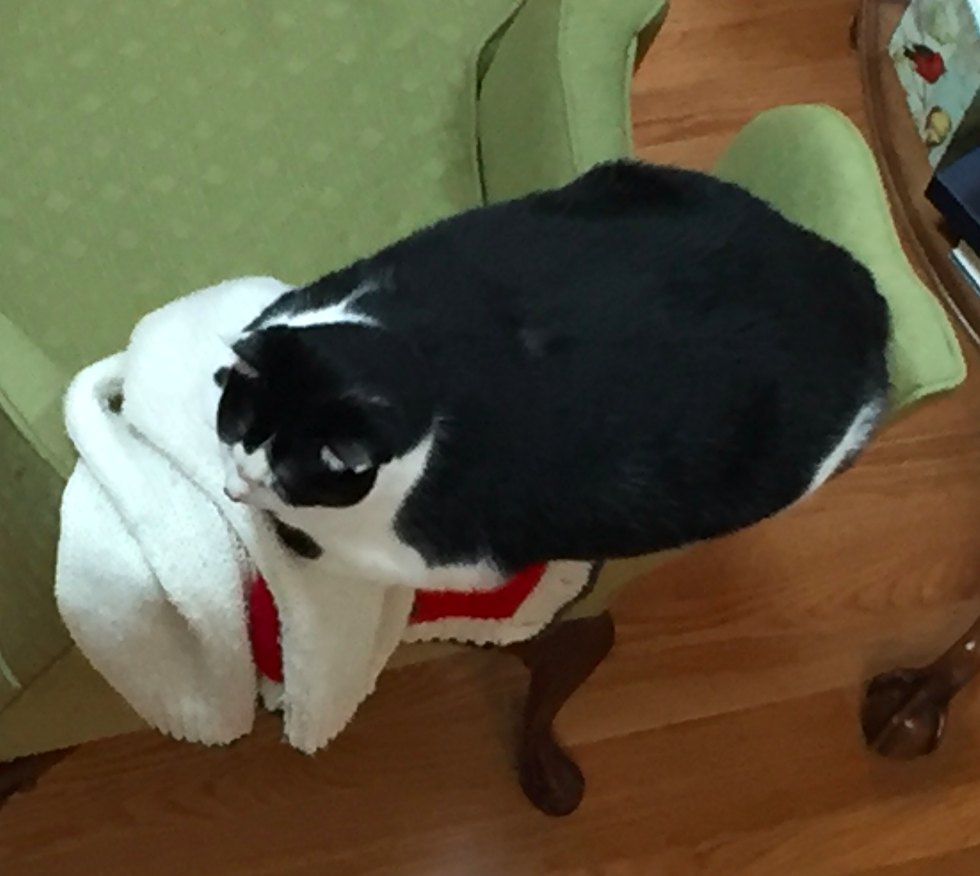 Caroline Loop
Susie is my grandmother's cat. She is a little chubster who likes to sit on sweaters and boxes. Very cute.
Unfortunately, five different aspects of this cat are a problem.
1. The Hiding
"Oh, Susie Mew, where are you?" I say upon first arriving at Grandmother's house.
Where the heck is this cat, I ask myself, checking a bathtub, two trash bins, and the piano interior against all common sense.
Meanwhile, Susie is curled smugly underneath the dining room table, on her favorite chair.
She has managed to avoid strange humans for 30 minutes, which is quite an accomplishment indeed.
2. The Hogging
"You can sit here, across from your mother," says Grandmother, pointing to a dining room chair.
My assigned chair is Susie's favorite chair.
As I pull back the chair, Susie's 20-pound chicken-stuffed body wriggles. She looks up at me with adorable little dilated eyes and proceeds to hiss.
3. The Hissing
The next day is Christmas day. In the name of Christmas spirit and cat ladies everywhere, I decide I must apologize to Susie.
"Hey Susie," I murmur. Susie is purring in a patch of sunlight.
"Hey Sweetie," I murmur, inching my hand closer to the crest of Susie's head. A crest pet is what I would consider a solid petting if I were a cat.
"Hggssss!!" says Susie. I jerk my hand away.
4. The Batting
Seeing that her hisses have not fully removed my presence, Susie regresses to more combative behavior. By this, I mean that she swipes at me as she would a dying fish.
At this moment, Mom walks in.
"Susie! Bad kitty! Don't swipe my baby! She loves cats and wants to pet you!"
Susie stares at Mom with cold little tiger eyes.
Mom stares back in consternation, then turns to me.
"Try feeding her. She'll love you if you feed her."
So I head to the kitchen. The food bowl is filled with Fancy Feast, but the water bowl is empty. So I fill Susie's water bowl at the sink.
I kneel to set the bowl on the cat mat. Susie sits haunched nearby, a little devious smirk plastered to her face. She stares at me, so I stare back. It is a battle of will and domination, a battle which I believe I can win — until my head begins to ache with scratchy pain and strange nasal utterings.
5. The Shining
Hairless imbecile. This water is disgusting.
What the actual heck. I can hear Susie speak in my head. Is she a cat, or a malevolent being?
Susie, I'm confused. What do you want?
Hmm. Cold bottled water would be nice.
Uh huh. Anything else?
Give me your soul and I will never hiss at you again.
Never! I hiss in the face of evil!
Hehe. You will never be able to master The Hiss. Until then, you will be forced to stare at my cute little face forever, unless you donate your soul.
"HGSSSSS!" I hiss.
"Mrreeerr!" cries Susie, scampering frantically away.
"Sceerdy cat," I mutter.
Thus concludes my dealings with a very problematic cat.