Hey guys! So recently, I have been crazy busy between, you know, the global pandemic and BLM movement. Aside from both, I have been brunching, going on hikes, and most recently created an Instagram account by request for recipes. I cook A LOT and I don't really get into what I eat in a day when I'm not on my usual weekend brunch excursions, those are pretty much my days where I eat the most meat in my diet. I don't really have a "diet," per se. I just kind of eat what I want whenever I want. I mostly eat/crave a lot of vegan and plant-based meals with some added lean protein which I try to add in for health reasons. So I have never really had issues or tried a fad diet because I eat fairly healthy, I also try to have ethically sourced meals, go to farmer's markets and try to be part-time vegan or incorporate plant-based meals because it's so much better for our planet. My problem is I drink my calories (lots of sugary coffee and cocktails!) I'm guilty I'll admit it. so I try my best to consolidate that to weekends or nights out but otherwise, I consider myself very healthy and not deprived of anything. So this past week I posted two meals on my main account (xo.megxn) and I was encouraged to share recipes beyond my highlight reel! I cook mostly for my family, close friends, and boyfriend who all love my cooking and baked goods so why not share it. If you would like to follow the page it is @xo.chefmegxn on Instagram but because I love Odyssey and my little family of readers here, I thought I'd share my first few recipes!
1. Smoothie Bowl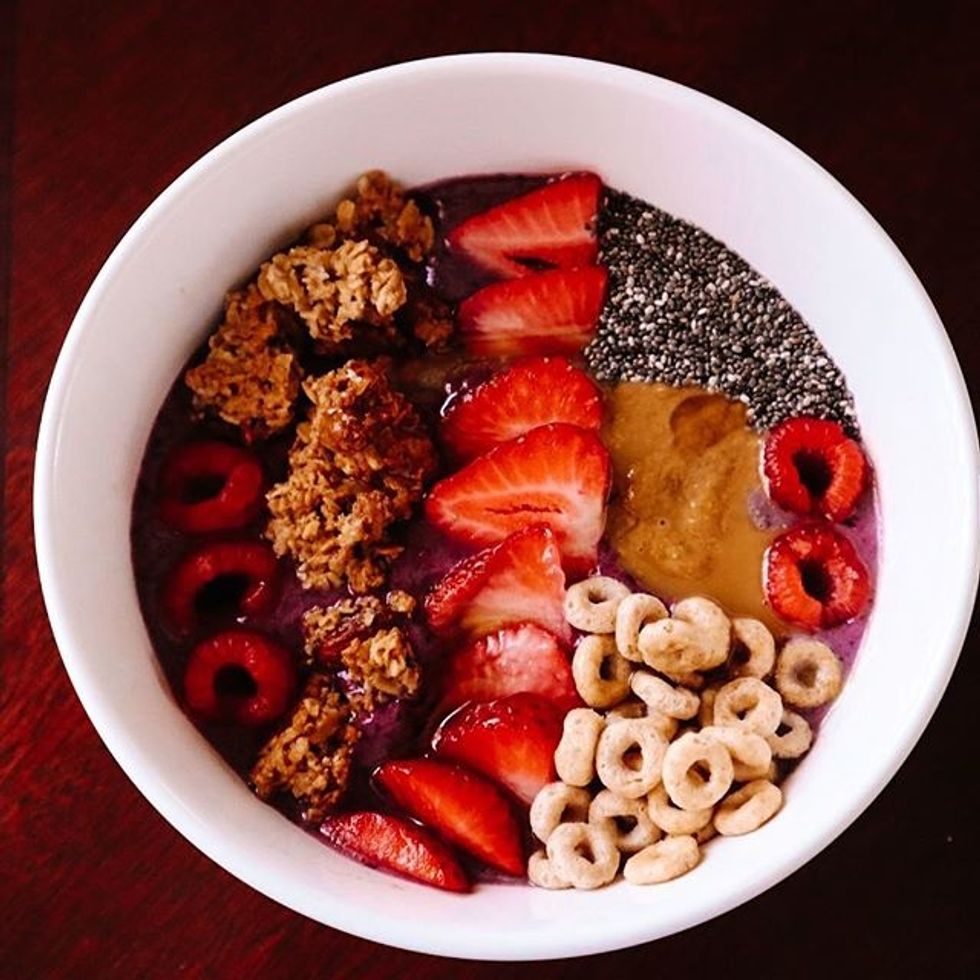 Megan Sharma
Base:

1 banana
1 cup of frozen mixed berries
1/4 a cup of almond milk
1 teaspoon of vanilla extract
1 scoop vanilla vegan protein
*Blend*

Toppings:
Strawberries
Raspberries
Almond butter
Cheerios
Almond butter granola
Chia seeds
Agave

2. Salad Bowl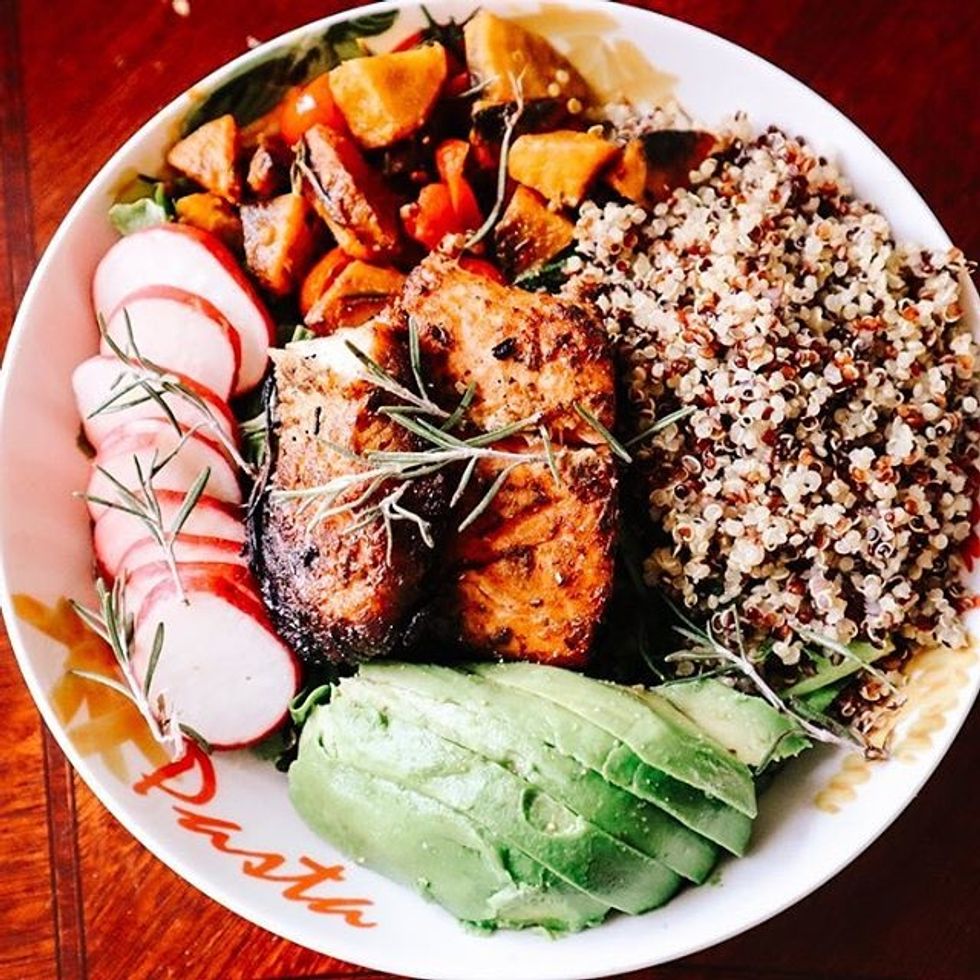 Megan Sharma
Salad Base:
Spring Mix
Spinach
Arugula (got mine from a local farmer's market)
Toss in olive oil, garlic salt, and lemon juice

Toppings:
Golden beets & cherry tomatoes (local farmer's market, sautée in Avocado oil, turmeric, garlic salt, dried thyme & fresh rosemary)
Radishes
Avocado
Quinoa
Salmon (washed in lemon and distilled vinegar, seasoned with old bay, garlic salt, cayenne pepper, dried thyme, fresh rosemary, olive oil and egg wash *grilled*)
*Top with extra rosemary, Green Goddess dressing from Trader Joe's & garlic salt*
3. Vegan Brownies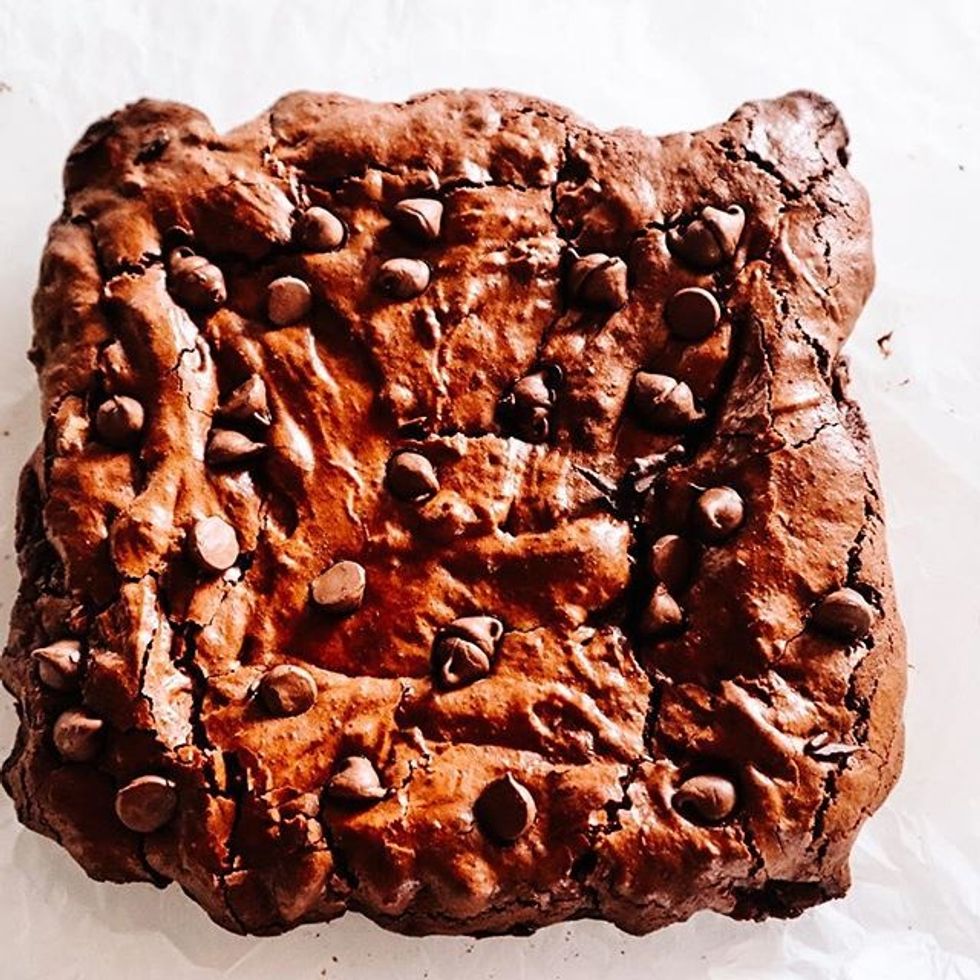 Megan Sharma
First things first, gotta preheat that oven to 350 degrees Fahrenheit!

Next, grab a bowl

Melt 1/2 a cup of vegan butter (I used Earth Balance, but it's your choice, you can also sub in regular butter)
1 cup of lightly packed brown sugar
1 cup of white sugar

Pour all of this into the bowl!

Now you're gonna whisk until combined!

Add in your "eggs" (I used 4 tablespoons of flaxseed and 1/2 a cup of water to make an egg, however, you can use 2 regular eggs)
Also, add 1 tablespoon of vanilla extract

Then whisk again!

Over the same bowl, sift:
1 cup of all-purpose flour
1 cup of unsweetened cocoa powder
1/2 teaspoon of salt
1 teaspoon of baking powder

Grab a wooden spoon and gently mix, almost like a folding pattern (do not over mix!) the consistency should be thiccc between a cookie and cake batter!

At this point, I threw in a 1/2 cup of chopped walnuts, and a handful of non-dairy chocolate chips, and mixed those in as well! You could always go plain but I'm extra!

I then used a pan, that I lined with parchment paper and a little oil. Poured in my batter, topped it with a few more chocolate chips and baked for 35 minutes!

I took out the brownies and let them cool in the pan for 15 min, then removed it and allowed them to cool in the parchment paper for 20 more minutes before I cut them!
4. Pre-Hike Breakie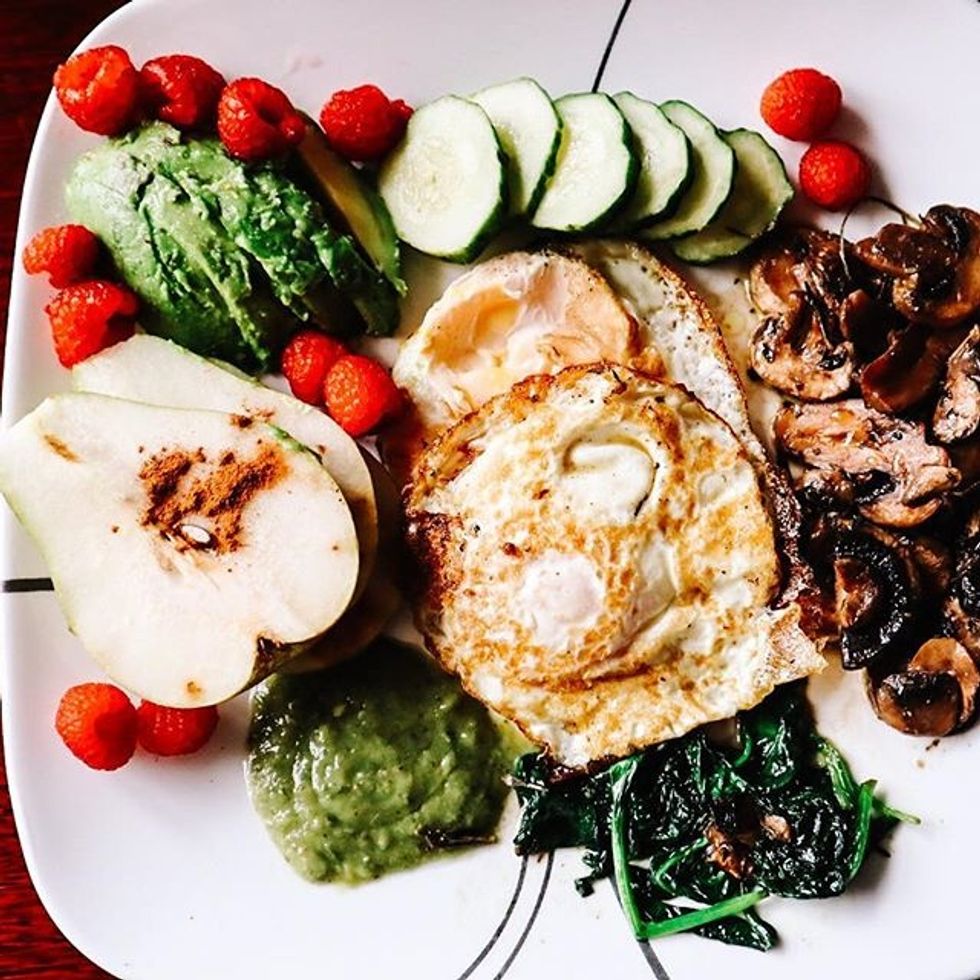 Megan Sharma
Two eggs over medium (season with garlic salt)

Spinach and mushrooms sautéed in olive oil, garlic salt, black pepper, rosemary, thyme, and basil
Cucumber
Avocado (seasoned with garlic salt)
Raspberries
Pear seasoned with cinnamon

5. Oatmeal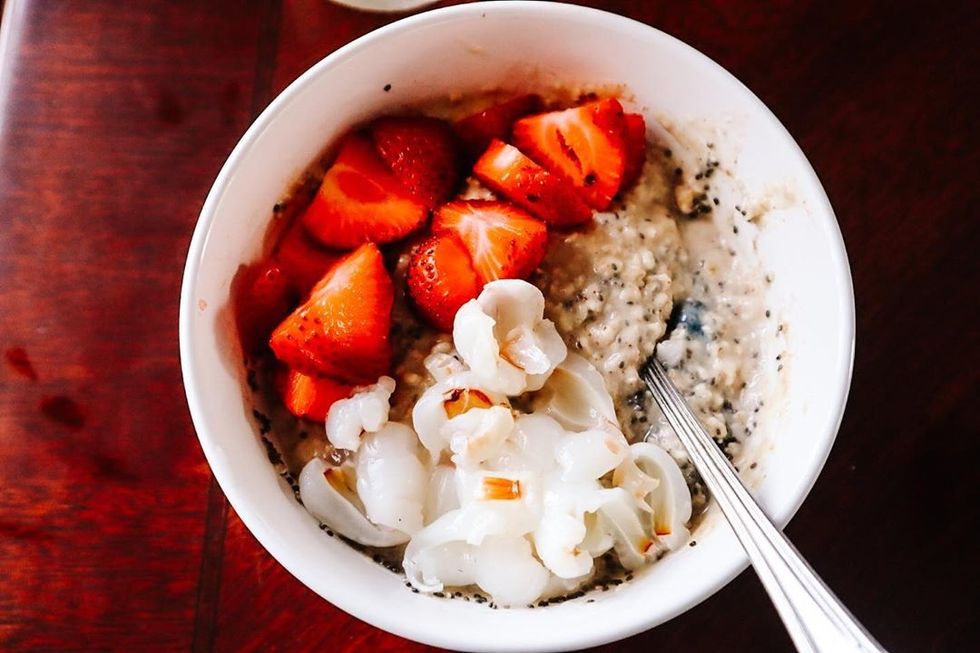 Megan Sharma
Base:
1/2 a cup of 1 min oats
1/3 a cup of water
1/3 a cup of almond milk

Microwave for 1 minute!

Add in 1/2 a scoop of vanilla vegan protein, 1 cup of vanilla coconut milk yogurt, 2 tablespoons of chia seeds, a tablespoon of almond butter, a handful of blueberries and stir!

Top with strawberries & pitted lychee!