Leon Bridges can only be described as a rarity. There is simply no one else like him on the music scene right now. His soulful, vintage, sound is reminiscent of some of the greats. Originally from Fort Worth, Texas, Bridges has a background not only in Soul, but in American Gospel. Bridges came from a broken home, his parents separated when he was 7 and he spent most of his early childhood with his father. In article for Billboard, Bridges describes his childhood as "isolated" and recalls studying dance, and eventually, singing and guitar. But it was after he took a job bussing tables that he met guitarist Austin Jenkins, who would not only inspire him to find his muse, but would go on to be a co-producer on Bridges' first album Coming Home. - which picked up a Grammy nomination. Leon Bridges' music manages to straddle the line between classic and fresh. While his style and sound are a throwback to the '50s and '60s his passion and lyrics are new and exciting. I was lucky enough to get to see Bridges at the Murat Theater in downtown Indianapolis this summer, and something that makes him so unique is that he's not just a singer, he's a performer. The sets are like something out of the past, the big band,... it was one of the best live shows I've ever seen. His sound, some would call dated, I prefer to call it classic, so I've narrowed this list down to what I feel are his strongest tracks.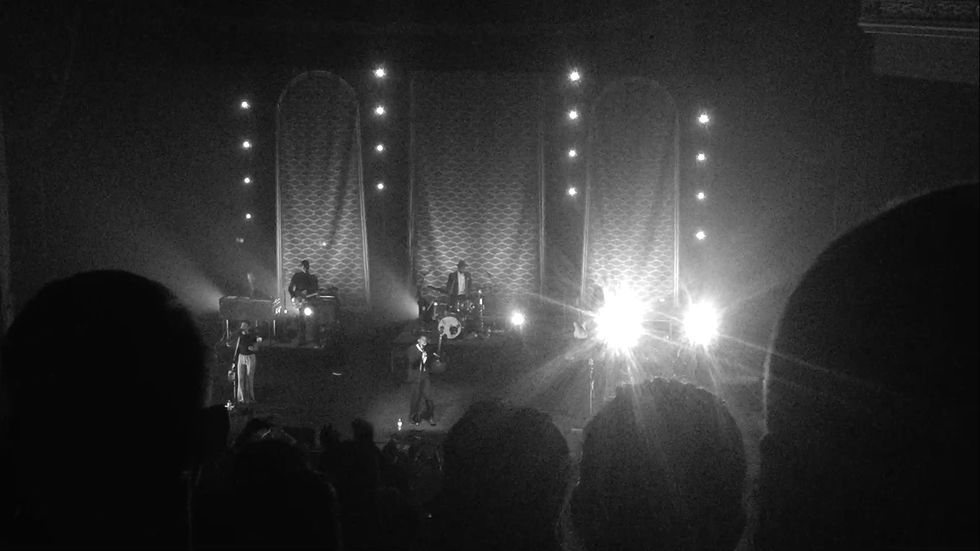 Above : Leon Bridges playing the Murat Theater in Downtown Indianapolis this summer

1. RIVER
"Tip me in your smooth waters.
I go in as a man with many crimes.
Come up for air as my sins flow down the Jordan"
River is one of Bridges, slower, more melancholy songs. And the video captures exactly that. Released on his debut album Coming Home, Bridges sings of regret and sins, while holding out hope for atonement and a chance at redemption. The music video is as vivid, pure and powerful as the lyrics, feeling a bit like a short film. This is also one of Bridges' biggest songs, just recently having been featured on the soundtrack for HBO's hit Big Little Lies.
2. COMING HOME
"Baby, how I'd be grieving
If you wanted to leave me all alone now
By myself, I don't want nobody else"
The title track, from his debut album Coming Home, this song is basic Leon Bridges, as is the video, - featured above. Like so much of his music, this song flows perfectly and has such a timeless quality to it. The video is done in simple black and white, providing a classic look to a simple video.
3. PULL AWAY
My pillow bears a tear of a man in pain
Our love, I thought I could sustain
Don't worry about me anymore
Cause I'll be gone by the morning time
This romantic track is one of my personal favorites, Pull Away is a soulful, ballad. that you can't help but want to sway to. Bridge's steady croon is accentuated by talented backup vocalist Brittni Jesse, who's sultry sounding voice can be heard on some of Bridges' best tracks.

4. BROWN SKIN GIRL
Brown skin girl with the white pearls 'round her neck
Brown skin girl, let me hold you close under the white moon
'Cause baby, I'm ready and you know that I'm waiting on you

Brown Skin Girl is another favorite of mine. You can't help but smile when you hear it. The lyrics may be sweet, but Bridge's voice is seductive and always reminds me of the great Sam Cooke when I hear it. It's classic ballad with just the right amount of rhythm, and an acoustic guitar if you can catch it, that never gets old.

5. BETTER MAN
What can I do? What can I do?
To get back to your heart
I'd swim the Mississippi river
If you would give me another start, girl

I couldn't close this list without Better Man, which is also featured on Coming Home, is an upbeat crowd-favorite of Bridges'. The beat has a sway to it, and like in Pull Away, the background vocals as well as the saxophone add a whole new layer to the song. Like I said before, this is a fan-favorite song, when they did this on stage in Indianapolis, - which sounded incredible live by the way, Better Man had the audience on our feet.
BONUS : Leon Bridges doing a cover of Pony by Ginuwine on stage in Houston.