When us females decide to go out, it would be absolutely bizarre to come home from our time out to a clean room. Deciding where and when to go out is simple compared to the biggest question of them all: What do I wear? This question eventually is answered after ten outfit changes, which are then left all over your room.
Going out outfits can vary from casual to totally extra. It all depends on your personal taste, the weather conditions, and how hard you want to try. But what is the perfect casual outfit to go out in?
To answer this question, I found 5 ideas for those fashionistas looking for the perfect casual going out outfits.
Advice: Looking for an outfit with a specific price range? Check out Polyvore or ShopStyle! They both have made life so much easier!
Outfit #1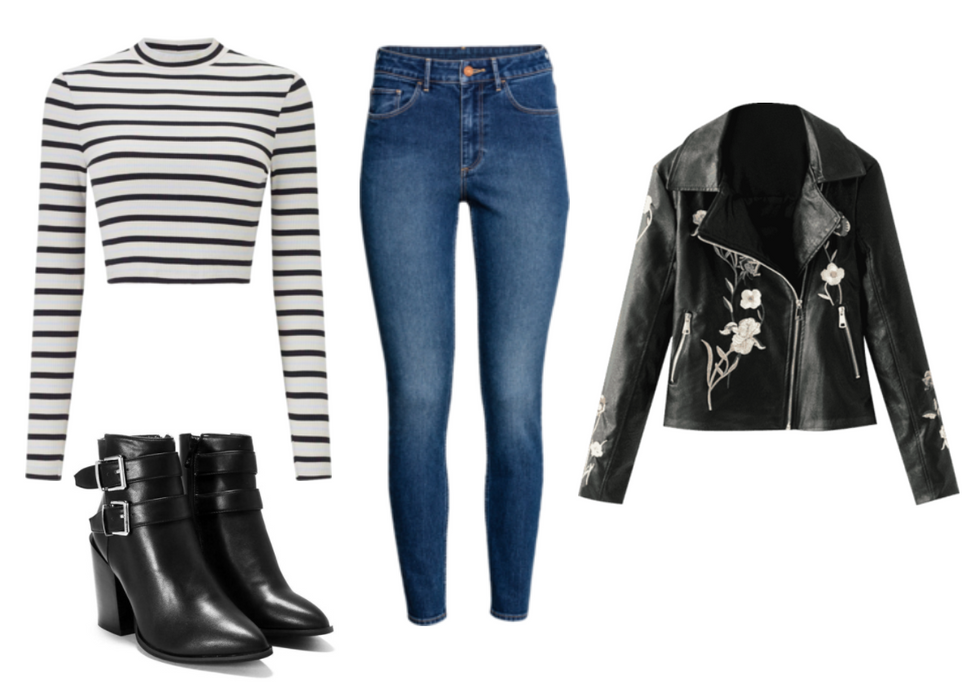 Striped Funnel Neck Top
: Miss Selfridge, $27.00
Skinny Ankle High Jeans: H&M, $19.99
Love Fool Vegan Leather Bootie: Nasty Gal, $45.00 (SALE!)
Faux Leather Floral Embroidered Biker Jacket: ZAFUL, $41.99
Outfit #2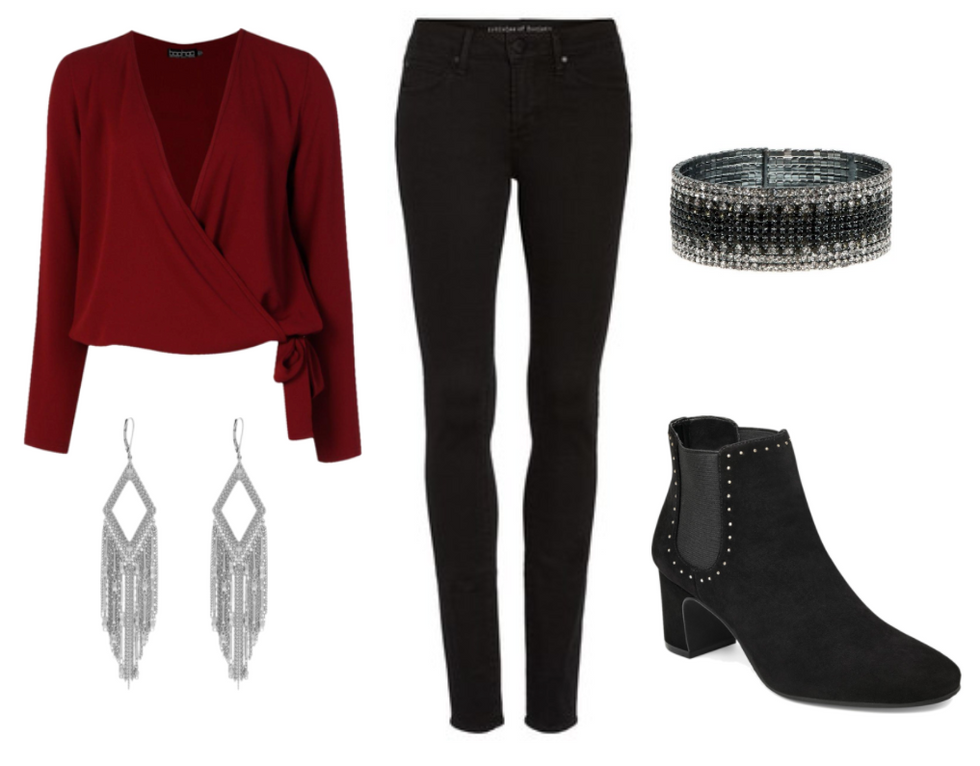 Lucy Wrap Over Blouse: Boohoo, $15.00 (SALE!)
Silver-Tone Diamond Fringe Chandelier Earrings: Jessica Simpson via Belk, $28.00
Mya Ankle Skinny Jeans: Articles of Society via Nordstrom, $59.00
Ombre Cuff Bracelet: Anne Klein via Lord & Taylor, $38.00
Gabbie Studded Chelsea Boot: Anne Klein via Nordstrom Rack, $58.97 (SALE!)
Outfit #3
Cream Brushed Rib Wrap Front Crop Top
: River Island, $44.00
Double Fray Hem Skinny Jeans: 1822 Denim via Nordstrom, $45.00
Black Suede Women's Desert Wedges: TOMS, $54.99 (SALE!)
Triple-Strand Necklace: H&M, $9.99
Outfit #4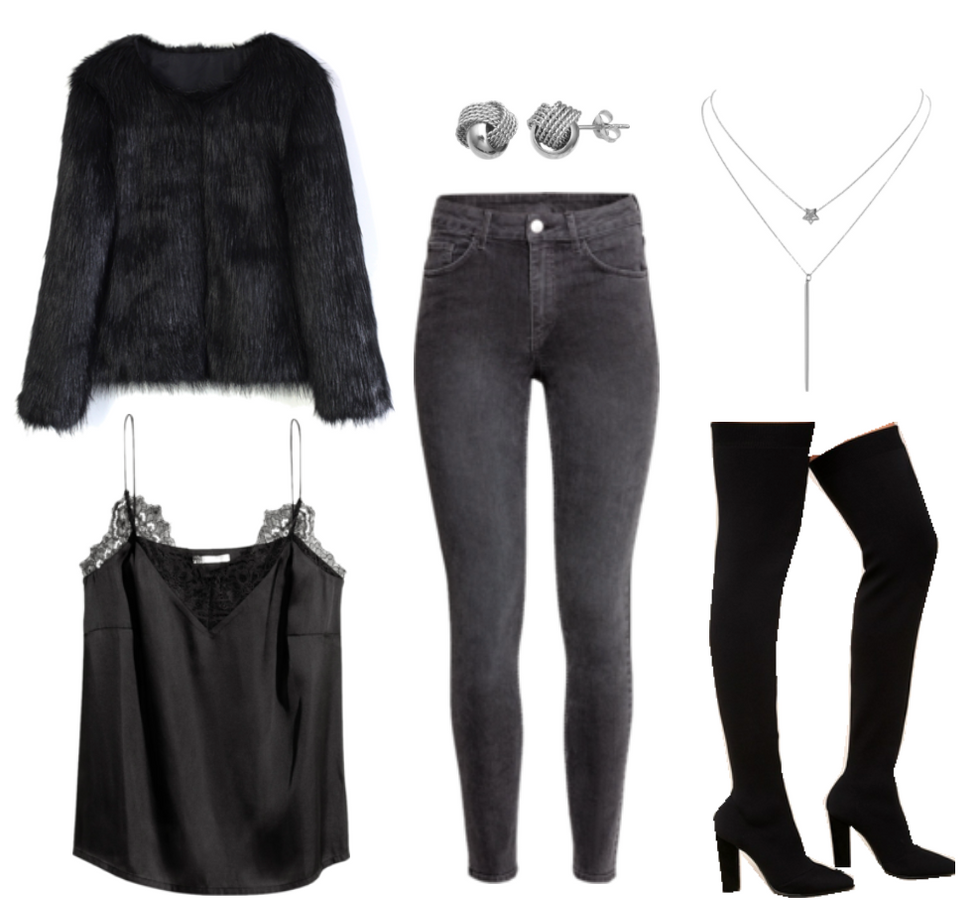 My Chic Faux Fur Coat: ChicWish, $59.93 (SALE!)
Satin Camisole Top: H&M, $24.99
PRIMROSE Sterling Silver Love Knot Stud Earrings: Kohl's, $50.00
Skinny High Ankle Jeans: H&M, $19.99
Tiny Star Layered Necklace: Humble Chic, $24.00
Alyce Black Knit Thigh High Boots: Lulus, $82.00
Outfit #5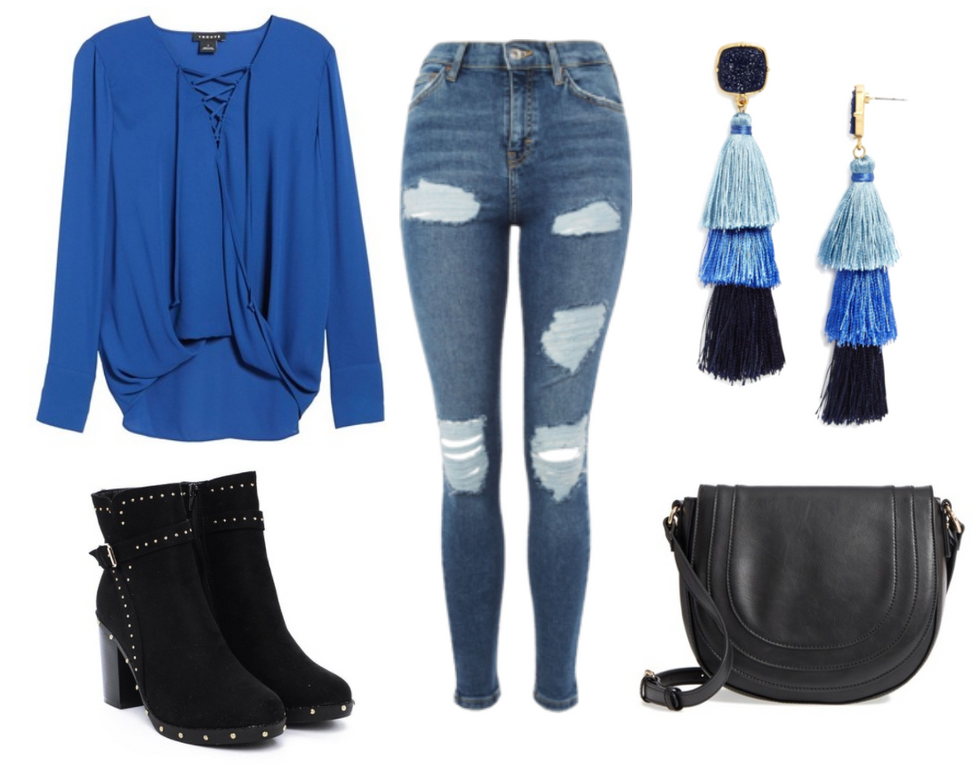 Lace-Up Top
: Trouvé via Nordstrom, $69.00
Pin Your Hopes Studded Boot: Nasty Gal, $48.00 (SALE!)
MOTO Blue Super Rip Jamie Jeans: Topshop, $80.00
Mixed Drop Earrings: AQUA via Bloomingdale's, $32.00
Piri Faux Leather Saddle Bag: Sole Society via Nordstrom, $49.95