As a college student, I find myself binge-watching Netflix shows all too often. I have seen an embarrassing amount of Netflix shows and movies throughout my college career (a 5-going-on-6 year college career to be exact). I have made a list of my all-time favorite binge watches over the years narrowing it down to my top five. Here is my list in no particular order:
1. Parks and Recreation

This hysterical show starring Amy Poehler as Leslie Knope, an overachieving city-worker, is about an Indiana Parks and Recreation Department dedicated to making Podunk Pawnee beautiful. With many challenges including stubborn citizens, distracted co-workers, and many other hilarious obstacles; beautifying Pawnee proves to be a challenging task. Each co-worker is comedic in their own way. Ron Swanson, the dry, sarcastic breakfast lover, April the all-the-more dry, sarcastic people-hater and Tom the ironic big dreamer/underachiever, and many other characters creating a diverse cast and bringing a variety of humorous personalities to the storyline. As Tom or Donna would say: Treat yo self and watch this show.
2. Gossip Girl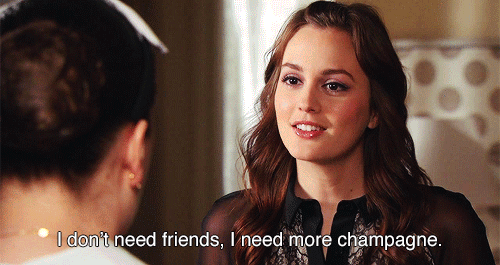 Spotted: a Netflix must see. Some might call this a fustercluck, but on the Upper East Side, this is a binge-watch you won't regret seeing. Who doesn't enjoy a juicy storyline filled with gossip and scandals? Follow the lives of the Upper East Side's most privileged elite as a ruthless blogger follows (and posts) every move. You know you'll love it. XOXO - Gossip Girl.
3. Stranger Things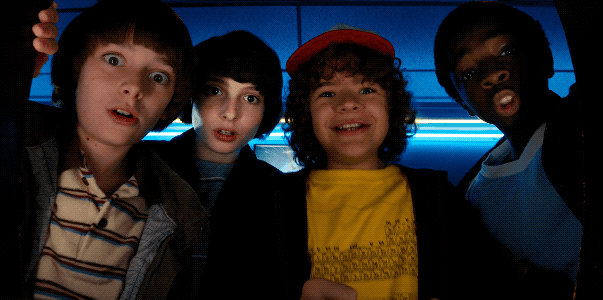 This sci-fi Netflix original will keep you on your toes. Based in the 80s, this show is about a young boy who vanishes in a small town in Indiana. As a mother (Winona Ryder, LOVE HER) and friends search for answers, they begin to uncover a mystery full of secrets, supernatural forces and a strange girl that has a thing for L'Eggo My Eggo Waffles. This thriller is cast insanely well with each kid actor bringing something new to the table (I am personally obsessed with Dustin AKA Gaten Matarazzo), and Winona Ryder making the sickest comeback of all time. With the perfect combination of humor and horror, this Netflix original (I do not say this lightly) is a MUST SEE.
4. Friends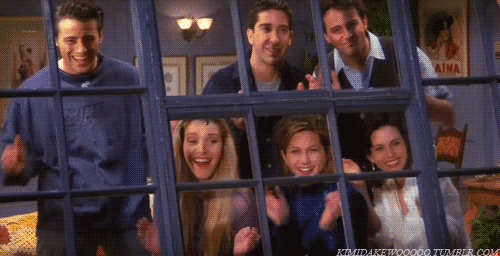 The one that you'll watch over-and-over again. Follow the lives of six "friends" in their 20s and 30s as they face life and love in New York. Filled with humor and all-too-unrelatable (yet somewhat relatable) storylines these group of friends knows how to keep life interesting. This is a show I watch on repeat, especially if I can't fully pay attention, but want a good laugh here and there. This is a classic, and if you need a good laugh (or reassurance that it's completely normal not to have your life together yet) watch it.
5. Queer Eye

Last but certainly not least, t
his
Netflix original
is the "new" Queer Eye. A show where five gay men give straight men, or just men with a lack of style, major
makeovers. The men give advice on fashion, grooming,
food, interior
design and culture.
This
show is filled with laughter, tears and jaw-dropping transformations (YASSS QUEEN).
Queer Eye uses its platform to encourage
love, tolerance and unity at a time when our nation is so divisive.
If you love
makeovers, watch this. If you love house and home shows, watch this. If you're conservative
,
watch this. If you're liberal, watch this.
If you're gay, watch this. If you're straight, watch this.
Basically
, everyone,
watch
this.