Being stuck in quarantine with your significant other will definitely test your relationship. Though you will obviously have some ups and downs (real talk) — as any healthy relationship would — being in such close proximity 24/7 has its perks.
For starters, you obviously get to spend all the quality time with the person you love most, but you'll also get to learn things about your partner that you might not have otherwise known and have fun in the process.
Below is a 30-day challenge made with love for you and your boo to help you make the most of your time in quarantine together. You know, so you come out on the other side closer than ever both physically and emotionally.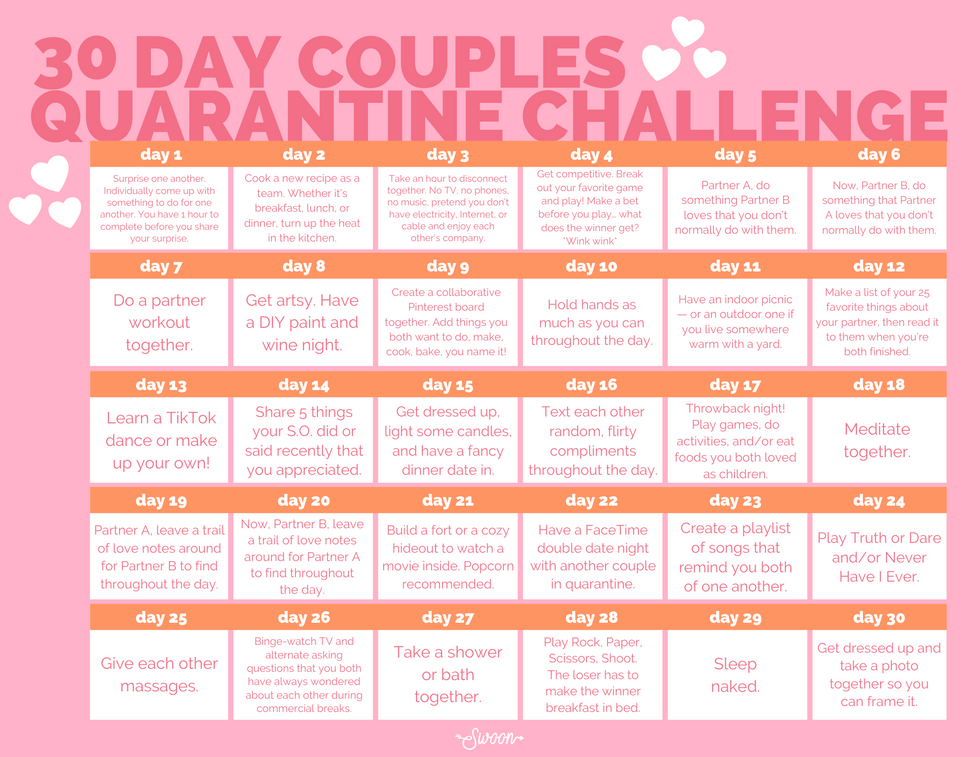 Day 1:
Surprise one another. Individually come up with something to do for one another. You have one hour to complete before you share your surprise.
Day 2:
Cook a new recipe as a team. Whether it's breakfast, lunch, or dinner, turn up the heat in the kitchen.
Day 3:
Take an hour to disconnect together. No TV, no phones, no music, pretend you don't have electricity, Internet, or cable and enjoy each other's company.
Day 4:
Get competitive. Break out your favorite game and play! Make a bet before you play… what does the winner get? *Wink wink*
Day 5:
Partner A, do something Partner B loves that you don't normally do with them.
Day 6:
Now, Partner B, do something that Partner A loves that you don't normally do with them.
Day 7:
Do a partner workout together.
Day 8:
Get artsy. Have a DIY paint and wine night.
Day 9:
Create a collaborative Pinterest board together. Add things you both want to do, make, cook, bake, you name it!
Day 10:
Hold hands as much as you can throughout the day.
Day 11:
Have an indoor picnic — or an outdoor one if you live somewhere warm with a yard.
Day 12:
Make a list of your 25 favorite things about your partner, then read it to them when you're both finished.
Day 13:
Learn a TikTok dance or make up your own!
Day 14:
Share five things your S.O. did or said recently that you appreciated.
Day 15:
Make dinner together, get dressed up, light some candles, and have a fancy dinner date in.
Day 16:
Text each other random, flirty compliments throughout the day.
Day 17:
Throw it back! Play games, do activities, and/or eat foods you both loved as children.
Day 18:
Meditate together.
Day 19:
Partner A, leave a trail of love notes around for Partner B to find throughout the day.
Day 20:
Now, Partner B, leave a trail of love notes around for Partner A to find throughout the day.
Day 21:
Build a fort or a cozy hideout to watch a movie inside. Popcorn recommended.
Day 22:
Have a FaceTime double date night with another couple in quarantine.
Day 23:
Create a playlist of songs that remind you both of one another.
Day 24:
Play Truth or Dare and/or Never Have I Ever.
Day 25:
Give each other massages.
Day 26:
Binge-watch TV and alternate asking questions that you both have always wondered about each other during commercial breaks.
Day 27:
Take a shower or bath together.
Day 28:
Play Rock, Paper, Scissors, Shoot. The loser has to make the winner breakfast in bed.
Day 30:
Get dressed up and take a photo together so you can frame it.
Follow Swoon on Instagram.