New York City is the mecca for all foodies across the country, filled with odd combinations and gourmet food options for the on-the-go student or worker. Now after this crazy, unexpected turn in the election, we're all looking for something to stress-eat. Time to go try some of NYC's most delicious (and some disgusting) foods across the five boroughs with some friends.
21. Broccoli Hot Dog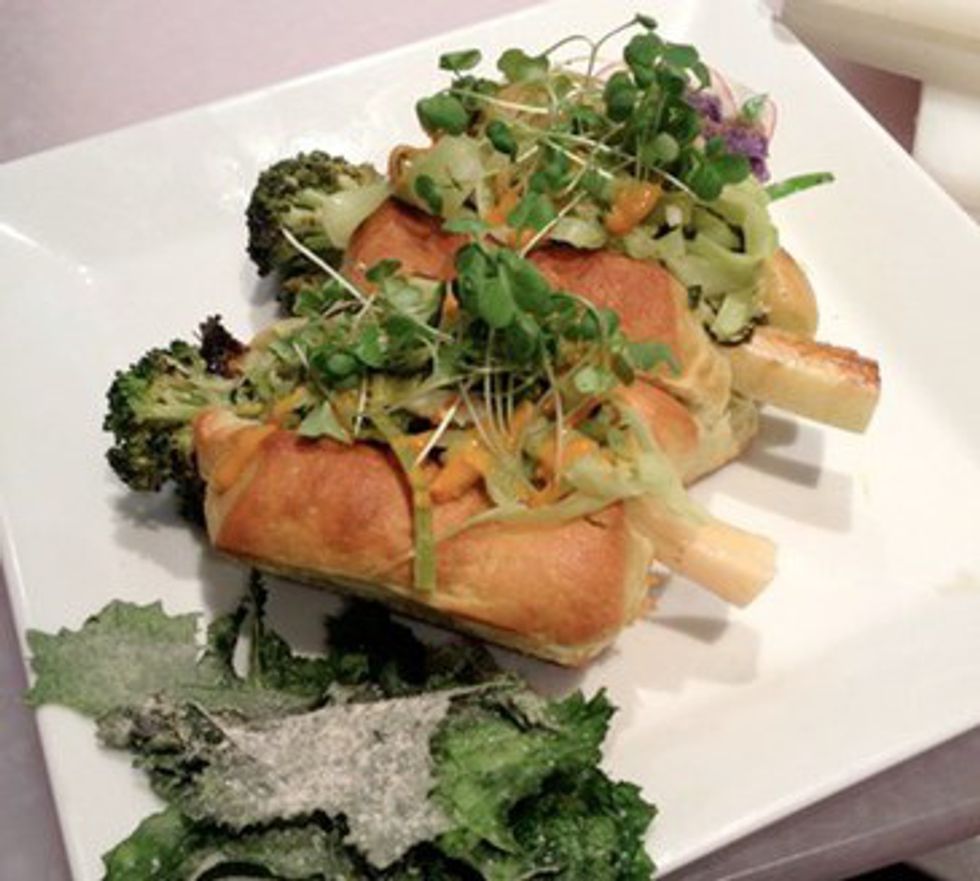 The Lower East Side spot has been making headlines for chef Amanda Cohen's inventive use of vegetables, from a kale matzo ball soup to onion chocolate tarts. But her broccoli dog is in a class of its own for actually managing to taste like a hot dog, which is far more than a lot of soy or tofu dogs can claim. And believe it or not, the broccoli dogs are far from the only odd item on this menu.
Try it here.
20. Raindrop Cake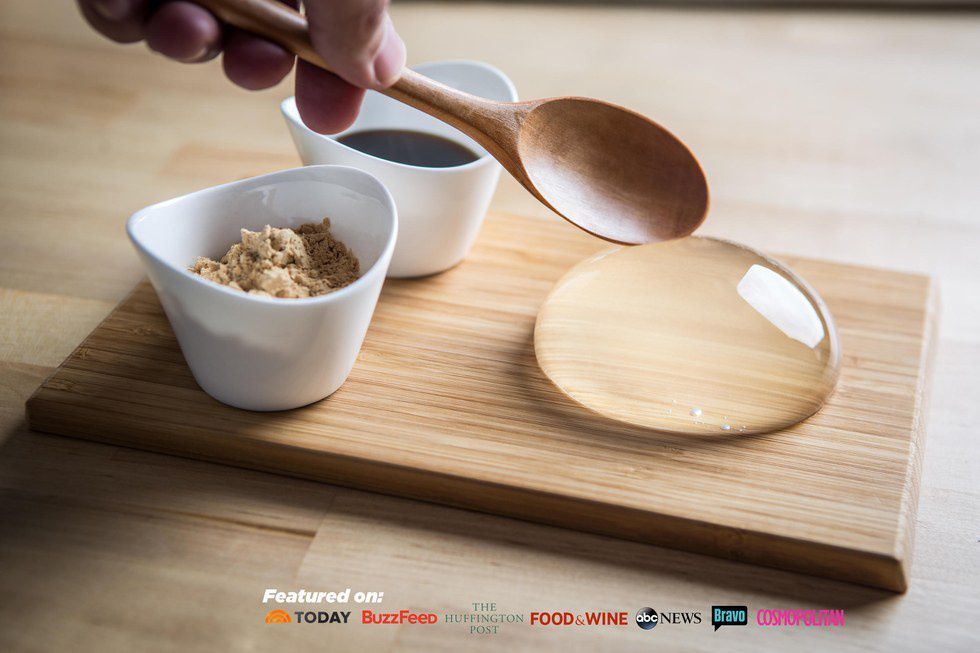 Number one reason to buy this: Instagramming it to look trendy. This "cake" is not a cake at all, it is made of translucent mineral water and seaweed gelatin. It is free of calories and tastes like nothing at all. But, they are served with roasted soybean flour and sugary syrup. This blob may look cool and it may be good if you are ready to spend $8 on it.
Try it here.
19. Gelato In A Warm Panino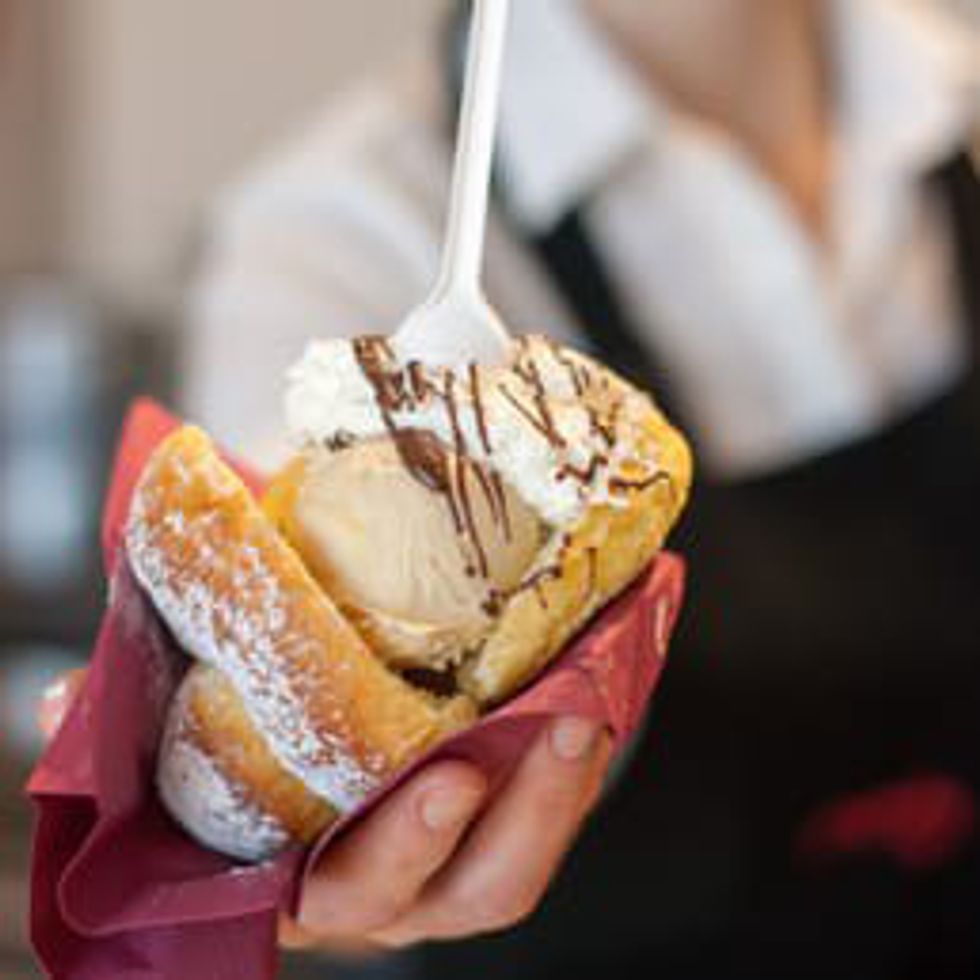 As soon as you enter M'o Il Gelato , the servers will encourage you to try their warm gelato panino. I know what you're thinking, but throw caution to the wind and try it. Dig up those seeds of doubt RIGHT NOW because this food combo is the most delicious one on our list. Try it.

Try it here.
18. Gourmet Cereal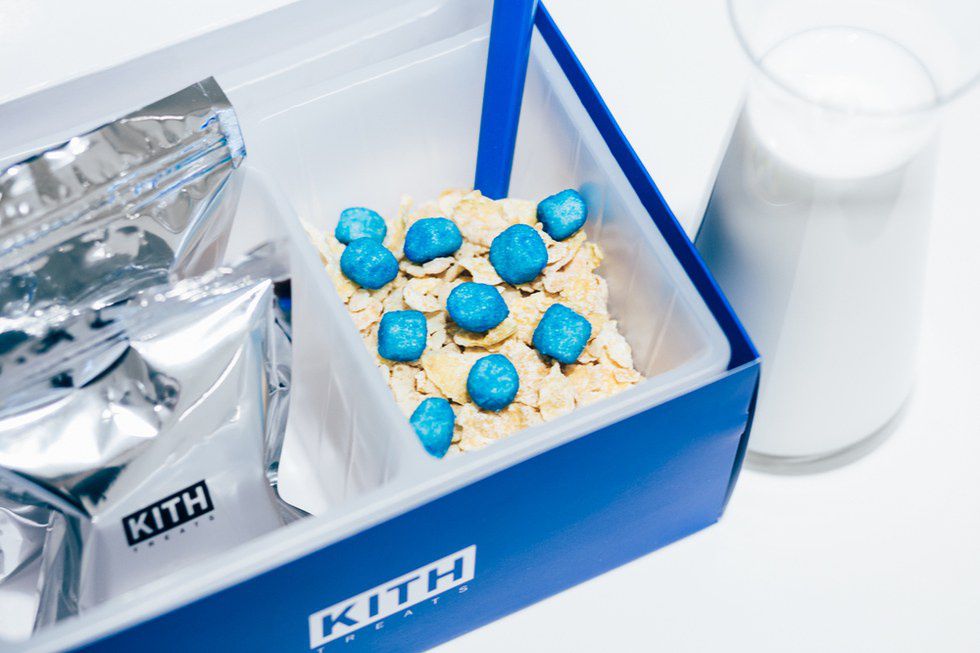 There are very few places that could make cereal a gourmet option, NYC is one of those places. KITH Treats in Brooklyn has taken cereal and put it in a shoe box, so share the new trend with your cereal-obsessed friends, as well as your sneakerhead friends.
Try it here.
17. Caviar Potato Skins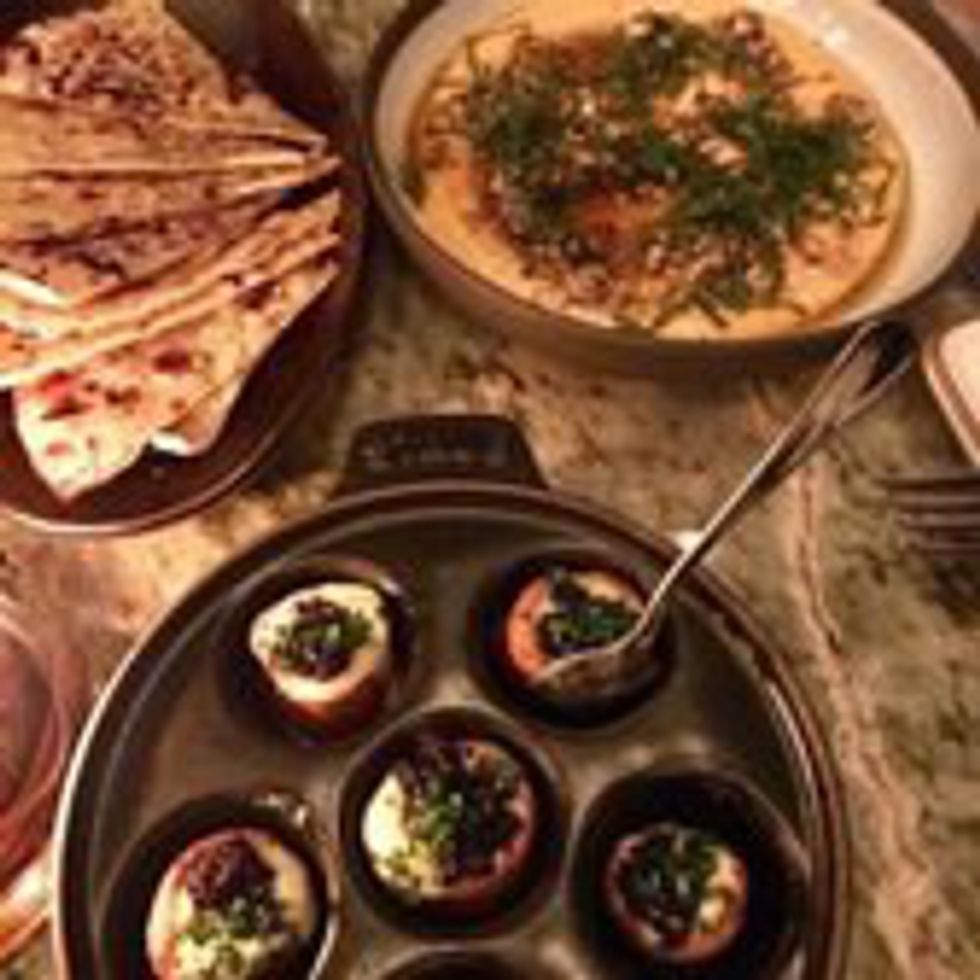 Odd bar food is always a way to draw new customers in. Westlight, a new rooftop bar in NYC, has started serving new, innovative bar food. The weirdest food being: the caviar potato skins. If you're looking for a new hip bar, this Williamsburg rooftop bar is a place to check out.
Try it here.
16. Wine Pops With A View
Like their food, New Yorkers like to up how creative their alcohol is. The Loopy Doopy Rooftop Bar somehow came up with the idea of a "Prosecco & Ice Pop Cocktail" or a popsicle in a glass of Prosecco. The popsicle melts into the alcohol, and then the Prosecco becomes fruity. It's genius. Plus, the view is beautiful.
Try it here.
15. Smokey Lavender Nitrogen Ice Cream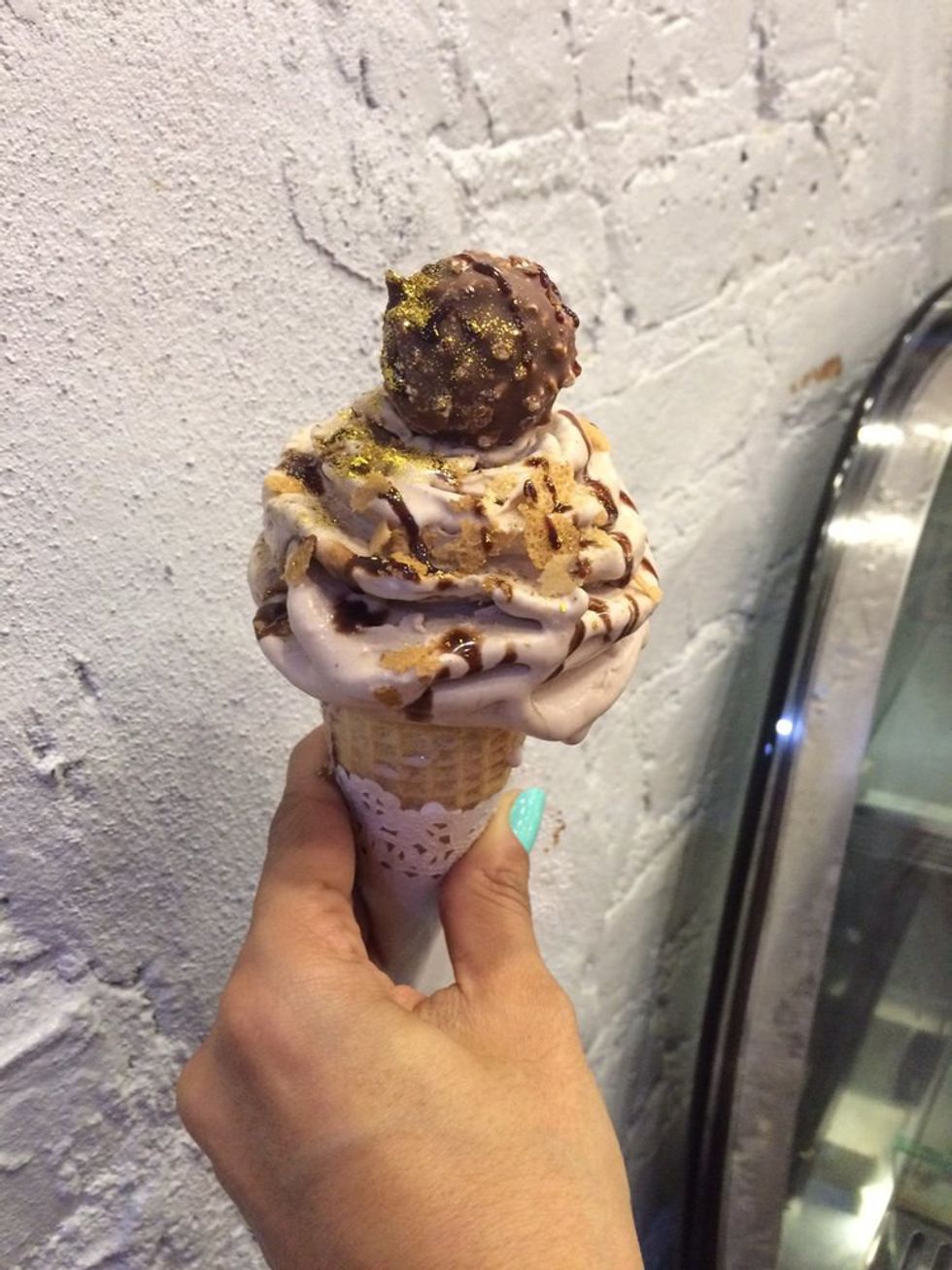 A NYC favorite, and one that has started a bubble tea trend, has created some bright, flavorful items. Crowds have flocked to this joint looking to get their hands on a cone artfully filled with nitrogen ice cream. The flavors range from Nutella flaked with gold to lovely rose, and even a dark smokey lavender.
Try it here.
14. Beef Tenderloin Stir Fry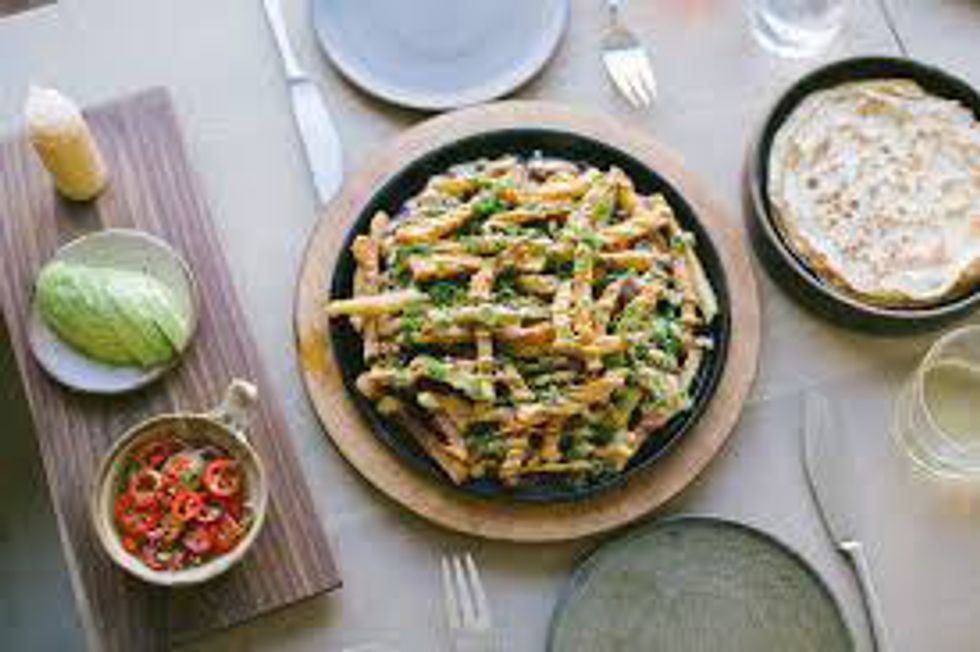 NYC is home to countless numbers of rich, diverse cultures, which makes finding a new, odd, weirdly delectable NYC cultural dish, easy to find. Another hip Williamsburg spot, The Llama Inn, is dishing out creative Peruvian fare including their beef stir fry. Basically, take a traditional stir fry, top it with well-dressed french fries, wrap it all together in a savory scallion pancake, and there you have it.
Try it here.
13. Mac 'n Cheese On A Burger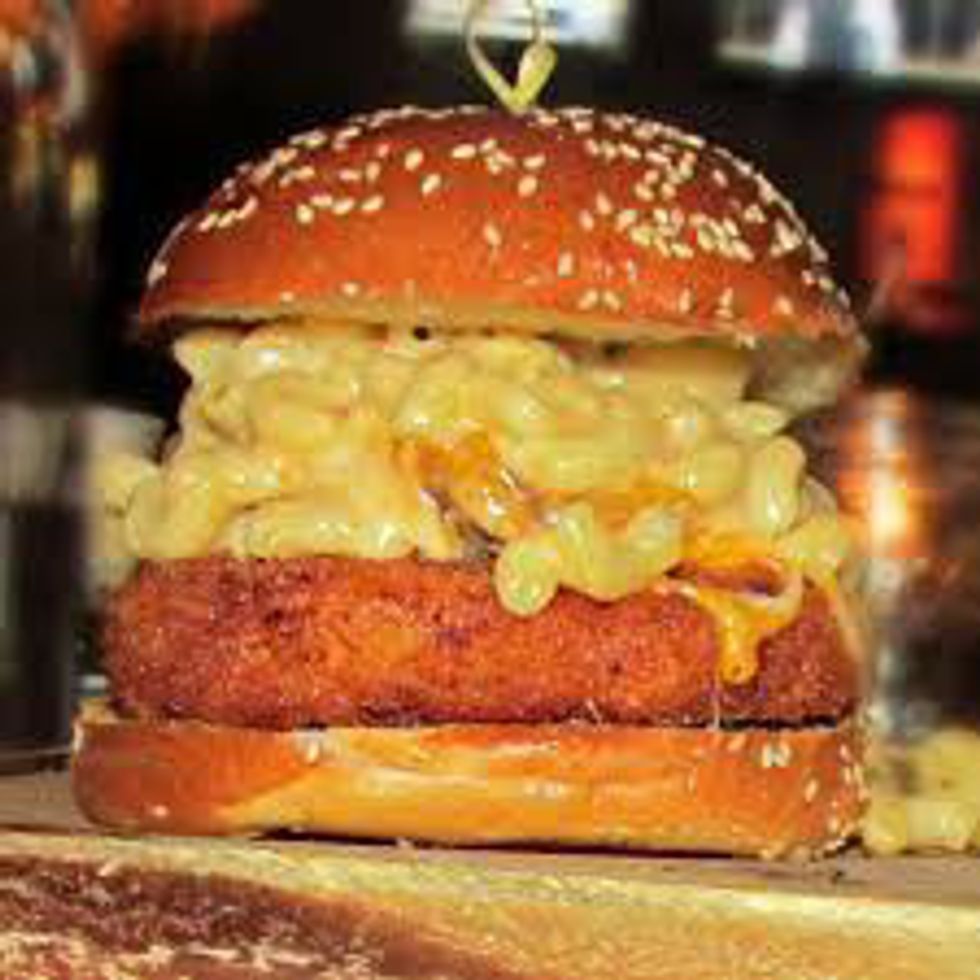 It seems that The Ainsworth has taken over the NYC crazy food scene. First, they replaced hamburger buns with waffle slabs. Now they've put mac 'n cheese on a hamburger? If you love both of these foods, then you have reached heaven! And even if you don't, we'll only say one thing: do it for the Insta.
Try it here.
12. Grasshopper Tacos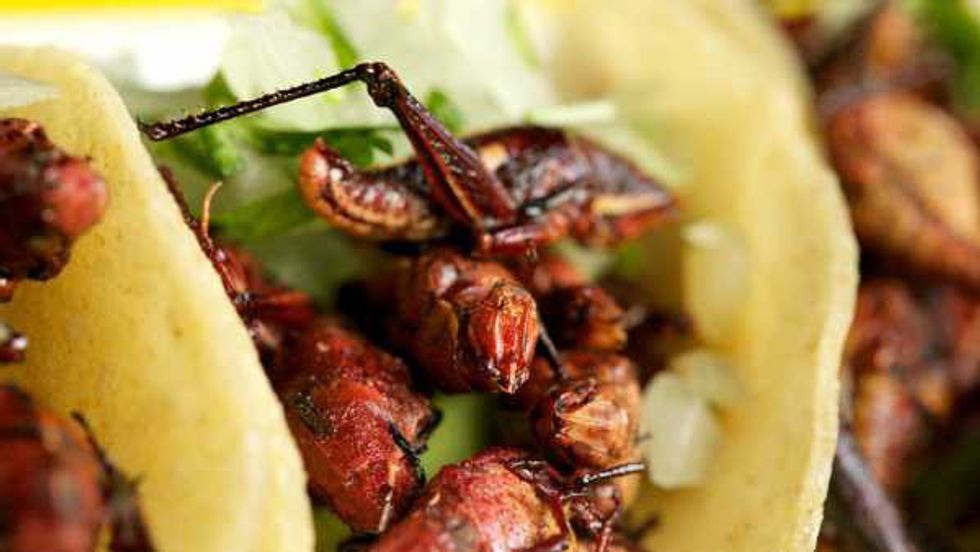 Have you ever had that deep craving for grasshoppers? Yeah neither have most people, but Toloache thought it was time to share this amazing secret with the rest of NYC. These crunchy little bugs drenched in savory spices are actually delicious and fun to tell people you have tried.
Try it here.
11. Rice Pudding In A Brioche Bun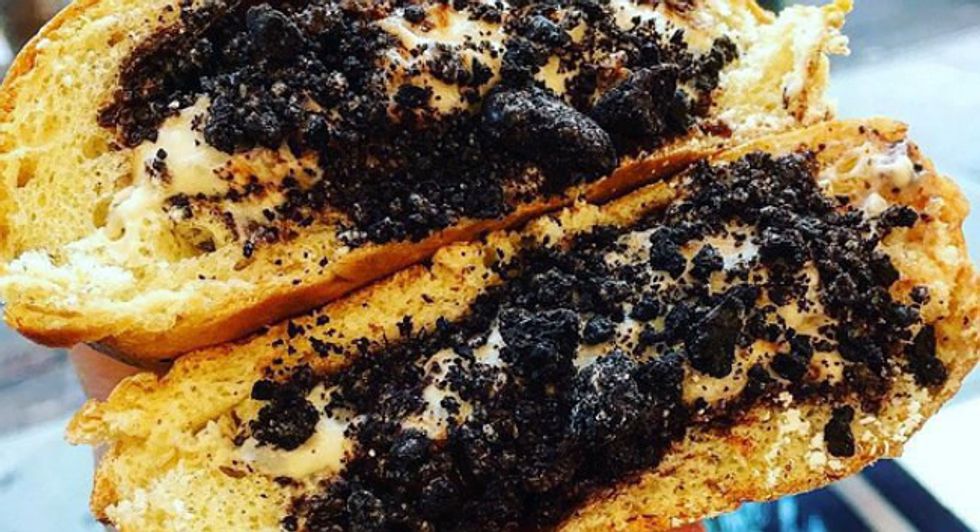 Most of us remember when the middle school cafeteria served rice pudding for lunch, and you had to only eat the cold chicken nuggets that day. Well NYC has taken rice pudding and made it new, delicious, and interesting to try. The Rice Cream Shoppe has not only decided that rice pudding is cool, but that it must be scooped into a bun. So go and try it, we hope you won't have flashbacks of those cafeteria days!
Try it here.
10. Sushi Burrito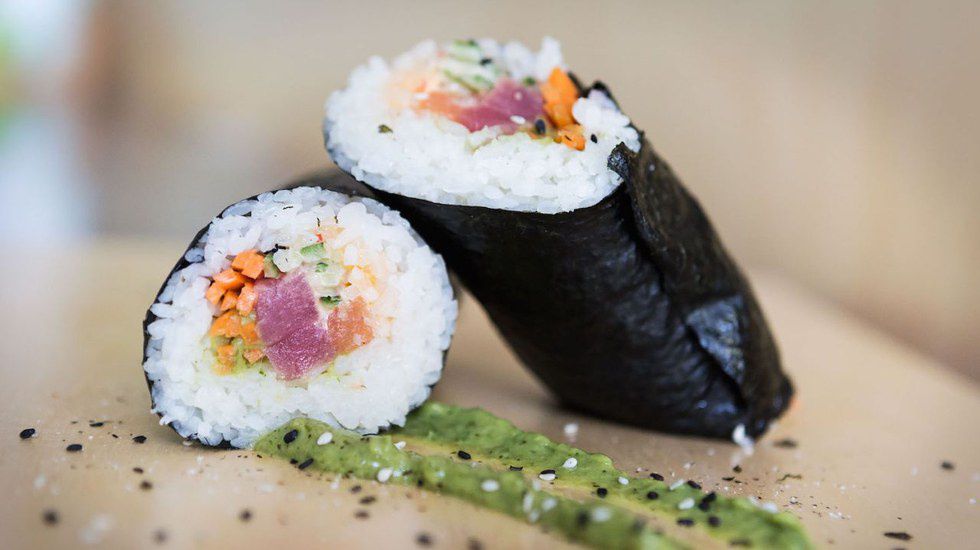 Uma Temakeria's Chef Chris Jaeckle decided that Chipotle just wasn't cutting the ever-changing tastes of New Yorkers. So he managed to whip up the sushi burrito to help those Chipotle addicts get their hourly burrito-fix. Wrapped in seaweed and stuffed with other typical sushi ingredients, this hand-size fish burrito is the perfect "healthy" substitute.
Try it here.
9. Waffle Burger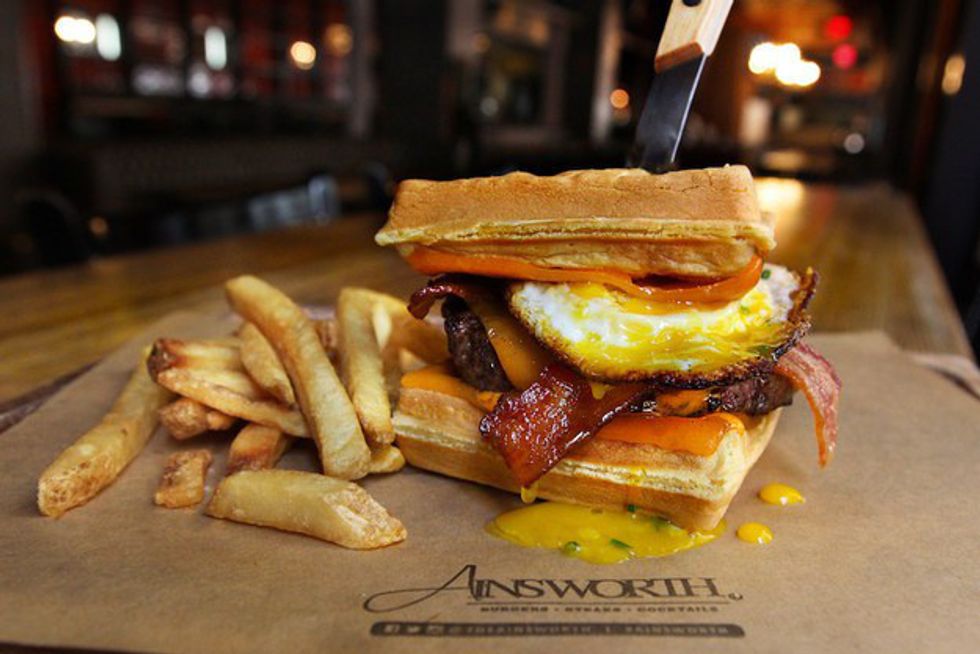 It's 11:45 pm and you're hungry. Sadly, eating breakfast for dinner isn't yet socially acceptable and it's too late to eat a large dinner. In NYC fashion, The Ainsworth has come up with a solution: the waffle burger. You can eat it for breakfast, thanks to the waffle aspect and eat it for dinner, thanks to the burger. Though you might be wary of what condiments you put on it. What is acceptable? Maple Syrup? Ketchup?
Try it here.
8. Ramen Burger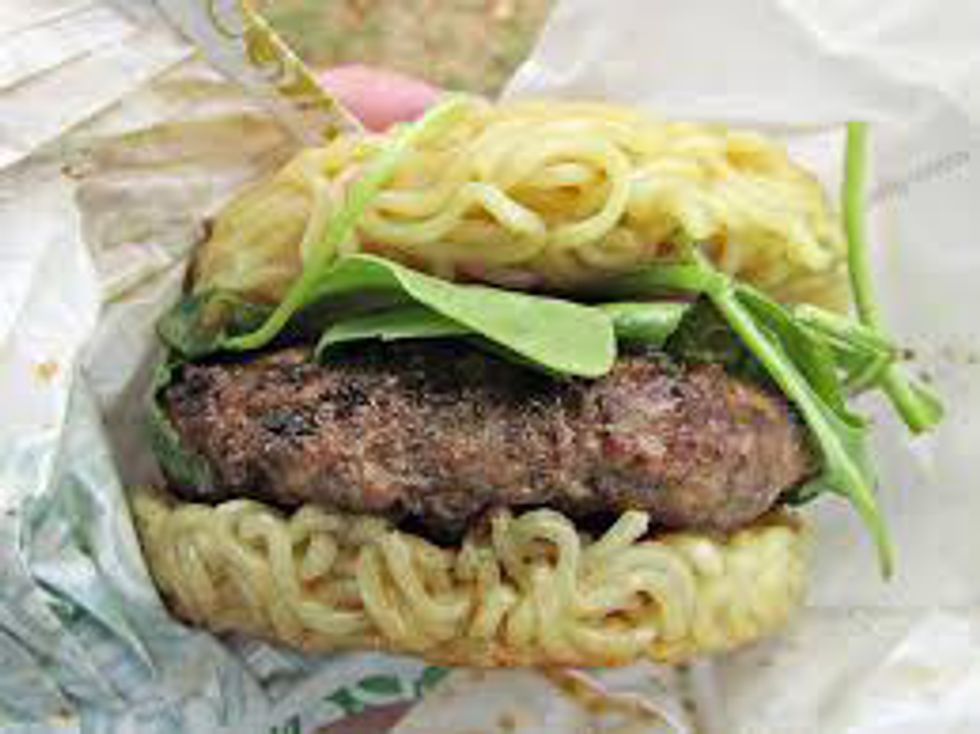 And The Ainsworth has done it again. It has practically destroyed the sanctity of The Hamburger. We understand the fear you may have, but this combo trumps all others. The noodles are firm to hold the burger, yet soft and surprisingly flavorful. There are ways to add toppings including cheese (yes cheese with ramen) and make your mouth jump with joy!
Try it here.
7. Cotton Candy On Bubble Tea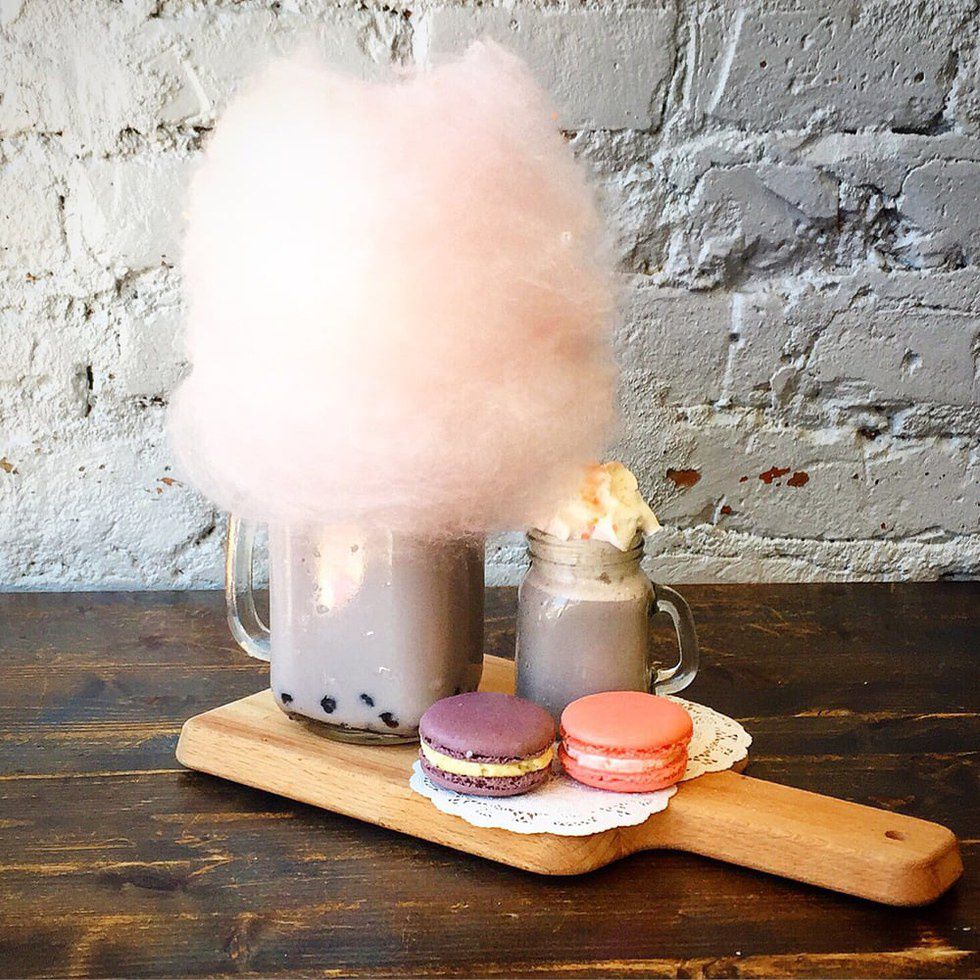 YES AGAIN. ViVi Bubble Tea has taken over NYC and no one is complaining. They know how to put together two of the best things: bubble tea and cotton candy. It looks so perfect that you can take a million pictures and show it off to all of your friends. I mean it is essentially chugging colorful, delicious sugar. But a warning to those who are interested: it is delicious and worth it, but you might be sitting in the restaurant for a while after with a food baby.
Try it here.
6. Katz's Pastrami Egg Roll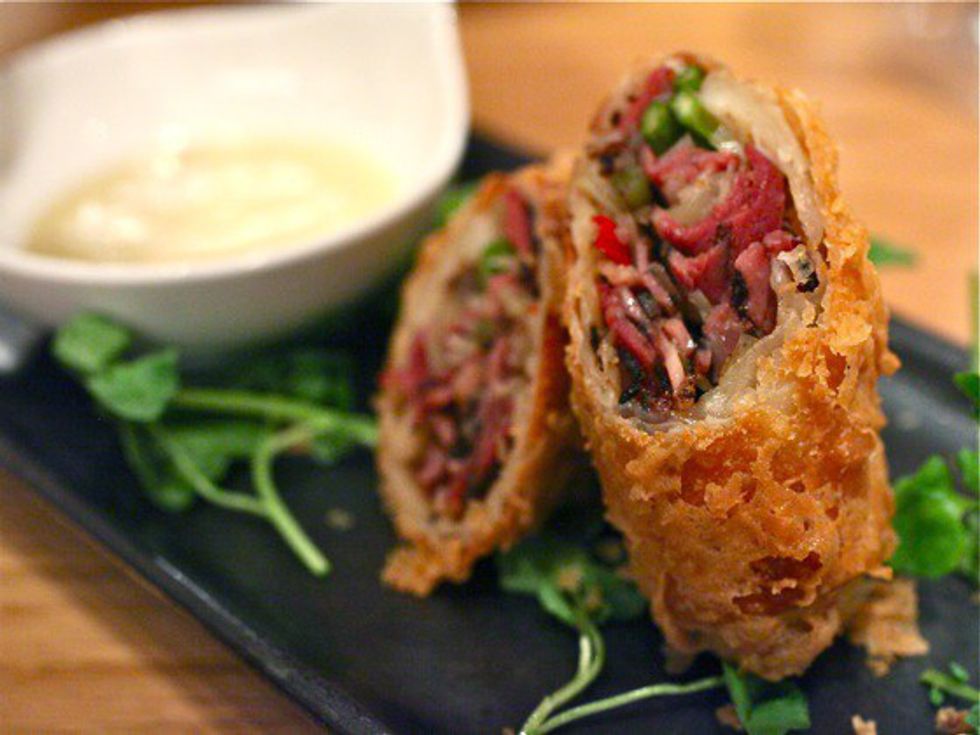 Katz's Deli is a staple of New York City, with their pastrami on rye to their matzo ball soup. Even they have managed to take their comfort food and turn it on its head. They wrapped their staple food, pastrami, up in an egg roll. Guests line up nightly to order the Jewish-Chinese mash-up, and other quirky dishes like filet mignon tarts and Pac-Man dumplings that are almost too cute to eat.
Try it here.
5. Spaghetti In A To-Go Cone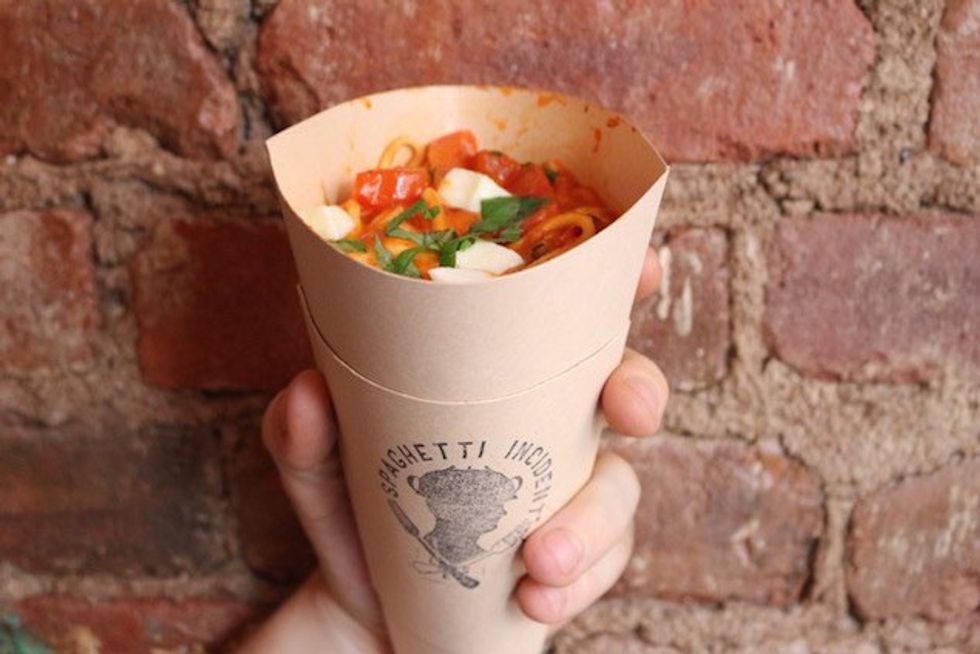 So how does spaghetti go from a fancy restaurant to in a cone and on the go? Well, when New Yorkers are too busy but are craving their weekly dose of spaghetti and meatballs. People can now grab a spaghetti cone from Spaghetti Incident and eat pasta on the way to their yoga class, their class, and their work meeting. A brilliant, innovative idea.
Try it here.
4. Colorful, Candy Milkshakes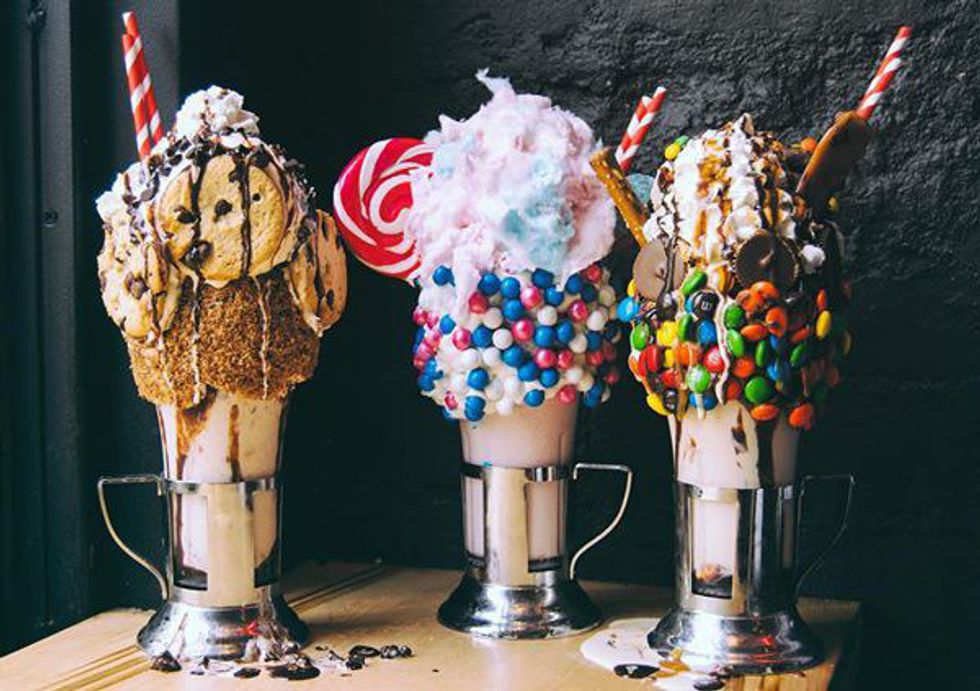 Black Tap, a place where people will stand on multiple-hour long lines and be ecstatic the entire time for their milkshakes that are out of this world. If you're perfectly okay wasting precious hours in line for this: a cup filled with sugar, milk, and color then good for you! It tastes awesome, and you can share it with like six dozen friends probably.
Try it here.
3. Churro Cone Ice-Cream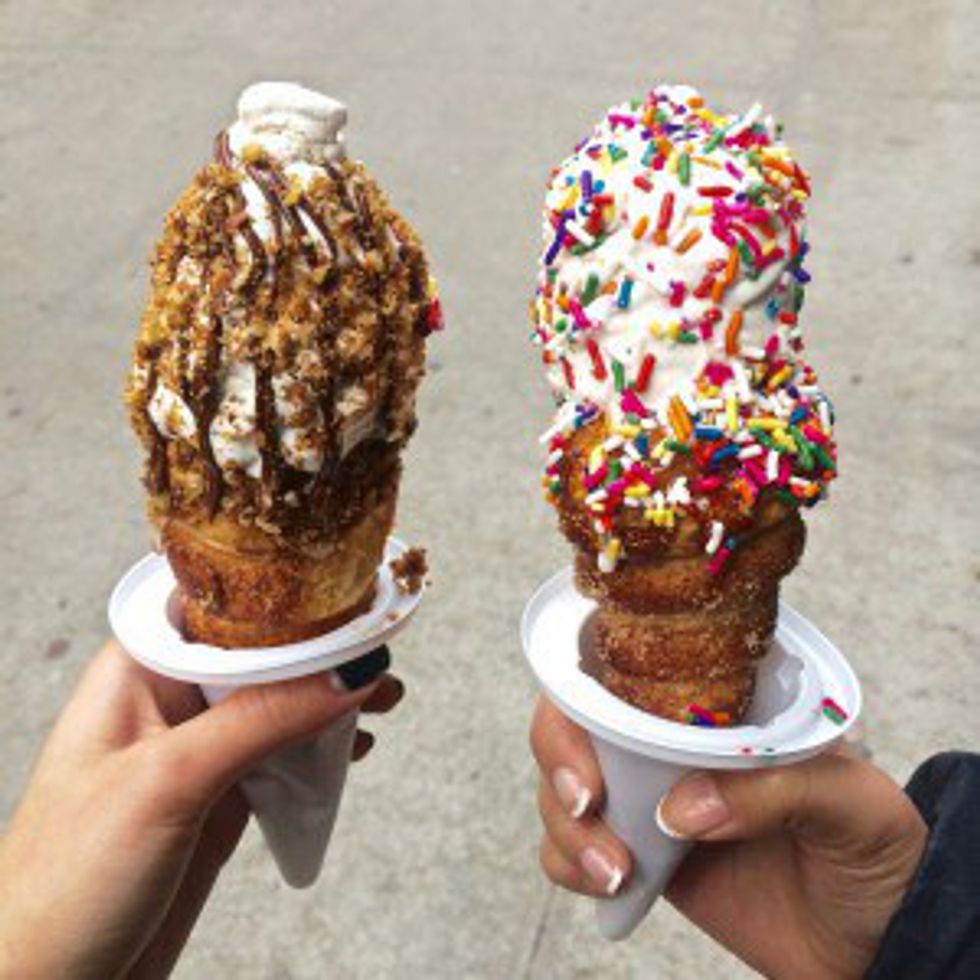 What a beautiful combination: warm churros with cold ice cream. Go to ChikaLicious, and be prepared to get your hands dirty, for the very best reason. Please do not be afraid to try this delicious combination. It looks seriously delicious, and consuming seventeen times your daily percent value of sugar is always a nice way start the day.
Try it here.
2. Mystic Pizza Bagel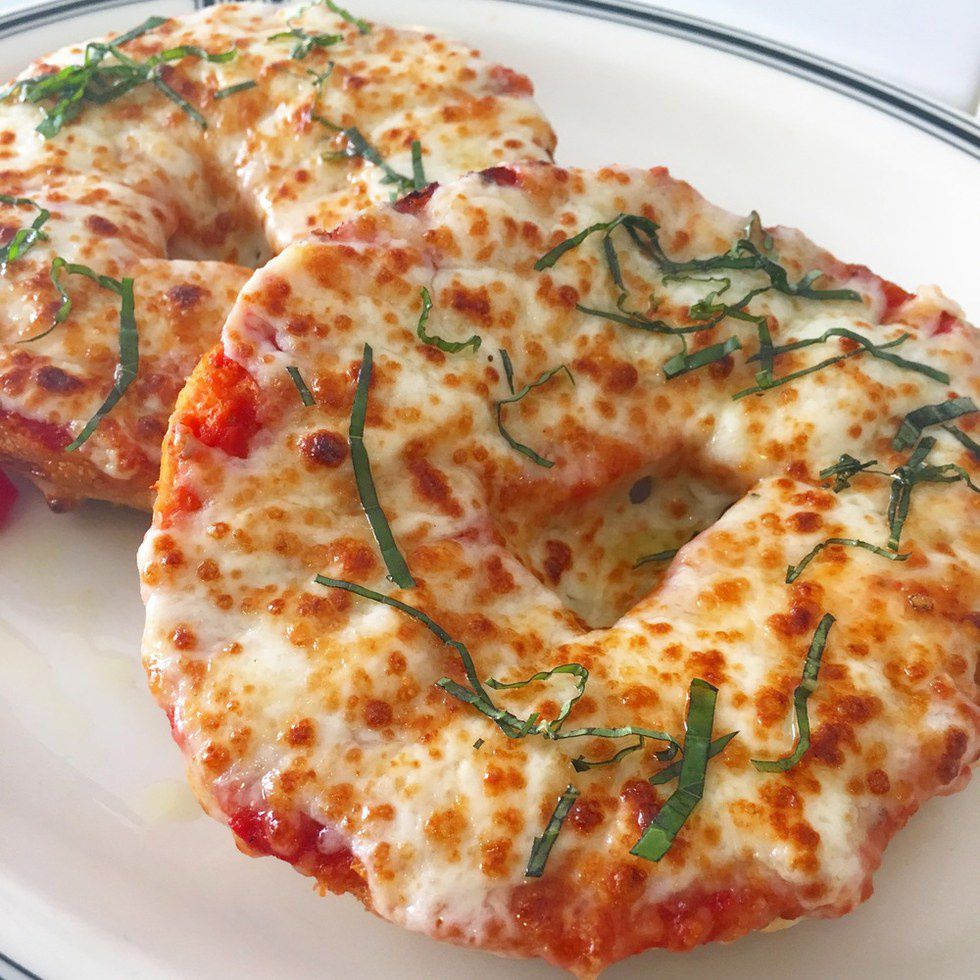 I know you have all watched cartoons and eaten hot Bagel Bites-- it's a childhood favorite among many. This dish is a mashup of Julia Roberts throwback, "Mystic Pizza," and those Bagel Bites. Even if you're not into pizza for breakfast, then check out any of the other wacky bagel mashups that are available, like the Pretty in Pink with beet and horseradish cream cheese.
Try it here.
1. Little Pizza Slices On A Big Pizza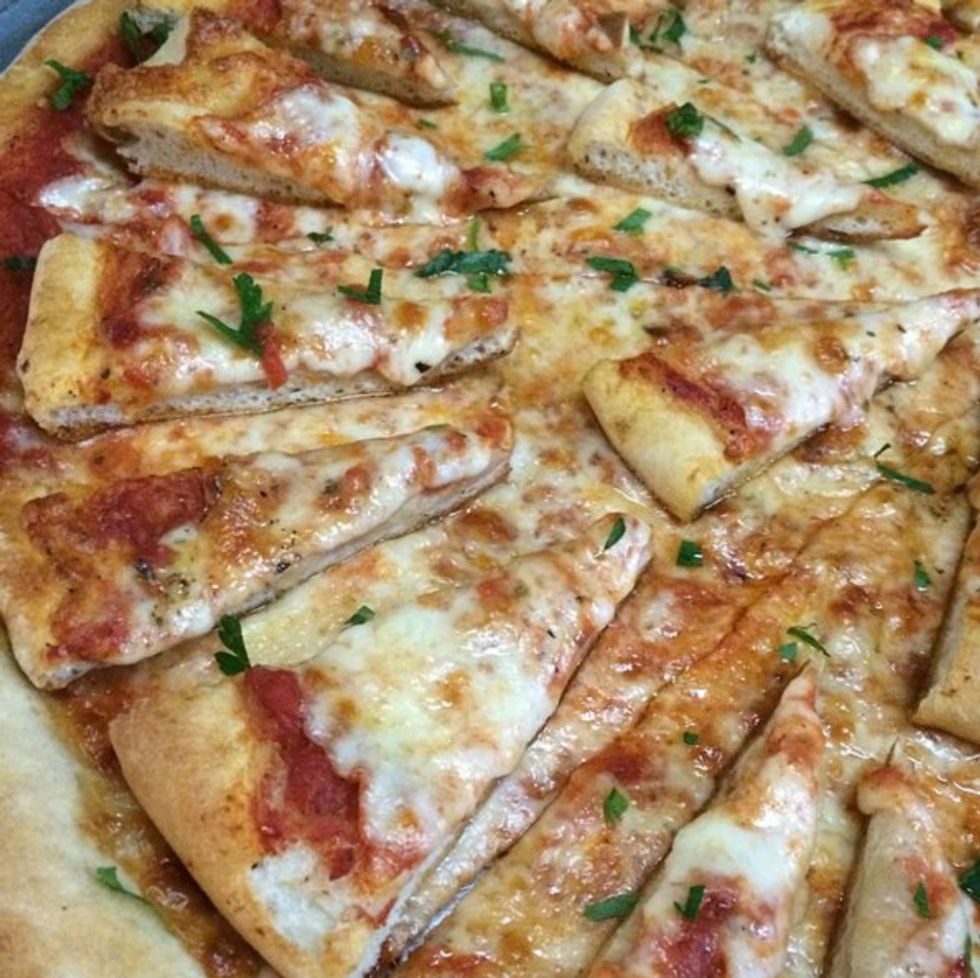 It is New York City; are you surprised that this is the number one choice? Vinnie's Pizzeria has taken pizza to a whole new level by putting little pizzas...on big pizzas! Believe it or not, this truly exists and it makes eating four slices much easier (minus all the guilt and weird stares).

Try it here.
Now go and explore all the insane things that NYC has to offer (and hopefully that will allow you to think about something other than the election results). Time to conquer NYC food one abstract food at a time!