As a person that struggles with anxiety, OCD, and depression, I have used a large variety of tools to improve my mental health. Throughout my life, I have visited therapists, participated in meditation, taken yoga classes, read self-help books, etc. None of these methods ever completely ended my anxious thoughts or hateful inner monolog, but they would help to provide relief. Whenever I hit a rough patch, I had a backlog of things that I could do that would help me get out of any murky thoughts that would come to bother me.
Recently, I started my freshman year of college, which was a huge change since I was coming from a seven-year all-girls school. This big change in environment triggered my anxieties and caused a great decline in my mental health. With the stress of a new school, new classes and having to make new friends, my usual methods of working through stressful thoughts would not work anymore.
Thus, I began looking into apps that are made specifically for people who struggle with OCD, anxiety or any other form of mental health disorders. I made this list to share with others ways they can use apps on their devices to work through having a brighter and healthier mental health.
1. Pacifica - Anxiety, Stress & Depression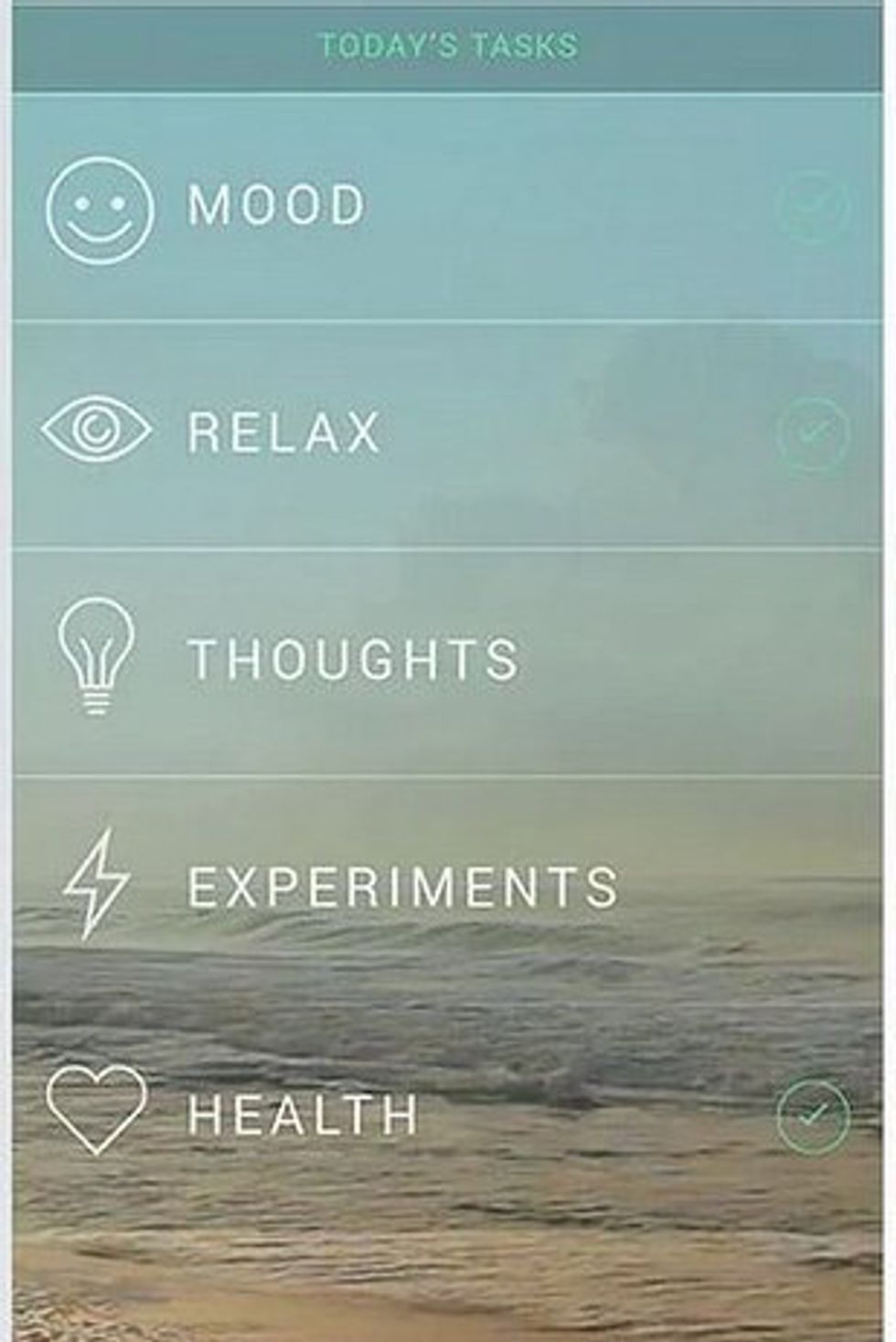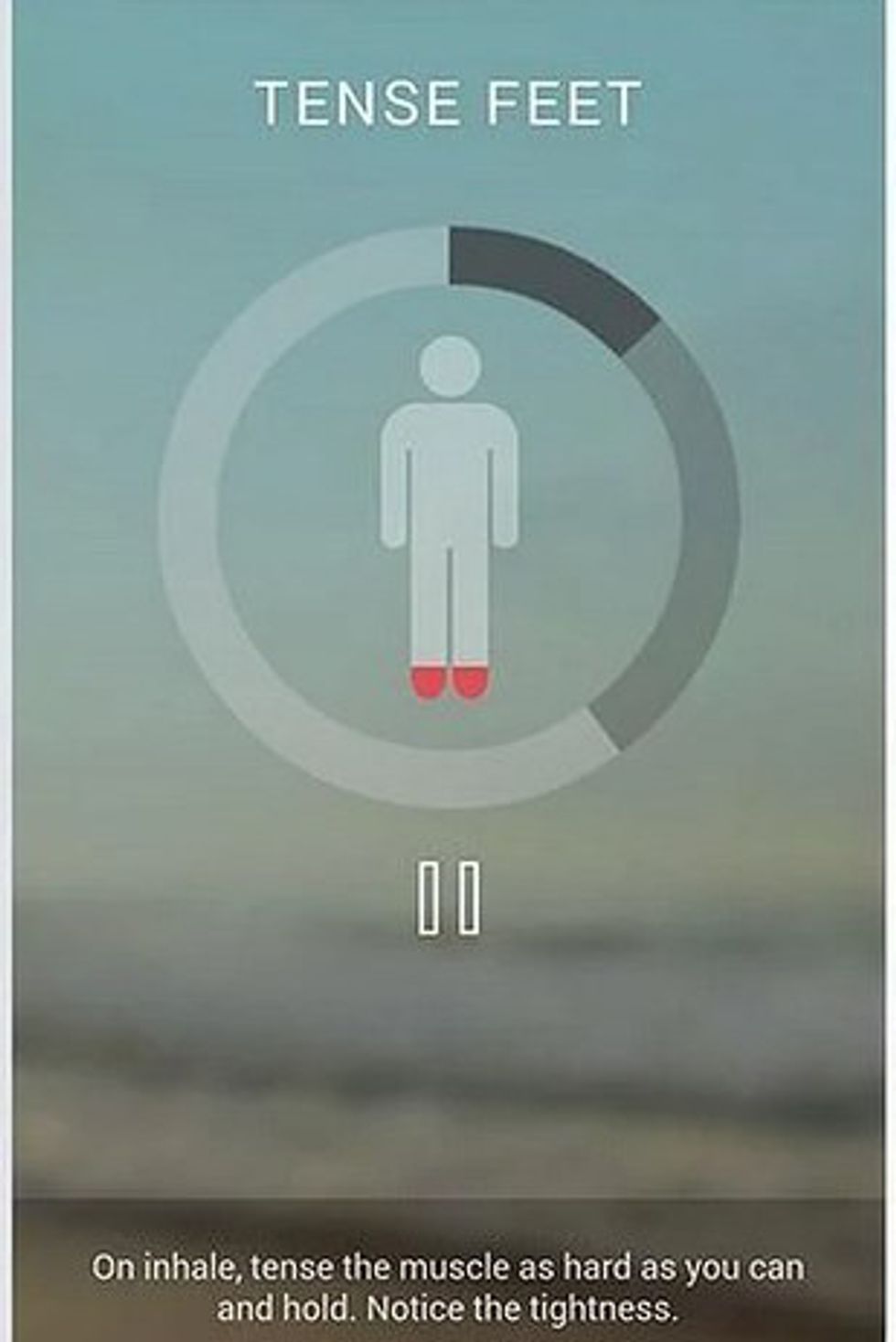 How Much: Free (iOS & Android)
What it is: This is an online journal where users can write down their current mood, thoughts, and feelings. The interface allows you to graph your ups and downs throughout the month.
What it helps with: Anxiety
Best Feature: Online community where you can talk to others who are using the app. I think having a support base is significant, and it also makes this app seem more personable.
Why I like it: What I like most is that by tracking your mood and anxiety levels, you can easily see what your triggers are and what brings out your stress. I also like that the app comes with guided meditations and breathing exercises, which you can easily use on the go with headphones.
2. Headspace - Guided Meditation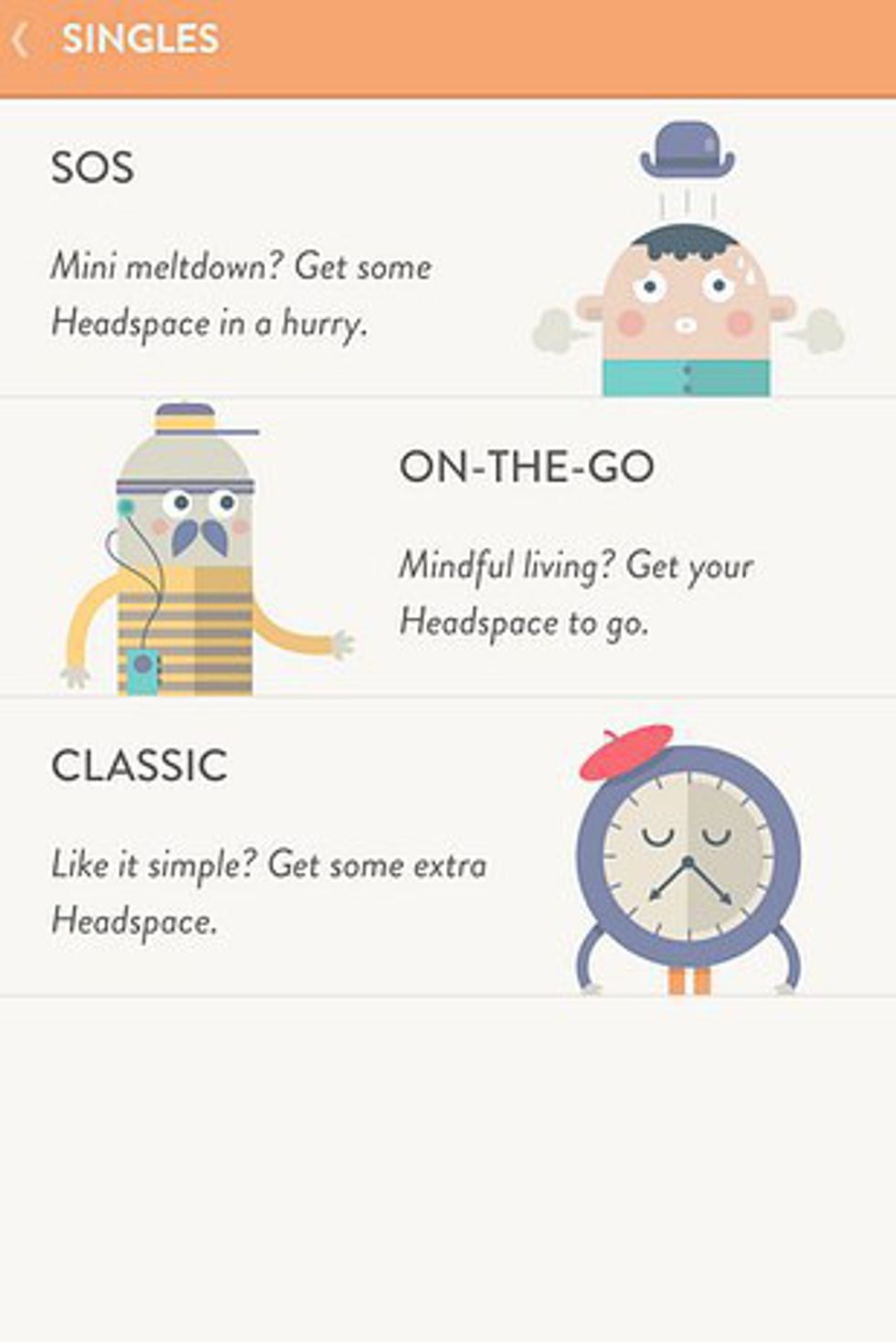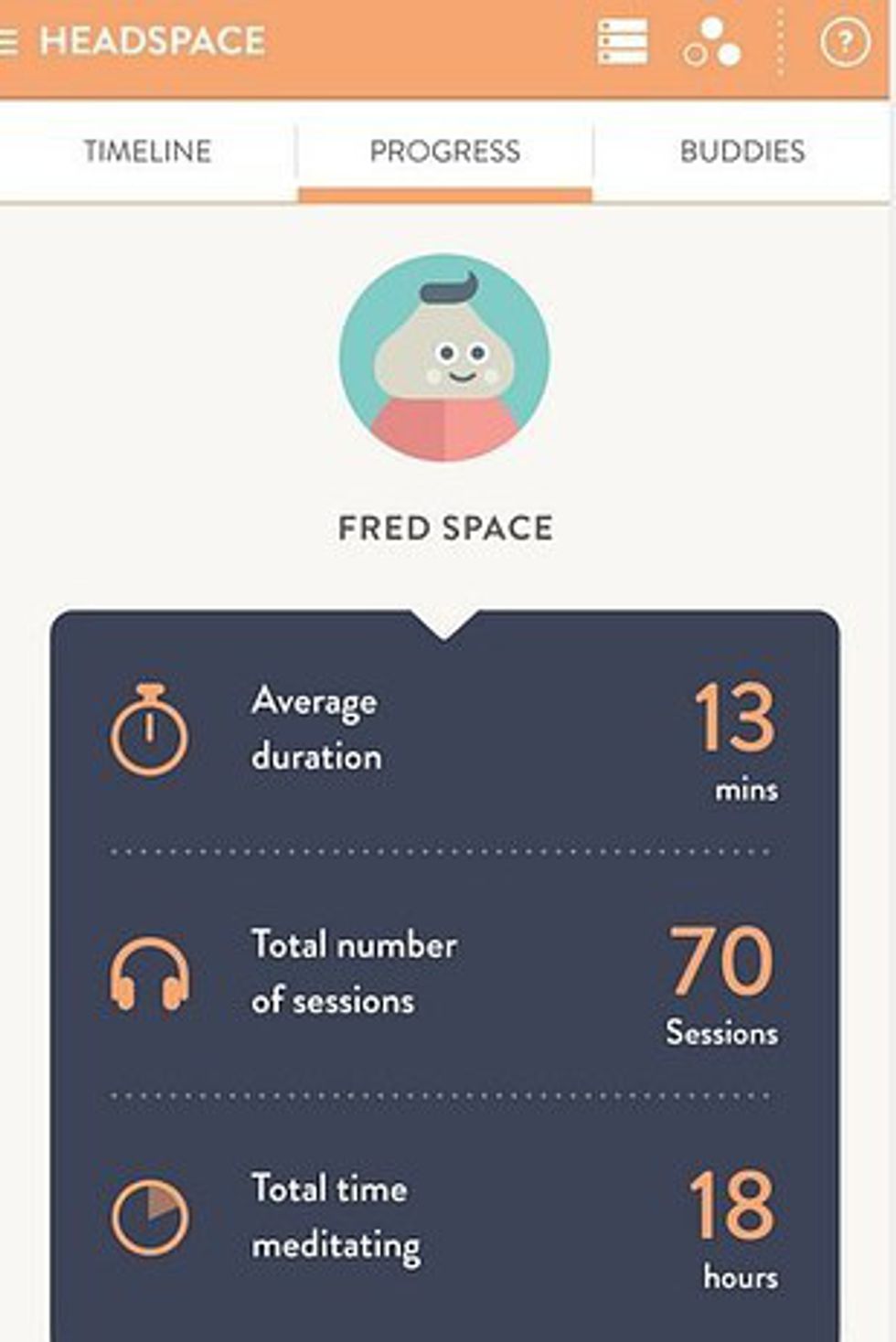 How Much: Free! But Headspace Premium is 12.95/month.
What it is: I have always dabbled in meditation whenever dealing with stress, but I never knew exactly how to meditate and if I was doing it right. Headspace is perfect for integrating meditation into your daily or weekly routine, and it is full of guided meditations for beginners and experts.
Best Feature: Headspace SOS is definitely the best part of this app. If you are ever feeling a great deal of stress and are in need of some quick relief, there are specific short three-minute meditations to use.
Why I like it: I love this app because of how it simplifies meditation. When you first download the app, you can start the "take ten" program. This teaches you the basics of meditation for ten minutes a day, in ten days. It has meditation for whatever you are looking to work on.
What it helps with: Stress, anxiety, memory loss, lack of focus, creative blocks, interpersonal relationships
3. Breathe2Relax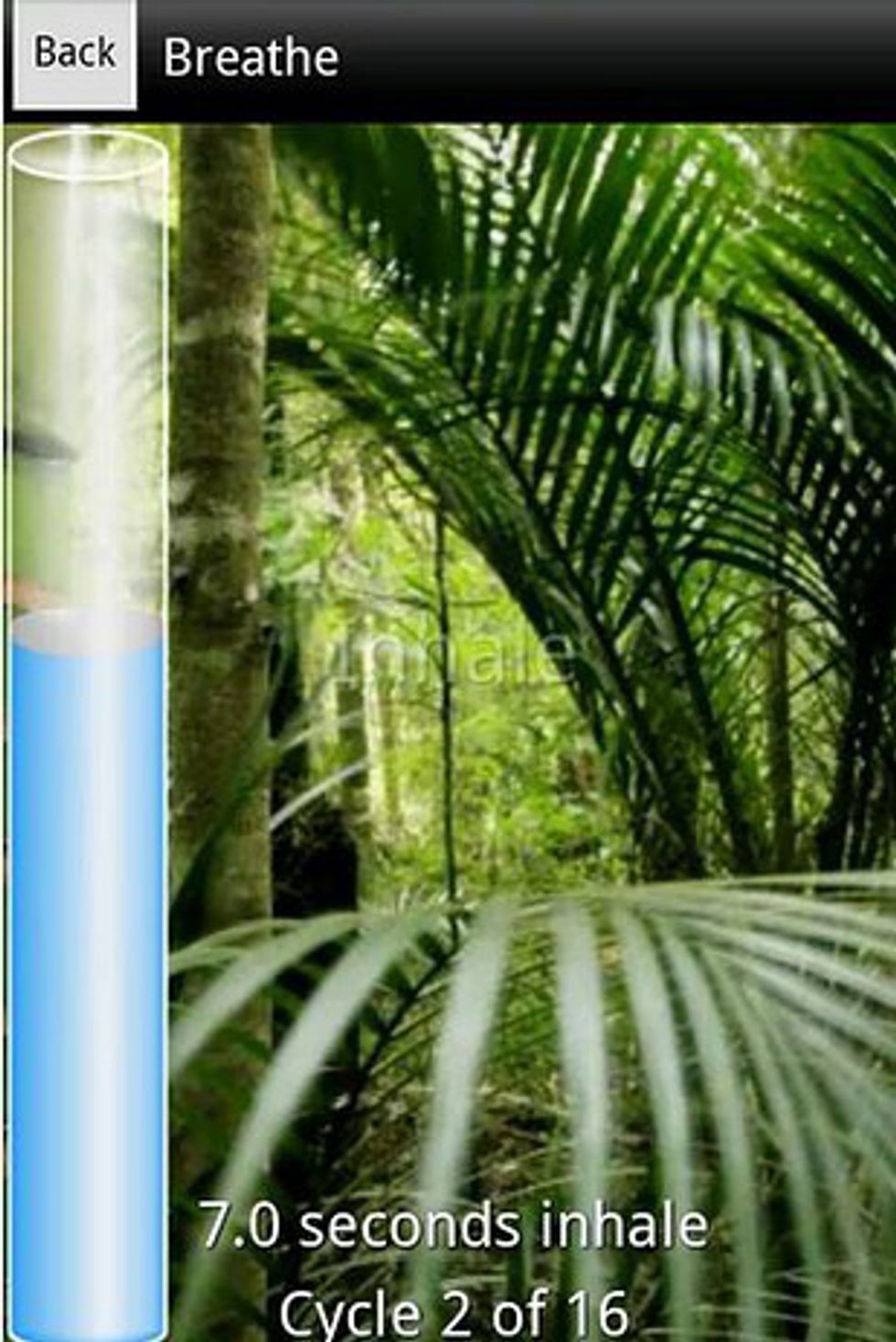 What it costs: Free (iOS & Android)
What is it: This no-fuss app, developed by the National Center for Telehealth & Technology, guides you through diaphragmatic breathing (or "belly breathing"), allows you to record your own stress level, and provides informative videos and graphics about the consequences of stress.
What it helps with: Anxiety, anger, mood instability
4. PTSD Coach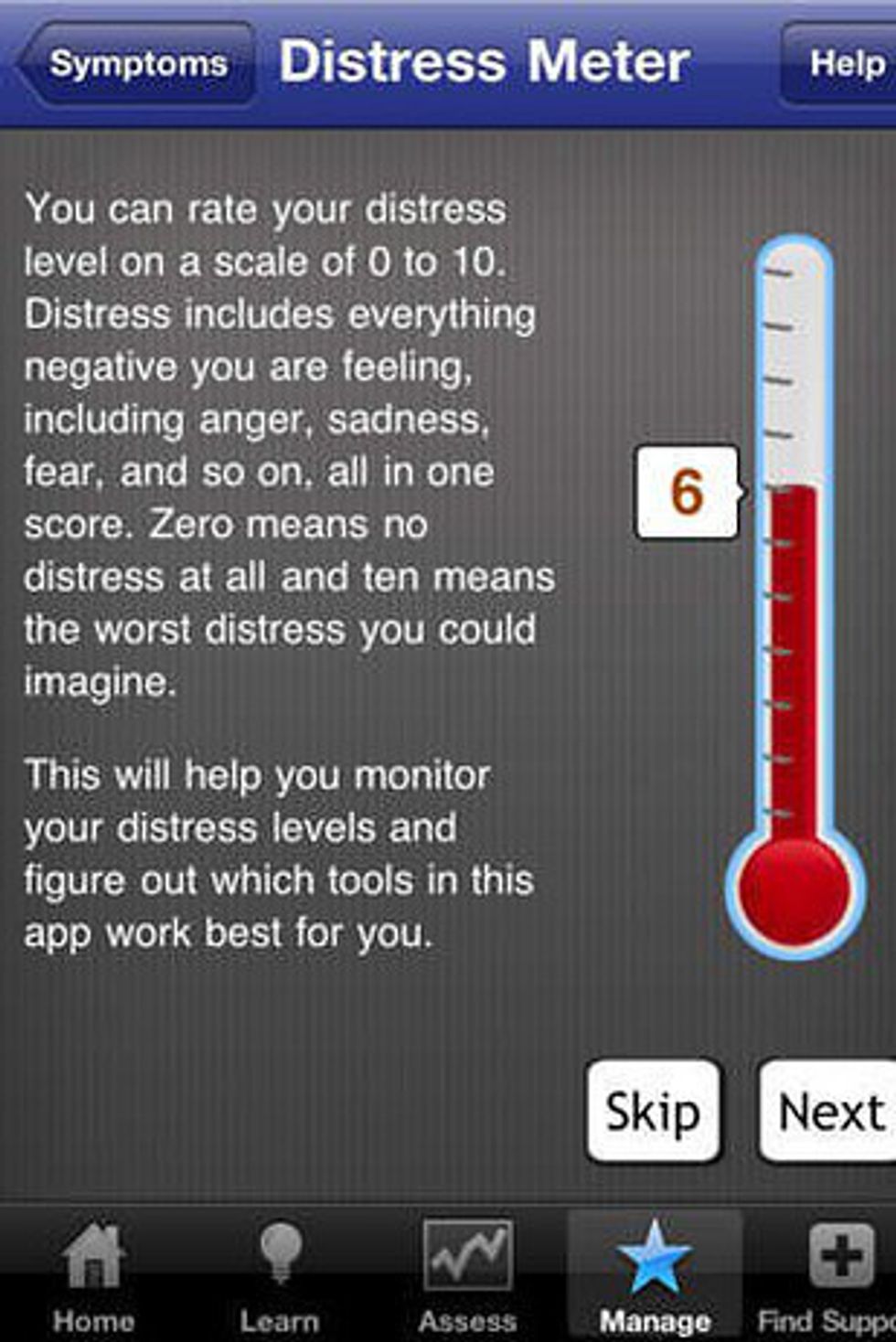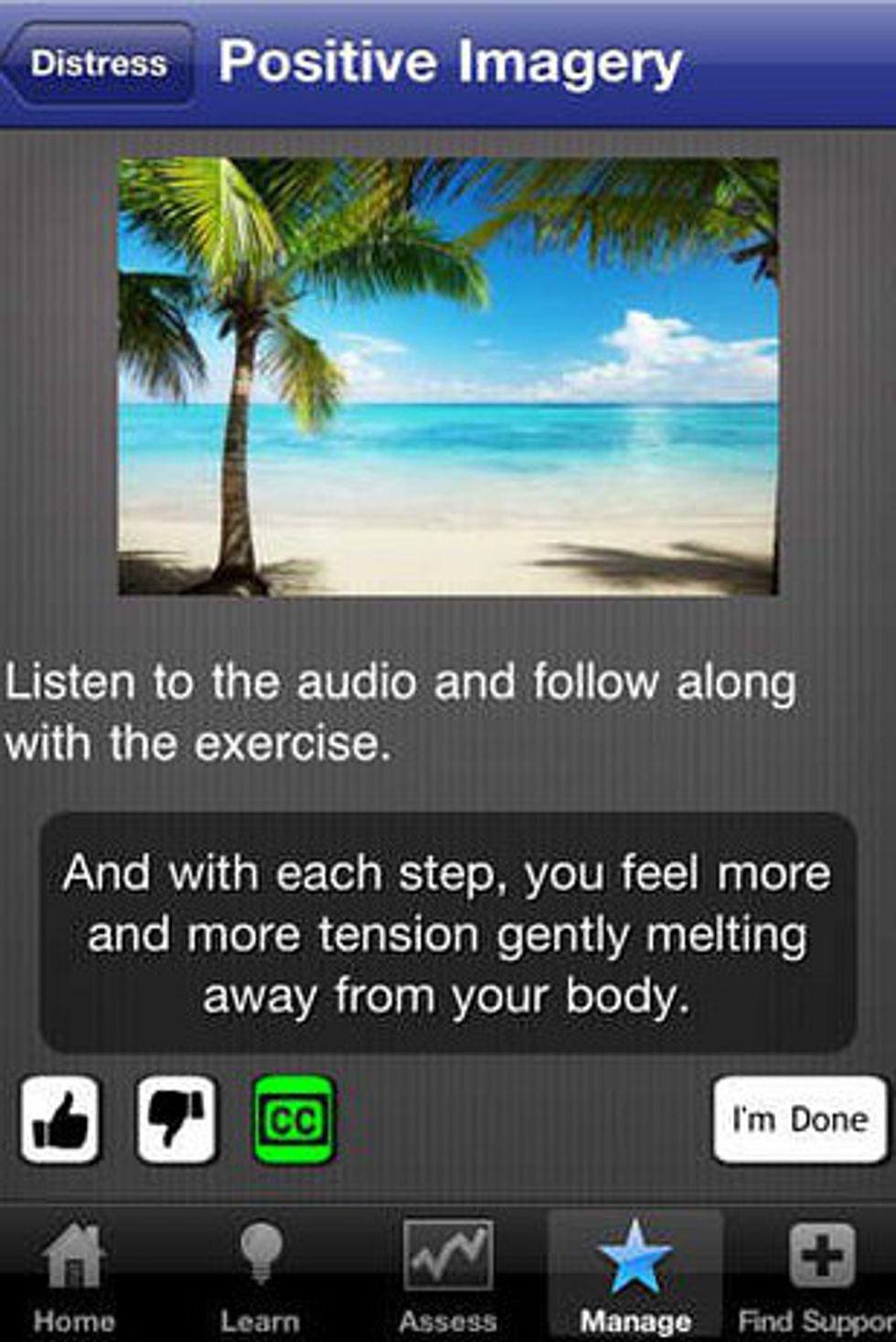 What it costs: Free (iOS & Android)
What is it: This app from the National Center for PSTD, designed specifically for veterans, educates users about PTSD and its treatment. It offers a self-assessment tool, links users up to support groups, and provides stress management tools.
What it helps with: PTSD
5. Positive Activity Jackpot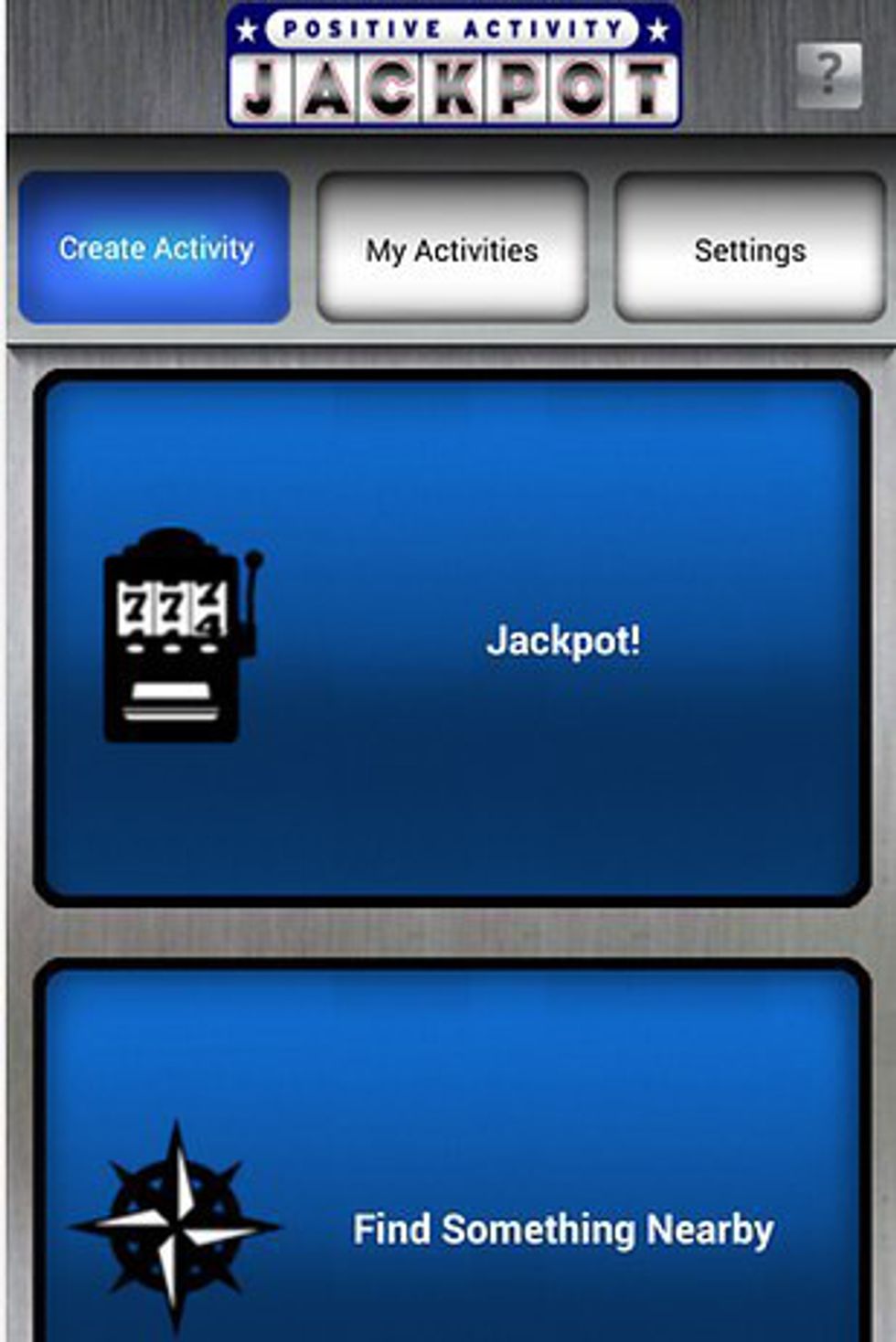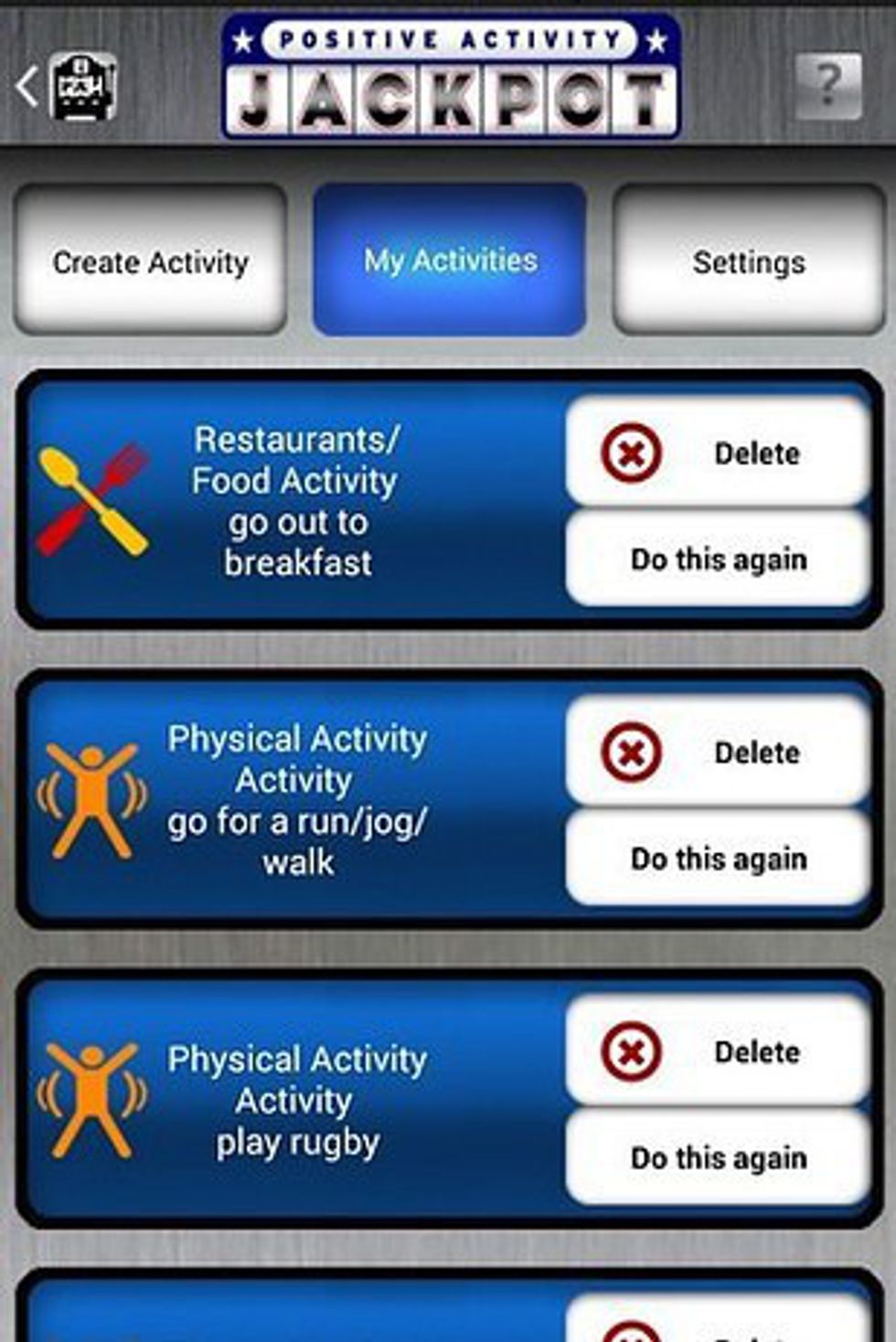 What it costs: Free (Android only)
What is it: This one's another from the National Center for Telehealth & Technology, and draws on a therapeutic method called Pleasant Event Scheduling (PES). The app suggests activities based on location and interests, allows users to invite friends, saves favorite spots and activities for future use. If you can't choose, you get to "pull the lever" and see what the app sends you.
What it helps with: Depression
6. Recovery Record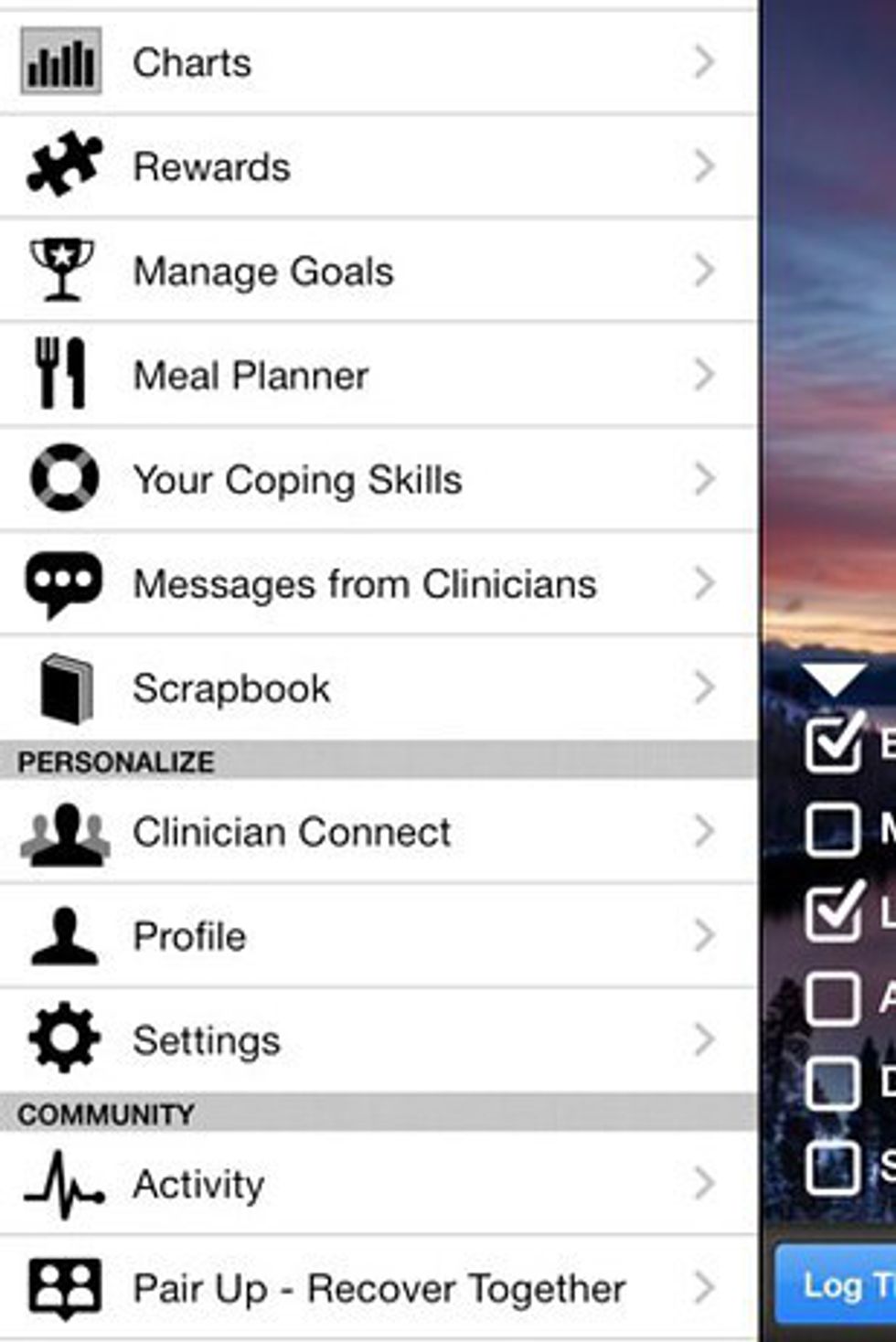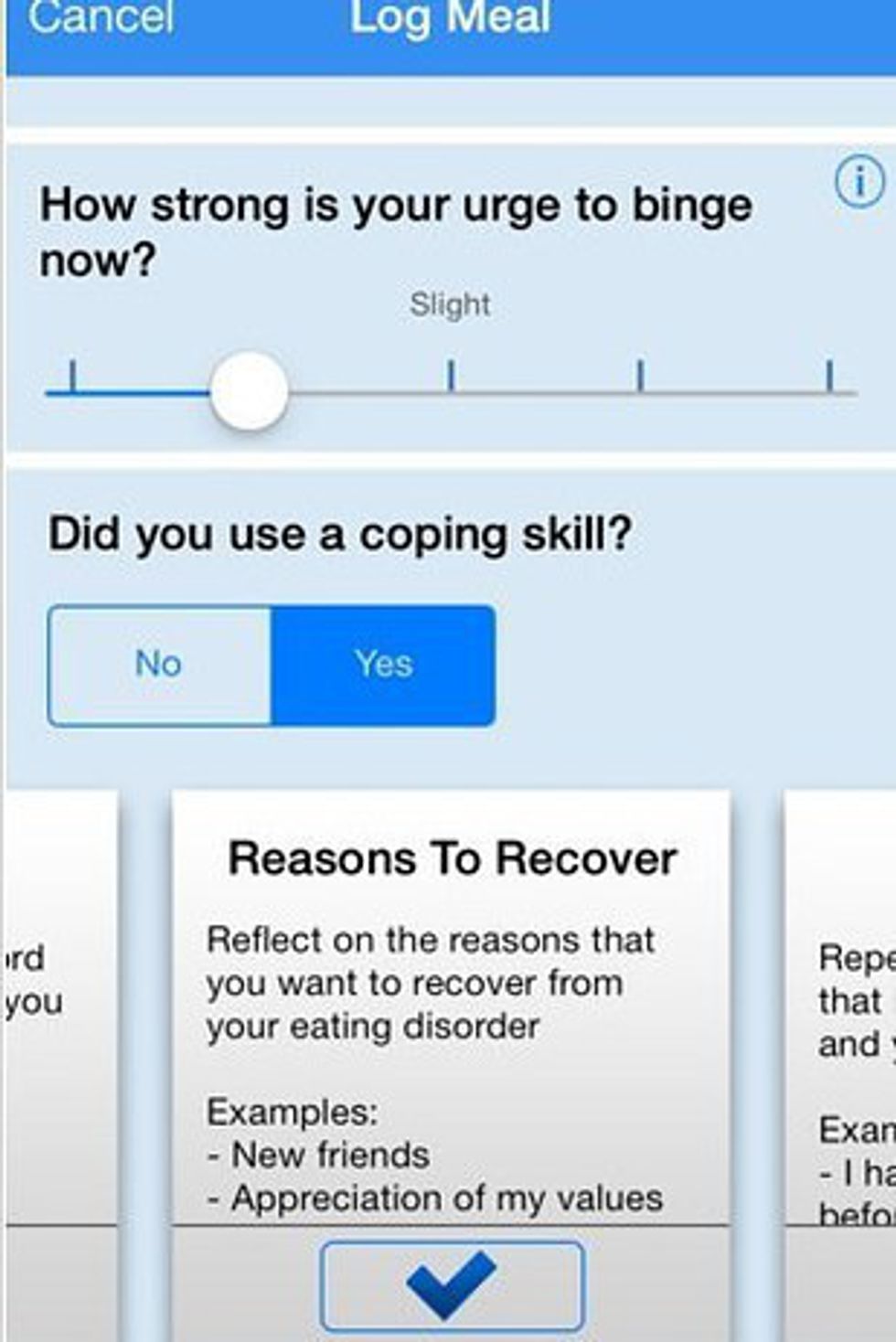 What it costs: Free (iOS & Android)
What is it: Recovery Record— drawing from cognitive behavioral therapy and self-monitoring methods— is the highest-rated app for eating disorder recovery. It allows users to keep a food and feeling journal; create customizable meal plans, coping tactics, and goals; track progress through questionnaires, which is visualized on charts; link up to a treatment team and community that can offer real-time feedback and support and schedule personalized reminders.
What it helps with: Eating Disorders
7. Acupressure: Heal Yourself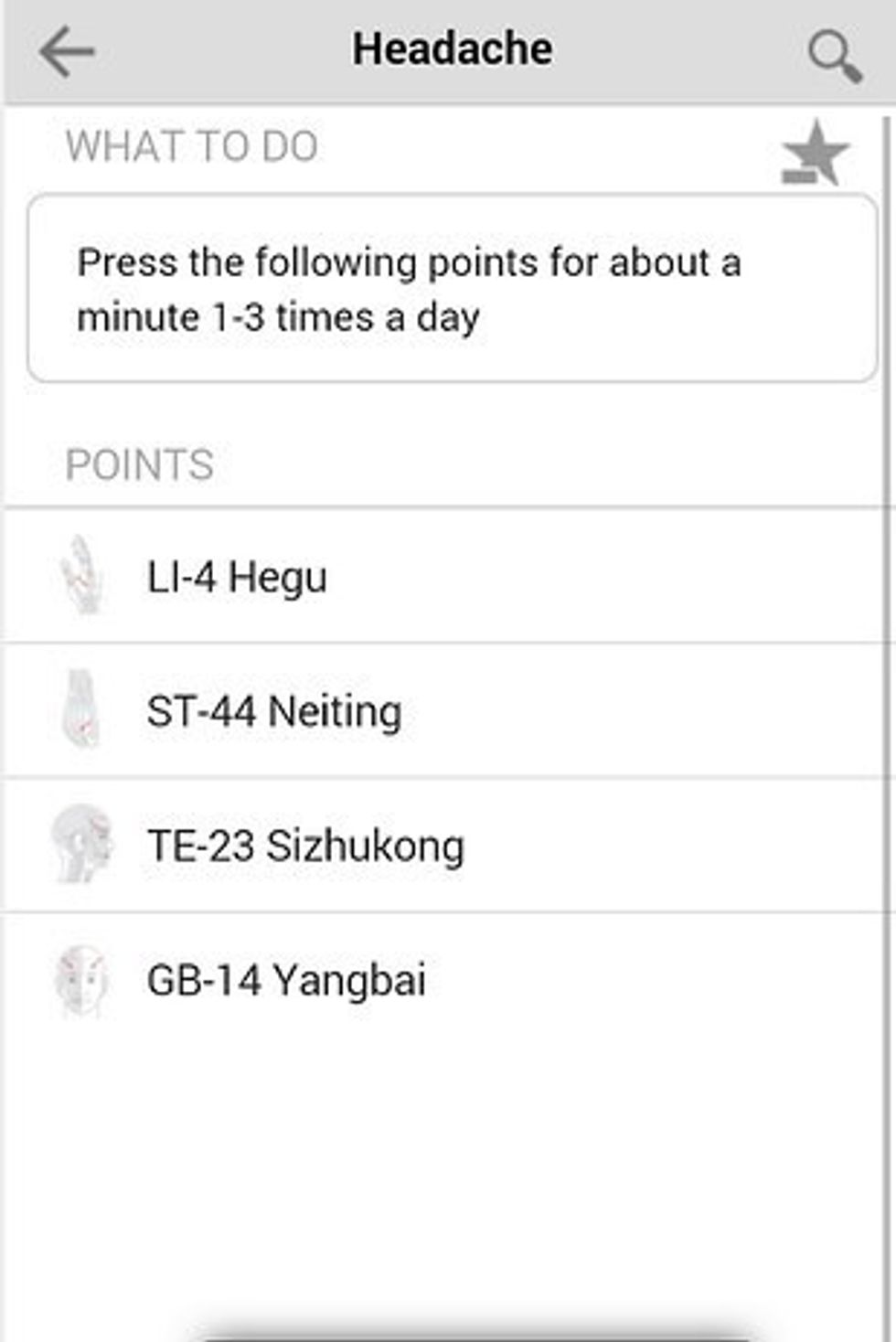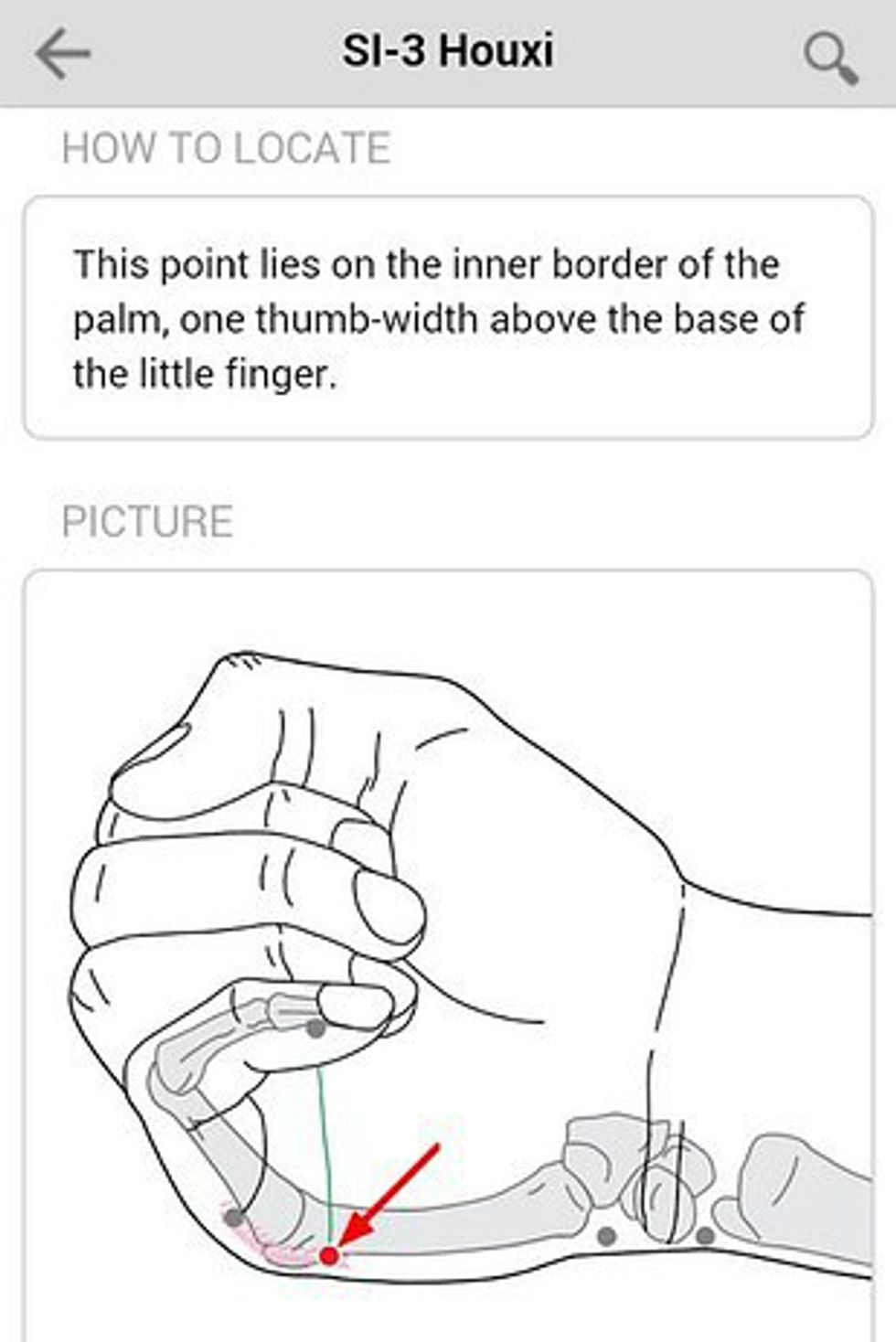 What it costs: $1.99 (iOS & Android)
What is it: This app is a beginner's guide to acupressure: the ancient practice of applying pressure to key points on your body in order to ease symptoms. It offers illustrated guides and over 90 acupressure combinations to target specific problems.
What it helps with: Anxiety, stress, addiction, physical pain, and discomfort
8. Worry Watch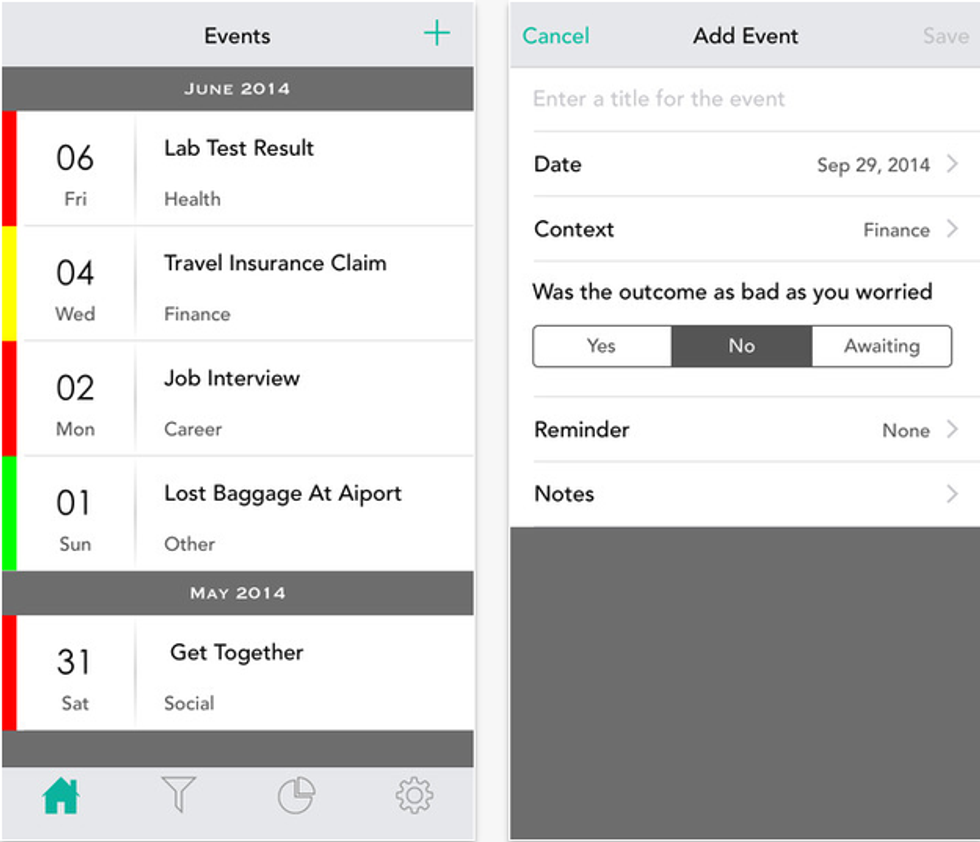 What it costs: $1.99 (iOS only)
What is it: Worry Watch is primarily a journaling tool, offering a clean and user-friendly way to log daily instances of worry, anxiety, or fear, along with the outcomes of each situation (did what you feared would happen actually happen?) — as well as tools to track and chart trends by day or month.
What it helps with: Anxiety
9. Relax Melodies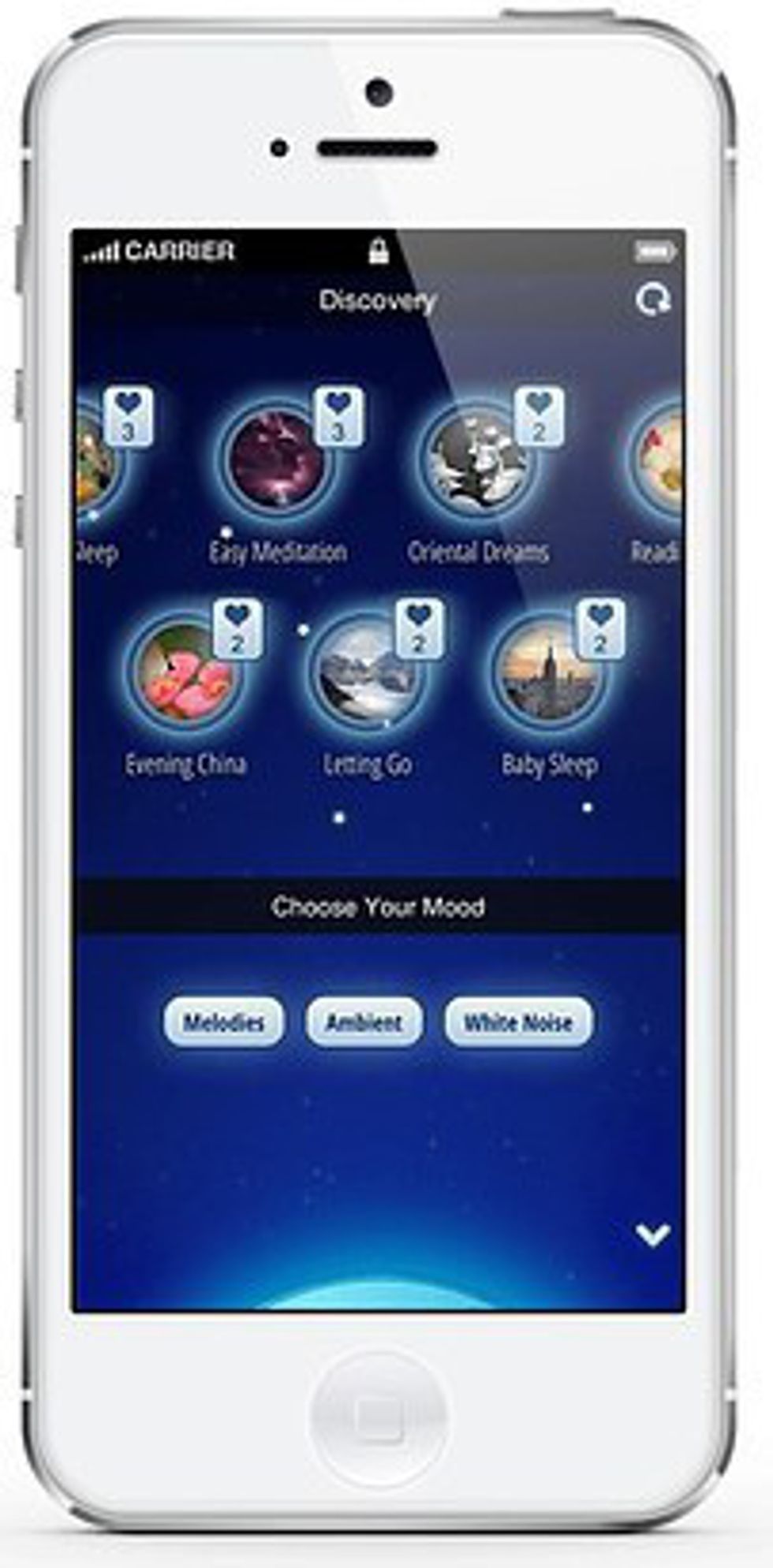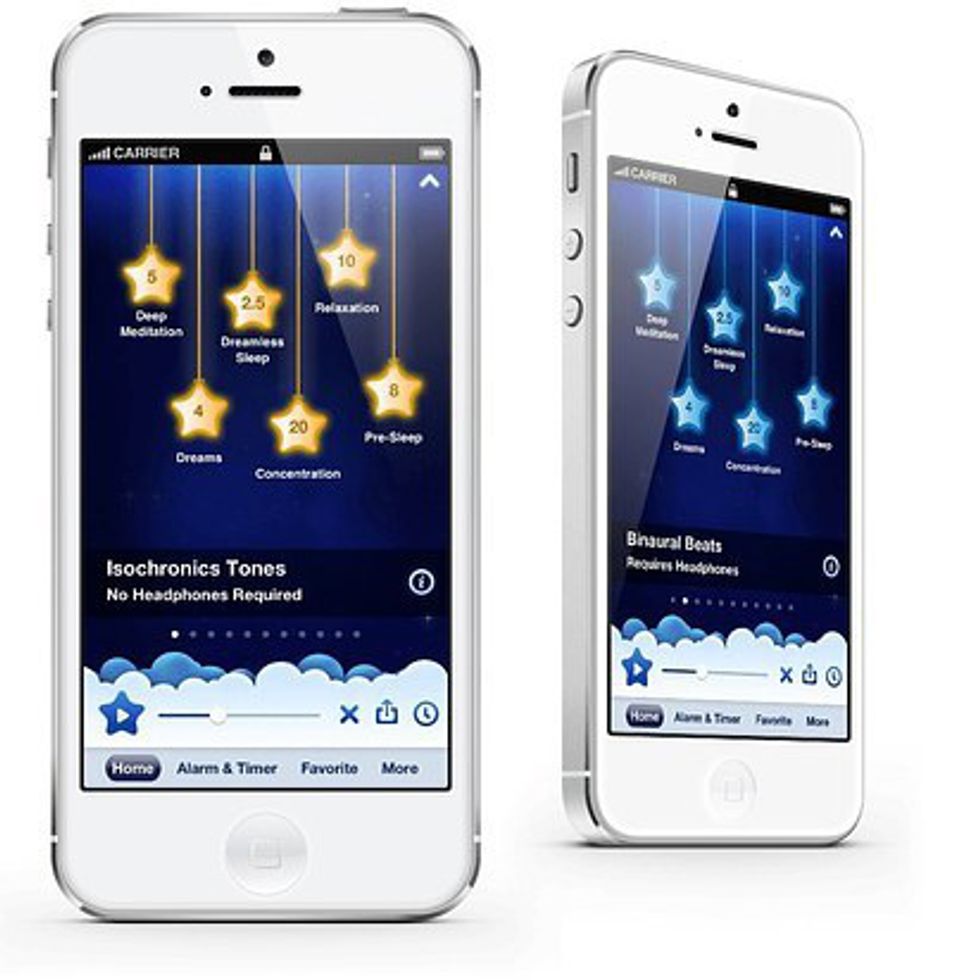 What it costs: Free (iOS & Android)
What is it: Relax Melodies is the leading personalized sleep aid, offering a bank of over 50 sounds and tunes that each user is allowed to mix and customize to their preference, as well as access to the Relax Melodies blog for lifestyle tips on sleeping better.
What it helps with: Insomnia, stress
10. I Can Be Free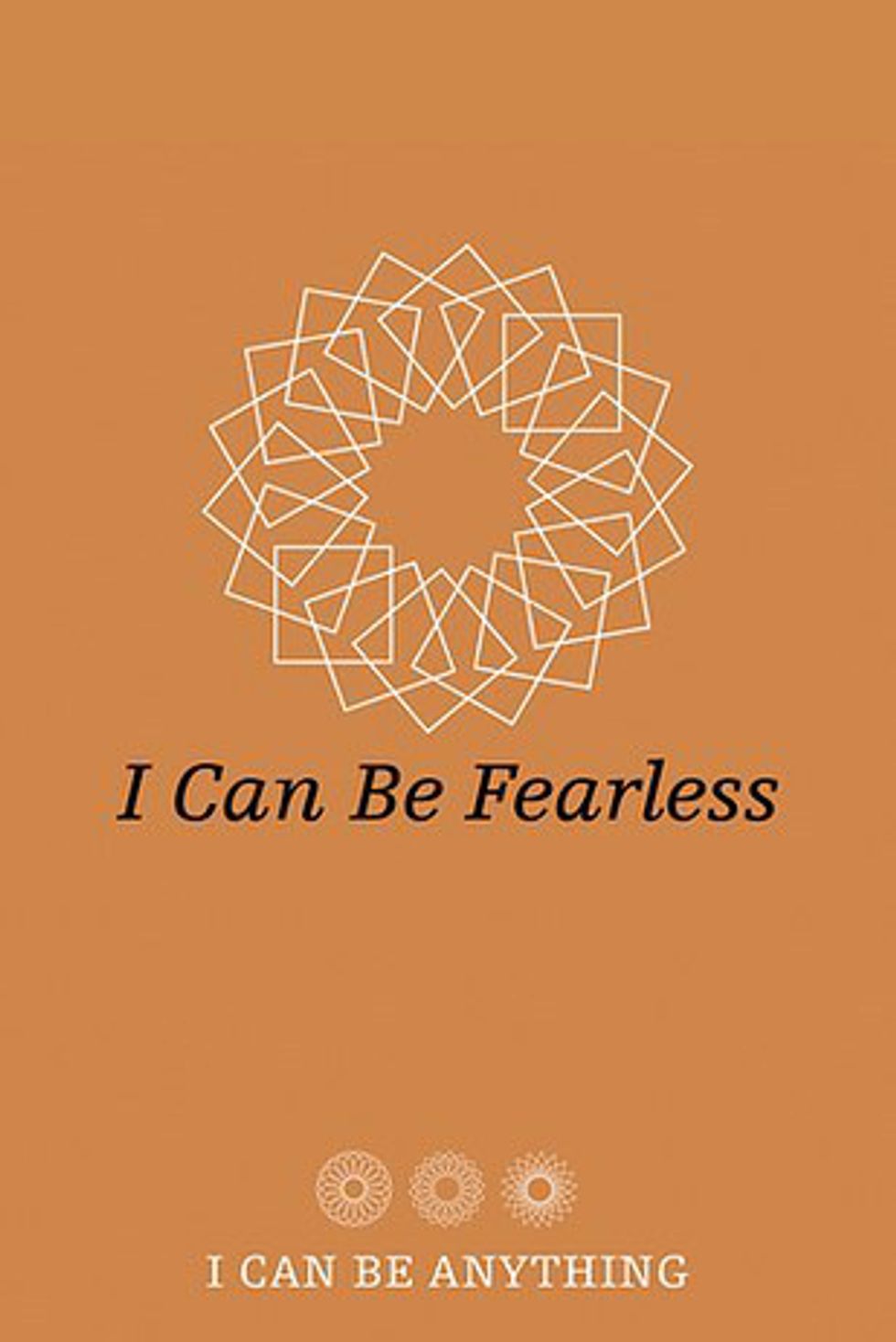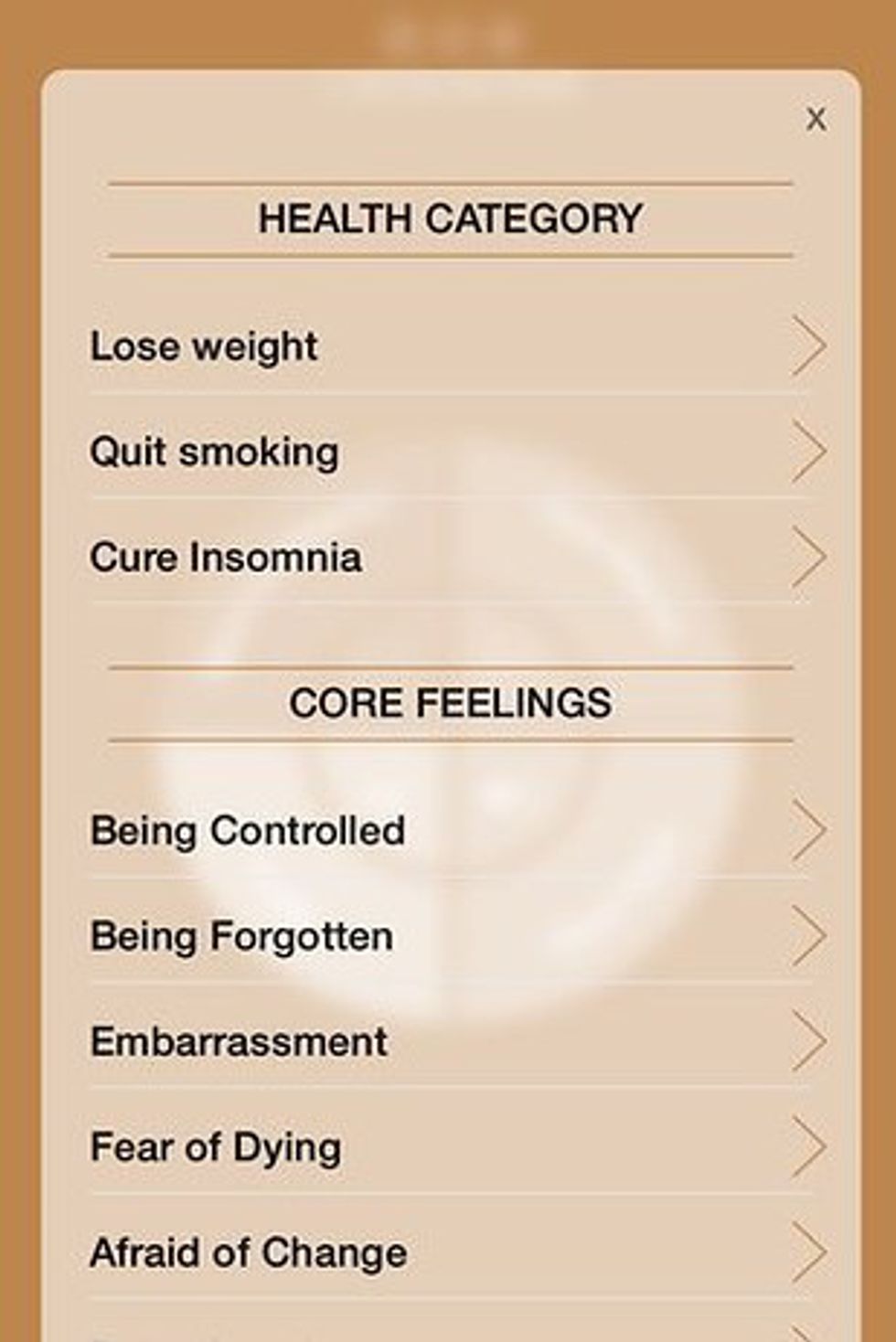 What it costs: Free for the first session, $2.99 per additional recordings (iOS & Android)
What is it: Famous hypnotist Jacob Strachotta offers over 50 audio hypnosis sessions, targeting different fears (everything from flying, to dying, to public speaking, to bugs or ghosts) and personal hurdles (like quitting smoking or gaining confidence).
What it helps with: Anxiety, phobias, insomnia, low self-esteem
11. Stress Doctor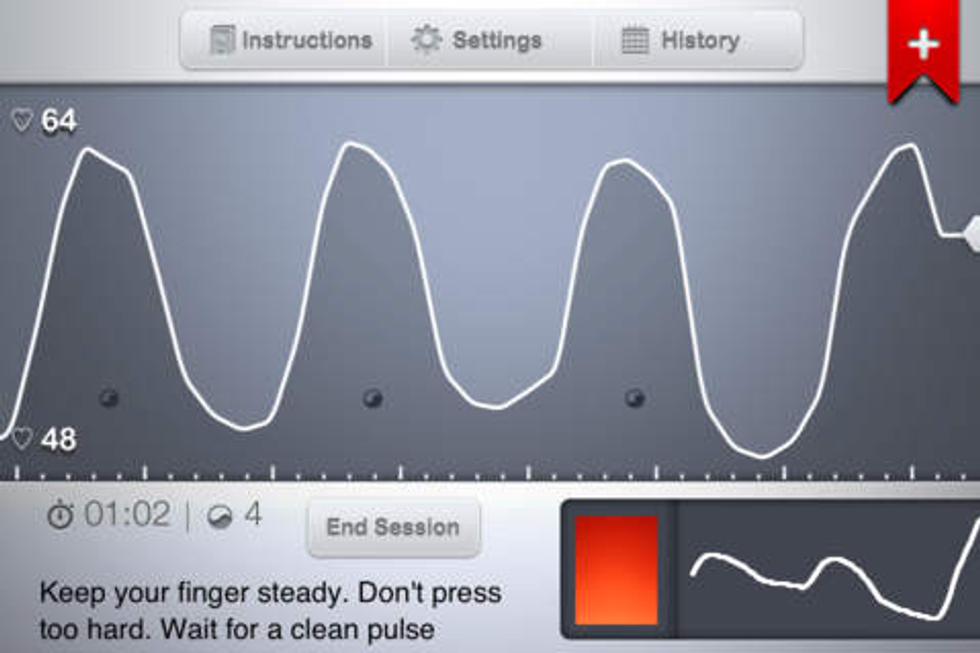 What it costs: $4.99 (iOS only)
What is it: Stress Doctor, which guides you through a deep breathing exercise, promises to calm you down and even put your heart rate in just five minutes. What makes this app stand out is its ability to provide real-time biofeedback by monitoring and graphing your pulse as you breathe. It also allows you to save your history to track progress.
What it helps with: Anxiety, stress
12. MindShift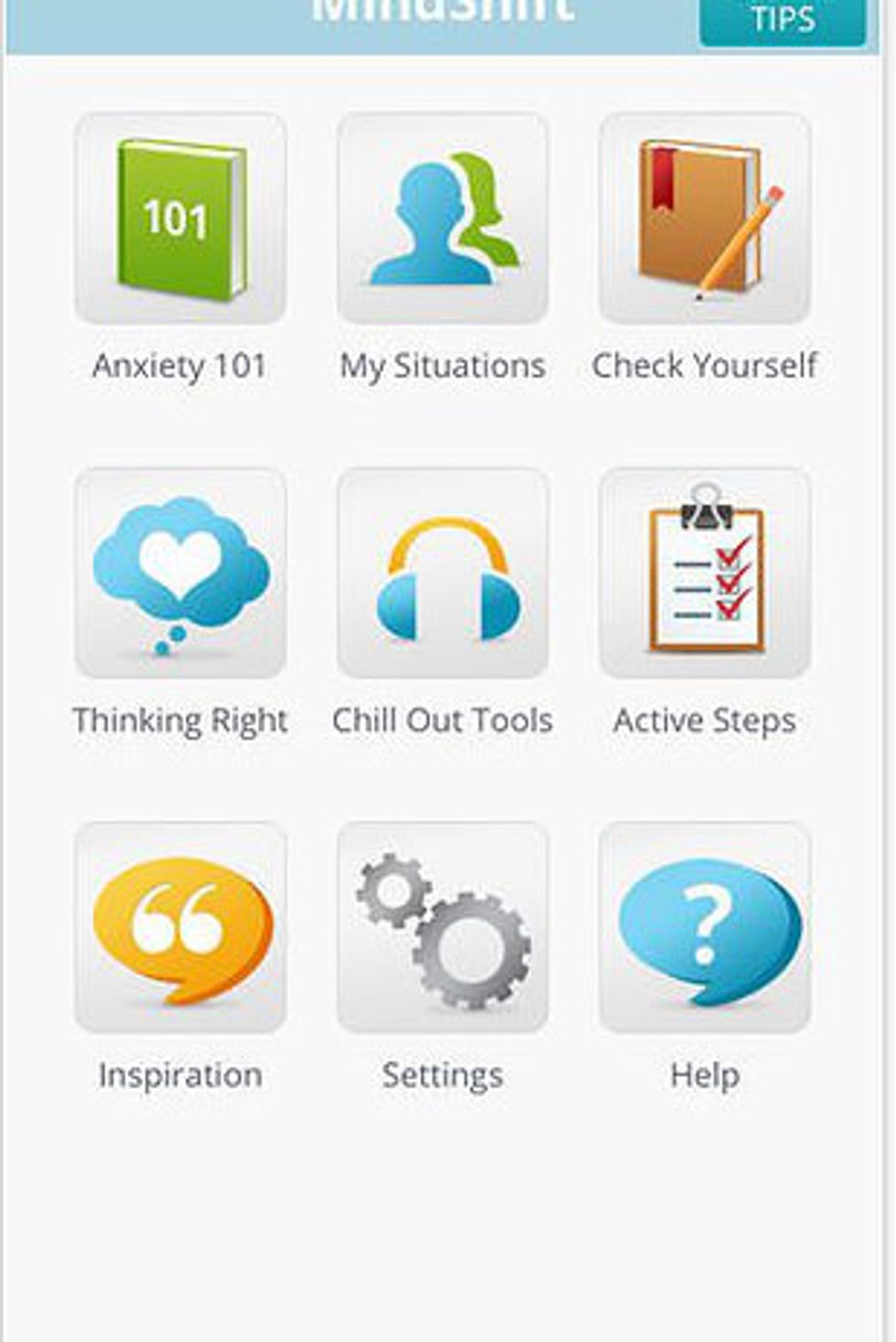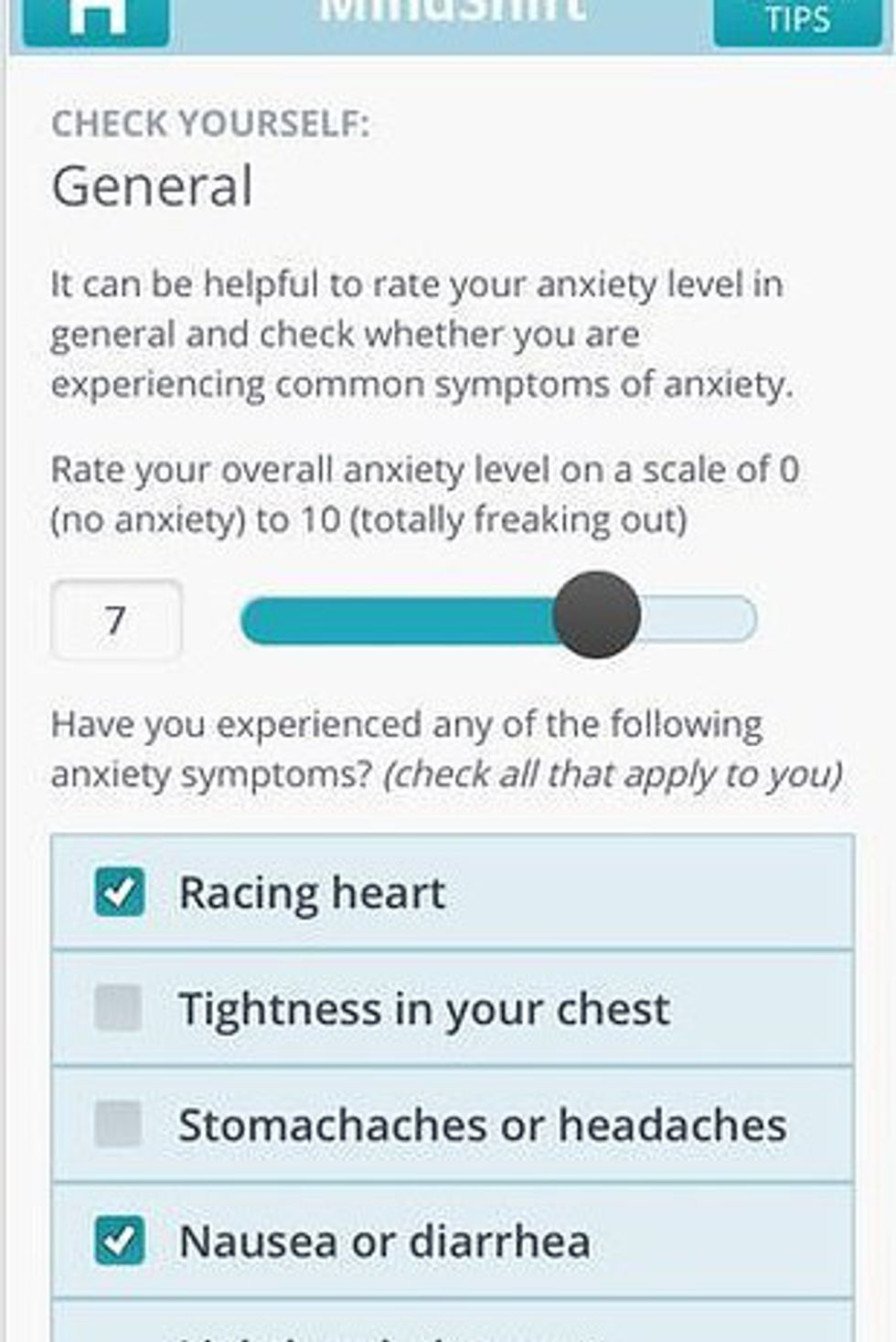 What it costs: Free (iOS & Android)
What is it: This teen-targeted app offers strategies for facing anxieties related to socializing and school, with journaling tools, positive thinking exercises, symptom trackers, and relaxation tips.
What it helps with: Anxiety, teen- and young-adult-specific
13. Optimism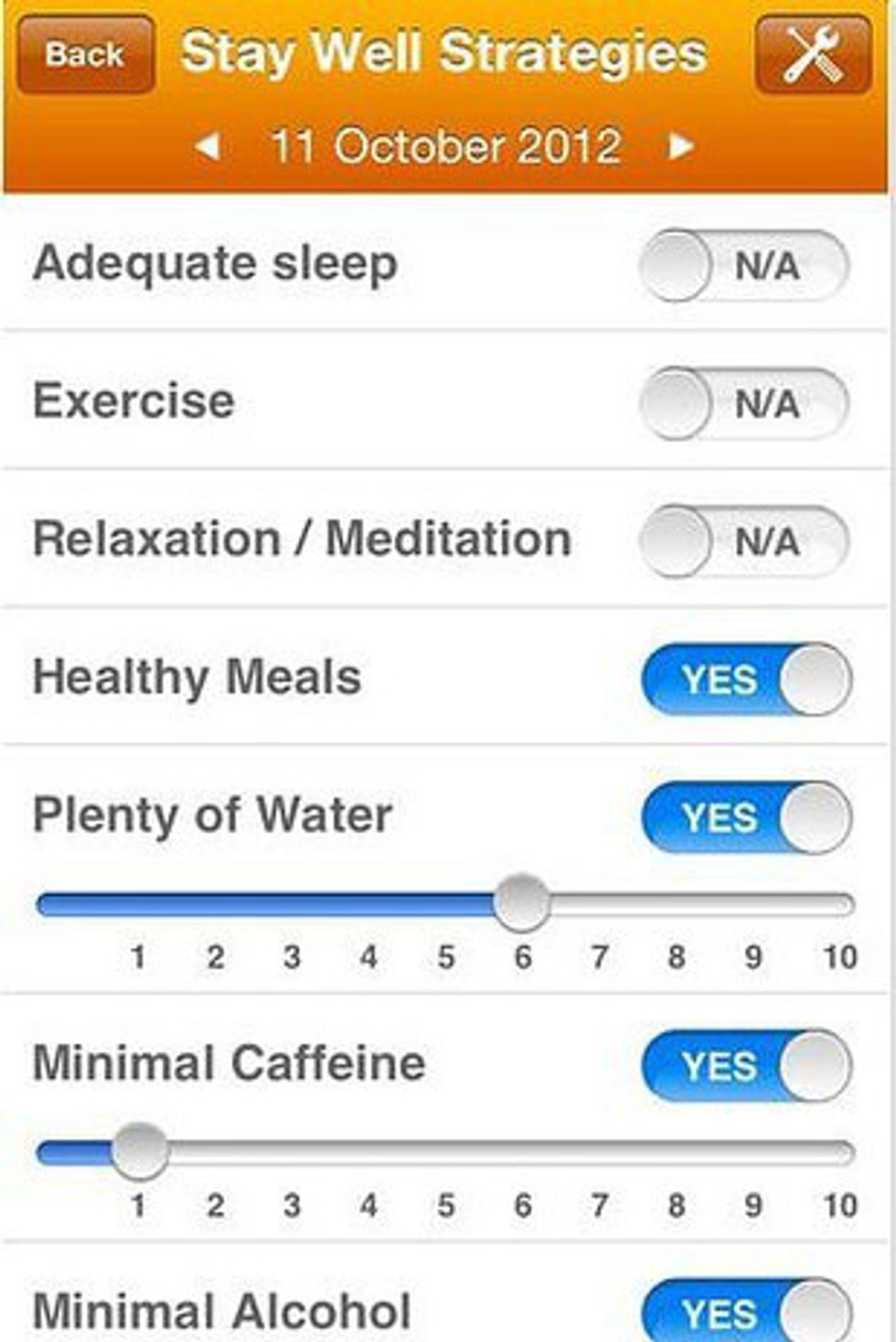 What it costs: Free (iOS only)
What it is: This app is primarily a way to track moods, providing space to keep daily records of symptoms, triggers, and "stay well strategies," and then visualizes that data with graphs.
What it helps with: Depression, bipolar disorder
14. Meeting Finder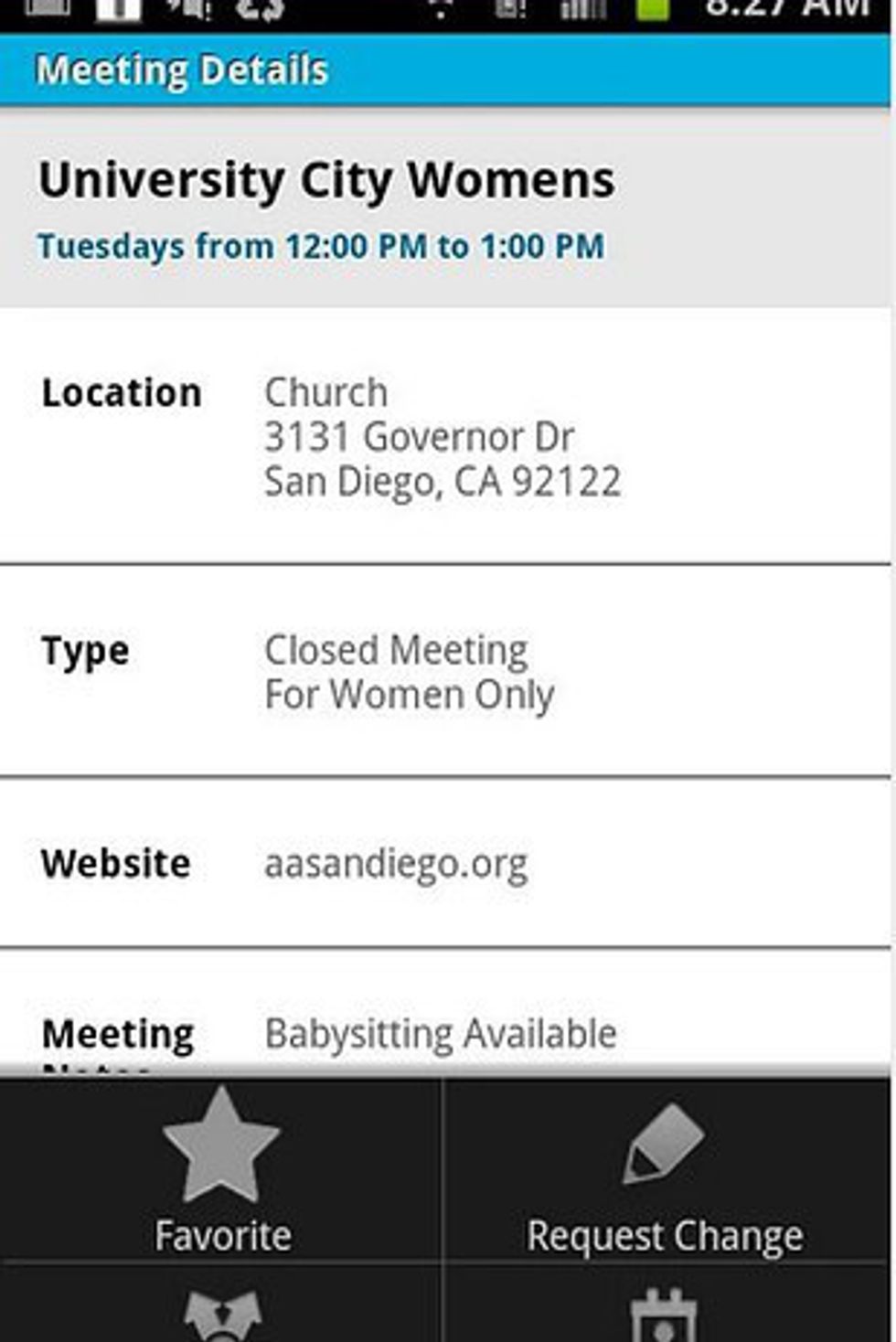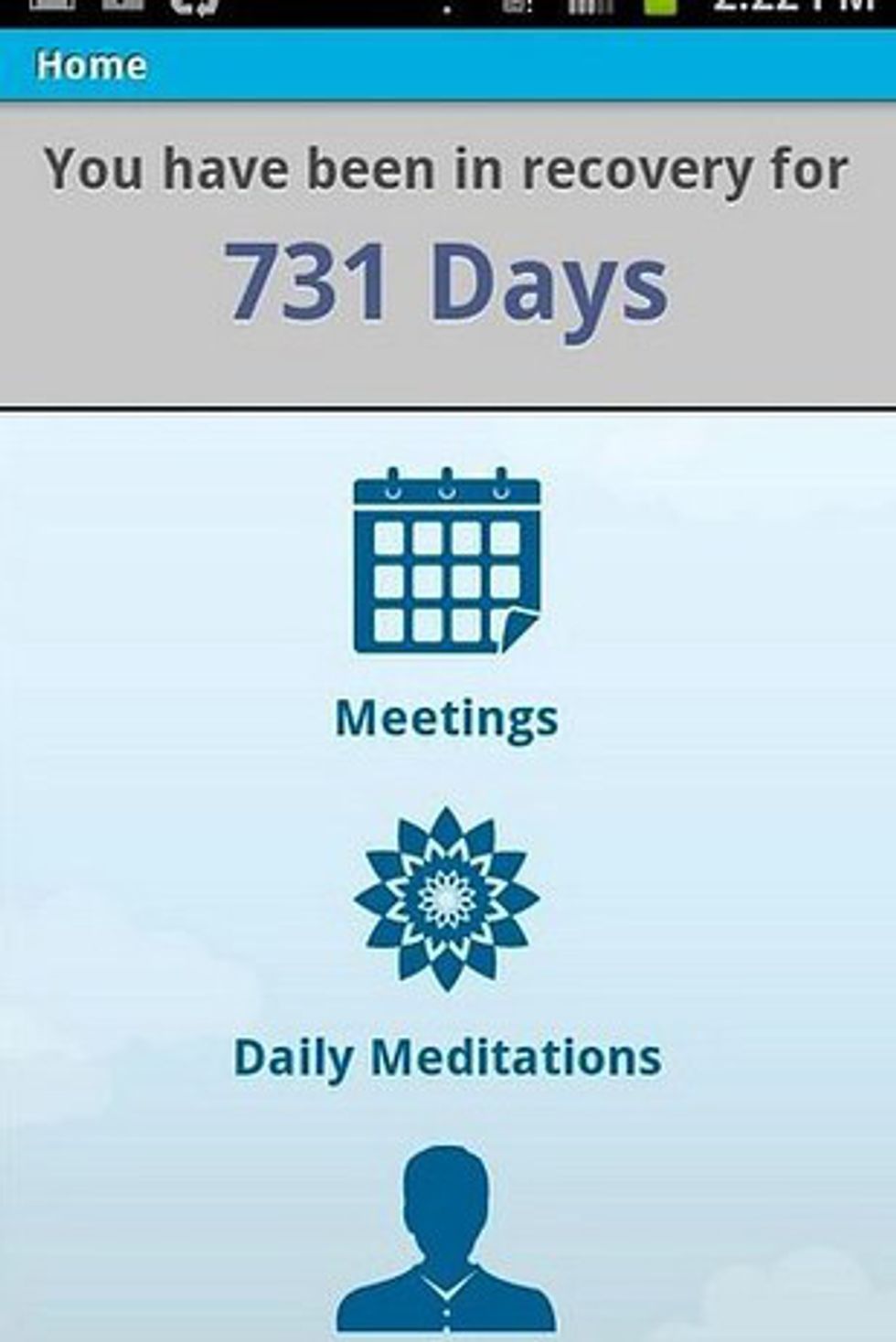 What it costs: Free (iOS & Android)
What it is: The name says it all — this app links users up to local 12-step meetings anywhere in the U.S. (e.g, Alcoholics Anonymous, Overeaters Anonymous, Gamblers Anonymous) and allows users to search with specific parameters (like women/men only) as well as save favorite spots. It also tracks the length of your recovery and provides daily meditations.
What it helps with: Eating disorders, addiction, compulsion
15. Happify - Science Based Games & Activities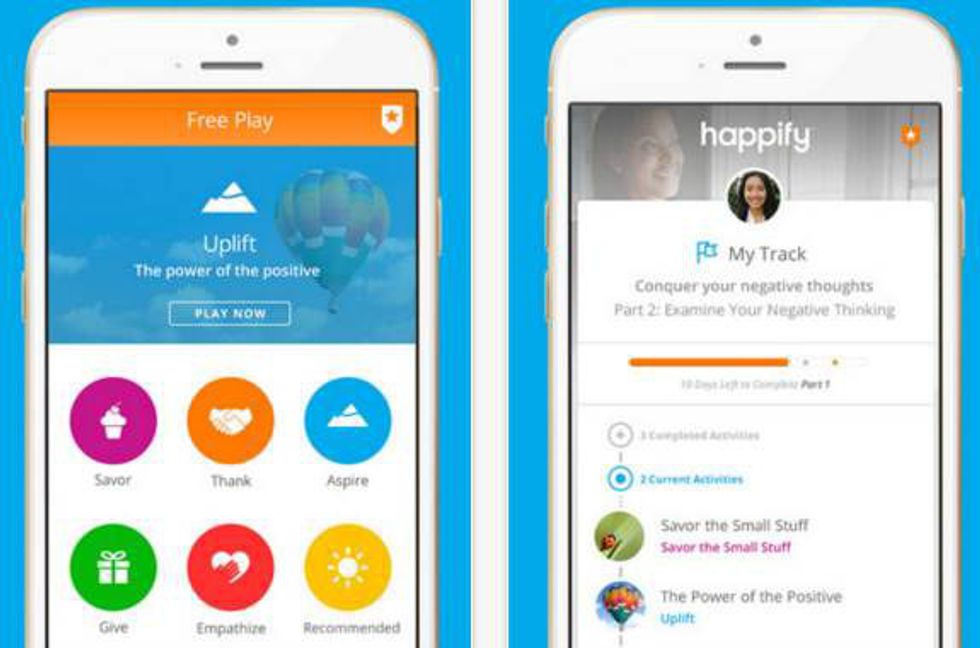 How Much: Free! But there is a premium version for $4.99/month.
What it is: This is an app that provides the user with a variety of activities and games that are scientifically researched to improve happiness and lower stress.
Best Feature: I love the weekly check in! It is an entry you make to positively reflect on the past week. The question I answered was: "What do you have to be grateful for this week?" This stresses the users to think back on the week positively, and look for the good, not the bad.
Why I like it: What I like most about this app is that it is personalized for whatever you need to work on. For example, the track I liked best was "conquer negative thoughts." The app then recommends specific games to reach that goal and tracks your progress over the weeks you use it.
16. SAM: Self Help for Anxiety Management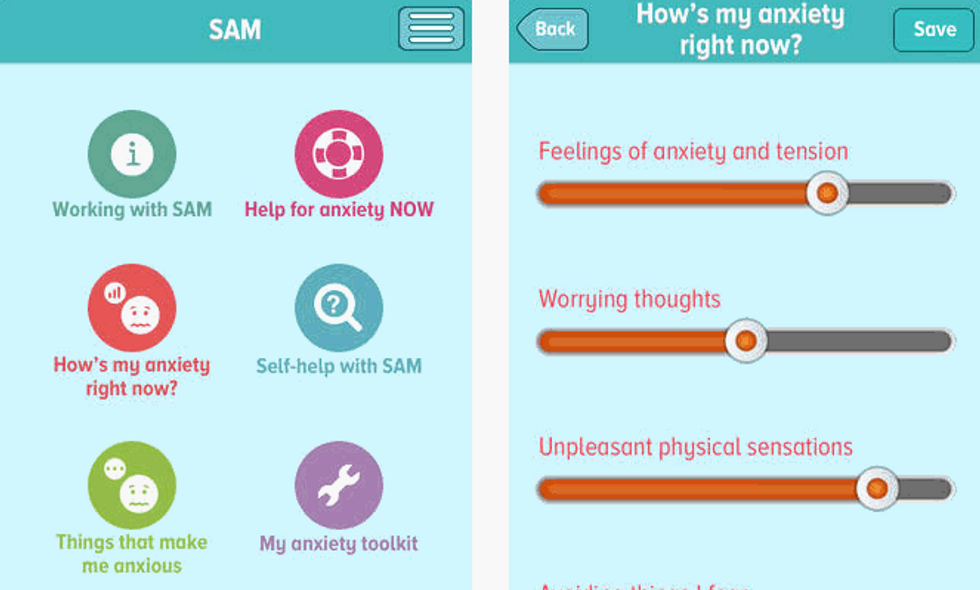 How Much: Free!
What it is: This is a guidebook for dealing with anxiety. It comes with an anxiety tracker, relaxation exercises, an online chat room, a place to track your stress triggers, etc.
Best Feature: What I like most about this app is that it helps to explain anxiety. Part of the app called "info about anxiety" contains lessons on what anxiety is, symptoms of anxiety and understanding the cycle of anxiety. This is so helpful as most people who suffer from anxiety do not really understand all aspects of the disorder.
Why I like it: I like that there are many different categories that you can choose to work on, all which are helpful when dealing with anxiety. You can choose to work on understanding your anxiety, work on being relaxed (mentally or physically), or track your triggers and note how your anxiety is at the time you open the app.
17. Stop, Breathe & Think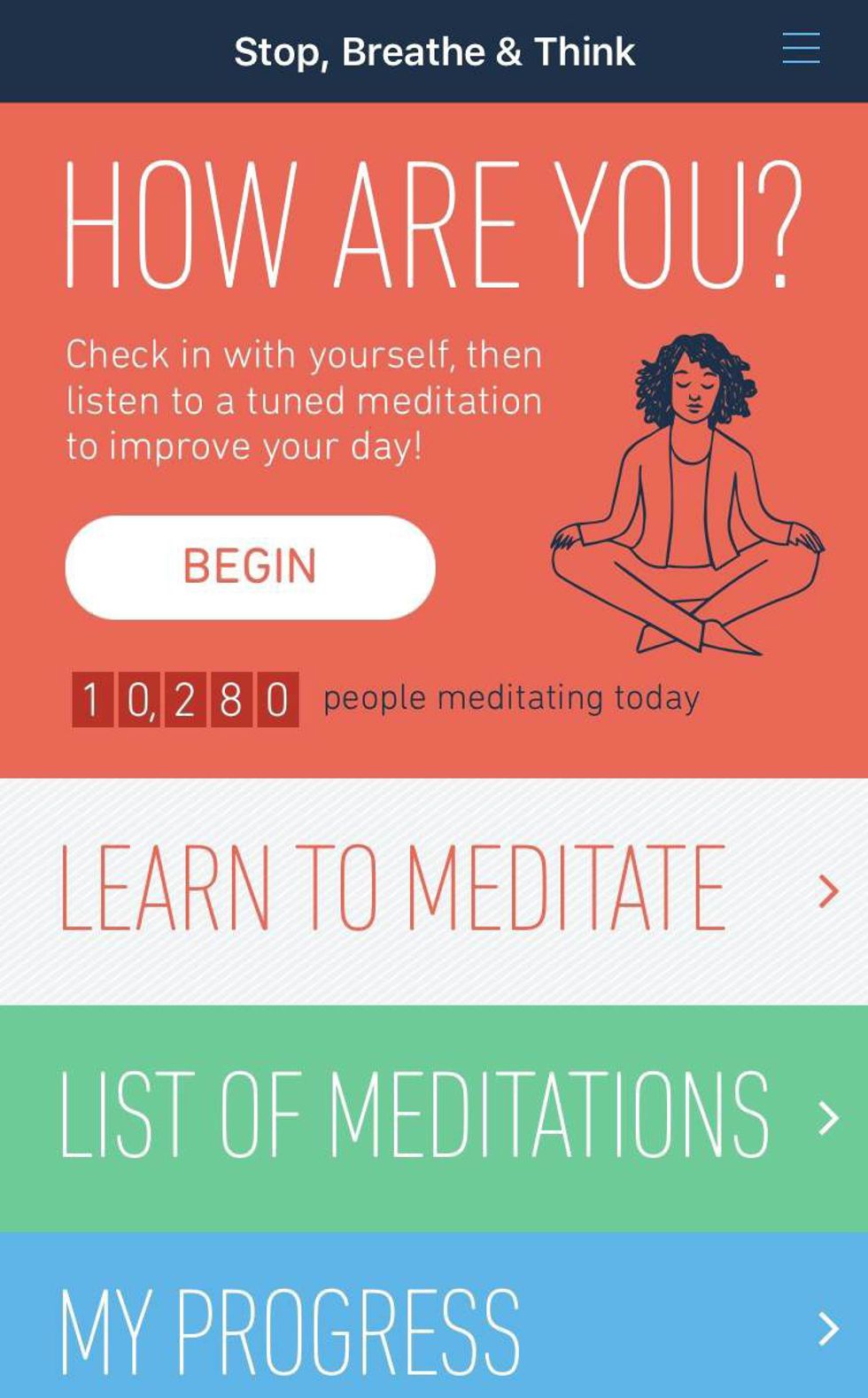 How Much: Free!
What is it: It provides dozens of guided meditations for all types of purposes. The app even recommends meditations based on how you feel mentally, physically and emotionally.
Best Feature: It also rewards you with stickers as you meditate more and more.
Why I like it: Stop, Breathe & Think is probably the best app I've ever downloaded. I've found that I enjoy this app a lot more than other similar meditation apps because the meditations require more thinking. While some of the meditations are more traditional, others are a lot like thought experiments mixed with breathing exercises. This app may appeal especially to people who are not experienced meditators, but who want to try it out for the mental health benefits.
18. 7 Cups: Online Therapy and Counseling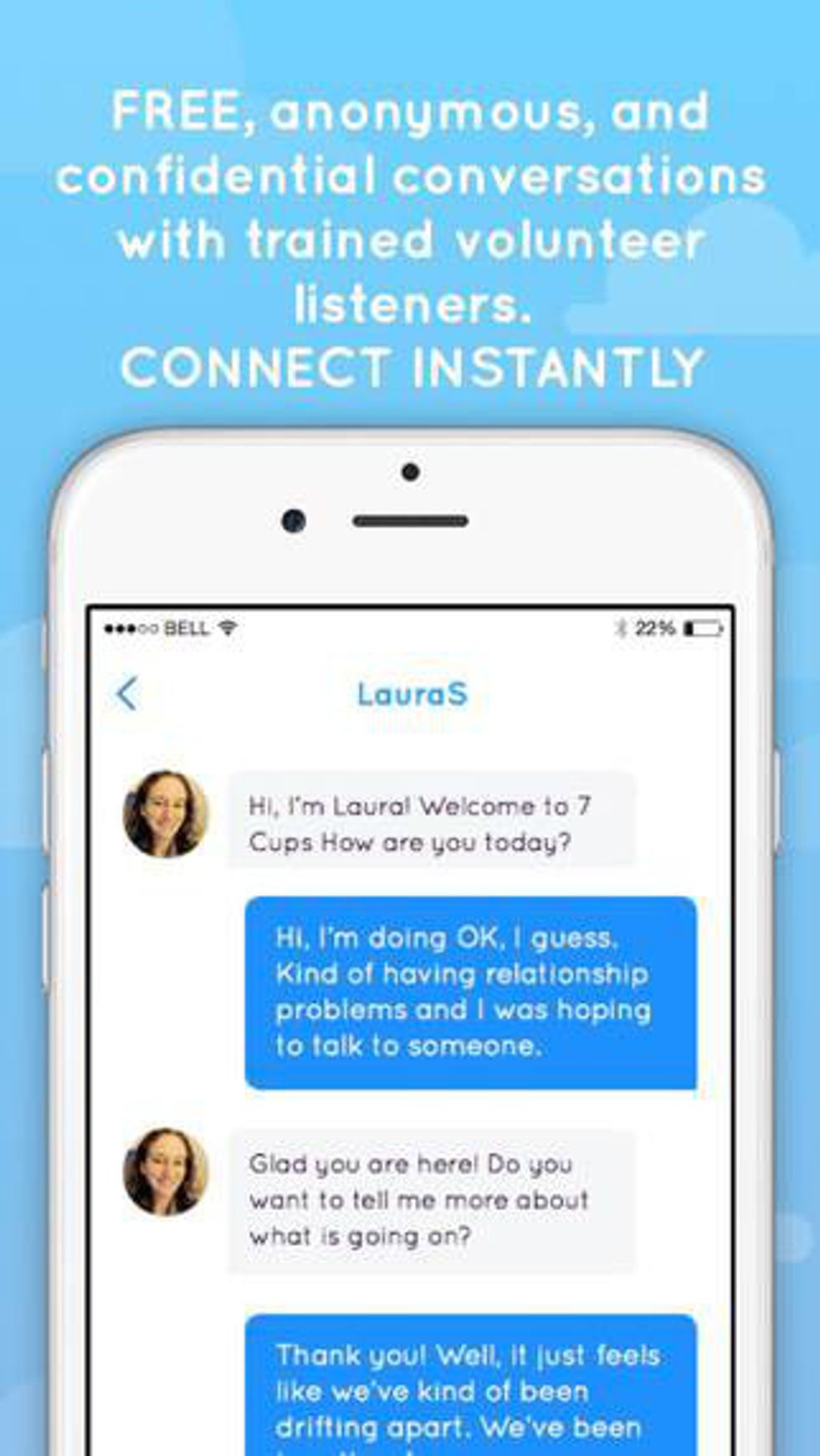 How Much: Free!
What it is: This is an app that is run by "trained volunteer listeners." While using 7 Cups, you can have anonymous conversations with people who are there just to listen. There are also guided discussions and support chat rooms that are open to join.
Best Feature: Before you start a conversation, you can read a short bio of the person you are starting a conversation with. You can see how many conversations they have had in the app and if they have any certain topics that they specialize in talking about.
Why I like it: There is something that just really warms me inside by the fact that people would selflessly give their time just to be there for somebody that they do not know, and simply listen to whatever they might be going through.
One of the best pieces of advice I have gotten is to always remember, you are not alone. I understand how hard that can be to remember in the darkest moments, but it will always be true. Reach out to a friend, a family member, even me. I will always be happy to talk to anyone, whether or not you need help.